Wireless connectivity in our home has already become one of our most basic needs. However, as we have more complex devices and technologies, our needs change as well.
Up until now, just about every router did the trick for most of us. We didn't mind limiting the range of features we expected from a router as long as we had a quality internet connection. But now we have a lot of opportunities to make upgrades, especially with DD-WRT routers.
These devices feature the open-source Linux operating system and offer a wide variety of useful features. DD-WRT routers allow us to increase the quality of our internet service, prioritize certain connections and more importantly, make constant use of VPN possible through OpenVPN. OpenVPN allows you to create VPN connections quickly and easily. Furthermore, you can connect multiple devices through said connection and enjoy numerous benefits.
Here is our list of the best DD-WRT routers 2023:
| Category | Model | Price | Buy |
| --- | --- | --- | --- |
| Best DD-WRT Router Under $50 | GL.iNet GL-MT300N | $19.00 | Amazon |
| Best DD-WRT Router Under $100 | Asus RT-AC56U AC1200 | Unavailable | Amazon |
| Best DD-WRT Router for Online Gaming | Linksys AC1900 (WRT1900ACS) | $178.18 | Amazon |
| Best DD-WRT Router for Home Networks | NETGEAR Nighthawk AC1900 (R7000) | $149.99 | Amazon |
| Best DD-WRT Router Overall | Asus AC5300 | $277.70 | Amazon |
| Best DD-WRT AC Router | D-Link ac3200 | $119.99 | Amazon |
Our pick for the best DD-WRT router is Asus AC5300. It is expensive but it has many great features. Read more about the other routers further below.
With the right DD-WRT router, you can take your home or office network to the next level. However, you'll have to know what improvements you need and what features can allow you to make them. So, we're going to help you do just that. In this article, we're going to review the best DD-WRT routers in terms of price and functionality.
1. Best DD-WRT Router Under $50: GL.iNet GL-MT300N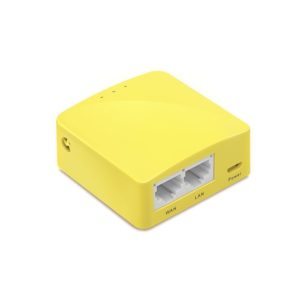 We have a pretty solid option even if our budget is extremely tight. That is why we chose this tiny travel router to be the first in our review. We can fit this tiny yellow brick in a purse and take it anywhere. It provides wireless connectivity and all the benefits of DD-WRT technology, of course.
The GL.iNet GL-MT300N even features 16GB of storage space, so you can store some content on it too. Furthermore, it opens up a world of possibilities by providing access to TOR, OpenVPN, and DD-WRT. However, one of its best features is that it can turn an Ethernet connection into Wi-Fi on the spot. You can also plug this device into power banks, laptops, and just about anything with a USB drive. This router doesn't have its own battery, which is no surprise considering the price. Still, the GL.iNet GL-MT300N is the perfect device for someone who travels a lot but always needs a wireless connection.
Pros
Lightweight and portable
Has internal storage
Provides a decent broadcasting speed
Very easy to set up
Has numerous connectivity options
Cons
Doesn't have a battery
Not attachable to walls
---
2. Best DD-WRT Router Under $100: Asus RT-AC56U AC1200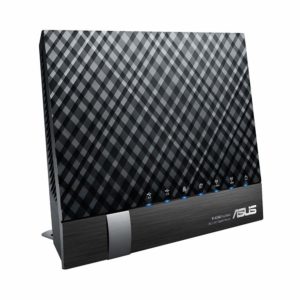 When we don't want to bust the bank but still require a fair set of features, Asus has us covered. The RT-AC56U AC1200 (aka. Asus Overlay) has a powerful 800 Mhz Broadcom Processor, DD-WRT compatibility, and can handle five devices using the same network. This is one of Asus' best routers that have DD-WRT compatibility. We think that it's perfect for someone who is looking to upgrade their network on a budget. It also offers exceptionally good coverage, an impressive set of features, and an elegant design. It's hard for us to not to fall in love with the sleek exterior of this model as it sits on our wall. Even if performance is one of your major concerns, this device will stand its ground.
The Asus RT-AC56U AC1200's best features are:
PPTP VPN Server
IPv6 Support
USB 3.0. connection
1167Mbps speed
11ac compatible
3G/4G Wireless Sharing
Pros
A low price
Can compete with more high-end models
Has a sleek and stylish design
High Performance
Cons
Has a high price for an AC1200 class router
---
3. Best DD-WRT Router for Online Gaming: Linksys AC1900 (WRT1900ACS)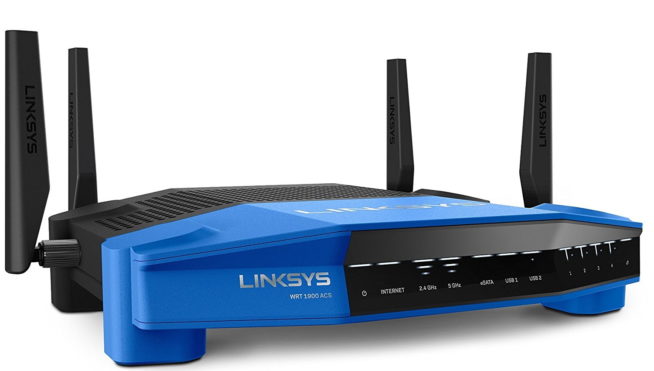 If you're looking to turn your home into a gaming center, here's the right router for it. The Linksys AC1900 is one of the top competitors on the market right now. Moreover, it's also the best dual-band router in our opinion, as it offers numerous powerful features and specifications. Its DD-WRT compatibility definitely makes it superior, but so do its fast data transfer rates. We tried it on both 2.4GHz and 5GHz channels, and the results were amazing. The Linksys AC1900 can handle numerous users watching full HD videos and playing Fortnite without any lag. Nonetheless, it's important to mention that this device might not be compatible with all VPN services. However, there are thousands you can choose from, so this really isn't a deal-breaker.
Even though the Linksys AC1900 has a high price, it delivers an impressive range of features:
4 antennas that provide a high-quality connection and a long-range
A powerful 1.6 GHz dual-core processor
USB 2.0, 3.0 and eSATA connection
1900 Mbps speed
512 MB Ram
256 MB flash
Pros
Great browsing speed
Easy to set up
Appealing design
Easy to identify and control devices through the network map.
Cons
It has a high price.
Doesn't have enough setup info for MAC.
---
4. Best DD-WRT Router for Home Networks: NETGEAR Nighthawk AC1900 (R7000)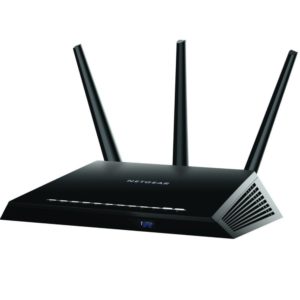 One of the most trusted companies in the industry has produced the Nighthawk R7000, a powerful DD-WRT router. It comes with a dual-core processor, three antennas, and signal amplifiers. You can even flash the router to increase its performance, which is quite impressive already. It offers a 1900 Mbps speed, which is enough even for the most demanding tasks. Adding more value to it is the beamforming technology, a hard drive, and a high number of Ethernet ports. The Nighthawk R7000 is certainly a great solution since its price is very reasonable. However, even though it's powerful out of the box, it has a few reliability issues. Some users have reported receiving defective units that had faulty firmware. Although this only happened on a few occasions, it definitely hurts this product's overall image.
On the other hand, its lineup of features offers everything we need from a router:
USB 2.0 and 3.0 ports
A high number of Ethernet ports
11ac compatibility
Support for Voice Commands and Amazon Alexa
Pros
Offers an unshakable connection speed and stability
Has an internal hard drive
Supports voice commands
Has Beamforming Technology
Plenty of Ethernet ports
Low price for an impressively high value
Cons
Some models were reported to be faulty
NETGEAR Nighthawk AC1900 (R7000)
---
5. Best DD-WRT Router Overall: Asus AC5300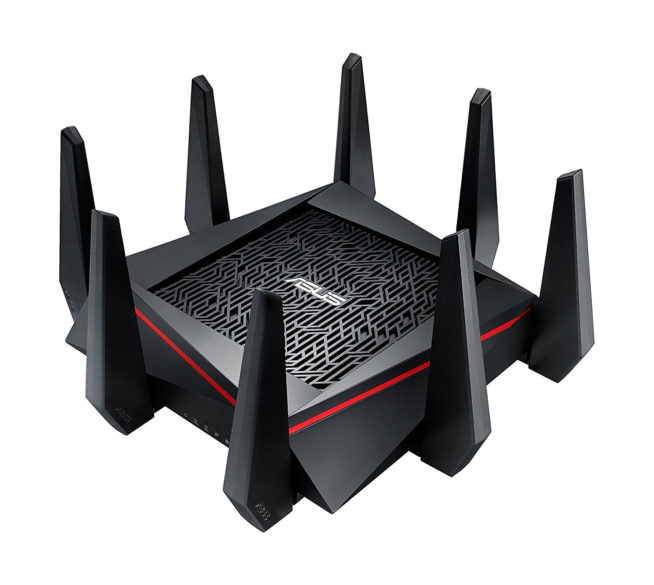 When we have a large budget, and we're hell-bent on buying the best, the choice is evident. This dark crown with its slew of antennas brings everything you could want from a router. There are six on this device to maximize the signal quality. It also has numerous ports on the back that we used to connect game consoles and computers we use. But these are only exterior features. The really impressive features lie in its performance. It has a maximum throughput of 5.3 Gbps and a 5000 square feet coverage which makes it perfect for large homes and offices. But we can even expand its coverage by connecting multiple Asus routers with the AiMesh feature.
Another great thing about this router is the MU-MiMo feature which can increase the speed of any device that's connected. That is especially handy when you have old devices that tend to work more slowly. If you're an online gamer, you can use the WTFast Gamers Private Network, as the AC5300 supports it. It will allow you to access "route-optimized services" and have a stable connection during gaming sessions. With such great coverage, there are a lot of risks involved as well, which is why Asus partnered with Trend Micro on this model.
The AC5300 has a feature that analyzes our network for any threats and vulnerabilities. This keeps us safe from hackers, stopping them from connecting to our network to steal our data. We were truly impressed by the fact that the list of impressive features is only beginning here. The Asus AC5300 also offers things like Automatic IP, Static IP, PPPoE (MPPE support), high-power mode, Download master application, and more.
Since this is one of the most powerful models on the market, it boasts some monster-like specifications too:
256 GB DDR3 RAM
8 x external dual-band detachable antennas
4GHz and 5GHz Operating Frequency
5334 Mbps Maximum data rate
Pros
Amazing coverage powered by 8 antennas
Has no lag at all
Built-in security features without additional costs
It can handle thirty devices at once
Cons
It has a very high price
Setting it up is a bit difficult
---
6. Best DD-WRT AC Router: D-Link AC3200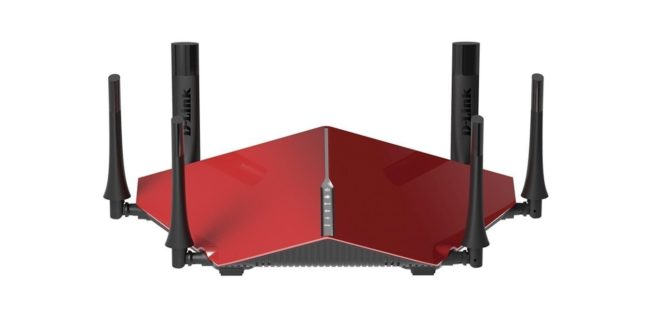 The D-Link ac3200 is also the best triband gigabit router, and it packs a lot of amazing features. For starters, the sci-fi scheme makes it look like a spaceship that's invading your room. But the inner workings of this router also make it seem like it's some kind of space-age technology. This router is perfect for hardcore gamers and heavy multimedia users. You can stream and share on multiple devices at high speed and with zero hassle. The D-Link ac3200's powerful technical features are also enhanced by its DD-WRT compatibility. It gives it increased speed, range, network security, and a lot more. This D-Link device is also one of the routers that have the highest range, making it perfect for large homes.
However, the D-Link ac3200's impressive lineup of features doesn't stop there:
4Ghz and 5Ghz bands
1300Mbps max speed
Lag-free 4K media streaming
Intelligent Traffic Prioritization
6 antennas boost Wi-Fi coverage and connectivity
USB 3.0 connectivity
1GHz Dual-Core Processor
Pros
Easy to set up
Possible to set connection priorities manually
Has an impressive coverage
Perfect for large homes
Cons
It's uncomfortably big
It doesn't have any dedicated parental controls
---
What to Look For in a DD-WRT Router
We are often asked this question. What constitutes a good DD-WRT router? Well, that completely depends on your individual needs. However, there are a few core factors that make a huge difference.
Range and Connection Stability. We always think about how large our area of use will be. Will we use your DD-WRT router in a large office or at home? It's easy to guess a router's range of coverage by looking at how many antennas it has. The more antennas, the better range and more stable connectivity it offers.
Features. Not all routers make use of the full range of benefits that DD-WRT technology offers. Some offer advanced security features and intelligent traffic prioritization, while others have support for voice commands and Amazon Alexa. We should always look through the list of additional features each router has because they make a great difference. They played an important role as we chose which of these routers performed best in which category.
Processor Speed and Memory. It takes a dedicated processor and more RAM to make use of the possibilities DD-WRT technology offers. These specifications also play a large role if we're looking to further tweak our router or we know that there's going to be a lot of traffic for it to process.
Connectivity. Almost every DD-WRT router has a different number of Ethernet, USB, and additional antenna ports. We should consider the number of available ports if we have multiple devices we want to connect directly. It's surprising how easy it is to run out of spare slots. We had three devices to connect to our router, so a single USB 2.0 and USB 3.0 port just wasn't enough. Still, that's all that you get on numerous models.
---
Conclusion
If we're looking to use the internet more safely than before, we need to make some serious changes. DD-WRT routers allow us to make them and thus raise our network's performance. Whatever change we want to make within our home or office network, the routers above make it possible. We can browse faster, connect more devices and make the most of what an internet connection can offer. I hope you enjoyed our list of the Best DD-WRT Routers and found one suiting your needs.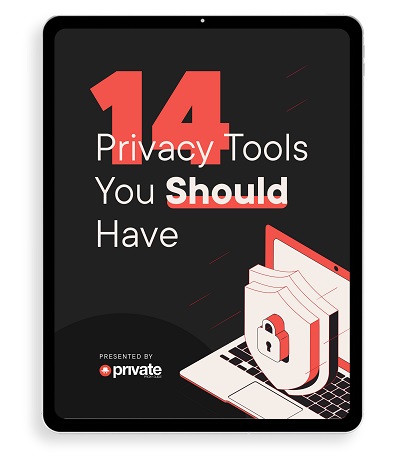 Learn how to stay safe online in this free 34-page eBook.