When it comes to getting yourself or your brand out there on LinkedIn, you'll need to have someone by your side at all times to update your feed.
Doing all that by yourself can be a tiring and time-consuming process hence why there are numerous bots out there that are specially made to help with your outreach and marketing needs on LinkedIn.
Amongst other things, a LinkedIn bot will automatically send connection requests on your behalf to potential contacts, expanding the number of leads and greatly helping your outreach campaigns.
This article will explain to you a few of what I consider to be the best LinkedIn bots that you can currently get your hands on in the market right now.
I will also give you an idea of how to use said bots in your marketing campaigns and how to properly combine them with your own personalization for the best results.
You can also find info on LinkedIn bots and automation tools on Reddit and Quora if you need some further suggestions.
1. Best LinkedIn Bots & Automation Tools in December 2023
1.1 Meet Alfred – Great Linkedin Automation Bot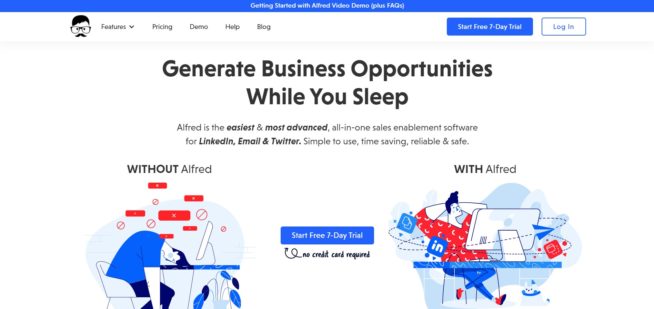 Besides being one of the best LinkedIn automation tools out there, Meet Alfred (www.meetalfred.com) is also one of the more affordable options out of the bunch. In other words, you won't be going hard on your wallet for better marketing and engagement in your LinkedIn account.
The bot can help you find all the different kinds of profiles that you might be looking for while you focus on the more important aspects of your business.
All it needs is a set of keywords that will help it narrow down the number of profiles who could be interested in connecting with you, and the rest is history, all for an affordable price.
Meet Alfred offers two plans, both of which are quite affordable:
Essential, which offers the tool's basic features and costs $49 per month.
Advanced, which included Meet Alfred's advanced features and costs $89 per month for the first user and $59 per month for the following users.
1.2 Dux-Soup – Best LinkedIn Bot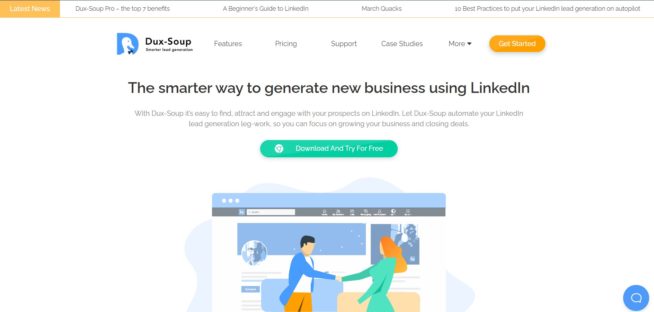 Dux-Soup (www.dux-soup.com) is an excellent LinkedIn automation bot that gained a lot of reputation for prioritizing your account's security above everything else.
It also features a fan-favorite feature, which is the ability to continuously generate new leads for both your profile and brand. Getting new leads is perhaps one of the most challenging aspects of LinkedIn due to the fierce competition that takes place there.
The bot already has a loyal following, most of whom you'll find online. They can help you with numerous aspects of the bot.
In conclusion, having an organized LinkedIn profile is essential to establishing potentially fruitful business relationships. So, not having a bot can be quite problematic as you'll end up connecting with the same profiles over and over again.
Dux-Soup has three plans:
Starter, which is a free plan that offers basic features.
Professional, which costs $14.99 per user per month and offers all of the bot's features except Automatic Follow-Up and Workflow Integration.
Turbo, which costs $55 per user per month and offers everything Dux-Soup has to offer, including the tools designed to connect your lead generation systems.
1.3 Zopto – Best LinkedIn Lead Bot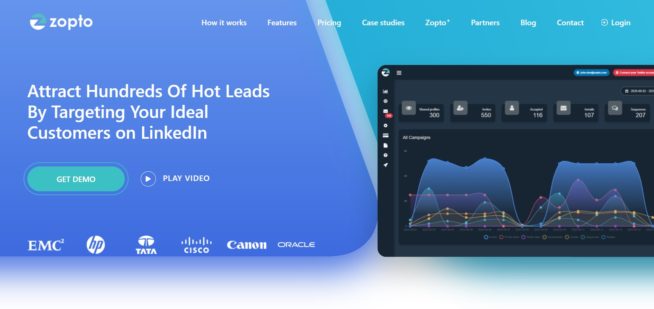 Zopto (www.zopto.com) is yet another bot with a great reputation behind it hence why it is one of the more popular choices among LinkedIn users. It's a cloud-based automated system that can help you exponentially grow your LinkedIn profile.
Once your Zopto account is active, you can input all the information necessary for it to determine your target audience, and it'll do the rest.
This piece of software will help you find potential paying customers, increasing both your revenue and your reputation online. So, if you're serious about your LinkedIn and you want to establish connections with companies that feel the same way, give Zopto a try.
One thing to keep in mind, though, is that Zopto is a bit more expensive than the rest of our recommendations. Zopto has three plans:
Personal, which costs $215 per month for one user.
Grow, which includes two accounts and the Agency Dashboard and costs $395 per month.
Agency, which includes five accounts and the Agency Dashboard and costs $895 per month.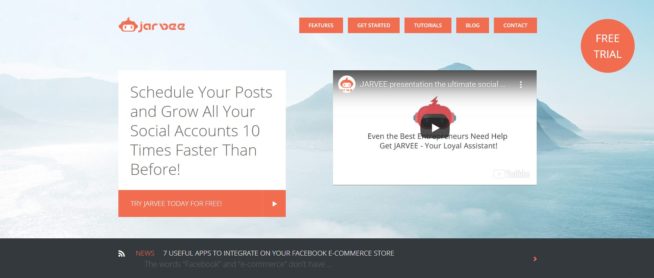 If you're looking for a way to grow not only your LinkedIn account but also your other social media accounts, then Jarvee is the way. They were one of the first bot services in the market, which consequently made them very popular.
The only "drawback" to Jarvee's LinkedIn bot is the fact that it only works on Windows. However, it has a sophisticated yet clear-cut dashboard that includes all the essential features that you'll need to build a good LinkedIn strategy.
In case you are having some issues with their dashboard, they've made some great video tutorials which you can find on their website.
Jarvee has two plans, with the only difference being the number of LinkedIn accounts you can use:
Starter, which includes 10 LinkedIn accounts and costs $9.95 per month.
Regular, which includes 30 LinkedIn accounts and costs $19.95 per month.
It's worth noting that both plans come with a 5-day free trial.

It's pretty difficult to do well for yourself in the world of LinkedIn automation tools, especially if you came late to the scene. However, Lead Connect quickly made it big because of its great approach and its feature-rich bot.
They can help bring numerous clients to your account, greatly improving your business as a result. Lead Connect also has a follow-up feature that can greatly help you turn visitors of your account into potential customers.
Lead Connect has three plans:
Professional, which includes 30 invites and 90 message credits per day and costs $25.95 per month.
Grow, which includes 60 invites and 180 message credits per day and costs $45.95 per month.
Ultimate, which includes 100 invites and 300 message credits per day and costs $85.95 per month.
1.6 Expandi – Great Linkedin Automation Bot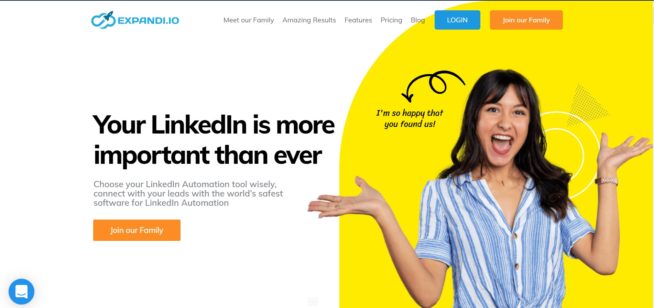 If what you're looking for is a safe and trustworthy LinkedIn automation tool, then look further than Expandi. Their bot is super easy to set up, and it's always running on your desktop as long as it's on. They also offer you the option to use Webhooks, making it super easy to integrate Expandi into your lead gen process.
They also offer you a smart inbox that you can use to boost your customer engagement to ensure that you never miss an opportunity to spark a convo with a potential client ever again.
Finally, Expandi includes numerous additional features which you can get your hands-on with their premium plan that costs $99 per month per account.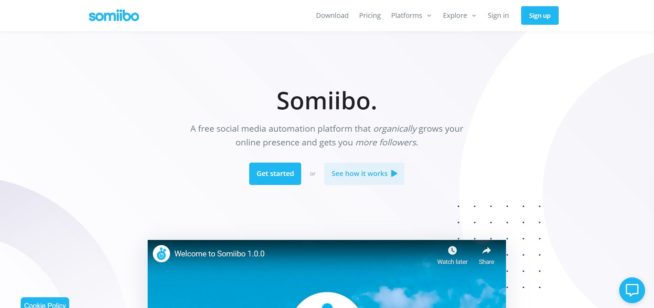 Somiibo comes with all the basic features that you would expect to find in a LinkedIn bot, making them look like your everyday basic service. However, they're far from being so. While it's undeniable that their bot is basic, it still is great at being so.
In other words, Somiibo offers quality over quantity, features-wise. They can help you find all those connections that you might be looking for on LinkedIn, and all you need to do is input the right combination of keywords.
Somiibo's pricing is based on modules and sessions (accounts), and it has two plans:
Basic, which is free and includes two modules and two sessions (you'll have to deal with in-app ads).
Premium, which costs $14.95 per month and includes all of Somiibo's features as well as unlimited modules and up to 30 sessions.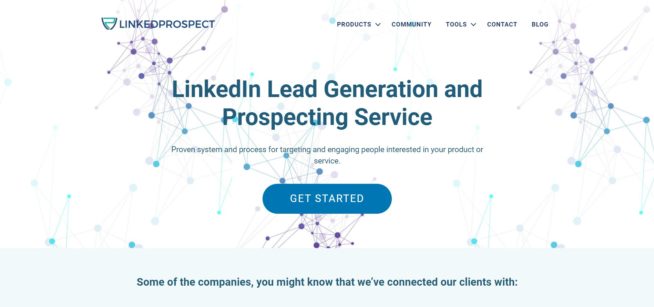 The people behind LinkedProspect claim that they can help you to accurately identify your target audience in a way so that none of your networking is random. They also can help you write targeted messages in a way that's going to get people engaged, generating better leads for your brand as a result.
You also get to optimize your profile in a way as to reach as many new people as possible, all within your targeted audience, of course. LinkedProspect is quite the automation tool, hence why it made it to my list in the first place.
LinkedProspect's pricing is custom depending on your needs, so make sure to drop them a message if you're interested in their service.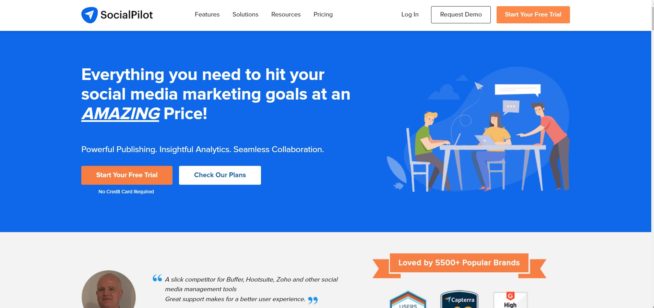 If you're interested in keeping your account active without wasting hours every day on LinkedIn, then you ought to take a look at SocialPilot.
SocialPilot is a LinkedIn automation tool that allows you to schedule posts ahead of time so that you can (appear to) be around when your audience is online.
The tool has three plans:
Professional, which includes 25 accounts as well as one team member and costs $30 per month.
Small Team, which includes 50 accounts as well as five team members and costs $50 per month.
Agency, which includes 100 accounts as well as ten team members and costs $100 per month.
You can test-run SocialPilot by making use of their 14-day free trial.
We-Connect is a cloud-based LinkedIn bot that can help you generate new connections and leads in an efficient and safe manner.
The biggest advantage of this bot is its simplicity. The tool is quite straightforward to use, and its pricing is as simple as they get, as it costs $49 per user per month.
2. What is a LinkedIn Bot?
When LinkedIn started prospering, it was the ideal way of finding or being found by your potential employers. Today, it has evolved into much more than that. For instance, it became quite a reputable B2B relationship-building platform.
In other words, it can help you to not only create a brand from the ground up but also promote it and look for potential business relationships that can help you to grow it further. All of this is done within professional boundaries, unlike other social media websites such as Facebook or Instagram, something that is quite appreciative given the circumstances.
However, connecting with every person you might need in your business can be quite a tedious task.
Enter LinkedIn automation tools.
LinkedIn bots and automation tools provide you with an automated system that can help you to connect with hundreds, if not thousands, of people who are suitable for your needs.
Now, you might be wondering, how does a bot know who to initiate a connection with in the first place?
Well, LinkedIn bots give you the ability to select specific categories such as industries, locations, groups, age groups, educational backgrounds, etc. Such information can help you establish parameters for the bot's searching process, narrowing down the number of connections to the ones that best suit your needs.
3. How to Craft a LinkedIn Bot Marketing Funnel
As is the case with any other marketing channel, LinkedIn bots need a marketing funnel to do their job properly. This includes establishing a connection, gaining traction, as well as delivering conversions.
A funnel starts with a connection message, and once it's accepted, a series of messages that explain who you are and what you want will follow.
3.1 Connection Message
This message acts as an introduction. In other words, it sets the standard for both the quality and the outcome of your funnel. You need to develop valuable connections that rely on both trust and value. Hence why having a personalized, well-written connection message is essential.
Any standard-looking message will feel like spam and will most certainly be ignored as a result. Avoiding this is easier than you think. The oldest trick in the book is to point out the common things between you (group, industry, mutual connections, etc.), then briefly state the reason for your connection request.
3.2 Acceptance Message
Alright, they have accepted your request. That's progress. Your goal now should be to start the dialogue by establishing yourself or your brand as something of value. In other words, you need to quickly go over who you are and the things you do, and why you're good at them. However, do not be aggressive as this might turn them off.
3.3 First Follow Up Message
Hopefully, by this point, you've managed to spark a conversation with your first message, but if that's not the case, then this is your one and only chance to make a lasting impression. Thoroughly personalize this message to give your contact a good idea of who you are and what you want.
Your aim with this message should be to showcase that you understand their pain points and the value that you will be providing them.
3.4 Second Follow Up Message
By this point, you've managed to showcase their major pain points and how you are the right person to deal with them. It's now time to demonstrate how this is the case. One way of doing this is opting for a soft-sell approach by proving that you can give them the services that they will need to reach their goals.
An effective way of doing this is providing client case studies since they show the progress that resulted from your services. Another great addition would be some links to your blog posts, services pages, and more.
3.5 Third Follow Up Message
This message is the most decisive one. And because of that, you don't want to come out looking as a bit of a pest or downright aggressive.
Your goal with this message should be the shift the conversation from LinkedIn to a place that has a  more business-oriented approach.
This is easy to achieve if they are frequently in contact with you. However, if that's not the case still, then you probably need to do a better job at delivering a good sales pitch in the previous message.
If you fail to gain a conversion by the point, try switching to other methods of communication depending on the situation, such as a cold email. If unsuccessful, shift your focus on establishing other connections.
4. LinkedIn Bots and Automation Tools – FAQ
4.1 How Can I Use a LinkedIn Bot Safely?
Any good LinkedIn automation company will make sure to deliver something that focuses on quality over quantity. In other words, they will help you to find good connections that will hopefully turn into real leads.
Here are a few tips to ensure that your automation campaign goes as safely as possible:
Make Sure Your Growth Is in Line with Your Established Connections
One of the best ways of using a LinkedIn automation tool is by adopting the strategy of compound connection growth. This is when you choose how many connections you're willing to make in the future based on how many connections you already have.
For example, let's assume that you already have a decent number of connections under your name. It would look very natural to continue getting more connections linking up to you.
However, if the community surrounding you is small, then getting a sudden surge in follows and connections would look very suspicious, leading to people avoiding you instead of reaching out.
Be Careful of Account Restrictions
Before committing to a LinkedIn bot, make sure the company knows what it's doing in terms of safety to avoid a permanent account restriction. LinkedIn has amped up their security and their permanent account restrictions for people who use bots which led numerous users to scale back their activity.
In other words, you have to keep an eye on the LinkedIn algorithm to make sure that your activity falls well within their T&C.
Again, quality over quantity. It is tempting to want to grow quickly at first, but a slow and steady pace is the way to go. This puts you on good terms with both your potential connections and LinkedIn themselves.
Make Sure That Your Bot Mimics Human Behavior
The truly best LinkedIn bots out there are the ones that closely mimic human behavior. And while this seems like a very obvious approach, there are actually many companies out there who don't do this. Instead, they just provide the extra boosts that their clients need.
Still, we have already established that looking natural is the way to go. So, you need to make sure that the bot you're using is closely mimicking how a human would do the job. One way of doing this is keeping an eye on the time of growth. For example, it wouldn't make sense for your connections to grow at 3 in the morning.
4.2 Who Should I Target on LinkedIn?
There truly is no "standard" approach when it comes to choosing who to target with your LinkedIn bot messages simply because the entire process should be solely based on your needs.
Before establishing the parameters of your bots' search for connections, you first need to have a clear idea of what you're trying to achieve. Most LinkedIn bots offer a range of filtering settings to help with this, such as industry, age range, company size, location, etc.
Such information will help you create one or more marketing funnels that target specific groups of people whom you think will appreciate your business approach as well as your services.
Establishing connections with thousands of people who are suitable will greatly improve your chances of converting when compared to cold emails or calls to people who are often not interested at all in what you're offering.
4.3 How Can I Optimize My LinkedIn Bot Campaign for Conversions?
Don't walk in expecting your marketing efforts to do the job just fine on your first attempt, especially if you're targeting a broad audience using a LinkedIn bot that doesn't offer many variables. Therefore, you will need to keep a close eye on your campaign and optimize it whenever necessary to achieve connection acceptance and, eventually, conversions.
The three key factors to consider when it comes to optimization are targeting, budget, and messaging.
Targeting:
If your campaign is not performing well in regard to the quality of the leads that you get, it's probably because your targeting is slightly off or you haven't evaluated your needs properly. Don't get me wrong, and this doesn't necessarily mean that you aren't aware of your ideal customer. It just means that the connections you're establishing are not well aligned with your goals and sales approach.
Looking at the progress of your connections can give you a good idea of the type of people who respond positively to your automated messages. This information will give you a better idea of how to proceed.
Budget:
Before starting your LinkedIn marketing campaign, you will need to determine a budget. Usually, a higher budget means that your messages will reach more people. However, you mustn't spend too much on it. In other words, try to find a middle ground where your campaign has enough money behind it but not too much as to overrun people with messages.
Messaging:
You shouldn't just send your prospects random messages and hope for a connection. Your messaging process must have a natural flow, as we've explained above.
4.4 How Can I Improve the Effectiveness of My LinkedIn Bot?
Here are a few quick tips that will help you improve the effectiveness of your bot(s):
Have an appropriate number of messages.
Make the connection request enticing and relevant.
Make sure the messages feel natural and not automated. To do this, think of what you would naturally say to someone in a connection request and mimic it. At the end of the day, LinkedIn is a social network, and there is nothing social about a relationship that's based on automated messages.
Make sure the follow-up messaging is also relevant and enticing.
Make sure the bot is functioning properly.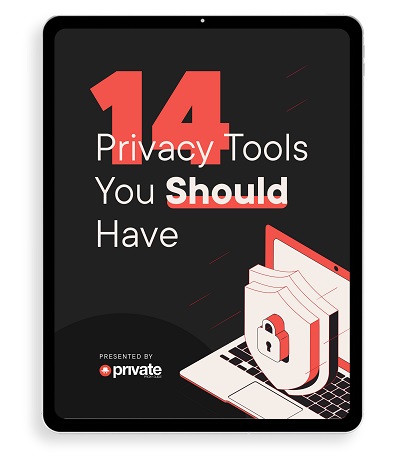 Learn how to stay safe online in this free 34-page eBook.