Not many things are better than running a freshly installed version of Windows, where you promise you won't overflow your PC with thousands of duplicate files which are just a bit improved versions of other files. Whether you're working on a new project at work or school, you must've found yourself copying your files all over the place just to be sure you won't lose them, or making thousands of Project1, Project2, ProjectFinal, ProjectFinalFinal, and other versions of the almost same file. With the duplicate file finder tool, you'll be able to get rid of the excess duplicate files without wanting to reset your system every time you're greeted by your overly-cluttered desktop.
In this article, we want to help you remove duplicate files without having you spend hours on your PC searching for them in different folders and drives. Tools called Duplicate file finders make this task immensely easier, so we took our time to find the best tools that can help you finish the work fast.
Some of these tools are paid and come with a free trial period which should be long enough to help you decide whether you want to buy the full version or not. There are also alternative options that are mostly free and will get the job done for you. Continue reading this article, to learn about the tools that will rid you of the annoying duplicates forever.
Duplicate file finders are tools that find and delete copies of the same file from your computer. It's an ideal tool to keep your various files and folders organized and in a neat condition. There are also more advanced duplicate file finders that can discover files that are nearly the same as the original files but either have a different name or a few minimal changes.
Redundant data is annoying to every PC user and because Windows 10, and earlier Windows distributions don't have duplicate file finders, these tools are a great investment for a one-time PC clean-up or regular management of files and their copies.
Duplicate files occur in images, Word and Excel documents, program files, and much more. You download and copy them daily which leads to clogged up space and an unorganized look on your PC. If you choose a good duplicate file finder, you will not only be able to keep your files in order but also clean up your space which leads to smooth running. Lastly, you can use it to delete temp files and defragging your hard drives.
1. What Features to Consider When Choosing the Best Duplicate File Finder
Like every desktop app you want to download to help you fix a certain issue you're facing, you need to look at what features make a certain app stand out compared to the rest. That being said, below we listed what you can focus on when choosing the best duplicate file finder.
Types of files – A good duplicate file finder should effectively get rid of all types of duplicate files. Whether it's a document, a picture, or an audio file, the software should detect it via scanning and remove it. Some apps are so sophisticated that they'll let you remove duplicate executive files, but not many tools can do it. At the end of the day, it all comes down to what type of files you want to be removed.
File Preview – Some tools will allow you to preview your files before they're deleted, which is good because the tool may detect some file as similar and remove it. Alternatively, some apps let you choose whether you want to preview files or remove them automatically, which is also a good feature if you're 100% sure you want to delete all other files and want to save up time.
Cloud Support – Some more advanced duplicate file finders allow you to clean up the files located on clouds such as Google Drive and Dropbox.
External Media Support – Most of the duplicate file finders we listed have support for cleaning up files located on external storage such as DVDs, USB flash memory, external hard drives, and SSDs.
Free Trial – Some of the duplicate file finders are available for free, while others need to be paid to be used beforehand. However, nearly all duplicate file finders offer a free trial from 7 to 30 days to let you test out the features before you decide whether you want to buy a full version or not.
Empty Folders – Although this is more for aesthetic purposes, some duplicate file finders will allow you to get rid of the empty folders that take up your space while scanning the duplicate files.
Similar Files – Many tools use the MD5 algorithm along with a binary comparison to analyze the file attributes and metadata in particular. That way, they can see whether there's a similar file to the original, an earlier version, or a copy that you edited slightly and would like to delete.
2. 10 Best Duplicate File Finders in June 2023
Without further ado, let's list the best duplicate file finders for your computer.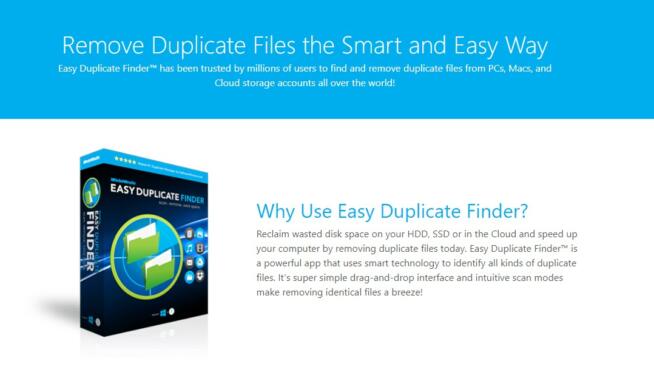 Price: $39.95 (per device)
As its name suggests, Easy Duplicate File Finder will easily discover the copies of your original files scattered across your computer and clear them up. It offers many useful options and one of the most convenient ones is to be able to choose whether the software should automatically delete your files, or you can review what duplicate files it discovered and choose which ones it should delete.
It's also suitable for a great variety of files like those on Google Drive, Mac, Pictures, Music, and much more. There is also various intuitive report where you can see the volume and type of the data that is regularly reported so that you can make changes in your habits.
Key Features:
Suitable for many platforms including Mac and Google Drive and Dropbox
Suitable for a great range of files like images, emails, videos, and other types of data.
You can review files before they're deleted or have the tool delete them automatically
It protects your system files
There are more than 10 types of scan models
| | |
| --- | --- |
| Pros | Cons |
| You can use it for files on the cloud | It's expensive when there are no discounts |
| Suitable for Windows and Mac | Scans can sometimes take a while |
| Allows you to preview files | |
| Can be used for videos and music | |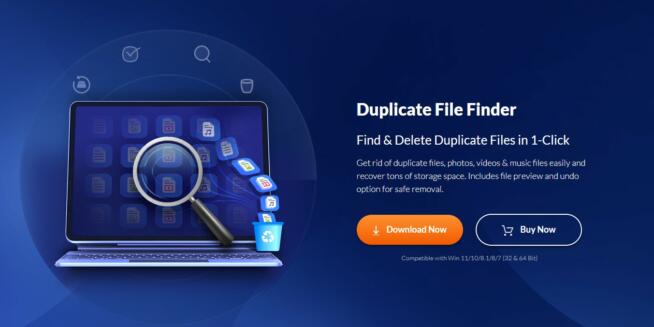 Price: $39.95 (It offers a free trial)
If you want to get rid of the annoying duplicate files easily and seamlessly, then try the Duplicate Files Fixer which is developed by Systweak.
It's great if you're looking for a reliable file scanner and remover that is compatible with all versions of Windows. Besides getting ready for typical documents, this tool can also remove duplicate photos, videos, and audio files.
You can also get rid of the duplicate files on your USB flash and other external storage options. It's worth mentioning that it also works on Cloud.
Key Features:
Works with cloud and even mobile devices
Portable with most Windows distributions
Gets rid of duplicate documents, photos, videos, songs, and other types of multimedia
Can get rid of empty folders
It's compatible with Windows, Mac, iOS, and Android devices
Can remove duplicates from external devices
| | |
| --- | --- |
| Pros | Cons |
| You can use it for files on the cloud | Expensive when not on discount |
| Works for Windows and Mac | Not all types of files can be deleted with a free trial |
| Works on mobile devices | Limited speed on large files |
| Gets rid of empty folders | |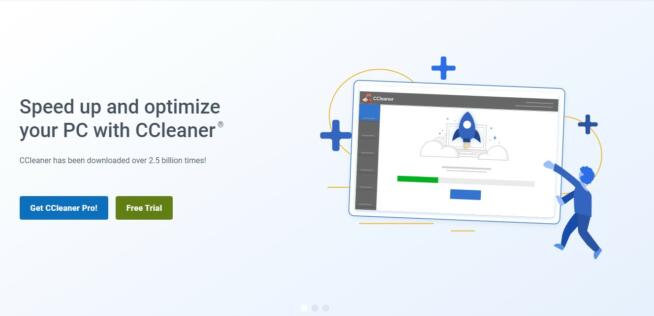 Price: $29.95 (It offers a free trial)
CCleaner has gained its reputation because it helps you organize your files efficiently and effectively, gets rid of unnecessary files and performs checks on your disks, and defrags them. Its duplicate file scanner is superb.
One of the features that it's most famed for is the ability to quickly get rid of bloatware, and other unnecessary programs that shipped with your laptop. You can also organize, sort, and filter files in any way you want.
Key Features:
Quick and runs smoothly even on large files
You can customize your file search anyhow you want
Regular updates and improvements
Allows you to defrag your disks easily
Comes with a free version
Checks the health and performance of your PC
| | |
| --- | --- |
| Pros | Cons |
| Checks the health of your PC | The free version is full of ads |
| Works for Windows and Mac | Notifications may be overwhelming |
| Works on mobile devices | Limited speed on large files |
| Has a free version | Unneeded browser extensions are added |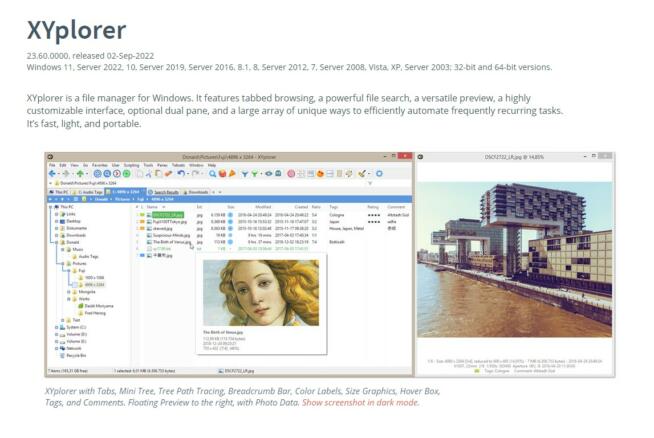 Price: $34.95 (It offers a free trial)
XYPlorer is also another fast and efficient duplicate file finder that will quickly scan your PC and remove the duplicate files you left while writing your thesis or completing a project. It is packed with an intuitive and attractive interface that speeds up the process.
It uses the MD5 algorithm which helps find the file by its metadata. There are multiple profiles that you can use on the software, and what's also interesting to note is that the developers of this tool made it scriptable, so coders can adjust the scanning process to their needs.
Key Features:
The fast and straightforward scanning process
Availability in multiple languages
It has an intuitive file manager
The tabbed interface helps you switch between folders easily
| | |
| --- | --- |
| Pros | Cons |
| You can customize it | It can be hard to use for people without a tech background |
| It's scriptable | No plug-in support |
| Straightforward switching between folders | |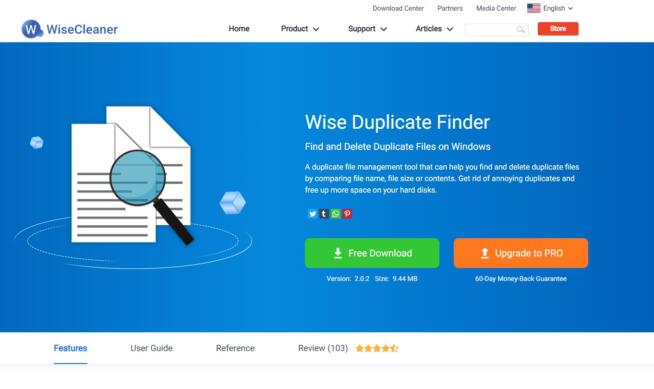 Price: $19.95/year (It offers a free version)
If you feel like your PC is packed with various empty files, corrupted files, or simply empty folders, then Wise Duplicate Finder is the right option to consider. It's packed with a free trial and yearly subscriptions. However, it also has a portable free version which is good for trying some basic settings out.
Just like with Easy Duplicate File finder, you can easily decide whether you want duplicates to be automatically deleted, or if you want to preview them and make the final decision for yourself.
Key Features:
It has a free version that works fast and efficiently
Helps remove executable files that your computer doesn't need
Gets rid of empty folders
MD5 checksum algorithm helps recognize similar and duplicate files
It's fully customizable
You can restore files you thought were duplicates and removed by accident
| | |
| --- | --- |
| Pros | Cons |
| Has a free version | Getting technical support is a bit difficult |
| Fast | Limited free version compared to the full version |
| Quickly gets rid of empty files and uses the MD5 algorithm | Some old versions of Windows don't support it |
| Restores accidentally removed files | |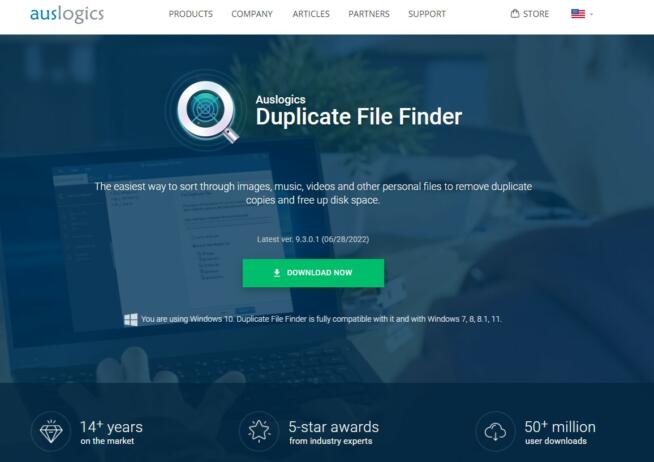 Price: $39.95 (It offers a free trial)
Auslogics duplicate file finder has both a free version and a pro version that runs with a trial. It's one of the simplest tools to easily remove clone files. It's highly customizable so you're able to do a plethora of things with it – like preview files before removing them, move them to the recycle bin or the Rescue Center or even filter the tool so that it only deletes files that are in the range of a certain preset size.
If you deleted some files by accident, you'll be able to use the Rescue Center to save them without a problem. Overall it's easy to use and it's packed with many great features.
Key Features:
Can delete all sorts of files as well as executable files
It comes with a portable free version
It scans quite swiftly and efficiently
Has a search engine based on the MD5 algorithm
| | |
| --- | --- |
| Pros | Cons |
| Has a free version | There are links to other software |
| Scans large files quickly | The free version is limited |
| Uses MD5 search engines | Some parts can be confusing because there are file groups put in batches |
| Has a powerful rescue center | |
Auslogics Duplicate File Finder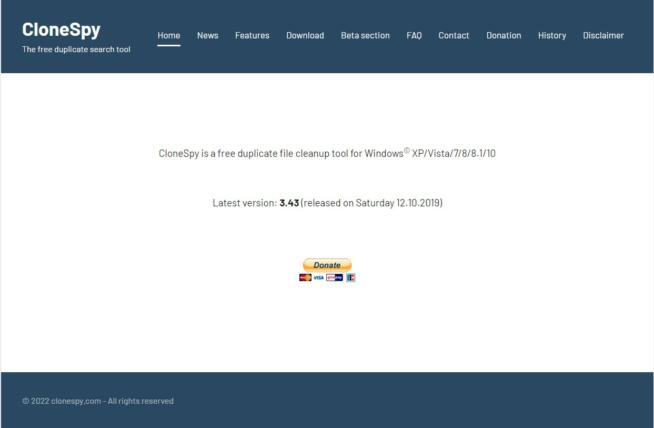 Price: Free
Some people need to use duplicate file cleaners only once in a blue moon, and that's when it's more than fine and feasible to opt for a fully free version CloneSpy, which doesn't have a premium version but will welcome the users to donate and help further development of this tool.
This tool may not be famed for its old interface, but this tool does exactly what you expect from it. It will delete the unnecessary duplicate files and allow you to export or transfer files rather than delete them. It will successfully mark slightly different files as duplicates and notify you once the scanning has been completed.
Key Features:
It will take care of your duplicates but also notify you if there's a slightly different file
You can export and transfer files you don't want to delete
It's completely free
| | |
| --- | --- |
| Pros | Cons |
| Completely free | Old Fashioned Interface |
| Smart Scanning Feature | Lacks some more advanced features |
| Transfer for files | Doesn't support new Windows |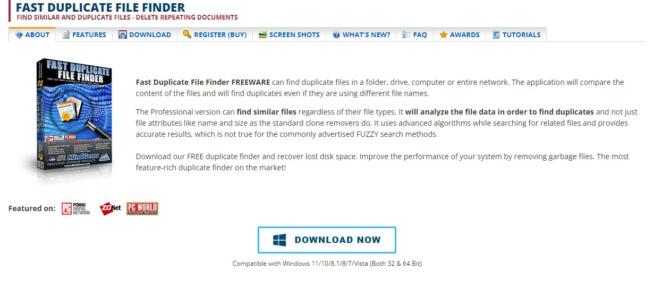 Price: $39.95 (Free version and trial)
Fast Duplicate File Finder will remove your duplicates and other unnecessary files scattered across your PC, and it will do that quickly. Using modern algorithms for its search engine, it bases search on binary comparison to detect duplicated files and get rid of them. You can use it to scan different file formats and type without a problem.
If it discovers a similar file to the original, it'll either move it to recycle bin or delete it permanently with your prompt. The best part is that you can use it to scan external drives like flash memory, DVDs, and more.
Key Features:
It won't delete similar files immediately but notify you instead.
You can use it for external media
Can delete all sorts of files, including the executables
Keeps your temp files and other system files intact
You can use it to recover deleted files.
| | |
| --- | --- |
| Pros | Cons |
| Has a free version | Has an outdated interface |
| Uses binary comparison methodology | |
| Can recover removed files | |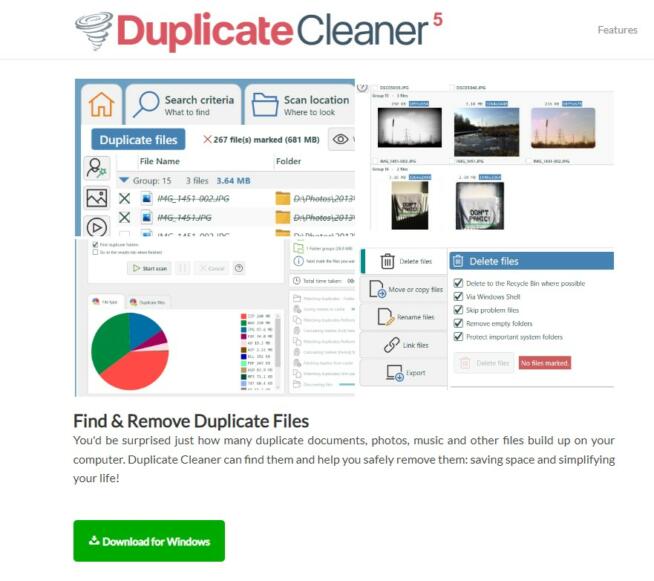 Price: $39 (Free trial)
Duplicate Cleaner Pro is another great tool that allows you to quickly and easily delete duplicate files from your computer. It has a lot of features that allow you to take care of duplicate documents and organize your photos, music, and even movies by getting rid of the documents.
The tool is also effective at searching for files that are similar to the original files, by looking at the attributes and metadata and comparing them. You can then choose which files you want to keep and which files you want to remove with the help of the Selection Assistant that will guide you on the way.
Key Features:
A powerful tool that allows you to quickly remove duplicates and other similar files
Works well on documents, videos, music, and photos
Equipped with a smart Selection Assistant which simplifies the scanning process
Powerful reporting where you can see what type of files get duplicated the most
| | |
| --- | --- |
| Pros | Cons |
| Compares attributes of files | The interface is too cluttered |
| Can be used on most types of files | Too short trial version |
| Selection Assistant | |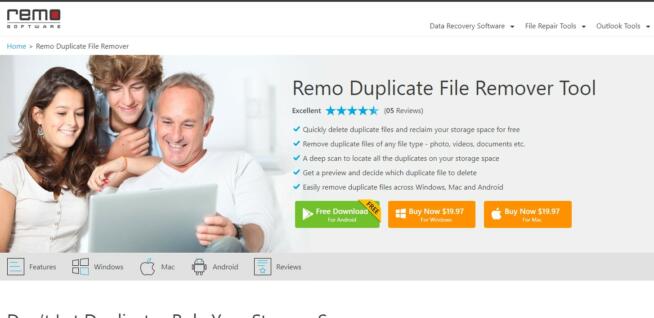 Price: $19.97 (Free Android app)
The last tool from our list is Remo Duplicate File Remover. This sophisticated tool is compatible with both Macs and Windows computers, which is ideal for those that have filled up their storage with duplicate images, documents, music, videos, and more.
It is quite fast and cleans the documents effectively. However, what's even more worth mentioning is that it can support external drives such as USB flash memory and an external hard drive or SSD. That said, you can clear that infinite movie list you stored on your external drive and save up more space.
Additionally, it won't automatically delete all the duplicate and similar files. Instead, you can preview them and check whether they made a mistake and pulled a file you need.
Key Features:
Effectively removes all types of files
It works on larger files
It allows you to preview the files before deleting them
Compatible with Windows and Mac
Has a free Android app
| | |
| --- | --- |
| Pros | Cons |
| Works on all types of files | The interface is too cluttered |
| Suitable for larger files | Doesn't come with a free trial |
| Support on free Android app | |
| Affordable compared to other software | |
3. Frequently Asked Questions
3.1 How to Choose a Software That Can Delete Duplicate Files?
The best way to do this is to consider what kind of files you want to delete. Many tools can clear only specific types of files like images or audio. It all comes down to what exactly you need.
If you need a versatile tool that can remove duplicates on cloud storage sites, as well as from external drives, then you should consider the duplicate file finder that supports these two options. If a certain tool doesn't meet the requirements you need, then try some other software out.
3.2 Are Duplicate File Finders Free?
There are duplicate file finder tools that are free or come with a portable version that is available for free. Unfortunately, the portable versions are limited in features and are usually full of different ads that constantly ruin your user experience.
That said, most paid versions come with a free trial that allows you to test all the features of an app before you purchase it. While some companies will require you to provide credit card details, a lot of others let their users try their services without leaving any credentials.
But, it all comes down to how frequently you'll use the app. If you want to do a one-time duplicate cleaning, then using the free version is enough. If you have a bad habit of copying and downloading multiple same files, then duplicate finder with a one-time purchase or a monthly subscription will come in more handy.
4. Conclusion
There are many duplicate file finders with many different features. What's important, all those that we listed will do what they were developed for and offer many more useful features, starting from external drive support to supporting cloud storage. What duplicate file finder have you used before? Please leave a comment and let us know!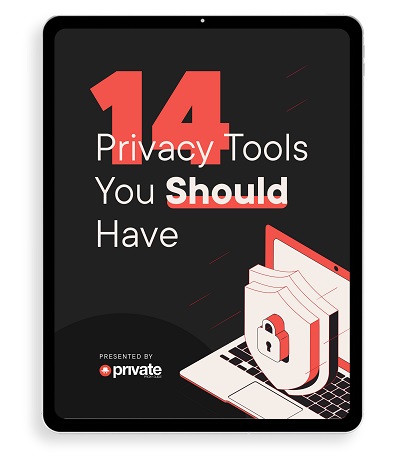 Learn how to stay safe online in this free 34-page eBook.