It's easy to navigate the Internet. Within just a few clicks, you can do lots of things easier and faster. It would seem that there are lots of conveniences offered by the Internet.
But when everything seems to be within reach, there are still risks and dangers online.
And although cyberspace is not a tangible area that is fully protected by laws and legislation, you should be all the more careful.
You are in a vulnerable space, and you would not like to have critical information and data stored in your computer and other devices easily accessible to others.
To protect yourself from data breaches, here is a list of the top-performing spyware removal tools to ensure your security.
Best spyware removal tools in December 2023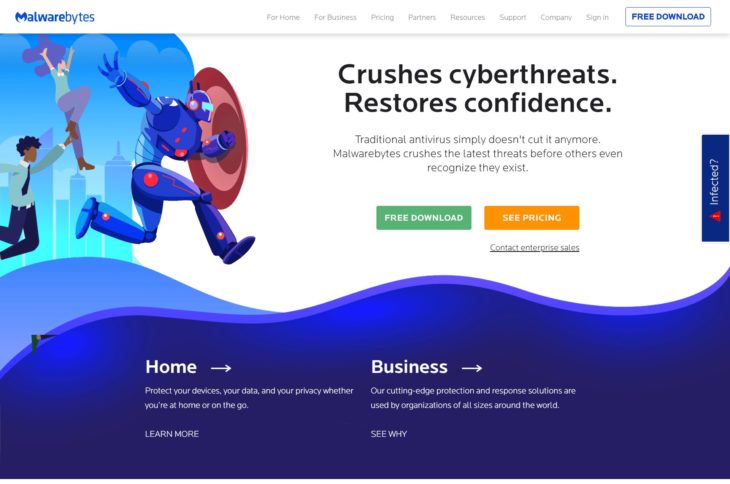 Website: www.malwarebytes.com
If you want a reliable spyware removal program, Malwarebytes is among the leading. With its easy to use features, this malware removal tool can ensure its users that it would find malicious items.
In comparison to other programs, Malwarebytes has a few edges. Among these is that it can find malware better than other spyware removal tools. Aside from scanning through keys, files, running process, and registry values, Malwarebytes also has a heuristic analysis, a feature that detects malware in new variants.
Malwarebytes can also scan folders, individual files, and hard drives.
Some users suggest getting the premium version of Malwarebytes. You can have automatic updates and quarantine when you get Malwarebytes premium. But if you want to try out the program, a free version is available for both Windows and Mac OS.

Website: www.malwarebytes.com/adwcleaner/
Adwcleaner is also a reliable program that can keep your Windows computers and devices safe. It is a stand-alone program that scans and removes adware, browser hijacks, crapware, potentially unwanted programs, and other kinds of malware.
Adwcleaner was initially developed by ToolsLib and is now acquired by Malwarebytes. If you are to install Adwcleaner on your Windows computer, make sure that it is accompanied by reliable and efficient antivirus software.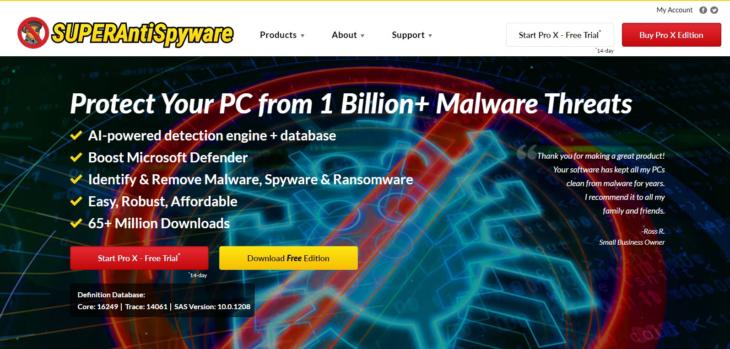 Website: www.superantispyware.com
SUPERAntiSpyware is among the top-performing spyware removal programs you can use on your computers. If you are a Windows user, SUPERAntiSpyware should be your first choice because of its impressive features.
Firstly, this anti-spyware program often updates. Its rapid installs and scanning processes also make it a great choice. Among the things on your computer that the SUPERAntiSpyware can scan are ZIP files and unknown file types. For a more efficient scanning process, SUPERAntiSpyware skips over non-executable files, files bigger than 4MB, and as well as unknown file types.
You can rely on this spyware removal tool since it can either scan your whole computer or just the parts where spyware is usually found. The Critical Point Scan allows you to delete spyware that runs on your computer's memory. Whereas the Custom Scan provides users with the option to choose which will be scanned.
You don't have to purchase SUPERAntiSpyware. This program is free; however, you have to run the scans manually.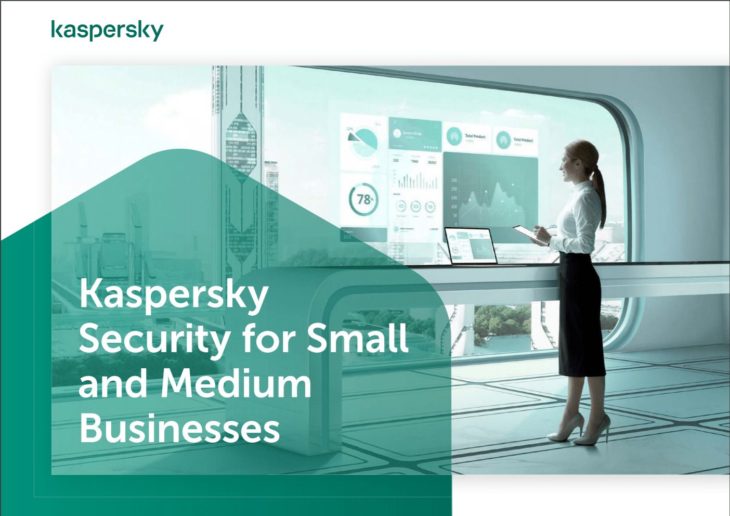 Website: www.kaspersky.com
For your essential antivirus protection, Kaspersky Anti-Virus can keep your Windows computer safe. This program can prevent crypto lockers, ransomware, and hackers from accessing your data on your computer.
Aside from blocking internet viruses and malware in real-time, Kaspersky Anti-Virus also has other prominent features. Among these is that it helps your computer run fast.
According to the February AV-Test 2020, Kaspersky Anti-Virus tops all other programs in providing the best protection. Kaspersky scored a 5.91 on a scale of 0 to 6, while Norton and McAfee ranked second and third, respectively.
Also, Kaspersky Anti-Virus is a top choice because of its low impact on system performance when in use. According to the AV-Test recorded from January 2013 until February 2020, Kaspersky Anti-Virus has a 5.78 score, making it the best program in terms of performance.
You would have to purchase Kaspersky Anti-Virus before you can use it.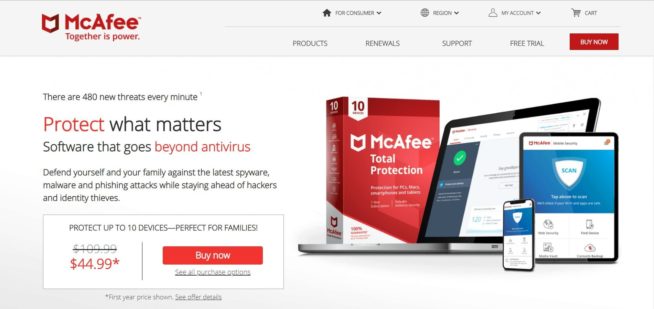 Website: www.mcafee.com
McAfee is a reputable antivirus software. It has many security features that can easily block malware and unwanted spyware attacks. Included in McAfee's safety features are real-time protection, safe-browsing extension, and Home Network Security firewall.
McAfee also has performance optimization for your devices. It can also keep your passwords secured with its password manager. As for the virus scan feature, you can choose the Quick Scan or the Full Scan. However, the Quick Scan runs approximately 20 minutes. It might be relatively longer than other programs' quick scan feature. As for the full scan, tests showed that it ran for at least an hour.
If you have multiple gadgets or you have family members who have personal computers, you can avail of the McAfee Family Plan.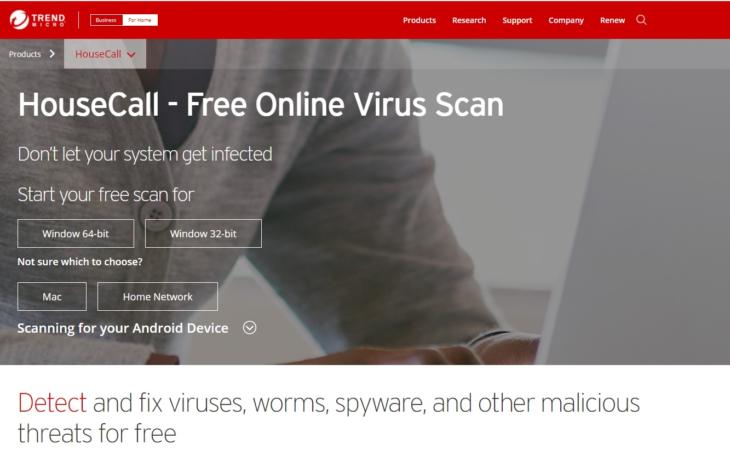 Website: www.trendmicro.com
Trend Micro HouseCall is also a great choice because it has a full scanner against malware without using up too much of your computer's disk space. Because of that, you can expect that your device still functions at optimum performance.
There may be downsides to using Trend Micro HouseCall, such as manual updates and scans. However, with its key features, users are ready to oversee these downsides.
Aside from its guarantees that your computer's security, Trend Micro HouseCall, can also provide you Trend Micro HouseCall is available for both Mac and Windows computers. This program is also available on android phone devices.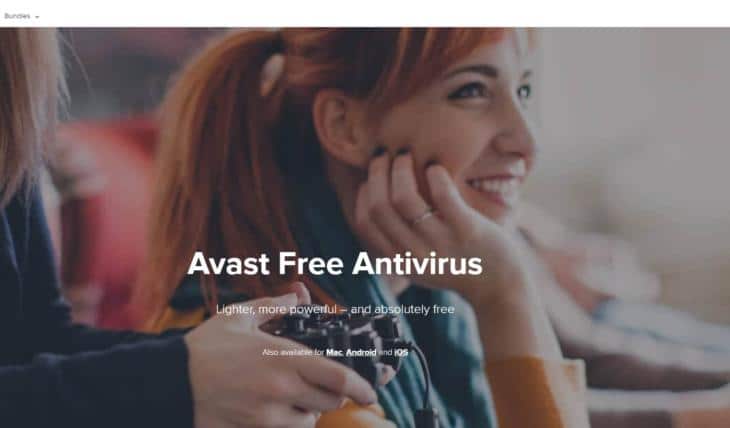 Website: www.avast.com
This Czech-developed antivirus software can keep your computer and other confidential data safe from hackers. Avast Free Antivirus can detect and delete spyware and malware before you're even aware that they are present on your computer.
Its customizable setting makes it easier for the user to choose which features of the program to work. Among the additional tools are the CyberCapture and the Hardened Mode, which allows the application to block unrecognized files and data and scan potentially harmful and unwanted programs.
The Avast Free Antivirus is compatible with a wide range of devices. So whether you are a Mac or Windows computer user, you can still use Avast to keep your computer secured. You can also use this program with your android phone, iPhone, iPad, and Linux computer.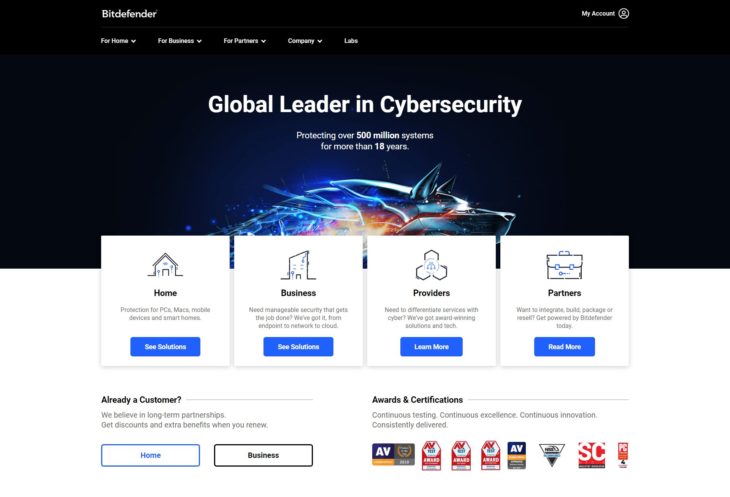 Website: www.bitdefender.com
If you want top-notch security matched with performance optimization, Bitdefender is your choice. This program is one of the favorites of Windows computer users. It had made a name as a reliable antivirus and malware removal tool for a good many reasons. Bitdefender also boasts of advanced features for a basic package.
Aside from removing malware and spyware, Bitdefender is also a must-have if you want a program that can provide you web protection. It also has VPN Internet Security, which allows you to browse the Internet anonymously. That way, you can surf the web while blocking hackers from encrypting your data. It also blocks phishing websites, which can prevent the unlikely event of being scammed.
Compared to other cybersecurity programs, Bitdefender has an edge in terms of protection and impact performance. As per January 2011 to April 2020 AV-Test, Bitdefender has the best protection against infection with a 5.94 score in a 0 to 6 scale. And as to the lowest impact on performance, Bitdefender recorded a 5.81 rating.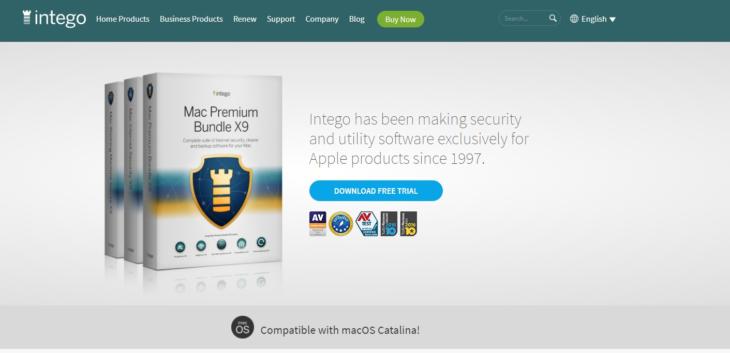 Website: www.intego.com
Intego is also an excellent choice for those who use Mac computers. With its powerful firewall that prevents hackers from accessing your computer, Intego is sure to provide top-notch security. You can also depend on Intego for blocking and eliminating viruses that threaten your computer.
Intego can also block phishing websites and attempts.
Aside from those features, Intego can also clean your computer. The program also has performance optimization. With that, Intego guarantees that your computer will not slow down the performance upon use. You can also expect that viruses from USB drives, flash drives, and hard drives will not infect your computers.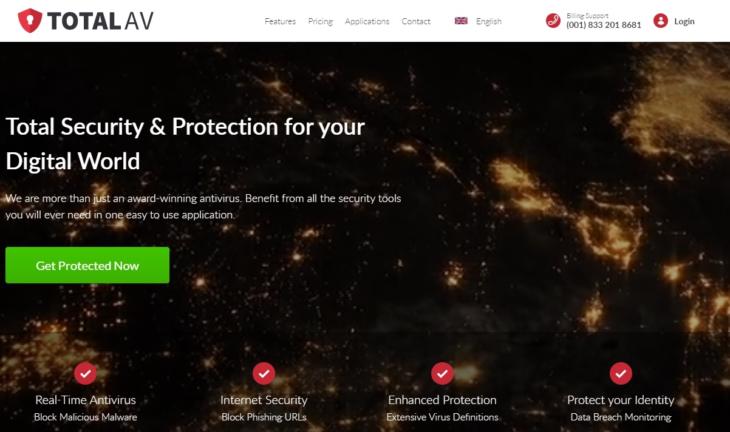 Website: www.totalav.com
For superb protection and security, Total AV can detect and quarantine unwanted viruses, malware, spyware, and adware in your MacBook.
This antivirus program can scan malware. It can also quarantine and eliminate the same. Aside from scheduled scans, Total AV can also speed up the performance of your MacBook. And with the Disk Cleaner, Total AV can keep the system of your computer clean for ideal performance.
Total AV is also compatible with other Apple products, such as iPad and iPhone.
If you are still not sold with Total AV, then perhaps its credentials as the top antivirus in August 2020 should do the trick.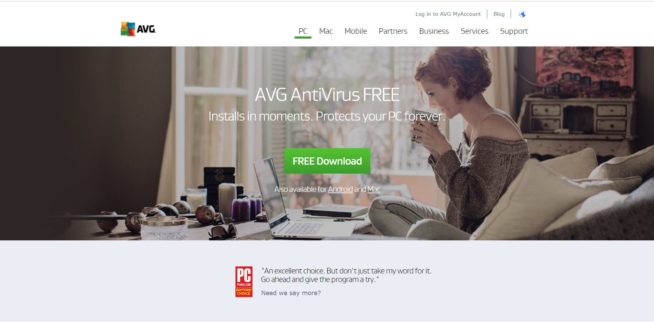 Website: www.avg.com
With over 200 million users, AVG just goes to show that it is a reliable and competent antivirus program that will protect your computer. Founded in the Czech Republic last 1991, AVG managed to grow its program as a well-esteemed antivirus tool.
AVG has a total of 24 different products, and each specializes in a particular type of protection. As a versatile product, you can count on the AVG brand to have anything that you need for your computer's security against external threats. Also, AVG has HideMyAss!VPN that is perfect for both PC protection and online safety.
Website: www.bullguard.com
BullGuard is also a leading house name among the products of antivirus and anti-spyware programs. Since it was founded in 2001, this program boasts of the top-performing services to protect your computer from browser hijacking and unwanted infection from viruses, to name a few. Aside from those mentioned, BullGuard is also a remarkable software in the antiphishing industry. It also has VPN Internet security, which guarantees its users web protection.
As for the interface of the software and its user-friendly accessibility, BullGuard is easy to navigate. With this feature, BullGuard received a high rating from TrustPilot. According to their evaluation, BullGuard also has great customer service. So if you are looking for a topnotch anti-spyware program that is easy to install and use, BullGuard is an excellent choice for you.
Website: www.brightfort.com/spywareblaster.html
If you are looking for a basic yet trusted program that will protect your Windows computer from potentially harmful and unwanted programs and blacklisted websites, you should install Spyware Blaster.
However, there is a downside to SpywareBlaster. While it highlights protection from external threats from the Internet to protect your computer, Spyware does not detect viruses that already infiltrated your PC. And with that, the software is unable to quarantine and remove these viruses.
SpywareBlaster comes in two choices. You can either install the free trial or purchase the version that has more prominent features. The paid version comes with an automatic update conducted at regular intervals. Get SpywareBlaster if you want automatic updates and good customer service.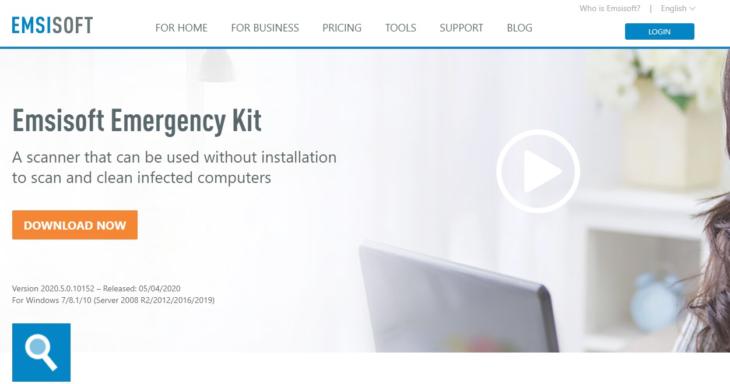 Website: www.emsisoft.com/en/home/emergencykit/
A portable anti-spyware tool for scanning and deleting all types of malware, the Emsisoft Emergency Kit can keep your computer virus-free. You don't even need to install it. It can also identify, quarantine, and delete unwanted and potentially harmful programs that managed to infiltrate your computer. It can also detect spyware traces from emails and archives like ZIP files.
Custom scans are also readily available with the Emsisoft Emergency Kit. However, a drawback to that is that it does not support scheduled scans. It also takes too much space. The files of the software need to be extracted. That could take up to nearly a gigabyte of your computer space.
Nevertheless, the overall performance of the Emsisoft Emergency Kit is impressive. If your computer operates on Windows 7 or a newer OS, you can download Emsisoft Emergency Kit.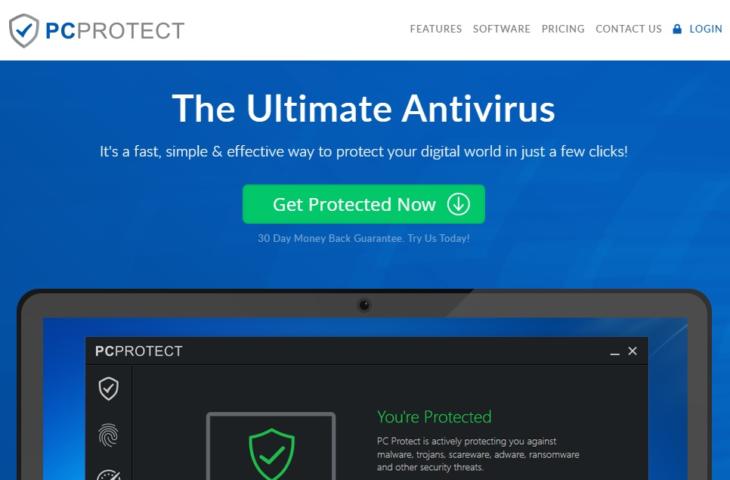 Website: www.pcprotect.com
For a fast, efficient, and attested anti-spyware tool, PC Protect can keep your computer in its best condition by providing it with utmost security and protection. What makes this brand a competitive and impressive choice is its comprehensive set of features which other brands do not have. PC Protect has a vast array of features that can protect your computer from various external threats from the Internet.
It also provides premium protection for your computer. Among these are identity protection and password manager. As for Internet protection, PC Protect's features include browser manager, VPN Internet Security, blocking phishing website protection, and web protection, to name a few.
This Virus Bulletin VB100 Awardee is compatible with Windows, Mac, iPad, iPhone, and Android phones.
Spyware & malware FAQ
Having a computer, whether a personal one or a smartphone that is always on hand, is a modern-day necessity. Almost everything is done with the use of a computer so long as it is connected to the Internet; these include bank transactions, entertainment, attending online classes, and downloading important files for your work.
However, with all these conveniences offered by cross-cutting technology and modern innovations, these also put users in a vulnerable position. That is why it is essential to install software and tools that will enhance our computer security and protect us as we browse the Internet.
If you are looking for the best anti-spyware program for your device, you may have a question or two. Here are some frequently asked questions about computer viruses, malware, adware, spyware, and some suggested answers from experts.
Q: What are the types of malware?
"Malware" derives its etymology from "malicious" and "software." It's a general term that refers to any computer program that can be found on a device, such as your computer or smartphone.
There are different kinds of malware. Know more about computer viruses, adware, and spyware.
Q: What is a computer virus?
No, we are not referring to the recent virus outbreak. We're referring to the type of malware that infects computers. Nevertheless, they work the same. The reason why it's called "virus" is that it can infect other hard drives and machines that receive data and documents from an infected source.
Q: What is adware?
Adware is a type of malware commonly encountered when you are surfing the net. You usually stumble upon it in the form of a pop-up ad on webpages. Some adware contains tracking tools. This is harmful as it can access sensitive information such as your location and address and browser history.
Q: What is spyware?
You don't want spyware on your computer. Once it manages to get to your computer, it can collect your data information, including your location. It can also detect your browsing habits and as well as login information. Usually, users are not aware that their computer is already infected by spyware.
There are different types of spyware. Among these are password stealers and info stealers. This malware can steal your password and information stored on your computers and phones. Banking Trojan, which is another type of spyware, can steal crucial data from banking and financing institutions. And lastly, keyloggers are responsible
The difference between adware and spyware is that users typically "consents" to the former by clicking the "I agree" button in the Terms and Conditions of a software or an application. Spyware, on the other hand, is undetected by the user. You can say that adware merely repurposes your data, whereas spyware collects your personal information for malicious purposes.
Q: Do I need to install anti-malware and other removal tools?
A big yes, indeed! These tools can help protect your computer from being infected by unwanted malware. You can also rely on these programs to block malicious websites that are known to affect your computers. Installing these tools can be helpful, especially if you have lots of critical information stored in your devices. You don't want unknown parties to have access to your computers.
Q: Will these kinds of software slow down my computer system?
Whenever you run a program on your computer, it will always slow down your computer. Antispyware and antivirus programs can also contribute to the slowing down of your computer.
Usually, some programs have scan options. A thorough full scan can take time and will also use CPU cycles. It's proper not to use your computer when running a scan because it can drastically slow down the processing of your computer. But you shouldn't worry that much because the impact is not detrimental to your computer, especially if you have an updated and modern model.
Other removal tools feature software optimization. If you want to preserve your computer's processing speed, you can opt for those programs, although they may be more expensive compared to other brands.
Q: When installing a new one, should I remove the previous tool that I used?
Yes. Usually, when there are two anti-malware programs installed on your computer, they can detect each other's databases. They might also interpret the other software's data as a malware threat. So make sure you uninstall the previous removal tool before running the new one.
Q: I think my computer is infected with spyware. What should I do?
If you suspect that your computer is infected, make sure that your system is cleaned up. Your removal tool should clean up artifacts.
Spyware is specifically for malicious purposes. You may also want to take extra precautionary steps as well. To avoid repercussions, contact your bank and other financial institutions. And if you have sensitive data, records, videos, and pictures stored inside your computer, it's better to inform law enforcement authorities for them to take action.
Q: How do I protect myself from spyware and other types of malware?
It would help if you always were careful of content from the Internet. Do not entertain and open emails from unknown senders. It's also best that you refrain from downloading files from untrusted or sketchy-looking websites.
When redirected to a different website, make sure that it is a legitimate website. Many phishing accounts and scam websites use this modus to gather information. If you are skeptical about the interface or the look of the site, do not input critical data that may be used, stolen, or taken advantage of by third parties.
Install a reliable removal tool on your devices. Doing this is the safest form of cybersecurity. It is also important that you choose software with real-time protection to prevent you from visiting suspiciously malicious websites. The real-time protection feature of anti-malware programs is very helpful. They can detect, quarantine, and block spyware and other unwanted threats on your computer before they can manage to infect your computer.
Remember to be cautious at all times, especially when surfing the Internet. By protecting your computer, you are also protecting your safety and security.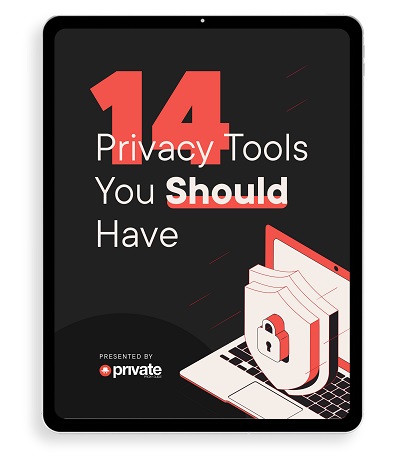 Learn how to stay safe online in this free 34-page eBook.