When talking about PDF editors, many people are used to premium editors that let you add images, edit/add text, or even insert your own elements. However, premium editors can be very expensive, and most of the time, they're not worth the price if you're not editing PDF documents every day.
The good news is that there are open-source PDF editors that can do almost the same for you. The best open-source PDF editors are free, so you won't have to pay a single dollar, yet, they can edit PDF documents with no hassle and provide a satisfying experience.
But since they're not as popular, I decided to do some research and found that lots of them that are worth mentioning. Needless to say, in today's article, I'll present them to you, analyze each of them, and tell you more about their pros and cons to give you a better insight.
1. Best Open-Source PDF Editors 2023: Try These 10 Choices!
Before I divulge my list, let me give you a quick disclaimer. Open-source PDF editors are free, which means that they lack some features of premium editors like Adobe Acrobat or PDFpen. As such, I want to clarify that you shouldn't have very high expectations in terms of their possibilities.
If you need a somewhat basic PDF editor with a few useful extras in some cases, I think you'll find these open-source choices pretty good. But if you need a top-grade, feature-rich editor… well, you're going to need to pay for one.
Without further ado, here's my list of the top 9 free PDF editors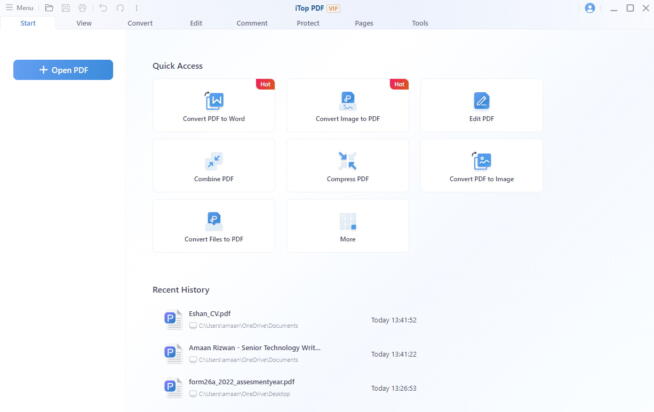 iTop PDF is a rather underrated PDF viewer, which not many know about. It's a good alternative to Adobe Acrobat PDF reader, offering the same or more features. A menu entry is added to the right-click menu on installing the program, which lets you directly open the supported files in the iTop PDF app.
Land on the homepage, and you have a variety of options to choose from. Your recently accessed PDF documents appear at the bottom. Microsoft Word lets you save docs files in PDF, but iTop lets you do the opposite by letting users create Docx files into PDF.
Sometimes you want to change the date, spelling or replace a phrase in a PDF but not a word document that will let you edit it. iTop PDF has a PDF edit option that lets you edit the existing text and add new content to the document. In addition, we can also add a signature on the document, which is a useful feature for professional settings where paper is not used.
Students scan dozens of notes on their phones, requiring shuffling in the gallery to access them. Convert a bunch of images into a PDF document, making it easier to read and reference later. Sometimes you have multiple PDF documents with different numbers of pages, and they need to be sent over email. It would be better to combine PDFs using iTop and send them as one document for easy download and access on different devices.
When PDF is finalized after different edits and additions, iTop PDF lets you add a password to the document. It can be just numbers, alphabets, a combination of both, and special characters. Make sure to write it down somewhere else it is not possible to open it without entering the password.
Pros
Open with the iTOP PDF option in the right-click contextual menu
Convert PDF to Docx, PPTs, and Excel sheets with one-click
Combine multiple PDFs into a single document
Convert image(s) into PDF document
Add your signature to a document
Add a custom watermark behind the text of the PDF document
Compress PDF file size in different compression levels
Cons
No fonts are available for editing/adding text to the PDF
Users cannot add comments by merely selecting text like Google Docs
Despite their inferiority to premium editors, free PDF editors can also be great. A pure example of that would be PDF Candy, a free, open-source editor with tons of useful features. It's an in-browser editor that will work pretty much on all browsers – Firefox, Chrome, Brave, Safari, Edge, etc, etc.
In total, this editor offers 44 amazing functions, such as the ability to edit, merge, compress, or split PDFs, which I found very useful. In addition, you can use it to convert PDF to Word if you want a highly-customizable document in another format.
I also like the ability to add your custom watermark and rotate PDF, which is great if the document is turned the other way around. The most amazing thing about it is the OCR functionality. This means that it can create documents from images and vice versa, which makes things much easier.
If you take an image of the text, you can upload it to PDF Candy and it'll create a full-fledged PDF document – pretty awesome! However, you can't start a new document from the site, and instead, you'll need to upload an existing document to start editing.
For me, this isn't a big issue considering how feature-rich PDF Candy is. I mean, you can edit documents like a pro, add your signature, protection, and so much more, without paying a dime. Not to mention that it offers a Windows app as well, in case you don't want to rely on your browser!
The only downside, however, is that you need to pay for access to the desktop app and that subscription will cost you $99 (lifetime plan).
Pros
44 PDF editing options
It can convert PDF to Word
OCR functionality is unique to free PDF editors
PNG to PDF conversion
Ability to add a signature and apply protection
Offers both desktop and web versions
Cons
The desktop app is available only in the Lifetime plan that costs $99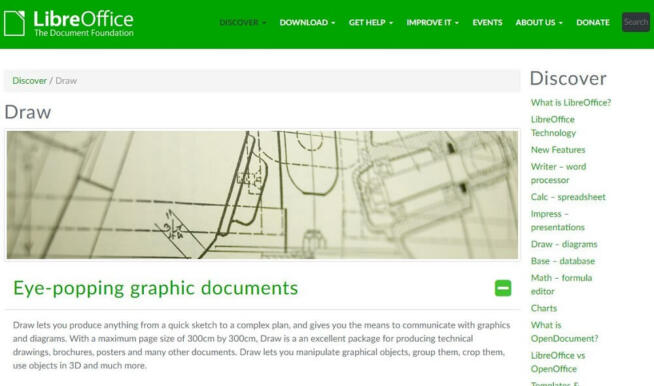 LibreOffice Draw is another popular choice and for very good reasons. Unlike PDF Candy, LibreOffice Draw is a desktop app that offers a great-looking interface akin to Microsoft Word. This makes it instantly recognizable and easy to use, as there's no learning curve.
When it comes to features, LibreOffice Draw isn't as feature-rich as the previous editor. However, it lets you quickly and easily edit PDF files by adding or removing text, images, and other elements. Furthermore, you can add colors to the text and insert bullet points for added versatility.
LibreOffice Draw will also let you add a signature if you need to sign a particular business document. And if you find a document too long or it has unnecessary blocks of text, LibreOffice Draw will let you delete a page as well.
In my experience, this open-source PDF editor is great not only for working with PDF files. Instead, it lets you convert Docx files to PDF or even vice versa if needed. It's a lightweight application that has portable versions as well, making it easy to use on another machine without previous installation.
LibreOffice Draw's main downside is that it slows down when editing huge PDF documents. It's simply not built for professional-grade editing, so I suggest using it for documents no longer than 10 to 20 pages. Although it's user-friendly, its interface is a bit dated, to be honest.
But if you don't care about these tiny nitpicks, you got yourself a powerful open-source PDF editor for exactly $0.
Pros
The app is very easy to use and looks similar to Word
You can add or remove the existing text
The ability to delete the entire page
Offers a portable version of the app
You can rotate the page in a document
Cons
Not suitable for very large PDF documents
A bit dated interface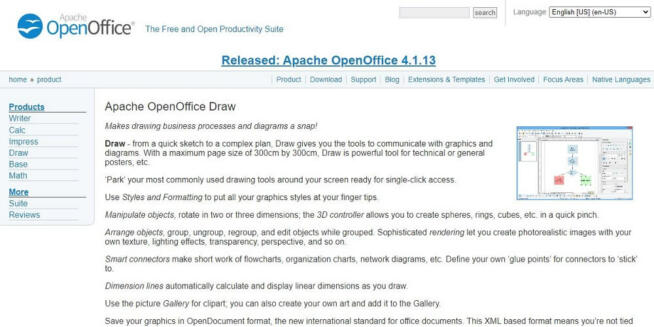 Apache OpenOffice Draw is a comprehensive graphics editor that comes as a multi-purpose open-source solution. For one, it can edit graphics, which is complemented by a solid PDF editor where you can add these graphics to the document you're editing.
These two features aren't separate, so you don't need to wander around to be able to edit PDF files. Instead, just drag and drop the file to the app's interface, and it'll open the editor with all the features and functionalities.
Granted, we're talking about a relatively basic editor that lets you edit, add, or remove text or images as you'd do in Microsoft Word. The interface is pretty easy to grasp, although not the most modern. The good thing is that you can easily find its spell-checking tool.
If you need to check for mistakes in the text, Apache OpenOffice Draw will do it for you by highlighting them in red and even fixing them for you automatically – if you want, of course. Headers and footers of PDF documents can be edited, as well, so you can fully customize the document.
Unlike PDF Candy, it doesn't support OCR and users reported that the app has certain bugs from time to time. I'd also add the fact that it won't work as well with very large documents, especially if you want to convert Word or Excel files to PDF.
Pros
The ability to edit graphics
The spell-checking tool is great for getting rid of grammar mistakes
The header and footer can be edited
Drag-and-drop functionality for adding images to documents
Cons
OCR isn't supported
Larger documents will slow down the app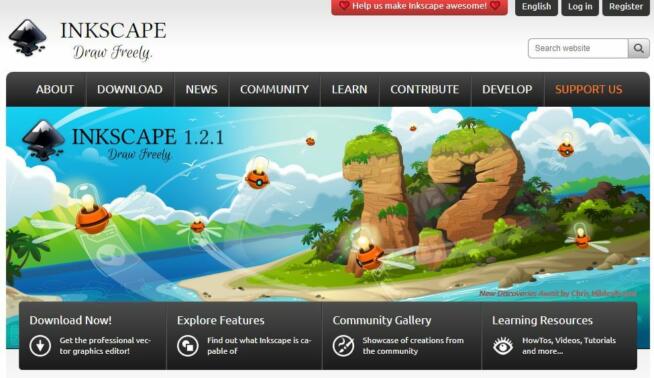 Many people know Inkscape as an all-around SVG editor that offers a huge set of tools and options. However, little do you know, that Inkscape is also an open-source PDF editor that combines its SVG-editing capabilities with basic PDF editing.
Needless to say, you can expect it to support adding or removing text from a PDF document swiftly, which is what pretty much all editors offer. However, I like the ability to add links to the text, which is great for adding references at the end of your dissertation, for instance.
Furthermore, Inkscape can convert PNG images to PDF much like PDF Candy. I found this especially useful, as I didn't have to manually rewrite the text from the image to the document. Inkspace can also split your PDF documents and you can add SVG to them if you want.
Granted, Inkspace isn't particularly functional as PDF Candy or LibreOffice Draw, but for basic editing purposes, I think it's more than good. Its interface could use an overhaul, however, as it's still much better for editing SVG than working with PDF documents.
But at least it's completely free and offers an active community where you can learn more about the app or share your experience with the developers and bug testers.
Pros
It's a capable SVG + PDF Editor
Removal of existing text from a PDF document
The ability to convert PNG to PDF
You can add SVG to your documents
It can add hyperlinks to the text
Cons
Basic editing features only
Not the most intuitive interface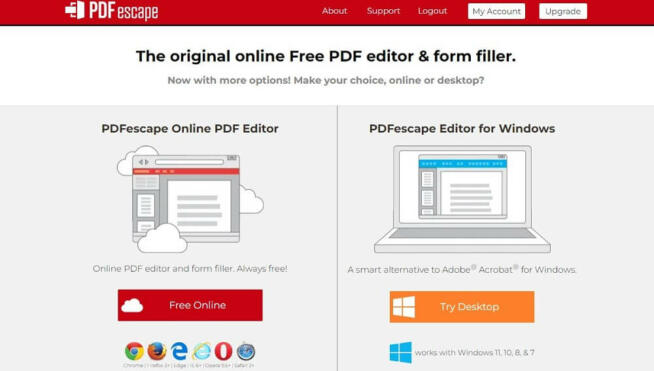 PDFescape offers two options – a free browser-based option or the desktop option that offers more features that are locked behind a paywall. Of course, the free option is what interests us here, and might I add, it's a pretty good one.
This editor lets you add PDF files and edit them with basic functions such as adding text or annotating the document. PDFescape's focus is on annotation and it offers some tools that let you create form fields or fill out the existing forms within the document.
Moreover, you can even add or remove images, rotate the document, and highlight the text. PDFescape even lets you add sticky notes as reminders but I found even more useful the ability to password-protect my files to prevent anyone else from editing them.
PDFescape lets you share documents online directly from the app, which is great for business users. However, you should be aware that it has some limits. Namely, the free version supports PDF files of up to 10 MB in size and no more than 100 pages.
Thus, this would have to be a document with very few images and more text. But, as stated, PDFescape is here for document annotation, signing, and text editing and not very much for working with images.
Albeit, when talking about signing documents, I should point out that I don't like how signatures look here due to severe font limitations.
Pros
Document annotating
Adding and removing images
Sticky notes are a great addition
Supports signatures
PDF with up to 100 pages are supported
Cons
Supports only up to 10 MB file size
Not many PDF editing tools
Font limitations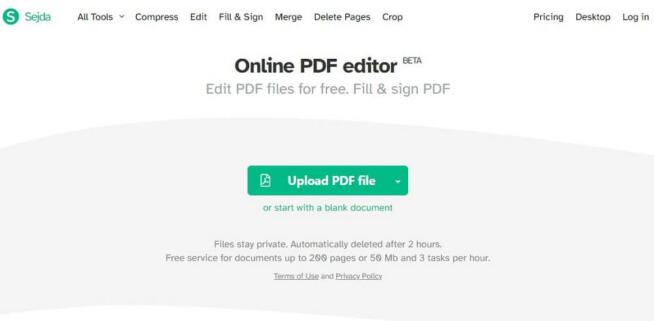 Sejda PDF Editor is a free solution for those who want to edit PDF documents without watermarks, in both browser and desktop versions. As such, Sejda supports even mobile platforms, where you can enjoy the same set of features as desktop users if we're talking about a web version.
Nevertheless, Sejda PDF Editor lets you create new documents or add ones from your storage or other sites. I like that it offers a decent number of fonts as well, so adding text and signing documents will be great. Moreover, it allows for PDF page deletion or even inserting new blank pages into the document.
Aside from adding images and redacting information, I like that Sejda PDF Editor supports easy document sharing. Namely, you can edit a document in the editor, generate a link, and send it to your friends or colleagues that can open that document directly in Sejda PDF Editor.
Sejda will then automatically delete the document after two hours, which will preserve your privacy and prevent anyone from accessing it. Of course, you can download the document to your computer before the deletion process if you want to keep it for other purposes.
Overall, Sejda is extremely easy to use and requires no previous knowledge or experience with open-source PDF editors. However, keep in mind its limits that are still higher than Inkscape. It supports PDF documents that aren't larger than 50 MB, with no more than 200 pages.
Also, you can edit 3 documents per hour, which can be rectified by purchasing a premium plan. However, Sejda PDF Editor isn't the cheapest, so I recommend sticking with the free solution.
Pros
You can create new PDF documents within the app
Offers a decent number of fonts
Edited documents are deleted after 2 hours for security purposes
Extremely intuitive interface
You can delete or add blank pages to your document
Cons
50 MB and 200 pages document size
You can edit only 3 documents per hour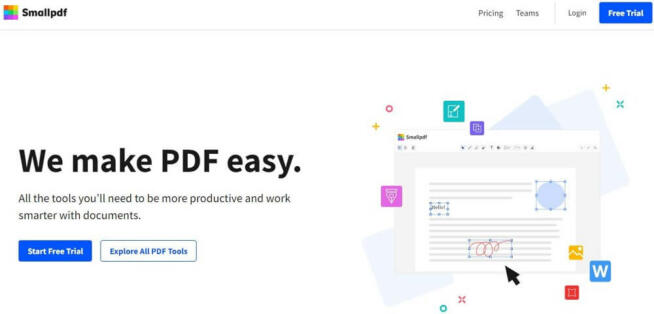 Smallpdf is a simplistic PDF editor that supports basic editing options and isn't suited for more demanding users. However, it does offer a premium version which is far more feature-rich but also very expensive with its minimal price of $9 a month.
Its free version, however, gives you access to 21 Smallpdf tools, the ability to edit 2 documents per day, and a web/mobile application. Smallpdf is simple to use and lets you convert PDF to JPEG, Excel, Word, and even PowerPoint files – and vice versa.
Furthermore, there's no file size limit, so you can upload and work on very large documents, which is a refreshment from editors like PDFescape or Sejda. As far as the editing process goes, it's fairly minimal, as you can't edit the existing text but just add new text or images.
This is done by dragging and dropping the images onto the document and positioning it to your accord. I should also mention that you can add custom shapes to the document or even custom drawings, but you can't highlight text or add annotations, which I found super annoying.
Several fonts are supported as well but don't expect a huge font repository. At least you can add great-looking signatures and convert from and to a variety of file types. As said, its premium plans make things a bit better but having in mind its price, it's wiser to get Adobe Acrobat Reader instead.
Besides, it costs $12.99 a month, which is just $4 more, yet, it offers much more than Smallpdf.
Pros
21 Smallpdf tools
Converts PDF to Excel, Word, PP, and JPEG files
No file size limit
The ability to add custom drawings
Great-looking signatures
Cons
It supports editing of up to 2 documents per day
The premium plan isn't worth it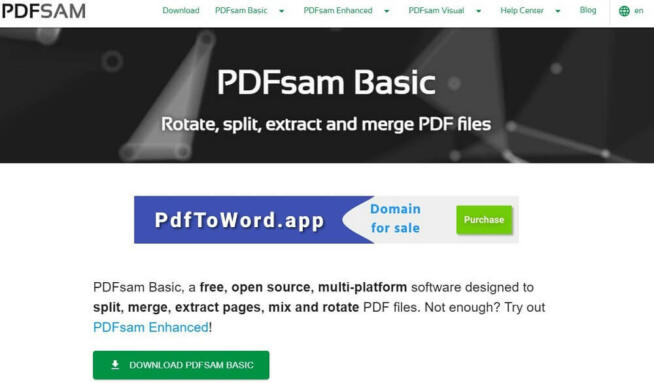 PDFSam offers a plethora of PDF editing tools for all your needs. Its Basic variant is the free one, but there are useful additions like Visual and Enhanced versions that offer far more features. As for PDFSam basic, it sports an intuitive interface, supporting Linux, Windows, and macOS.
The set of tools is rather impressive, as PDFSam Basic lets you edit the existing documents by removing or adding text or inserting images. In addition, this solution even lets you rotate the pages in the document, as well as split documents to create more documents out of one.
What I also like is the ability to extract pages from PDF files or even merge two pages into one. This way, you can make the document smaller if you intend on printing it. PDFSam Basic, while it works great, is fairly limited compared to its Enhanced version.
For example, it doesn't support conversion and it doesn't use 256-bit AES encryption to secure your documents. OCR is also available in the Enhanced version, whereas, PDF Candy provides it in its free version.
On the good side, it doesn't have limits on the document size and you can edit as many documents as you want during the day. So far, I haven't noticed any app-breaking bugs but the app tends to slow down significantly when editing large, 50+ pages documents.
Pros
Intuitive interface
Supports Windows, Linux, and macOS
You can split and merge documents
No document size limit
Cons
Can't convert documents
Tends to slow down when editing larger PDFs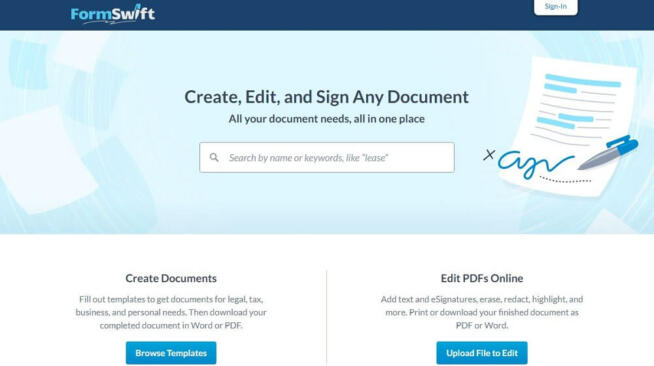 The last best open-source PDF editor on this list is FormSwift and it's a bit different from the rest of the pack. It lets you upload your PDF files and edit them by adding text and annotations. However, its main focus is on providing business and legal forms that you can fill out online for various purposes.
These forms can then be converted to PDF or Word and can be printed for further use. What's more, you can even download blank forms and fill them on your mobile phone or computer if you find the website unintuitive.
If you'd rather use it as a PDF editing tool, know that FormSwift isn't going to blow you away. To add a file, simply drag and drop it onto the browser window and make sure the file size isn't over 10 MB. From here, it's easy to add new images or text, put annotations, and add your signature.
While you can delete the pre-existing text, it's surprising that you can't edit it – a pretty bad surprise. In terms of fonts, FormSwift gives you just 4 of them, which isn't great if you want to fully customize the looks of your documents.
FormSwift is far from being great, but it's simple to use and lets you apply basic edits quickly if you're in a hurry. For a temporary solution, FormSwift is fairly decent, but if you want something more serious, don't be afraid to check PDF Candy, LibreOffice Draw, or PDFescape.
Pros
A plethora of legal and business forms for different purposes
Drag-and-drop interface for easy PDF editing
You can use it to add signatures and annotations
Cons
Only 4 fonts
It can't delete existing text
10 MB file size
2. PDF Editor FAQ
2.1 What is a great free alternative to Adobe Acrobat?
If you find Adobe Acrobat too expensive, you can check our best open-source PDF editors. While not as great as Acrobat, these are your only free alternatives to this program. PDF Candy is my favorite free alternative to Adobe Acrobat but all other choices on the list can serve you well.
That is if you're fully aware of their limits and you need basic or slightly above basic editing tools.
2.2 How to use a PDF editor?
Using a PDF editor is very simple, but that depends on the editor itself. Usually, you'll need to upload a PDF document which you can edit by adding text, images, signatures, or annotations. However, this all depends on the app layout but the same principle applies to all editors.
Some editors aren't as intuitive, so finding particular options can be harder. On the other hand, easier editors won't take much time to get used to and they'll provide a better experience
2.3 Can I convert PDF to Word?
Yes, you can do that with almost every open-source editor on this list. In fact, you can even convert a Word document to PDF if you want or turn a PNG image into PDF successfully.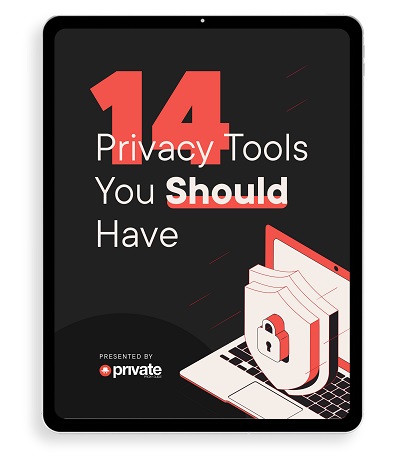 Learn how to stay safe online in this free 34-page eBook.