Your Private Proxy now offers both datacenter and residential proxies. In this review, I tested one of their datacenter proxies for personal use.
Your Private Proxy overview:
| | |
| --- | --- |
| Price | $6.97-$1199 |
| Proxy protocol | HTTP/HTTPS/SOCK5 |
| Plan setup | 5 minutes |
| Anonymity | Elite/High |
| Locations | 28 |
| Trial | 24 hours |
| Support | Live Chat & Email |
| Payment | Paypal only |
| Money-back | 3 days |
| Port 25 blocked | yes |
| Types | Datacenter & Residential |
1. What is Your Private Proxy?
This is one of the most reliable and fastest proxy service providers from the USA. It allows fast and easy connection to their proxies in different countries and cities with unlimited bandwidth and high speed. You get your proxies in only 5 minutes after the purchase and they are very easy to set up and configure. You are able to use up to 3 devices at the same time without any limits and geographical restrictions.
2. How it works
This service works absolutely the same way as hundreds of similar others. You choose your package, make the payment via PayPal, get your proxies, configure the software or devices, and start using them. All your traffic is redirected via the proxy, so your real IP is hidden and invisible to the server you connect to. The proxy allows using the geo-restricted services as if you were in the country where they are allowed.
3. Features
Absolute compatibility with any software working with proxies. You will be able to use it on any operating system, browser, device, and even bots. Both HTTP/HTTPS and SOCK5 proxies are available.
3-day money-back guarantee. The company promises that its proxies will work perfectly with your software and will completely serve your needs. However, if you do not like the service, you can ask for a refund within 3 days.
Access to any file or website without any restrictions and censorship. That is really great as a lot of competitors have a lot of limitations.
24/7 technical support. The specialists are ready to answer any question related to proxies and the service in general. They are available round-the-clock via online chat and email. Don't feel ashamed to ask anything.
High anonymity. Your Private Proxy offers dedicated proxies that are completely anonymous. This means that no one will be able to intercept your data, disclose information about you, or find out how you use the proxy.
The same IP forever. Your IP will remain valid as long as your subscription is valid so it will not change randomly. However, you are able to buy randomized proxies.
99.8% uptime. You will not suffer from unstable work and constant disconnections. Do what you really have to do.
Multiple IP locations. The servers are located in many cities over 5 countries. You can choose any location according to your needs.
Unlimited bandwidth without restrictions. Each server has a 1 Gbps port, so you will not be limited at a certain speed either. The only thing that can influence the work is the ping time when you are located too far away from the server.
Use your FTP. The proxies allow using your favorite FTP client without any restrictions. Just add the IP address, port, login, and password to your client settings and get started.
No ads in your proxy. All the servers are ad-free all the time.
4. Registration, payment, and prices
Buying a Your Private Proxy subscription is a very simple process. You just need a bank card and up to 10 minutes of your time. Here is the step-by-step procedure.
Go to the homepage and click on the Sign-Up button to create the new account. You can also choose the Sign In option and create an account with Google or Facebook which is much faster.

When you choose the Sign Up option, add your name, email, login username, and password.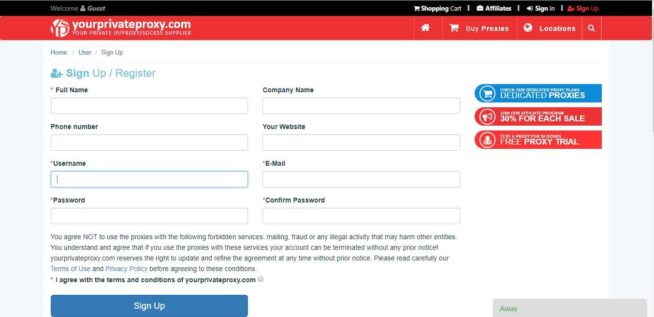 Select the pricing plan. There's a variety of plans available for different needs. The prices vary from $6.97 to more than $200 per month. We will buy the cheapest plan with 1 dedicated server.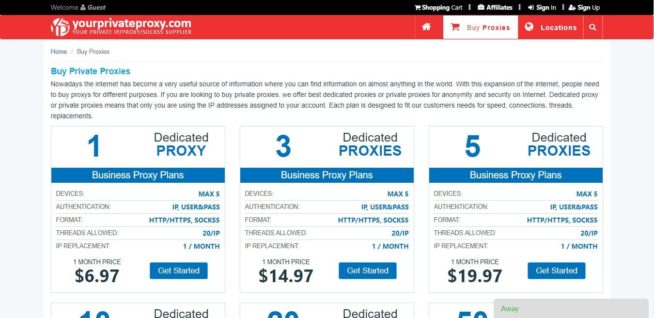 Select the location of your proxy.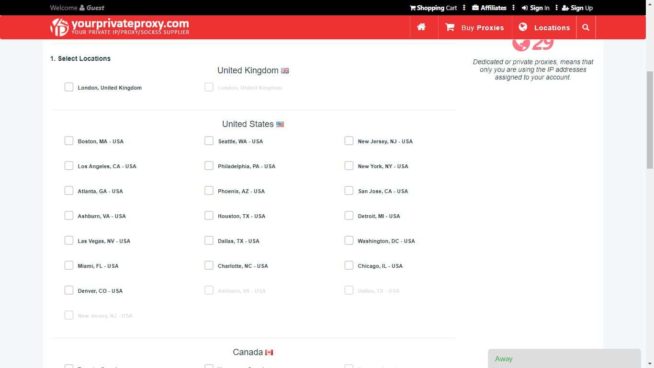 Check whether all the information you entered is correct and go to the next step.

Make the payment. PayPal is the only payment option at the moment. However, even if it is limited in your country, you can easily use it to make the payment.

Log in to your PayPal account or create the new one, and complete the order.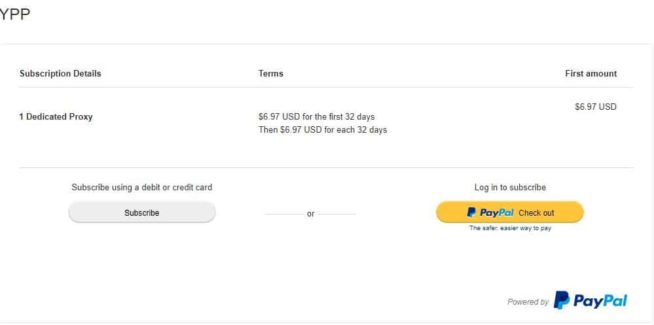 Once the payment is complete, you get a notification and a timer for when the proxies are ready. They promise to get them ready in no more than 5 minutes.

You can even get a free trial period of 24 hours to check how everything works. For that, you have to sign up and ask for a free trial. They promise to provide it in 12 hours but in our case, it took about 38 hours. Terrible result. We decided not to wait and bought their proxy.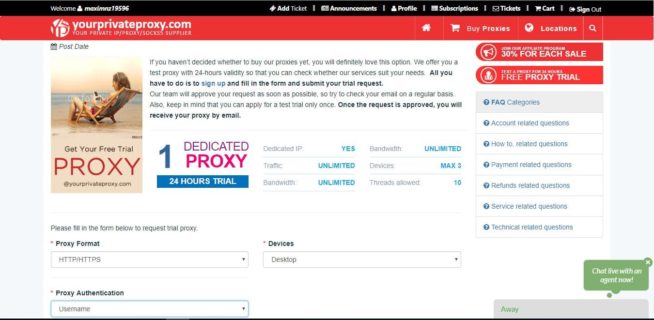 Very soon after we did, we got an email confirmation with the transaction data.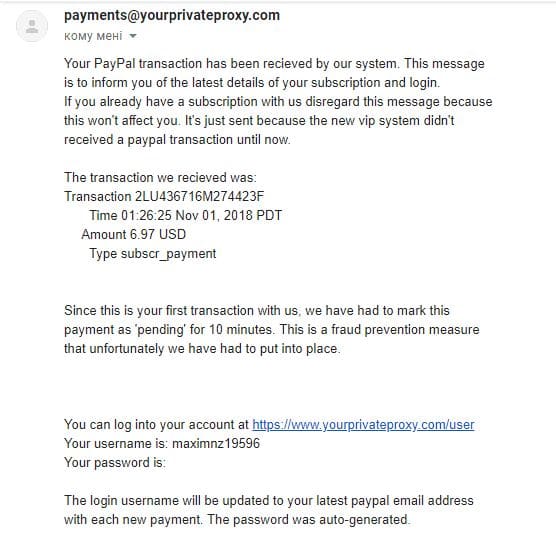 All your orders are available in the My Orders section.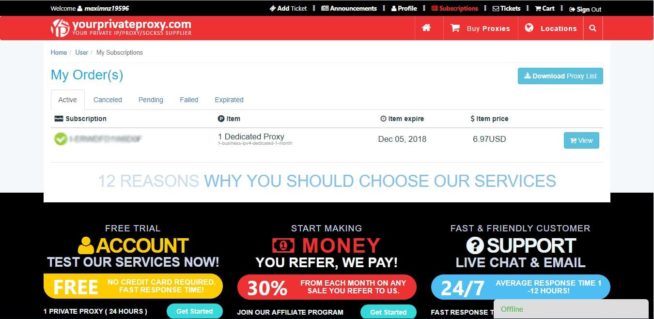 When you click on the package, you get all the information about it. To get the IP, download the text document with all the data.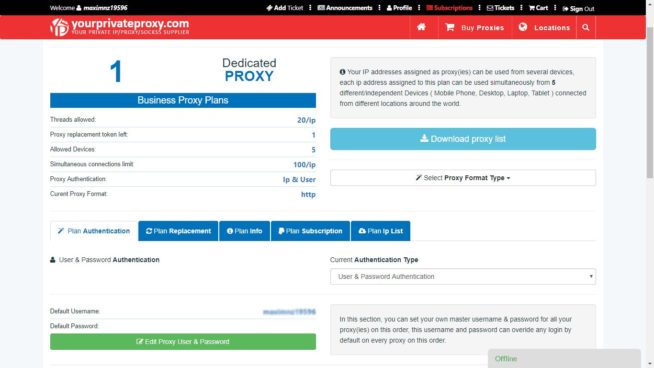 Also, we got an email with information about the subscription.

5. Member area
The member area looks very outdated. However, it provides all the necessary information about your profile. At the top of the page, it has the following links: Add Ticket, Announcements, Profile, Subscriptions, Tickets, Cart, Sign Out.
6. Servers and locations
All the proxies are located in the following countries and cities:
UK: London.
USA: Boston, Seattle, New Jersey, Los Angeles, Philadelphia, New York, Phoenix, Atlanta, San Jose, Houston, Ashburn, Detroit, Las Vegas, Dallas, Washington, Charlotte, Chicago, Miami, Denver.
Canada: Toronto, Vancouver.
Netherlands: Amsterdam.
Germany: Frankfurt.
7. Test
To check how everything works, we used several online services. We ran a proxy check, location test, and speed test for the proxies. Here are the results.
7.1 IP Information
First, we checked the information about our IP address. The service showed a critically low level of anonymity.

7.2 Proxy check
The proxy check showed that IP is not detected as a proxy.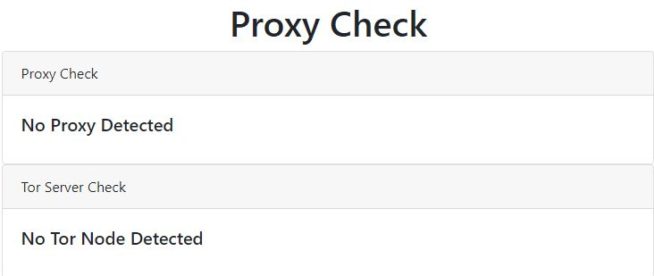 7.3 Location test
We selected the proxy location in London. The test really detected the IP location to be in London.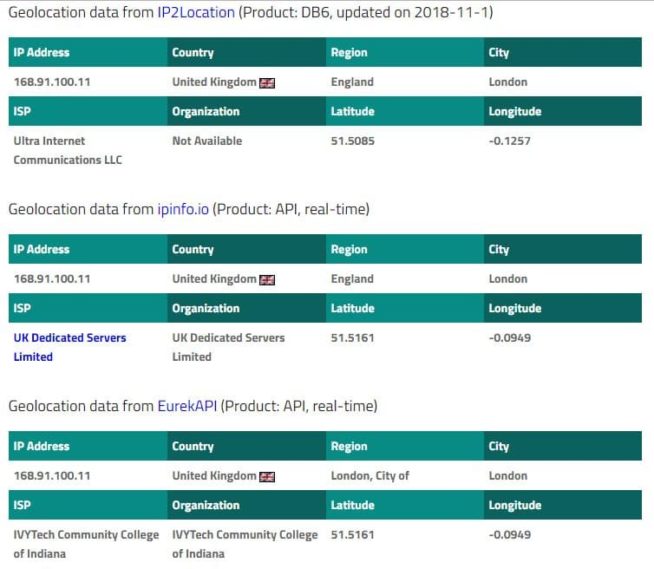 7.4 Speed test
The connection speed is really high. It didn't reduce our connection speed at all.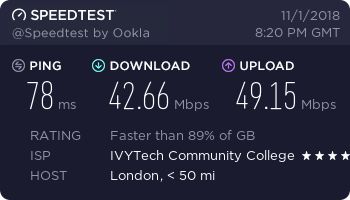 7.5 Geo-restricted services
We also tried to access BBC iPlayer with our UK proxy. Unfortunately, it didn't work.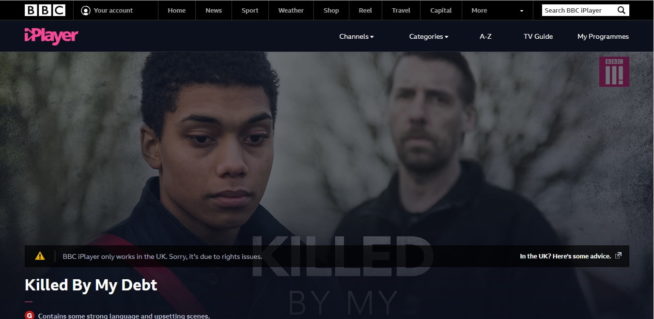 8. Support
Officially, the support works 24/7 and is available via email and online chat. In reality, the online chat is constantly off, and the average time to reply via email is a lot more than 12 hours. The replies are not always on point. What is funnier, they have a link to the customer support page but when you click on it, you get the message that the page does not exist. To contact the tech support, open a ticket. The link is available on the top of the page. Select the category and the department you would like to contact and type your message. Keep in mind that you will not get any notification about your ticket being placed in a queue.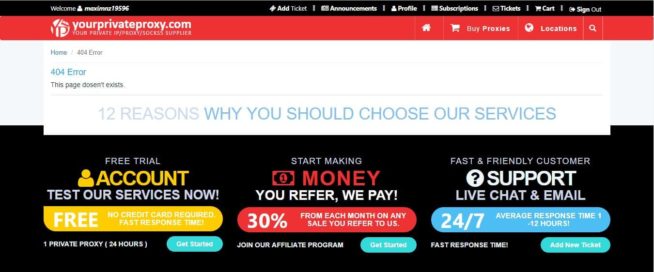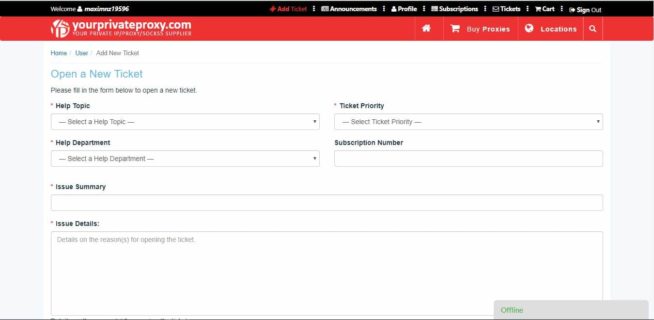 9. Refund
The company provides a limited refund policy. They will give your money back only when you have technical issues. They reserve the right to refuse all other cases. First, you have to cancel the subscription in PayPal and then ask for a refund. Open a new ticket with the respective topic. They process the refunds on Fridays. We asked for a refund more than one day ago but still didn't get any reaction. They didn't send even a single message.

10. Pros and cons
Pros:
Fast connection speed.
Fast proxy delivery.
Easy to use.
No restrictions.
Cons:
Very slow technical support.
Limited refund policy.
11. Conclusion
Your Private Proxy can improve their customer support, but the proxy I tested was surprisingly fast even if it didn't work with BBC iPlayer, due to the fact that the DNS leaked in the IP test.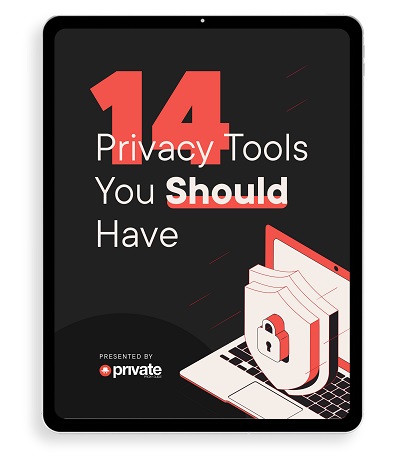 Learn how to stay safe online in this free 34-page eBook.