Hosting is something to keep in mind if you're planning to – hey, surprise! – host a website (duh!). Thankfully, WordPress provides you with the tools necessary to manage sites, both small and big, without worrying about backend tweaking.
That's why it's currently the go-to CMS for both web beginners and veterans.
That said, choosing the best WordPress hosting provider to host your sites is no small feat since there is no real consensus on Reddit or Quora, which is why we're going to explore together the top 10 WordPress hosting services in detail.
Let's begin, shall we?
Could you tell us about your experience of WordPress hosting in the comment section?
1. Best WordPress hosting providers in December 2023
Has 30 days free trial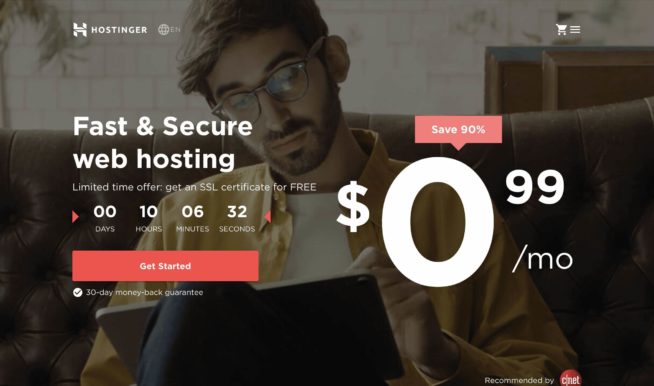 When it comes to reasonably priced services, Hostinger is almost without a match. The longest subscription plan costs only $0.99/month and extends for 48 months. The servers and data centers that they own are found all around the globe in seven distinct areas. Even though they're the cheapest of the bunch, the uptime that they deliver is acceptable at 99.91%. Averaging out of the last 15-months of usage and excluding the 16th, we get 99.97% uptime. When it comes to the page load, then it's as fast as 369ms, which is quite impressive.
If you don't go with the "Single Web Hosting" plan, then the database and Bandwidth are unlimited. The plan limits you to a bandwidth of 100GB, 10GB of storage space, one email account, and only one MySQL database. On the downside, some things about it aren't cheap. Essential features such as the SSL certificate and the priority support aren't included in the baseline plan, which means that you'll have to pay extra to get what you need. Just like Bluehost, if you don't like what you pay for, then you still have a chance to get your money back with a 30-day refund window.
---
Fastest overall WordPress hosting.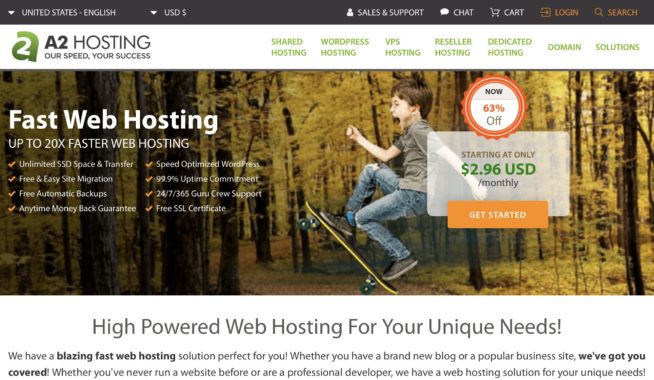 Pricing: from $2.99/month
Accepts PayPal
Free site migration by experts
When it comes to website hosting, the main parameter that you need to consider is speed, and when it comes to speed, A2Hosting delivers the fastest service we've got to test to this day. For over 16 months, A2Hosting has managed to sustain a remarkable speed of 336ms. If that's not impressive, we don't know what is.
With any plan you purchase, you get a domain name, site migration, free SSL certificate, responsive live chat, phone customer support, as well as unlimited bandwidth and storage. A2Hosting also delivers an impressive uptime of 99.92%, which means that you needn't worry about your site going down. A site that's always up and that's fast as they get, what else could you ask for to get your online business to succeed?
A2Hosting's plans start at $2.99/month (that's renewable for $9.99/month), which is pretty affordable, making this hosting provider a great option for every budget and need. It's easy to see why A2Hosting takes the first spot on our list, right?
Private Proxy Guide is hosted on A2 Hosting since 2017 on their LiteSpeed servers (by getting their turbo plan) and using the LiteSpeed cache plugin for WordPress + Cloudflare free CDN in order to get the best performance possible. You should do that too.
---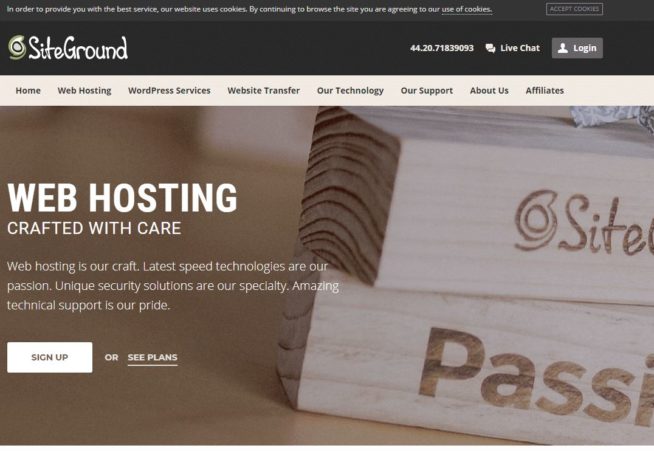 Pricing: from 3.95/month.
Accepts PayPal
Site migration using their WordPress plugin
SiteGround is one of the best wordpress hosting providers, but isn't the cheapest service on the list, with a starting price of $3.95/month for at least a year that's renewable at $11.95/month. Of course, you can easily pick out the daily backups, email accounts, CDN, site migration, and free SSL certificate as reasons for this expensive cost. You can even add to that the highly reliable support team, well-designed cPanel, and all-around impressive WordPress features.
But on the other hand, you might start to reconsider how reasonable the price is if you keep in mind the limitations of the 713ms speed, 10,000 visitors only per month and the relatively small 10GB storage space that you get as part of the baseline plan. On the upside, the service is quite reputable among other hosting providers, and they've got data centers across the world in Asia, Europe, and the United States.
It is also worth mentioning that SiteGround is officially recommended by WordPress themselves, and that's a good selling point. I had a very hard time choosing between A2 Hosting and SiteGround, but my choice finally ended on A2. You can read my comparison between A2 Hosting and Siteground here. However, Siteground is still a great choice for your WordPress sites, but remember that you need a CDN to improve the speed.
---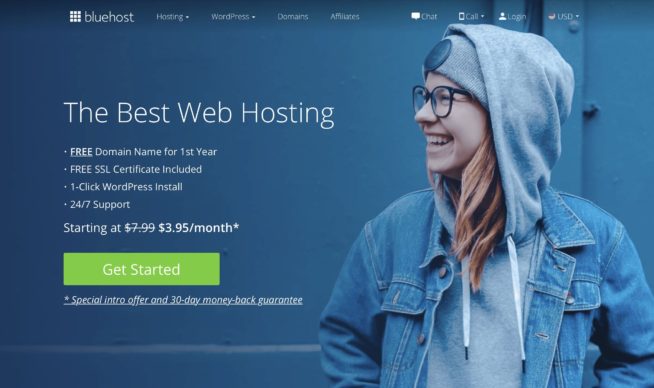 Pricing: from $3.95/month
Accepts PayPal
Free domain included
Going cheap on website hosting can be a very attractive idea. You have to accept the fact, though, that choosing a budget service only provides you with a handful of features. You won't even get the reliability nor the performance that you'd need for websites with high traffic.  If that's your case and you want a good outcome, then you should look into getting a premium hosting plan for your site (if you really care about ut, that is).
With its own VPS-based architecture, Bluehost provides the best WordPress performance via intelligently-allocated resources through KVM hypervisor, NGINX, and a custom PHP-FPM setup. In layman terms, rather than just utilizing some standard configuration, what Bluehost has done is put the effort in optimizing its platform's low-level structure to accommodate WordPress.
While other companies might try to market their services as having some pretend "unlimited" resources, Bluehost doesn't do that. What they market is exactly what you get. When it comes to the basic plan ($3.95/month for the first term with a renewal fee of $7.99), you get a $50 Marketing Credit, a free domain, a single website, as well as an SSD storage of 50GB.
Other added features found in all plans are the great ManageWP sites manager, unlimited parked/subdomains, site analytics dashboard, an unmetered MySQL DataBase, and free SSL. Any new account will also have the Blue Spark service free of charge, which is designed to help out beginners in using WordPress to its full extent.
Starting at $5.45/month for the first term, the Plus plan gives you unlimited websites and storage. It also adds WP staging environment, free CDN, and spam protection. The Choice Plus plan also starts at $5.45 but renews at $14.99 per month with some more added features. Additionally, Bluehost gives you a 30-day refund window if you're not satisfied with what the service provides.
Are you still looking for more? The managed hosting solution "WordPress Pro," provided by Bluehost, is optimized for WordPress websites. The starting price is $19.95/month. The additional features included in this plan include things like business review tools, JetPack site analytics, malware detection, unlimited resources, and more.
---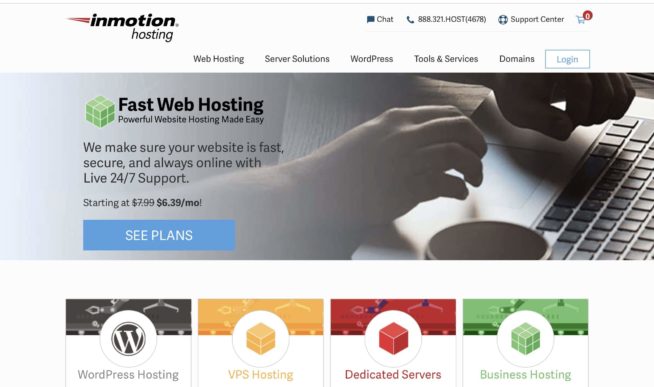 Pricing: from $4.99/month
Free domain included
Site migration using their tools
Accepts PayPal
With most hosting providers, you'll find that there isn't a wide range of plans to choose from. And the strategy behind their design is to drive you to get one particular offer. You'll find the cheap underwhelming option, the overpriced one, and the mid-range plan that meets enough requirements and doesn't break the bank.  While the decision might be easy, the limitations are there, especially if you're looking to grow your website.
As for InMotion Hosting, you get six different plans. It can suit anyone from small blogs to big businesses. To find the one that works best for you will take you longer than usual to figure out, but the freedom of upgrading and downgrading depending on your needs is worth the time. Additionally, the company does not strip some critical features from the cheaper plans to limit its capabilities.
The baseline Launch plan ($6.39/month for a year that's renewable for $9.99/month) provides the user with cPanel site management, SiteLock security, automatic updates, backups, SSL, pre-installed WordPress, unlimited email addresses and Bandwidth, unmetered storage space and even extra features like WP-CLI and BoldGrid.
InMotion suggests that this baseline plan would best fit 20,000 monthly visits, but that won't be critical for many of the small websites. An upgrade will provide you with more features, support for hosting more websites, a dedicated IP address, plugin subscription, premium themes but most importantly, additional resources. You'll find less expensive plans, but the reviews prove that InMotion is credible, professional, and reliable with premium prices that provide their worth. If you need more convincing, then the 90-day refund window might be enough to do the trick.
---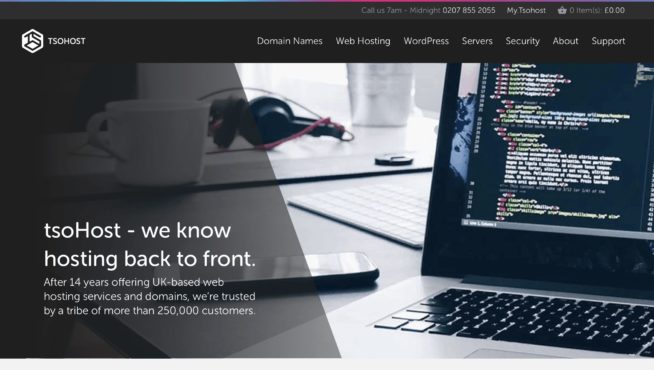 Many users can feel that managed WordPress packages are too overpriced for their worth. You'll find hosts advertising for some exceptional services with malware scanning and optimized servers that are unfortunately not so clear. The evaluation of their efficiency can be a bit tricky. When it comes to Tsohost, they're not aiming to follow that trend. They instead aim at delivering the essential WordPress features at quite a reasonable price.
The starting plan allows you to have a free domain name. It even includes the choice to migrate an existing website you own, unlimited Bandwidth and Let's Encrypt SSL support. The backups you get are daily, and you'd be able to restore any data of the last 30 days effortlessly. They offer 24/7 customer support through email and ticket. As for live chat and phone support, 7 am to midnight is the available time window.
You're restricted to 100,000 page views a month, 15GB of storage, and a hundred 200MB mailboxes. If that meets your needs, then you can get it for around $4.15/month that you can pay annually or for around $3.8/month if you go with a two year upfront payment. If you're looking for more than that, you might want to go with the business plan that allows you to have 500,000 page views on a total of 8 websites, a hundred 1gb mailboxes and 50GB storage space.
That's quite a boost that is offered at yet another reasonable monthly price tag of $11.50, a yearly fee of $9.62/month or a biennial payment of around $8.65/month. The eCommerce plan ($31.5/month monthly, $26.20/month annually, $23.60/month biennially) gives you unlimited 10GB mailboxes, 1,000,000 page views and 100GB storage. While Tsohost won't give you what you might find with other providers (features like custom CDN, optimized WordPress add-ons or SiteLock Malware protection), but given the reasonable price, you can't really complain at what you're getting. For smaller websites, Tsohost gives you all the power you need.
---
1&1 IONOS might just have a plan for any conceivable need, WordPress included. Beginners can get to test the waters for as low as $1/month for half a year with a price increase to $8. That said, the provided service still outmatches many others on the market. You don't have any restrictions when it comes to visitors, email accounts, or Bandwidth, and the 100 GB of storage space is more than enough to keep you going for quite some time.
All the essential WordPress management features that you might need are there. You'll get a 24/7 support service (phone calls included), automatic updates, pre-installed plugins, a setup wizard, and even a personal consultant for no extra fees. The service is supported by a very reliable system: OPcache, PHP 7.2, NGINX and up to 2GB of RAM. Additionally, you get a free domain and SSL, which makes it a pretty good deal for the required price. If this is your first time using WordPress, then you might want to consider going with the plan for the first year to get a free domain and have enough time to get used to how things operate.
After that first year comes to an end, renew it if you feel satisfied with the results. If not, keep in mind what you liked and what you didn't as you search for another plan. But the company doesn't just provide services to beginners only. There are a few things that might catch the interest of more experienced users. Here's what you get with the Expert plan, for example, 500 email accounts, 500 databases with a maximum of 1GB of space, 500 GB of SSD storage, and fifty managed WordPress sites. Add on top of that a RailGun content delivery network, SiteLock malware scanning, and a CDN. For $1 a month for half a year that's renewable at $14, it doesn't seem like such a bad deal.
---
Has 30 days free trial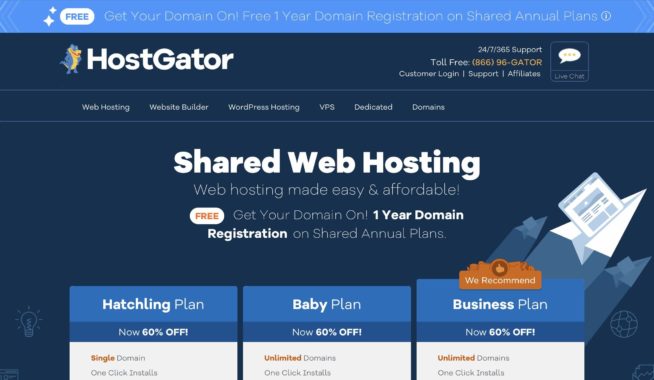 Making a choice between all the WordPress hosting providers isn't exactly easy considering all the issues and the low-level details to keep in mind. However, if the plan you need doesn't have to provide you with any exceptional features, then going with a trustworthy provider will allow you to enjoy a reliable service that can deliver on most customers' needs.
The majority of the plans offered by HostGator are quite powerful and fairly priced. You've got the Starter plan ($5.95/month for three years and $9.95 after that) that provides you with 100,000 visits/month, unlimited bandwidth and storage, unlimited number of email addresses, automatic malware detection, SSL certificate and a website migration for free.
If you choose the Business plan ($9.95/month for three years then $22.95/month), then you'll get yourself an increase of visitors to reach 500,000 a month and a better performing CPU. The website's performance can be enhanced thanks to the availability of a CDN and smart caching, any issues that you might encounter you can address thanks to the 24/7 support. In addition to that, you've got the free domain privacy to counter spam and identity theft. As far as our experience with the hosting service goes, we've found it to be quite reliable. But if you don't share our sentiment as you use it, then you've got yourself a 45-day refund window. Just like most hosting providers, the service won't deliver free domain registration, but it remains a better deal than what you might get from any other company.
---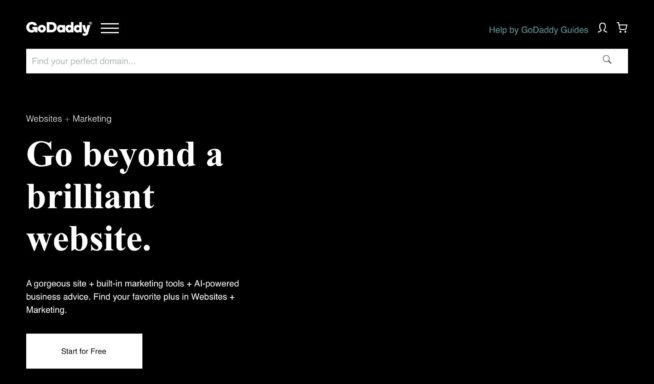 GoDaddy is a name that's quite well heard of in the world of hosting providers, but does the service they provide meet their acquired fame? On the one hand, the loading time is excellent at 517ms, but the uptime is at 99.97%, which isn't so great.
Consider this: a free trial of their website builder, unmetered Bandwidth, unmatched 100GB of storage, and a guaranteed uptime at 99.99%. Isn't that too good to be true? However, now consider all the fishy marketing bits such as charging for the site backups, email accounts, SSL certificates, and more. At that point, you'll have a hard time finding reliability in the provider.
Putting aside all the money grabs implemented in GoDaddy's marketing plan, you still have the lack of any impressive free of charge features like a standard SSL certificate or an unlimited number of email accounts. Add to that also the unreliability of their customer support. These are several reasons that place Godaddy at the near bottom of our list.
---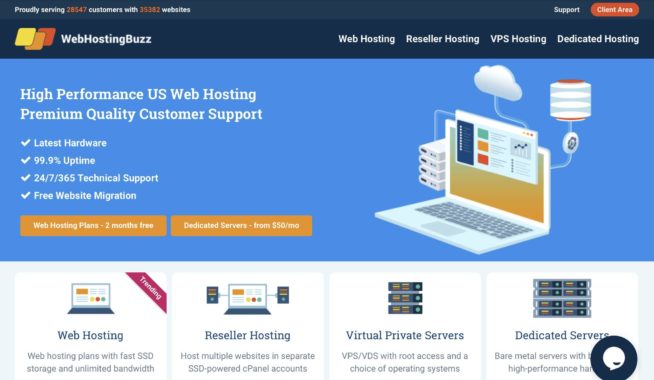 WebHostingBuzz is a UK based web hosting provider that was founded in 2002. What this service provider offers in the market is nothing to brush off — especially considering the 99.98% uptime that's not too far from what they advertise, the 474ms loading speed and 250+ server areas around the globe.
When it comes to customer support, this is basically as good as it can get. Any technical question that we threw at them was answered in a short while. Add to that the fact that they provide you with a free domain, free site migration, 20GB disk space, and Unlimited Bandwidth at $4.99 a month with a 45-day refund window. That's not too shabby, is it? On the downside, the one-year minimum payment term and the 4-year minimum for $4.99 make it clear that you can get more features at the same price from another brand.
---
2. How to choose the best web hosting for WordPress
2.1 Features and pricing
The prices are wide-ranging and scattered everywhere. When it comes to entry-level plans, they should be around the same range as shared web hosting prices. As for higher-tier plans, they can go as high as $60 a month. What's the upside in all of this?
The setup in a WordPress environment should be simpler than other hosting environments, and the installation should be smoother. Additionally, you might save some money in the long term if you opt for the managed WordPress route. You won't need to hire a system administrator in this case. When it comes to small businesses, this is something to consider.
Here are a number of essential features that you want to have in the plan that you choose. In an ideal case, you'll need your WordPress host that delivers 24/7 support, unlimited monthly data transfers, storage, and email. Some web hosts would set limitations on some of these features. WP Engine, for example, puts a restriction of 400,000 visitors and 30GB of storage. If you're looking to grow your website, even more, you'd want a host that provides more freedom than that.
Secure Sockets Layer (SSL) is another feature that you would really want to have. SSL is a sign of reliability. The green padlock symbol that you see in the address bar of some websites is a sign of SSL. SSL is trust, and trust is key. You can see our list of the best SSL providers (free & paid). What SSL does is encrypt the data sent back and forth between the user's browser and your website to secure the information transmitted against any threats against the user's privacy.
The web hosting providers that we mentioned on this list all offer this service, but at varying costs. Some might give it away for free, while others might ask for as much as $100. Of course, you want to have web hosting features that differ from other people for your site to stand out, but the ones we mentioned here are essentials that you don't want to miss on anything.
2.2 Uptime
Uptime is a critical feature when it comes to selecting the best wordpress hosting provider. If you can't maintain a good uptime rate, none of the services you offer will matter as clients won't even be able to access what you provide. If any new users come around to discover your website for the first time, you won't be able to hook them and make them usual clients if you can't allow them to see what you have.
Some already existing clients may even opt to stop visiting your website altogether out of frustration from the lack of good uptime. Uptime is also very important when it comes to SEO and getting rankings on Google. From the tests we've run and the reviews we came up with, we can say that most web hosts are reliable at maintaining sites in a running state. Any web host that does cannot be considered as a good service provider, despite all of the great features that they may offer.
2.3 Speed
Server speed is a very important factor and you should try to avoid hosting companies that put too many users on the same server or have too tight restrictions when it comes to disk and CPU usage. Do remember that you can use a variety of plugins to make your WordPress install fast. If you want maximum speed, then you should go with a hosting provider that offers Litespeed servers and use the Litespeed plugin for WordPress (A2 Hosting for example).
2.4 How important is WordPress-specific hosting?
If the site you're creating is powered by WordPress, then it's very reasonable to go with a WordPress-specific hosting plan (such as the one offered by WPEngine). The benefits it brings are not to be ignored. It's important to note that going with WordPress specific hosting won't allow you to host any other CMS, and many websites that rely on certain frameworks will lead you to this issue.
If this problem does arise, what you want to do is go with a dedicated hosting service, VPS hosting, or shared hosting. If the idea of a web hosting company crosses your mind, then reseller hosting may be the way to go. You should also keep in mind how long you're going to need WordPress hosting. If it's around a month or two, then you can get a refund if you cancel before your reach 60 days of usage. Some services will offer a 30-day refund window, while others may extend that period to 90 days.
WordPress Hosting
Features

www.a2hosting.com


A2 Hosting
Pricing: from $2.99/month
Payment options: PayPal
Money-back: 30 days
Free domain: No
Space: 100 GB
Control panel: cPanel + SSH access
Migration: Free site migration by experts
Bandwidth: Unlimited
MySQL Databases: 5
Websites: 1
Server: Apache (or LiteSpeed)
Email accounts: Unlimited
Subdomains: Unlimited
Server locations: USA, UK, Canada, France, Australia
Trustpilot score: 3,8/5
Support: Live chat & tickets
Visit A2 Hosting »

www.siteground.com


SiteGround
Pricing: from $3.95/month
Payment options: PayPal, Cards
Money-back: 30 days
Free domain: No
Space: 10 GB
Control panel: cPanel + SSH access
Migration: Using their WordPress plugin
Bandwidth: 10 000 visitors/month
MySQL Databases: Unlimited
Websites: 1
Server: Nginx + Apache
Email accounts: Unlimited
Subdomains: Unlimited
Server locations: Iowa USA, London UK, Netherlands, Frankfurt Germany, Sydney Australia, Singapore
Trustpilot score: 4,7/5
Support: Tickets
Visit SiteGround »

www.bluehost.com


BlueHost
Pricing: from $3.95/month
Payment options: PayPal, Cards, Checks (US) Money orders
Money-back: 30 days
Free domain: Yes (1 year)
Space: 50 GB
Control panel: cPanel
Migration: Using their WordPress plugin
Bandwidth: Unlimited
MySQL Databases: 20
Websites: 1
Server: Nginx
Email accounts: 5
Subdomains: 25
Server locations: Utah USA
Trustpilot score: 2,5/5
Support: Live chat, phone & tickets
Visit Bluehost »

www.inmotionhosting.com


Inmotion Hosting
Pricing: from $4.99/month
Payment options: PayPal
Money-back: 90 days
Free domain: Yes
Space: 50 GB
Control panel: cPanel + SSH access
Migration: Free using their tool + 2 hour launch assist
Bandwidth: 20 000 visitors/month
MySQL Databases: 2
Websites: 1
Server: WordPress Optimized Stack - Nginx, Varnish, FastCGI
Email accounts: Unlimited
Subdomains: 100
Server locations: Los Angeles & Washington DC
Trustpilot score: 2,7/5
Support: Live chat, phone & tickets
Visit Inmotion Hosting »

www.hostinger.com


Hostinger
Pricing: from $0.99/month
Payment options: PayPal, Cards
Money-back: 30 days
Free domain: No
Space: 10 GB
Control panel: cPanel, no SSH-access
Migration: Free using their tool
Bandwidth: 10 000 visitors/month
MySQL Databases: 2
Websites: 1
Server: LiteSpeed (LiteSpeed Cache)
Email accounts: 1
Subdomains: 2
Server locations: UK, US, Brazil, Netherlands, Singapore, Indonesia, Lithuania
Trustpilot score: 4,4/5
Support: Live chat + Tickets
Visit Hostinger »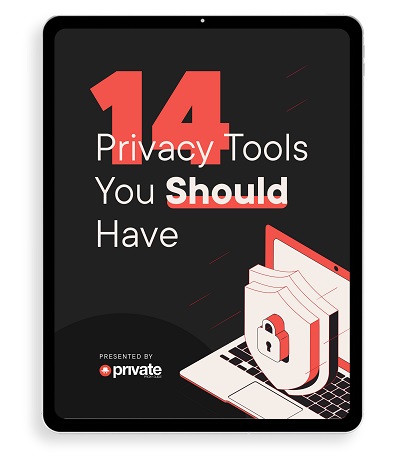 Learn how to stay safe online in this free 34-page eBook.