Being one of the most prominent router manufacturers, Netgear is known for somewhat solid VPN support. Netgear routers allow you to set up your own VPN in a bid to increase your level of privacy, bypass geo-restrictions, and enjoy safe and secure internet.
However, compared to Asus routers that are a bit better overall, Netgear's VPN support is a bit limited. You see, Netgear routers let you set up a VPN server on the router so that you can connect to your home network when outside of your home.
This isn't a very good solution, as it won't secure your home connection and it won't let you bypass geo-restrictions. To be able to set up a VPN on your Netgear router and connect to a remote VPN server, you'll need to update your firmware and install a VPN afterward.
All of this is explained in the following guide, where I give you a step-by-step tutorial and present to you the absolute best VPNs for your beloved Netgear router.
1. Best VPN for Netgear Routers: Here Are Our Favorite Choices!
If you're looking to avoid ISP surveillance, bypass geo-blocks, and stream endlessly, taking advantage of a VPN is a must. Even better is when you install it on a router, which allows you to secure your entire network and prevent hackers and snoopers from interfering.
The providers that you'll see below are premium VPNs because free VPNs don't work with routers. Don't worry, though. Through our site, you can get their cheapest prices and special discounts, so you can end up paying a Starbucks coffee a month for a great VPN for Netgear routers.
Sounds good? Well, let's take a look at the list below:
1.1 ExpressVPN – Overall Best VPN for Netgear Routers
ExpressVPN is the best VPN for Netgear routers, offering full support for some of the most popular models. They include R6300v2, R6400v2, R6700v3, Nighthawk R7000, and R7000P. Of course, support for additional models can be extended as well by flashing your router's firmware.
If you opt for ExpressVPN, know that you can expect the highest possible level of performance. Our tests showed that it's among the fastest providers on the market, and as such, it's extremely capable of fast torrenting and buffer-free streaming.
As a great family VPN, it's a solid choice for streaming on Netflix US or BBC iPlayer, allowing you to unblock a wide array of streaming platforms. Additionally, you can expect ExpressVPN to offer impenetrable security thanks to 256-bit encryption and its Lightway protocol.
This provider stores no logs either and its no-logging policy has an audit from PwC. All of this allows you to achieve peace of mind when browsing the internet or venturing through the dark web. Best of all is ExpressVPN's ease of use and support for all platforms.
Thus, if you need it for your Netgear router, you can rest assured knowing you have full support. With step-by-step guides and tutorials for each firmware and model, ExpressVPN can be set up on Netgear routers with its proprietary firmware, so you don't need to install DD-WRT/Tomato.
Aside from that, ExpressVPN will be great for use in China, it has 5 simultaneous connections, and offers 24/7 support through live chat. And while it's not the most affordable VPN, it's far from being as expensive as VyprVPN or Astrill VPN.
Plus, it offers an unconditional 30-day money-back guarantee for all plans, which is great if getting a refund is on your mind. However, with its level of quality, I think that's not gonna be your true desire.
Pros
Has a proprietary router firmware for Netgear routers
Netgear Nighthawk models are supported
Excellent speeds
Stores no logs of your browsing history
In-depth setup tutorials
Cons
A bit expensive for those on a strict budget
1.2 NordVPN – Safest VPN for Netgear Routers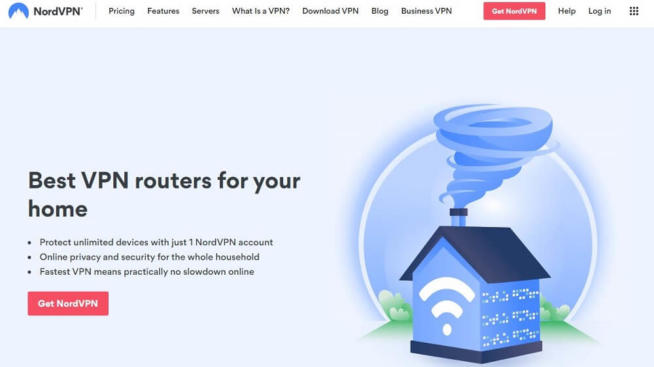 NordVPN is fully aware that Netgear routers can't perform as OpenVPN clients, which prevents Netgear users from connecting to NordVPN's servers. Thus, it offers full instructions on installing the supported DD-WRT firmware and setting up NordVPN for proper use.
But why should decide on using NordVPN? Well, there are plenty of reasons for that, one of which is its huge server fleet of 5,400+ servers in 60+ countries. To that, we should add specialty servers such as Double VPN, P2P, and obfuscated servers for bypassing DPI in censored countries.
As a router VPN, NordVPN supports the OpenVPN protocol, which makes for a perfect balance between security and performance. The truth be told, NordVPN is almost as fast as ExpressVPN, which is helpful if you're into bandwidth-hungry activities like streaming or gaming.
For example, you can connect NordVPN to your gaming Netgear router and enjoy lag-free gaming sessions in Warzone or Fortnite. Or you can set it up, connect to a remote server in the US, and watch HBO Max, Hulu, or Disney+ abroad.
NordVPN is extremely easy to use as well, although not like ExpressVPN. Still, its router apps are modern-looking and functional, offering a plethora of useful features. The provider packs bank-grade encryption, and a kill switch, which will prevent any unwanted IP or DNS leaks.
Not to mention its no-logging business model which PriceWaterhouseCoopers audited two times. As such, you can expect NordVPN to store no logs of your browsing history or IP address, which is important for security-aware users.
NordVPN is a bit cheaper than ExpressVPN, though, and it offers a 30-day refund period as well. So if you're willing to give it a try, test it out risk-free now!
Pros
OpenVPN support for routers
Works with DD-WRT firmware
5,400+ servers in 60+ countries
Great for gaming
Reliable kill switch
Cons
Prices depend on your location due to value-added taxes
1.3 CyberGhost – VPN With Many Servers for Netgear Routers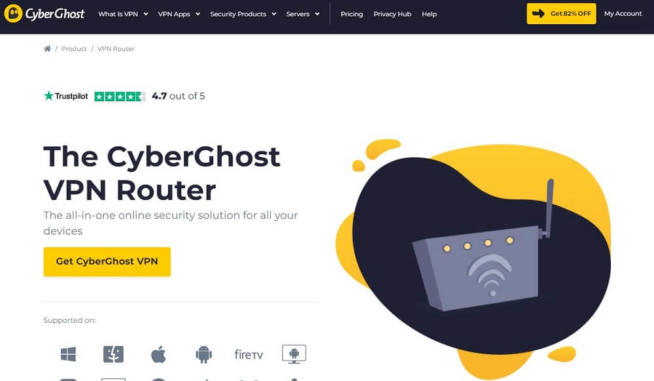 Finally, I should mention CyberGhost as one of my favorite Netgear router VPNs. CyberGhost is known for very affordable prices and 9,000 or so servers across nearly 100 countries worldwide. Its router support isn't on the level of ExpressVPN or NordVPN, though.
However, once you flash your Netgear router's firmware, CyberGhost will install and work flawlessly, with no particular issues. The good thing is its support for DD-WRT, as well as supported router models from Netgear, Linksys, and Asus.
Users who decide on CyberGhost will have a lot to look forward to. It comes with very good speeds coupled with dedicated P2P and streaming servers. They make CyberGhost much more versatile, especially streaming servers that work with Netflix, BBC, Disney+, and Hulu.
Based in Romania, this provider is known for a stringent no-logging policy and transparency reports that bolster these no-logging claims. In addition, its router support is based on the well-known OpenVPN protocol which grants reliable connections and dependable security.
The VPN even lets you choose from UDP and TCP variants of the protocol if you want to prioritize security or performance. A kill switch is here as well, and since it works on Netgear routers, you can be sure that IP and DNS leaks will be a thing of the past.
Given its cheap price, CyberGhost does have some shortcomings, such as its inability to work in China and no obfuscation technology, which makes it a poor choice for censored countries. But if you think about its 3-year plan at well below $2.5 a month, everything comes into place.
A 45-day money-back guarantee is also something you don't often see in VPNs, yet, CyberGhost proudly offers it. With that in mind, this is one affordable, yet dependable VPN for Netgear routers.
Pros
Works with Netgear routers through DD-WRT
Dedicated streaming and torrenting servers
Very cheap prices for long-term plans
45-day money-back guarantee
Cons
It won't work in China
No obfuscation
2. How to Set Up the Best VPN for Netgear Routers?
Now that you know which VPNs to look for, I think it's time to talk about the whole setup process.
As said, Netgear routers let you set up a secure connection that lets you access your home network remotely. This isn't a traditional VPN connection, and as such, it won't allow you to enjoy additional security, torrent safely, or unblock Netflix abroad.
The trick here is to make your Netgear router compatible with a VPN connection to a remote server. Upon doing so, you can use your router to connect to a VPN server in another country, which grants you encryption, security, streaming capabilities, and everything I talked about.
To be able to do that, you need to replace the firmware on your Netgear router. This is also called firmware flashing, and it basically means replacing your default router's firmware with the one that supports secure VPN connections.
2.1 Netgear Router Firmware Replacement
Before you engage in this process, you need to know one VERY important thing. Namely, flashing your Netgear router's firmware can potentially damage the router and if not performed properly, it could void your warranty.
Needless to say, I recommend exercising caution when updating your router's firmware, especially if you're not an experienced user or you've never done it before. With that said, here are the steps to installing new firmware on your Netgear router:
Download firmware that supports VPNs on your Netgear router. I recommend using DD-WRT since it works with the majority of Netgear routers and it's free to download from its official site.
Visit the login page of your router and sign in to the admin panel by using your username and password. For Netgear routers, it's the username is usually admin, while the password is password unless you haven't changed it.
Once you sign in to Netgear Genie, go to Advanced, select Administration, and click on Router Update.
Now, you can click on Browse, which will allow you to search for firmware needed for the update. Therefore, find your DD-WRT's download location and click on Upload to start the update process.
Once it's done, simply restart the router and DD-WRT should be successfully installed.
2.2 Installing a VPN on DD-WRT
With the new DD-WRT firmware in place, you should look for the best Netgear router VPN that actually supports DD-WRT. Of course, the 3 providers I discussed above are the ones but since we're talking about 3 different VPNs, their setups are different.
To make sure you install the VPN properly, I left links to the setup pages of ExpressVPN, NordVPN, and CyberGhost.
ExpressVPN has a proprietary ExpressVPN router firmware for Netgear routers, too, so if you have one of these Netgear models:
Netgear R6300v2, R6400v2, R6700v3
Netgear Nighthawk R7000, R7000P
You can install it directly by following these instructions. If not, you'll still need to install DD-WRT by following the steps above and then set up ExpressVPN on DD-WRT using these steps.
As for CyberGhost and NordVPN, you'll have to install DD-WRT either way, so here, you'll find the required steps for CyberGhost, and here, you can see how to install NordVPN on your newly-flashed DD-WRT router from Netgear.
3. Best VPN for Netgear Routers FAQ
3.1 Will any free VPNs work with Netgear routers?
Unfortunately, no. Free VPNs come with poor device support that excludes routers, so it's impossible to set them up on Netgear routers or any other models. On top of that, they aren't secure and they come with limited bandwidth and slow speeds.
Therefore, even if they worked with routers, they wouldn't provide an optimal internet experience.
3.2 Can I use any other firmware on my Netgear router to install a VPN?
Yes, you can use the firmware that your Netgear router supports. Apart from DD-WRT, your Netgear router will usually support Tomato, so it's an alternative if you don't want to use DD-WRT or you don't know how to install it.
3.3 What is a VPN-ready router?
A VPN-ready router is a router that supports VPNs out of the box. These routers can usually be purchased through the VPN providers I mentioned and they have a VPN-supported firmware that lets you install a VPN right away, without the need to flash the router.
Some VPN-ready routers will also come with a pre-installed VPN, eliminating the need for any setup. However, I found them to be a bit more expensive, so they're an option if you have no prior experience and it's more convenient for you to pay rather than tweak around the settings.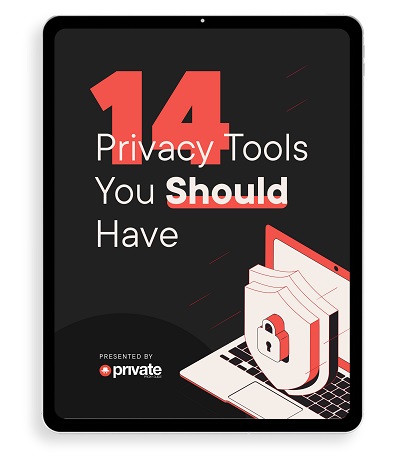 Learn how to stay safe online in this free 34-page eBook.