When you're browsing the internet, you probably want to feel free and without worries. You want to make sure that regardless of the website you're visiting, your data is still safe.
Many people believe that navigating the internet without exposing your information to snoopers or priers is not possible. However, you can achieve it if you use a VPN and connect to a server in a different location from where you're at.
Additionally, a VPN can help you reduce lag, have access to geo-restricted content, and much more. Nonetheless, you might have no idea of all the advantages it can offer you until you give it a try.
Visiting Switzerland or living there means you can visit spectacular places, enjoy incredible food, and much more. Even so, if you want to enjoy a quiet night at home watching your favorite shows with top internet speeds, you might need to use a VPN to be able to get that.
1. Switzerland Is a Dream
Switzerland consists of a relatively small area. If you take a look at a map, you might quickly notice that it's not a very large country. However, it's still many people's dream – you might want to live in or visit due to all of its wonders.
Going to Switzerland means you get to enjoy some of the best touristic spots in Europe. This country is known for its exquisite chocolates, wonderful glaciers like the Great Alesch, and the world's biggest pedestrian bridge – the Charles Kuonen!
People who are into adventure can enjoy paragliding over the alps, and if you're a movie fan, you get to visit some of the iconic spots where the James Bond films were shot! Overall, it's one of the best experiences you can have in your life. Additionally, Switzerland is one of the safest countries in the world, so you have little to fear when you're wandering its cities!
Although living or visiting Switzerland is a fantastic experience, you may want to spend some time resting or using your computer. If you want access to different shows and movies, better internet speeds, and safety measures to protect your information from snoopers, subscribing to a VPN service is a fantastic option you can explore.
2. Best VPN for Switzerland 2022
Browsing safely through the web and having access to your favorite content are two of the primary reasons why people subscribe to VPN services in Switzerland, and you might want to try it out for yourself. Take a look at the best five options you could go for:
2.1 NordVPN – Best Overall Switzerland VPN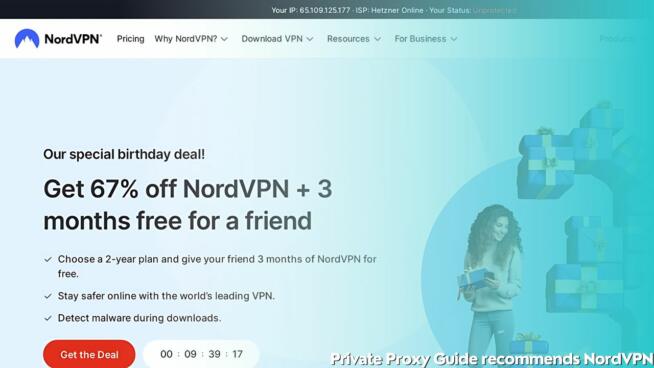 Switzerland has many places you could go visit, but you might want to rest at home sometimes. On many occasions, you may simply want to watch a movie, an episode of your favorite TV show (maybe you could binge 10 instead), or a sports event.
Other people don't particularly enjoy watching movies, shows, or sports, but they're avid gamers and love to spend time playing their favorite online games. Nonetheless, you need top speeds for that, that's something that NordVPN can give you.
NordVPN is one of the most famous VPNs out there, and it has been around for years. It has 128 servers in Switzerland, and it can unblock content from your favorite streaming platforms.
With NordVPN, you can hide your information from hackers, priers, and snoopers, and you can get top speeds each time you browse through your favorite website, watch a movie, or play a game.
2.2 ExpressVPN – Fastest VPN for Switzerland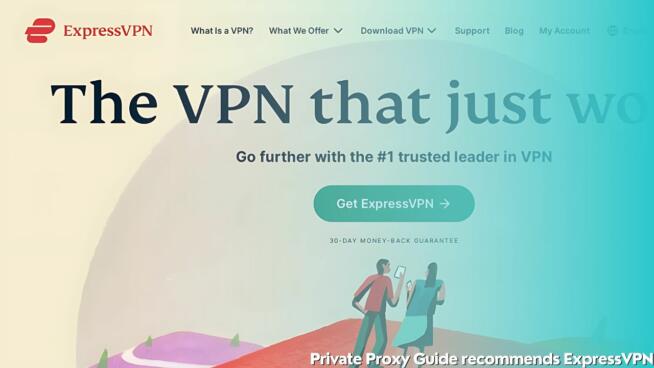 Although NordVPN is a fantastic option, it doesn't mean that it's the only one. ExpressVPN earns a second place on this list only because it's slightly more expensive. Even so, it still offers high-quality features.
If you use ExpressVPN, you can enjoy all the content you don't usually have access to due to geo-restrictions. As the name implies, ExpressVPN prioritizes top speeds, which is why it's many gamers' pick.
With two servers in Switzerland, ExpressVPN is the ideal option if you prioritize having fast internet speeds each time you're browsing different websites. However, it is by no means less safe than NordVPN – your information is still concealed from anyone who might want to steal it.
Even though ExpressVPN is more expensive than other options, it's still one of the best ones on the market, and it has gained the trust of hundreds of users due to its fantastic features.
2.3 CyberGhost – Safe VPN for Switzerland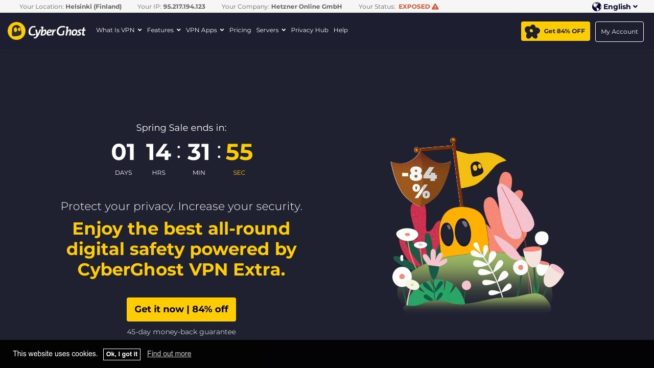 CyberGhost VPN offers two remarkable features for gamers and sports fans. On the one hand, since it unblocks geo-restricted content, you might be able to download your favorite games at a cheaper price.
Then, on the other hand, sports fans are able to unblock all sorts of content with CyberGhost VPN, including their favorite NBA, NFL, Premier League, and Champions League events.
This VPN has 167 servers in Switzerland, so you might have a hard time trying to find another option that tops it in terms of variety. With so many alternatives to choose from, you never need to worry about missing your favorite content again. Since it also offers strong security features, you're always secure while you're browsing.
CyberGhost is not as well-known as Express or Nord, but it's still very popular since it offers top features at a reasonable price. Furthermore, with so many servers in Switzerland, it's definitely one of the best options you should consider.
2.4 ZenMate VPN – VPN With Many Switzerland Servers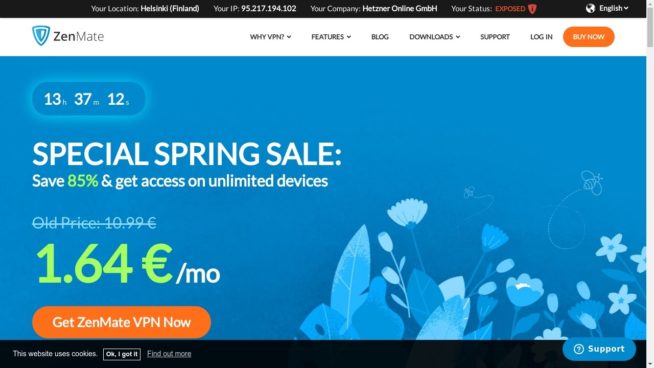 If you're comparing Zenmate to CyberGhost, Express, or Nord, you may quickly realize that it can be an unfair comparison. Zenmate is much newer than other alternatives (especially Express and Nord), so it doesn't offer as many options.
Although Zenmate is still growing, it has quickly become one of the best VPNs you could use, particularly if you're in Switzerland. It has 24 servers available in that country, and it includes all the primary features you need when you're looking for a high-quality VPN.
Zenmate prioritizes affordability and fantastic options over complicated features. Therefore, it's also a great alternative to keep in mind if you've never used a VPN before since it's immensely easy to use.
This VPN might be new compared to other veterans in the market, but its strong protection features are still convenient since they do what they're meant to – they keep you safe at all times.
2.5 PrivateVPN – Best Budget VPN for Switzerland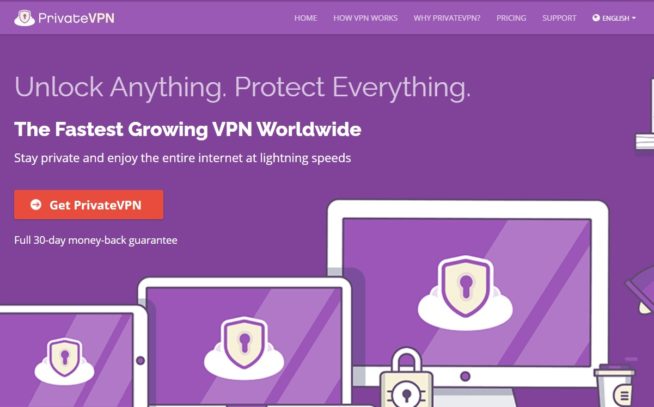 The last VPN on this list may be on spot number five, but it's still one of the best services you could choose. Even though it takes the remaining spot among these alternatives, it still offers fantastic options, including one server in Switzerland.
PrivateVPN does not give you all the different features that Express or Nord might offer, but it's many people's ideal choice since it can unblock restricted content, protect you while you're browsing the web, and give you top speeds.
Additionally, one of PrivateVPN's best features is that it often offers good deals in terms of prices. You could, for example, choose the 12 months plus 12 months for the free plan, which means you don't have to worry about your VPN service for two years.
This option is also price-convenient because it guarantees you can get your money back in 30 days or less if you're not satisfied with the service. Therefore, Private gives you fantastic basic features and incredible budget-friendly options.
3. Switzerland VPN FAQ
3.1 Should You Use a VPN for Switzerland?
You should definitely use a VPN for Switzerland if you're visiting or living there. When you want to enjoy your favorite shows, movies, sports events, and online games, you need a VPN service to help you unblock geo-restricted content. Furthermore, a VPN can protect your information from priers, hackers, or snoopers.
3.2 What VPN Should You Choose for Switzerland?
This list included five different VPN options you can choose for Switzerland. However, the one you pick completely depends on what you're looking for, your budget, and the features you wish to get.
The five alternatives that this list discussed are all high-quality options, so you never need to worry about them not working the way they should. Thus, compare each one, and make sure that the one you pick fits your needs.
3.3 Should You Use a Free VPN?
Using a free VPN sounds tempting to many people, but you shouldn't pick that option because it might be very problematic. In some instances, for example, free services don't protect you while you're online even though they say they do. Consequently, your information may be open for snoopers, priers, or hackers to steal.
4. Conclusion
Going through different VPN options takes some time, especially if you want to pick the best alternative for Switzerland.
Switzerland is one of the most beautiful countries in the world, and if you go there, you probably want to enjoy your time visiting the different places it offers you, tasting the fantastic food, and so on.
Nonetheless, it doesn't mean you can't enjoy some quiet time in front of the TV. In other times, you may need to handle sensitive information (such as your bank account data). A VPN can help you in both of those cases, and the best options are Express, Nord, CyberGhost, Zenmate, and Private. Now, all that's left is for you to evaluate the alternatives and make your choice.
VPN Service

www.nordvpn.com
NordVPN
Review
Price: $11.95 $3.71/month Servers: 5500+ in 59 countries Simultaneous connections: 6 Jurisdiction: Panama Payment: PayPal, AmazonPay, Crypto, Google Pay, Klarna Torrenting: OK Unblocks US Netflix: Yes Dedicated IP: $70/yr TrustPilot Score: 4,7/5 Money-back: 30 days Extra: Double VPN, Obfuscated servers Visit NordVPN »

www.expressvpn.com
ExpressVPN
Review
Price: $12.95 $8.32/month Servers: 3300+ in 94 countries Simultaneous connections: 5 Jurisdiction: British Virgin Islands Payment: PayPal, Crypto, AliPay, Klarna, Torrenting: OK Unblocks US Netflix: Yes Dedicated IP: Not provided TrustPilot Score: 4,7/5 Money-back: 30 days Visit ExpressVPN »

www.cyberghostvpn.com
CyberGhost
Review
Price: $11.99 $2.25/month Servers: 6600+ in 89 coutrines Simultaneous connections: 7 Jurisdiction: Romania Payment: PayPal, Crypto Torrenting: OK Unblocks US Netflix: Yes Dedicated IP: $51/yr TrustPilot Score: 4,8/5 Money-back: 45 days Visit CyberGhost »

www.surfshark.com
Surfshark
Price: $11.95 $2.49/month Servers: 3200+ in 65 coutrines Simultaneous connections: Unlimited Jurisdiction: British Virgin Islands Payment: PayPal, Crypto, Google Pay, Amazon Pay Torrenting: OK Unblocks US Netflix: Yes Dedicated IP: Not provided TrustPilot Score: 4,3/5 Money-back: 30 days Visit Surfshark »

www.purevpn.com
PureVPN
Review
Price: $9.60 $3.33/month Servers: 6500+ in 140 coutrines Simultaneous connections: 10 Jurisdiction: Hong Kong Payment: PayPal, Credit Cards Torrenting: OK Unblocks US Netflix: Yes Dedicated IP: $35.88/yr TrustPilot Score: 4,7/5 Money-back: 31 days Visit PureVPN »