Yes, you can use your Tor browser and a VPN connection at the same time. This way, you will get solid protection.
If to use the technologies correctly, no one will know what sites you use and what information you transfer. In the article, we will review the advantages of these technologies and how you can use them properly. Also, we will give you the list of best VPN providers that are also being recommended on Reddit, Quora, and other forums to be used with the Tor browser.
Here is a list of the best VPNs for Tor Browser:
You can read more about these VPNs below.
1. Best VPN for Tor browser in 2022
1.1 NordVPN – Overall Best VPN for TOR Browser
Pricing: from $3.49/mo.
Available platforms: Windows, Mac, Android, iOS, Smart TV, Linux, Chrome, Firefox, routers.
This provider is the Editor's Choice of our website for anyone who would like to use a VPN with the Tor browser. This service uses the Tor-through-VPN scheme: first, you have to connect to the VPN and then run the Tor browser. One of the best features is that NordVPN gives access to specialized servers that are pre-configured to be used with the Tor network. What does it mean for you, as its user? In a traditional scheme, you are able to use the Tor network only in your browser. With special Onion pre-configured servers, it is possible to use the Tor connection in any application installed on your computer.
Moreover, NordVPN provides a double VPN feature which is also available for use with Tor. So if you are too paranoid, use this option. At the same time, be ready for a significant speed drop. Among other strong points, there is a strict zero-logs policy, reliable 256-bit encryption, huge server infrastructure, support of all popular operating systems and devices.
Pros
Ability to connect to Tor without the Tor browser with special Onion servers.
A bunch of support platforms and devices.
Powerful protection.
Complete anonymity.
Acceptable pricing.
Cons
Inability to select a specific city — the locations are grouped only by countries.
1.2 ExpressVPN – Fastest VPN for TOR Browser
Pricing: from $8.32/mo.
Available platforms: Windows, Mac, Android, iOS, Smart TV, Linux, Chrome, Firefox, routers, game consoles, Kindle Fire, Nook, Chromebook, Chromecast, Nvidia Shield, Roku.
ExpressVPN is another great VPN provider and one of the best platforms in the world. However, it's a bit pricey, being the most expensive on the list but it's worth the money. The service has extensive server infrastructure in 94 countries. All of them are located in powerful data centers that allow providing an unlimited connection speed — ExpressVPN is one of the fastest VPNs on the market.
The company works under the jurisdiction of the British Virgin Islands, a country with liberal privacy legislation, meaning that the platform is not obliged to store any personal data and share it with government and security institutions. Of course, it offers a no logs policy and does not save any personal data.
ExpressVPN protects customers with military-grade encryption and the Kill Switch feature on the desktop apps. The latter option allows disconnecting from the Internet if the VPN connection drops. Unlike NordVPN, ExpressVPN does not have special Onion servers. Nevertheless, they do allow working with Tor. What is the scheme that they recommend? It is Tor-through-VPN so you need to first run a VPN and then open the Tor browser. In addition, this is the only provider that has a dark web, .onion mirror of the website — https://expressobutiolem.onion/. So, you can access the website even if you are in a territory where their official website is blocked.
Pros
Great connection speeds.
Reliable military great protection.
Darknet mirror of the website.
No logs policy.
Extensive server infrastructure.
Cons
More expensive than most competitors.
1.3 CyberGhost – Cheap VPN for TOR browser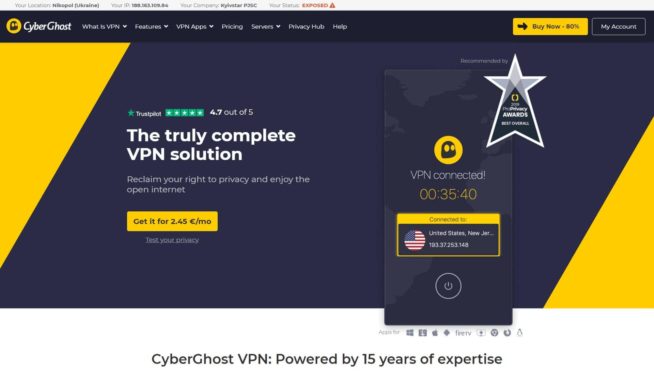 Pricing: from €2.75/mo.
Available platforms: Windows, Mac, Android, iOS, Smart TV, Linux, Chrome, Firefox, routers, game consoles.
This provider is a great choice for those who have never used a VPN before. It provides feature-rich applications for different platforms that are very easy to use. Despite the fact that it lacks some Tor-specific options, it combines effectively with the Tor browser. CyberGhost will use port 443 while Tor will work on port 9001 or 9050/9051. In most cases, you do not require additional settings.
What are the great features of CyberGhost? First of all, its zero logs policy — the company does not store any personal data of the customers. Next, there is the Kill Switch protection, perfect forward secrecy, and powerful encryption. Together they reliably protect you in any situation. They are the applications for all popular operating systems and devices.
Pros
Absolute security.
No logs.
Great connection speeds.
Easy to use applications for all popular platforms.
Cons
1.4 IPVanish – Tor Browser VPN With Many Locations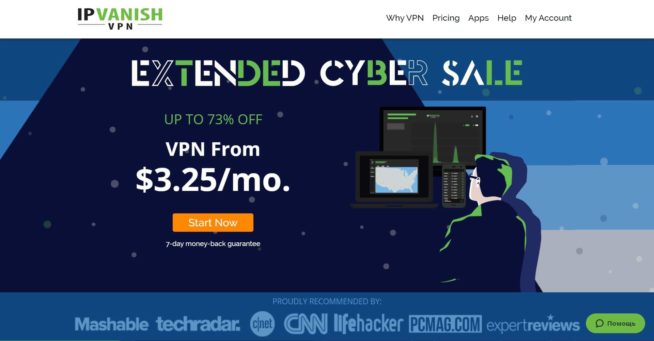 Pricing: from $3.25/mo.
Available platforms: Windows, Mac, Android, iOS, Windows Phone, Smart TV, Linux, Chrome OS, routers.
This is another great VPN to use with Tor. It provides good connection speeds without sacrificing security and privacy. Having a subscription, you will receive powerful encryption, no logs policy and up to 10 connections at the same time. Even though the service does not provide any unique features, the customers will receive any industry standard options.
One of the best options is obfuscating servers that disguise the encrypted VPN tunnel as normal internet traffic. In addition, you can periodically change your IP address making your surfing more protected and secure. While the service does not provide any Tor specific features, you can easily set up Tor through a VPN connection. It works smoothly and without any problems.
Pros
Absolute protection and security.
Zero logs policy.
Stable connection.
Great speed.
Obfuscating servers.
Applications for different platforms and devices.
Cons
Lack of Tor-specific options.
1.5 AirVPN – Secure Tor Browser VPN
Pricing: from €2.75/mo.
Available platforms: Windows, Mac, Android, iOS, Smart TV, Linux, Chrome OS, routers.
This is one of the best VPNs to be used with Tor. It works with the OpenVPN protocol, provides all the basic set of security and privacy features, as well as a lot of servers in different locations around the world. The company is based in Italy and does its best to bypass various restrictions.
Like other industry-leading platforms, AirVPN offers no logs policy, applications for most platforms and devices, powerful unbreakable encryption, and the ability to work with SSH and SSL tunneling. But the most attractive feature is that AirVPN is one of the few services and the only one in the list that allows configuring VPN over a Tor connection. Also, it is the only provider that allows automatic configurations during the standard application, without complex manual settings. To learn more about this possibility, read their guide or contact customer support.
Pros
The only provider in the list to offer VPN through Tor via the standard application.
SSL and SSH tunneling.
Dynamic Port Forwarding.
Complete anonymity and absolute protection.
Cons
Quite limited server infrastructure.
Not a very attractive interface.
2. What is Tor?
Tor is both a browser and the network on which it is built and operates. Its name is the abbreviation of The Onion Router. The onion network is called this way because it involves several layers of encryption to protect the online privacy of users, just like the several layers of an onion wrap the core. The main task of the Tor Browser is to hide the user's traces on the Internet. This allows you to work completely anonymously on the network.
Tor is not a VPN service or a browser with a built-in VPN module, as many believe. You can use both Tor and VPN at the same time to protect yourself even better. However, these are two very different technologies, even if both are aimed at increasing privacy. Tor browser development is based on the U.S. Navy's order to protect negotiations during intelligence operations. Now Tor is a non-profit organization engaged in research and development of tools for privacy and anonymity on the Internet.
3. How does Tor work?
The principle of work is quite simple and is based on the traffic encryption by several intermediate machines. This is called onion routing. There is a network of nodes that belongs to those people who support the technology and promote it all over the world. The system uses three random nodes for data transmission. However, exactly which of them, nobody knows.
To work with Tor, you need to download and install the Tor Browser which is pre-configured to work with the network. Having entered the address or search request, the app will collect all your data in encrypted packages before it reaches the Tor network. Tor then removes part of the package header that contains the source, size, destination, and time information — that is, everything that can help to identify the user.
Finally, the encrypted data is sent through a variety of randomly selected servers. As mentioned earlier, the system uses at least three nodes. Every server decrypts and re-encrypts only the data that is needed to determine where the package was received from and to transfer the data further. How does it work?
The Tor browser sends the package to the first node, with the encrypted address of the second node in it. The first node knows the key to the encryption and once it finds out the address of the second node, it forwards the package to the second node. This is how the first layer of the onion is removed. Having received the package, the second node has a key to decrypt the address of the third node, meaning that another layer is removed from the onion. Thus, it's impossible to understand which site you ended up opening in your Tor Browser window, meaning that the system allows achieving a high level of anonymity.
The encrypted address layers that are used to anonymize data packages sent through the Tor network are similar to onion layers, which gave the name of the network. However, keep in mind that only the path (routing) is encrypted and the content of the packages is not encrypted. So, it is better to encrypt the secret data in advance (there are a lot of available tools to do that), because there is a great chance to have it intercepted.
At the same time, this technology has several features:
Your ISP (or someone else who is monitoring your traffic) may understand that you are using Tor. It is impossible to see what exactly are you watching or doing online, but sometimes the fact that you are hiding something can have consequences. One of the ways to avoid that is to use a VPN connection along with the Tor browser. We will consider some of the available methods further in the article.
Unlike VPN and proxy, the Tor network does not use special high-performance hardware but rather ordinary computers. The result? The speed of data transfer in this secret network can vary significantly and sometimes it is not enough to view media content, for example.
4. Why is it better to use a VPN with Tor?
Although the working principles of Tor and VPN are significantly different, you can use them at the same time for better security. The only thing is to use the best VPN provider and apply the most appropriate configurations.
We will consider two core principles of tying up VPN and Tor later, but now let's see why it is good to combine these technologies.
VPN encrypts all the traffic you send and receive on your device and direct it via a remote server in the location you choose in the settings. Each new connection assigns a new IP address to the user — this is your online identifier which can be used to track the device's location. As the traffic is routed through a remote server, any website or online service will see the IP address which belongs to it — they will see the location of the VPN data center.
Most VPN providers offer a no-logs policy promising that they do not collect and store any private data. However, there are some known cases when the personal data was given to third parties like the government or huge corporations.
Unlike VPN which has a central authority to control the whole infrastructure, Tor provides a network and is controlled by volunteers. If in the case of VPN the traffic route is always the same, Tor changes it after every request. However, Tor is forbidden in some places and the government and Internet service providers can block the Tor protocols. You can easily hide this fact by using a VPN simultaneously.
VPNs are much faster and allow using any type of content like video streaming, torrents, and other demanding tasks. While Tor focuses first on anonymity, VPN provides better usability.
Of course, to achieve great results you should use highly reliable and trusted services.
5. Is it possible to use a free VPN with Tor?
Technically, there are no limitations to use a free VPN instead of a paid one. Of course, it can be quite attractive to not have to pay for a VPN which can cost up to $10 a month but is it really good? We recommend not to use a free VPN with your Tor browser. And the reason? The popular misbelief is to think that a free VPN can be of the same quality as the paid ones. But how will the company maintain the server infrastructure, for example?
So, unlike paid services, free platforms can contain advertising, keep logs of user's online activity, or even sell some personal information to advertisers and other companies. In addition, it will have a lot of other limitations. For example, free services are usually much slower, have fewer available servers and locations, etc. Anyway, you can try a free VPN just to test how it works but we can say for sure that goof-free VPN is a big myth.
How to use VPN with Tor: two possible options
The vast majority of VPN providers allow combining a VPN with the Tor browser. There are two possible configurations: Tor-through-VPN and VPN-through-Tor.
6. VPN-through-Tor
This configuration involves first connecting to the Tor network and then using a VPN over Tor to access the network. The chain looks like this: your computer — VPN and Tor encryption — Tor — VPN — Internet.
This type of connection is safer than the first one and provides almost complete anonymity and confidentiality of work on the Internet. Therefore, very few providers support this solution. In most cases, you will require additional manual settings. If it is not a problem for you, VPN-through-Tor is the preferred option as it is much safer.
There are two ways to configure VPN-through-Tor:
Use a standard Tor browser. The weak point of this approach is that you will have to run and keep the Tor browser running all the time when working with the VPN.
Install Tor Expert Bundle as a Windows service. This configuration is a bit more complicated, but you will get Tor running on your computer all the time, and there is no need to run the Tor browser before you connect to the VPN.
If your VPN provider offers such a connection scheme, contact customer support for details.
The pros of VPN-through-Tor:
Since you connect to the VPN server via Tor, the VPN provider cannot find out your actual IP address, it only sees the address of the exit host on the Tor network.
Protection against Tor's malicious nodes, as the data is additionally encrypted with the VPN.
Access to sites that block connections from Tor — a great feature in the territories where Tor is not allowed.
Possibility to choose the location of the server.
All traffic is routed through Tor — it guarantees additional anonymity.
The cons of VPN-through-Tor:
The VPN service can see your traffic, although it cannot associate it with you.
Your ISP sees that traffic is being routed to one of the Tor nodes. This slightly increases the risk of a time-based attack. It is also much harder to use where Tor is not allowed.
7. Tor-through-VPN
This is the most popular and dominating connection scheme. In this case, the chain looks like this: your computer — VPN — Tor — Internet. So, you first connect to the VPN and then launch the Tor browser and open the necessary website. In most cases, you will need to run the Tor browser but some VPN providers like NordVPN have settings to create Tor-through-VPN connections without using the Tor browser. This is good, but using a Tor browser that provides end-to-end encryption is still better.
The pros of Tor-through-VPN:
Your Internet service provider will not know that you are using Tor (but will see that you are connected to the VPN), in some situations this may help to avoid some online threats.
The incoming Tor host will not know your real IP address, instead, it will see the address of your VPN server. This is an additional layer of protection (in case you use an anonymous VPN that does not keep logs).
The anonymous services on the Tor network (.onion domains) are still available.
The cons of Tor-through-VPN:
Your VPN provider knows your actual IP address — this not good if your VPN provider keeps any logs.
There is no protection against malicious Tor exit nodes, and unencrypted traffic can be intercepted and analyzed.
The exit Tor nodes are often blocked by IP.
8. Conclusion
It's becoming increasingly difficult to keep your privacy, anonymity, and confidentiality online. Governments, hackers, and even our beloved Google are devising increasingly sophisticated ways to track user data. The Tor network is a great tool for maintaining anonymity on the World Wide Web, even though it has its limitations. However, it doesn't give you a full guarantee either. If you worry about privacy and want to protect yourself better, do not limit yourself with the Tor browser as its main goal is to protect better anonymity rather than security. Our team recommends using one of the VPNs reviewed in this article, with NordVPN being our No. 1 choice. At the same time, others are good as well.