Completely secure browsing is the biggest dream almost every user on the planet has. However, it is not easily attainable. There have been many programs that had the potential to provide us with the privacy we need, but not all of them were able to fulfill their promises. And, TOR is one of them.
Once highly regarded as the best program for secure browsing, TOR seems to have fallen from grace in recent years. So, the users of the deep web need answers to a few questions. What are the best alternatives to TOR? Why shouldn't they use TOR in the first place? We did a bit of research on this subject, and we now have answers that will undoubtedly interest you. So, without further ado, let's see how TOR browser works and the alternatives that you should start using instead of it.
NOTE: Stay safe while using TOR alternatives by adding an extra layer of protection with a VPN. See our list of recommended VPN-services.
1. Best TOR browser alternatives in 2023
As you can see, TOR is not a great solution anymore due to the attacks and its connection to the government. Thus, it's vital to find other programs that will provide much-needed privacy and a worry-free experience. So, try these alternatives out and see if they work for you. Most users agree that they are viable options for avoiding TOR altogether, and we strongly suggest you consider them.

Website: geti2p.net
Sending messages anonymously shouldn't be so tricky, especially in the 21st century. Luckily, if TOR is not working out for you (and since there are many reasons against it, it clearly isn't), I2P is a fantastic alternative. This trusty network within a network offers four layers of encryption that will make you as anonymous as you want to be while sending messages across the web.
Furthermore, it uses end-to-end encryption, and it even uses cryptographic identifiers as the endpoints. It will also protect you against third-party trackers. What's also great about this alternative is that it is generally faster than TOR, which means that you will be able to enjoy the Internet to the fullest. It is also optimized for secret services, so it's safe to say that it will give you the anonymity you've been dreaming about.
---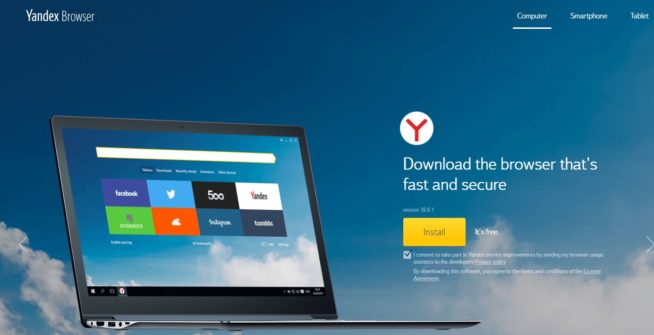 Website: browser.yandex.com
We have two words for you if you're considering using a TOR alternative: DNSCrypt technology. If you're after total anonymity, the Yandex browser just might be the best choice for you, as it uses this technology to hide your IP address and encrypt Domain Name System traffic. What's more, it can also protect you against fake websites that will try to steal your personal and credit card information, as well as passwords and usernames. It also provides malware protection by scanning the Internet for different malware.
---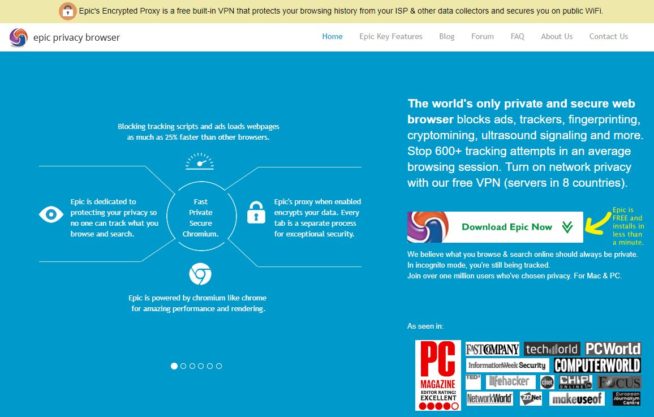 Website: www.epicbrowser.com
Epic browser deserves a spot on our list because of its user-friendliness and the fact that it can block fingerprinting scripts. This private browser is easy to use, and it will completely protect your privacy, no matter if you want to hide your browsing from your Internet provider or use a public network without compromising your data. What's more, by using an encrypted proxy, Epic also allows you to see the trackers that are following you and block them effectively.
---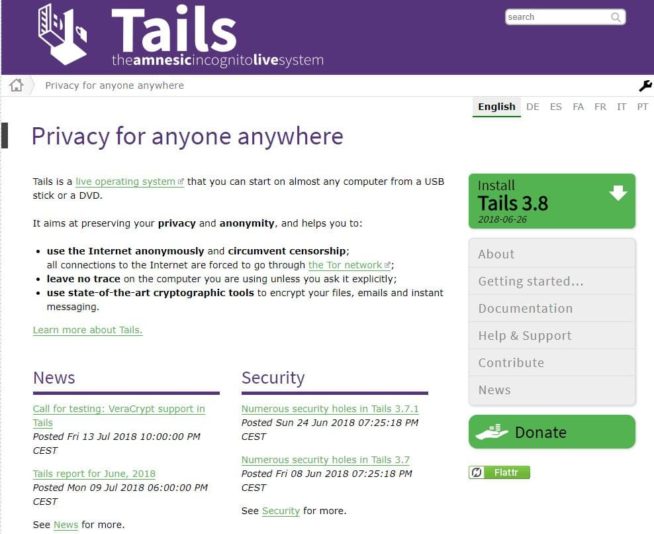 Website: tails.boum.org
The ultimate anonymity and privacy come in the form of Tails. This live operating system uses encryption to protect your instant messages, emails and even your personal files. What's more, it will also allow you to browse the web without the fear of being censored in any way. Tails is also very easy to use, and you can start browsing with it by accessing it with a USB stick or a DVD. Once you access it, it will provide you with built-in apps that will also make your overall web browsing experience even more enjoyable.
---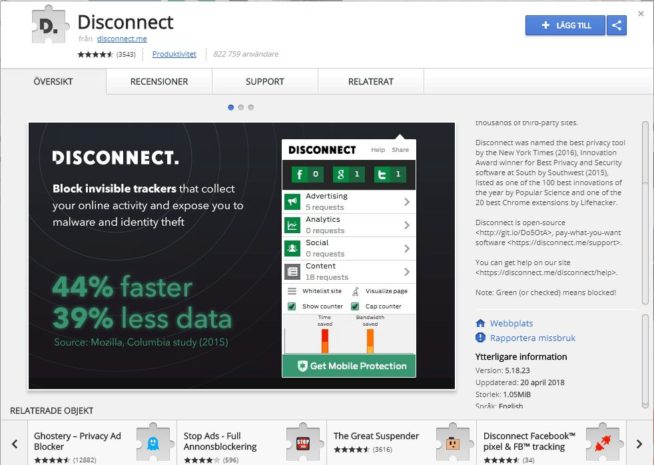 Website: chrome.google.com/webstore/detail/disconnect/
One of the best alternatives to TOR right now is Disconnect. This privacy extension allows you to block tracking requests on websites that usually try to track their users. For example, Facebook and Twitter. It's available to users of iOS, Windows, and Android, and it includes different pricing options and packages. However, you can also choose to use it on a single browser for free.
---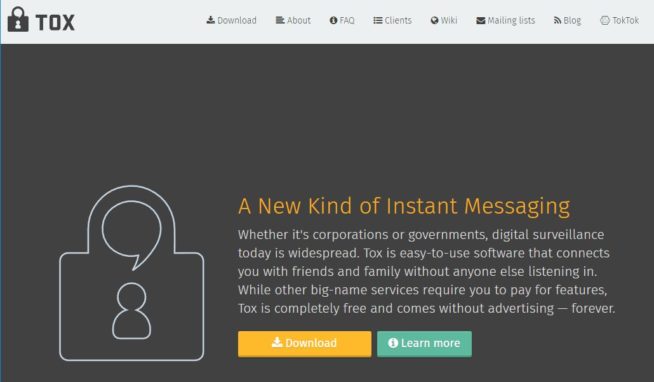 Website: tox.chat
Now, if you've heard of Tox before, you might be wondering why it's on this list. The thing is – Tox is a fabulous TOR alternative for instant messaging and private conversations, which earns it a spot on our list. This protocol uses end-to-end encryption that allows you to securely chat with your friends without the fear of someone reading your messages. Furthermore, it also provides you with a way to have secure video and conference calls.
---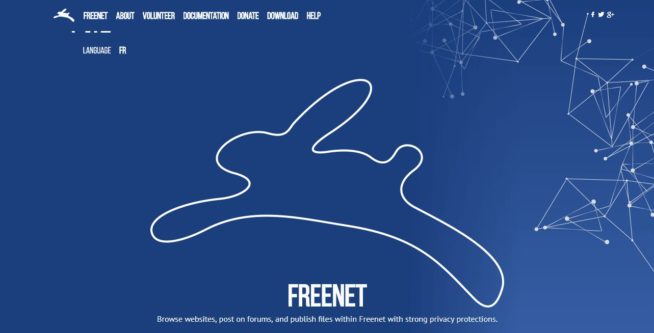 Website: freenetproject.org
One of the best, almost unhackable alternatives to TOR is definitely FreeNet. This peer-to-peer platform uses separate protocols in regards to the user interaction and network structure, which means that it will be difficult to track your data while using it.
Furthermore, you can use either the DarkNet or the OpenNet. The DarkNet gives a high level of security because you will be connecting with users you've exchanged public keys with beforehand. Meanwhile, the OpenNet will allow you to securely connect with other users without the use of public keys. What's especially great about FreeNet is that it doesn't have a central server. Therefore, hackers will have a hard time trying to break into it. Moreover, before storing the data, Freenet encrypts it, thus banning hackers from exploiting it.
---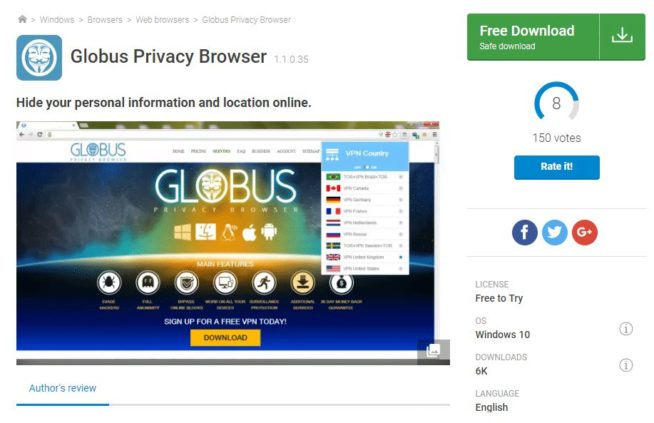 Website: download.cnet.com/Globus-Privacy-Browser/
By using VPN servers, Globus allows you to enjoy total privacy while using the web for personal use. It will keep your communication with others hidden, and it will also prevent third-party trackers from gathering data about your web activity. Furthermore, it can also give you more protection in regards to malware, and it's available for all operating systems. Therefore, it's a good TOR alternative that will provide you with excellent privacy without too much effort on your part.
---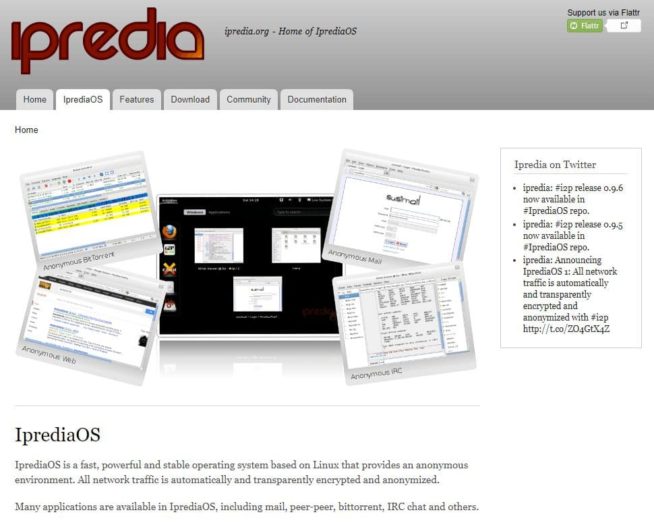 Website: www.ipredia.org
Ipredia OS is the best alternative for Linux users, as it's based on that operating system. It is a good alternative if you're looking for a way to safely browse the web, download torrents and send emails no one else but you and the receiving end will read. Ipredia OS is stable and reliable, as it offers several layers of encryption. Thus, your whole network traffic (your browsing paths) will remain invisible to both hackers and trackers. Furthermore, it will give you access to the deep web, which will undoubtedly open a whole new world of possibilities for you.
---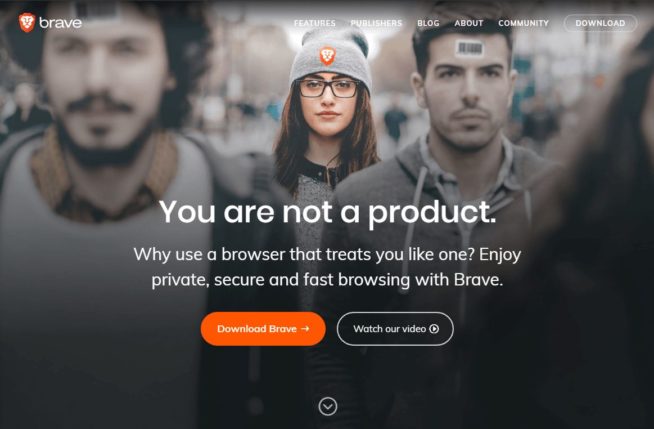 Website: brave.com
The Brave browser might be a newcomer, but it has slowly built up a fan base worth mentioning. This small open space browser claims that it provides an easy and fast browsing experience to all its users while still protecting their privacy. What's interesting about this browser is that the company behind doesn't actually have access to your personally identifiable data.
Moreover, the browser will conceal your identity while you're browsing online, but at the same time, it will also block tracking websites that will try to find out who you are and/or collect data. It can also block advertising tracking requests as well. Brave is still small, yet it has achieved a lot in a short period of time. Today, it even offers a reward system that gives its users an opportunity to donate to content creators they love.
---
1.11 FreePto (discontinued)
FreePto is a favorite of activists who want to prevent the government from tracking their every move online. Furthermore, it is an easy-to-use Linux-based operating system that will not only protect you but also allow you to securely communicate with your peers.
Even better? You can save the software onto a USB stick and use it on any computer you have at home. That portability will allow you to stay secure even if you have to replace your laptop at some point. Moreover, the software is easy to install, and it also comes with some pre-built apps, such as an image editor, email client, and browser.
---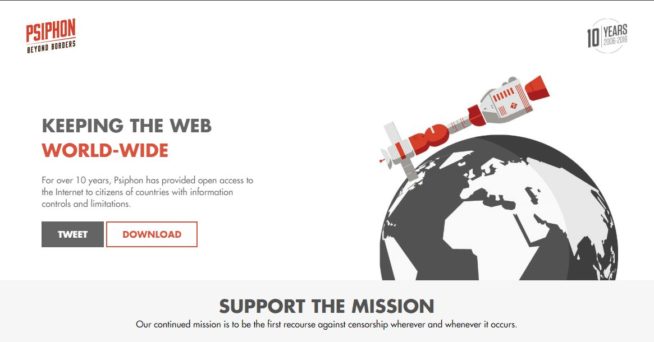 Website: psiphon.ca
Lastly, we should mention Psiphon – an easy-to-use, multi-platform software, and circumvention solution. Psiphon uses a couple of techniques to protect your privacy online. Namely, it relies on VPN and SSH to provide its users with Internet access and content even in those areas that have restrictions. Furthermore, there is a good chance it would protect you from your internet service provider, as well as government officials who are just waiting for you to make a mistake. Psiphon provides its users with an anti-censorship option, and it also conceals the IP address. What's more, if you need a higher level of privacy, it even has a pro version, and there are free apps available for download for iPhone and Android users.
---
2. What is TOR?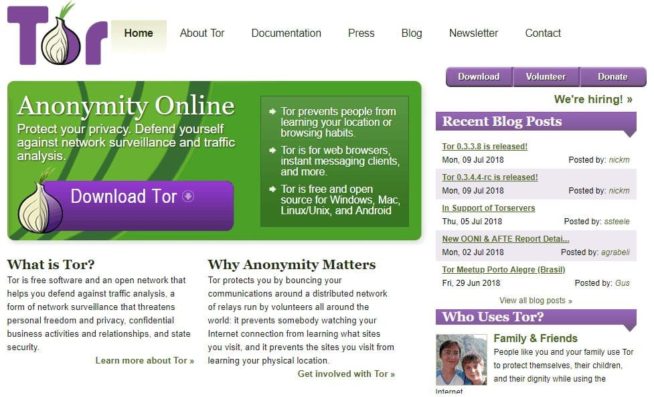 When it comes to the Internet, we tend to overlook our privacy in order to fulfill our basic browsing needs. However, some data is just not available for regular users who don't know and cannot access the deep web. For that, you need an excellent privacy network or program; something that will allow you to securely browse, send, receive and share data you wouldn't want anyone else to see. That is precisely why people use TOR. TOR is a US Navy-funded program that allows you to protect both your and your family's privacy while browsing the Internet. What's more, it lets you avoid censorship and gain access to websites that might be blocked in your country.
3. How does TOR work?
TOR uses virtual channels, also known as nodes, to bounce your path of Internet use in a randomized order. So, rather than using a direct connection, once you do something on the web, the path goes through those nodes in no particular order, thus protecting your privacy from others. Now, it sounds great, doesn't it? It sounds like a dream come true for you if you want to protect your privacy without complicating things too much. No new routers, modems and other equipment – just one program and that's it. But, if things were that straightforward, we wouldn't be writing this article.
4. TOR issues
Even TOR has had a few slip-ups, which include the failure of its most basic trait: total privacy.
4.1 TOR & the Government
Just like we mentioned at the beginning of this article, TOR is funded by the US Navy. The reasoning behind it is that TOR allows the Navy to communicate without too much hassle and privacy concerns. However, some users view this as an issue. Anything that gets its funds from the government must somehow be under the control of that same government. After all, wouldn't you want to control something that gives you power over many web users? Thus, a theory was born – the US Navy controls TOR and has a backdoor to it as well. Because of that, your data is never entirely private – at least not in the eyes of the US government.
This theory is somewhat far-fetched, but it's one worth considering, especially if you are worried about your privacy. Furthermore, you ought to consider the fact that TOR does and probably will always attract the attention of law enforcement. Thus, even if you're not doing anything wrong, you could easily find yourself on the other side of the law.
4.2 Hacking
Unfortunately, just like most programs, TOR can be hacked, and usually, it's really not that hard to do that. Hence, by using it, you are risking far more than just your personal data. You are at risk of becoming the next target of hackers who may want to use that data against you.
4.3 Correlation attacks
Lastly, you ought to consider the fact that TOR is not immune to correlation attacks. They have happened before, and they can happen at any time. Even though the chances are not that high, the mere fact that a correlation attack can happen should make you shiver. After all, what's the point of hiding your identity and protecting your privacy if you're not secure 24/7?
With these correlation attacks, it's possible to identify your IP address and the IP address of the user you're talking to. For them to happen, the path would have to go through an entry and an exit relay that are under the control of the same entity. Additionally, there's also a way of revealing your identity through traffic analysis. This technique allows for the router flow records to be analyzed if someone injects a modified TOR relay into the traffic. With it, around 81% of users can be identified, according to research conducted at Columbia University.
5. Final words
Just because TOR is not what it used to be, it doesn't mean you should give up on your privacy protection. Any of these TOR alternatives will be an excellent choice for most users, and they will provide you with anonymity that will not cause headaches or worry any time soon.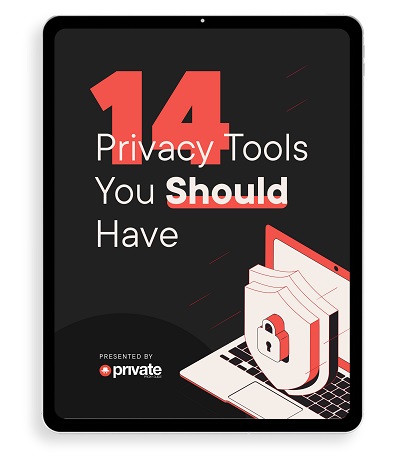 Learn how to stay safe online in this free 34-page eBook.