Internet freedom in Thailand has changed dramatically due to increased surveillance power for local authorities and a series of laws that censor websites. Over 150,000 websites are blocked in the country, and the government can collect more information from internet users.
The government monitors anything you do in Thailand, so it may be a good idea to get a VPN, especially if you are traveling to the country. A virtual private network is an efficient way to improve your security and privacy when browsing the web in Thailand.
It can help you change your IP address and encrypt your data to maintain your anonymity and privacy on the internet. This results in you being protected from the government, internet service providers, and hackers in Thailand.
Using a VPN lets you handle your online business, investments, or banking anywhere in the country.
Additionally, a reliable virtual private network can give you access to blocked and censored content, such as Netflix, Hula, or ABC.
The only problem with using a VPN is deciding which one is the best for the job. We have compiled this article to inform you of the greatest VPNs ideal for use in the land of smiles.
1. Best VPN for Thailand in October 2023
1.1 NordVPN – Best Overall Thailand VPN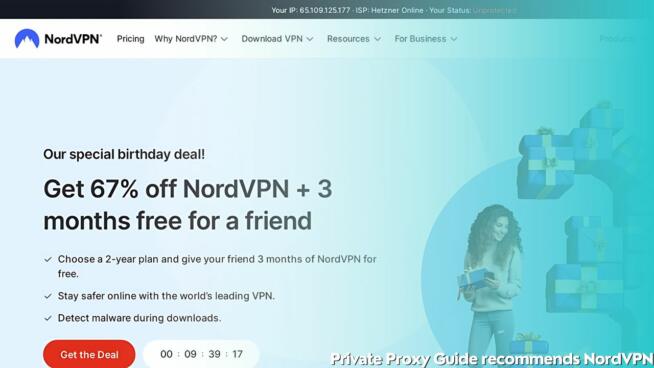 One of the favorites amongst ex-pats in Thailand is NordVPN. It boasts strong privacy, multiple intuitive features and is currently one of the country's most reliable virtual private networks.
NordVPN gives users the choice of over 4,900 servers across 64 countries, making it perfect for anyone who travels a lot. People concerned about security are going to love the additional security of "Double VPN," a plugin on NordVPN that routes the connection to two locations instead of one.
The company is proud of its military-grade encryption security software that protects its users, whether from hackers or Malware. What's excellent about NordVPN is that it's also P2P friendly, meaning that the connection remains encrypted when downloading from torrent sites.
Extra features include DNS leak protection, kill switches, and proxy extensions for Chrome and Firefox browsers, plus a multitude of payment options, such as credit card, PayPal, and Bitcoin.
1.2 ExpressVPN – Fastest VPN for Thailand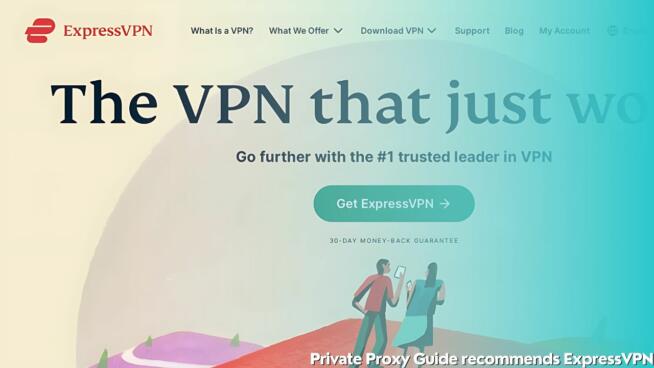 ExpressVPN is one of the leading virtual private networks worldwide and is most preferred in Thailand. The company has over 3,200 services in over 155 locations throughout 93 countries globally.
It uses protocols like IKEv2, OpenVPN, and L2TP/IPsec to keep users secure when accessing the internet. Furthermore, ExpressVPN has created an open-source Lightway protocol that increases its clients' speed, stability, and reliability. It's the best way to share large files, stream a series, or play online games in Thailand.
ExpressVPN shines by its ability to block banned streaming services or websites abroad, such as Hulu, Amazon Prime, and Netflix. There are standard safety protocols like a clear no-logging policy, kill switch, P2P support, and DNS leak protection.
What makes this product stand out is that it's straightforward to use and operates at high speeds no matter what device it's installed on. It ticks all the boxes of being one of the best VPN services to use in Thailand.
1.3 Surfshark VPN – Best Budget VPN for Thailand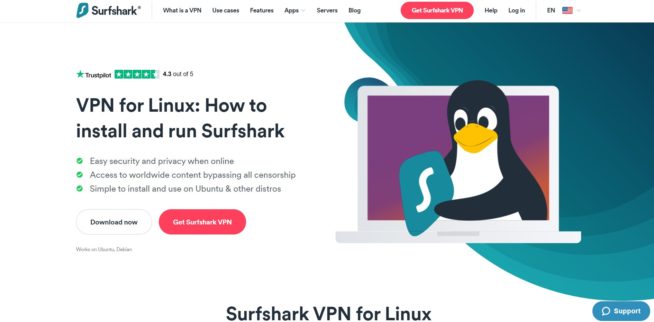 If budget is a main priority, SurfShark is the service to fill those requirements. It is the most suitable budget-friendly solution for anyone looking for a VPN service in the land of smiles.
The monthly installments are lower than NordVPN and ExpressVPN; users can get it even cheaper if they sign up for a two-year plan. Even though it is more affordable than most virtual private networks on this list, it still offers a ton of fantastic features.
It supports various operating systems, including Linux, Windows, Android, and iOS. SurfShark also provides a private DNS and a double VPN hop for additional security.
The software can effectively unlock geo-restricted content and give users access to a broad range of streaming services, such as Netflix, Disney+, or Hulu. Besides being affordable, SurfShark is also highly intuitive; its interface allows a person to connect with one click and is free from complex options.
1.4 VyprVPN –

Secure VPN for

Thailand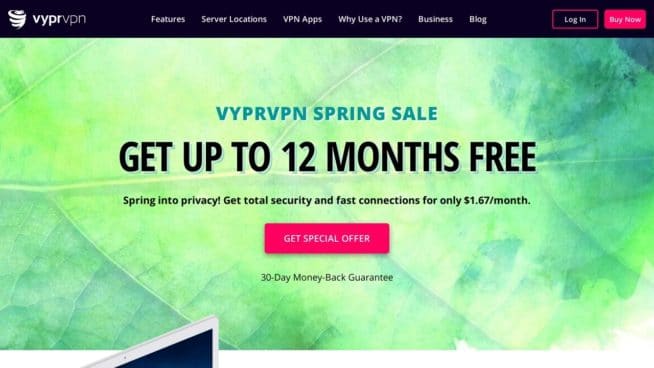 This Switzerland-based VPN provider offers its services to users around the globe. It has 700 servers spread throughout 60 countries, including Thailand and Malaysia.
VyprVPN knows a thing or two about online identity security, and it shows in its custom Chameleon protocol. The software also uses L2TP/IPsec, WireGuard, and OpenVPN to protect its user's connection tunnel while they use the service.
It has no affiliations with third-party web hosts, which further increases the entire operation's security.
Even though it has fewer servers than the other VPNs on this list, that doesn't mean that it's not a good provider. VyprVPN is great for playing online games or unblocking overseas streaming services while in Thailand.
Despite the features and quality of VyprVPN, it is still well priced, particularly if selecting the annual payment option. People who are unsure of the application have a 30-day money-back guarantee so that they can try before they buy.
1.5 CyberGhost – Safe VPN for Thailand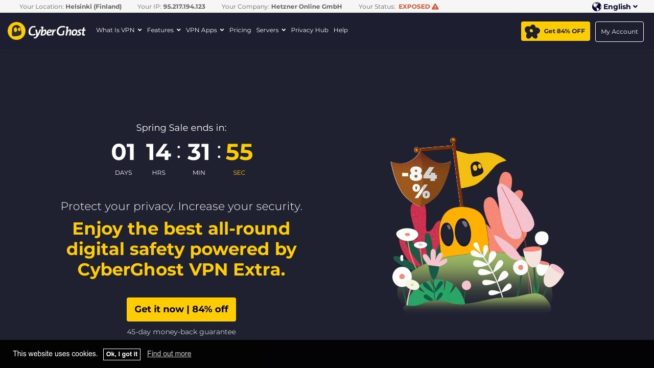 CyberGhost has 10 servers in Thailand, and another 7,000 are spread across 90 countries worldwide. This software package offers the most significant protection on the list regarding encryption standards.
It uses HMAC authentication and OpenVPN protocol by default, which means users remain secure when using the application. There is a no-log policy, built-in DNS leak protection, and an internet kill switch linked to conflicting software.
One great thing about CyberGhost is that it can automatically connect to the VPN service once the computer has booted up. That saves time and ensures internet protection when a person starts their device.
However, there are some cases where CyberGhost struggles to unblock specific websites or restricted content. It does manage to get around geo-restricted streaming services, such as Disney+ or Netflix US, but struggles to handle Netflix UK or BBC iPlayer in other areas like Canada.
2. Thailand VPN FAQ
With so many virtual private network services available online, it can be challenging to select the correct one, especially if it's for use in Thailand. That is why the below list has been compiled to provide readers with the most commonly asked questions when deciding which VPN for Thailand is best.
2.1 Why Do You Need a VPN for Thailand?
In recent years, Thailand has instilled strict internet regulations and passed legislation allowing the government to spy on its citizens' web usage. There is no internet privacy in Thailand, which means a VPN can benefit in many ways.
Unblocking Geo Restricted Content
People traveling to Thailand on holiday may want to access Netflix from back home but are limited because of the restriction imposed by internet service providers. With a VPN, it doesn't matter where the person is located; they can connect to a server close to the content they wish to access.
Banned Website
The Thai government has banned websites that it deems unfit for its citizens, such as overseas banking services, trading platforms, and various streaming sites. That can be a problem for someone dealing with foreign clients or a traveler needing to access their international bank account while in the country.
Internet Security
Online security is essential no matter where someone accesses the internet. Hackers and cybercriminals constantly look for loopholes or ways to access people's computers for malicious reasons. It could be that these unscrupulous individuals want to access the person's banking credentials or DDOS their laptop.
Either way, remaining protected while online is crucial today, especially when traveling in Thailand.
2.2 What About a Free VPN Service for Thailand?
While using a free VPN service may sound attractive to most users, it is often deemed dangerous and far from adequate. Most free service providers sustain themselves through aggressive advertising and sometimes include Malware to track internet usage.
Additional free VPN services are typically slower, have fewer servers, and lack the features of paid versions. Luckily, all the VPNs reviewed today come with affordable pricing plans and include a 30-day money-back guarantee.
2.3 Is it Legal to Use a VPN in Thailand?
There are no worldwide laws on the usage of a virtual private network. However, it is good to note that the application the person is trying to access may have VPN usage restrictions. It's good to check out the terms and conditions of certain streaming services or games before accessing them with any of these VPNs.
Some companies may block users that use a VPN to access their content while in Thailand.
2.4 Does a VPN Affect Streaming Speed?
In most cases, a VPN doesn't affect streaming speed as long as the server is close to the content the person is trying to access. That is why it is recommended to use a VPN with multiple servers to have more widespread support.
Doing the above can provide efficient and effective streaming to anyone looking to access geo-restricted content.
3. Conclusion
Online privacy is a real thing these days and is often overlooked by most internet users. Using a VPN can help people remain hidden from online trackers or hackers that may try to steal their browsing information.
Do the right thing and try out one of the above VPNs to experience ultimate protection while accessing the internet.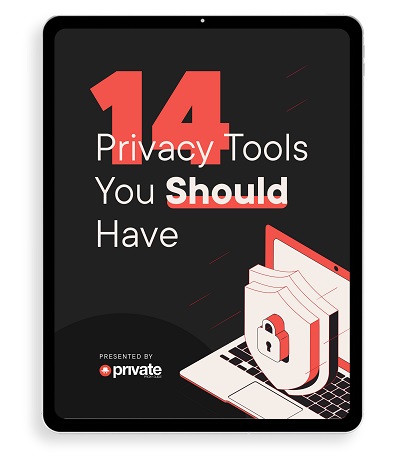 Learn how to stay safe online in this free 34-page eBook.