PokerStars is an online cardroom that offers the thrill of a live game through an accessible platform. You can use the game via its downloadable clients for iOS, Windows, and macOS and enjoy playing poker games with other players.
While the platform is becoming increasingly popular among players, it has been restricted in many countries. Moreover, since you will need to make a deposit to use a PokerStars account, protecting your sensitive information is imperative.
VPNs are a great way to do this. By connecting to a server where the poker site is not restricted, you can trick PokerStars into thinking that you are accessing the platform from a country where it is unrestricted.
However, knowing which VPN service to choose for PokerStars isn't always easy, with so many options on the market. To save you the trouble, we have done the research for you to bring you five of the best VPN services for PokerStars.
1. Best VPN for PokerStars 2022
Here are our top five VPN recommendations:
1.1 NordVPN – Best Overall PokerStars VPN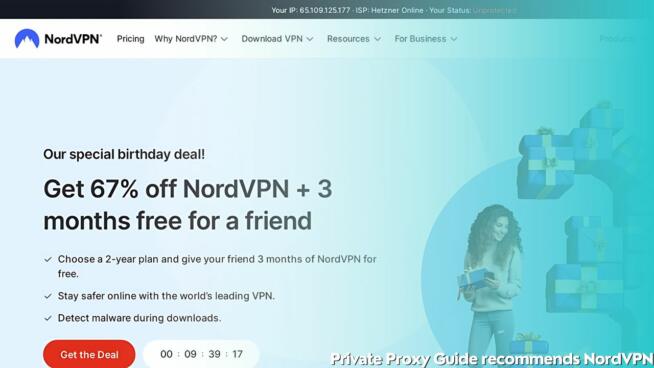 Because of its comprehensive set of features, NordVPN is our number one recommendation for PokerStars.
A dedicated IP add-on, for example, ensures that your poker session is secured, confidential, and unlikely to be identified by any computer program designed to detect the use of a VPN.
NordVPN's standard package features 256-bit AES military-grade encryption, protection from DDoS attacks, and two internet kill switches if you'd prefer not to pay an additional expense.
Furthermore, this VPN provider is one of the only ones to provide a double VPN, which hides your identity by passing your traffic through two servers instead of one. This means that you can enjoy your poker game without having to worry about your online safety.
Additionally, since NordVPN offers some of the fastest speeds, you'll enjoy lightning-fast connections and have the assurance that your privacy will be maintained. This is thanks to a strict no-logs policy, which means that even the VPN provider won't have a record of your activity!
1.2 ExpressVPN – Fastest VPN for PokerStars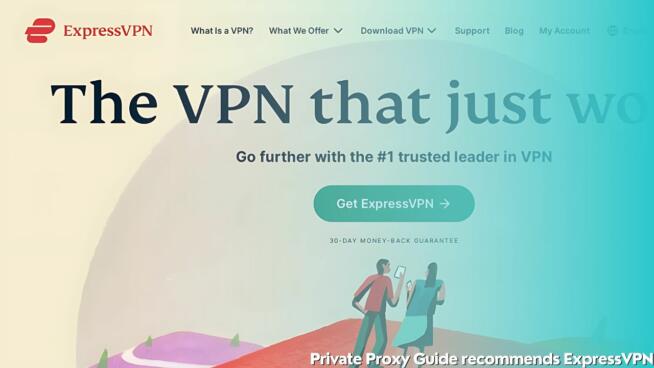 ExpressVPN is another leading VPN service for accessing online casinos and betting sites. It offers reliable connections, excellent unblocking capabilities, impressive speeds, and robust security measures.
Suppose you often enjoy poker on the go. In that case, you'll find that ExpressVPN is the best option since it offers such reliable security measures across its network of servers.
Furthermore, you can rest assured that its AES-256 encryption will keep your personal information hidden when you connect to public Wi-Fi that tends to be prone to hacking.
ExpressVPN provides servers in 94 countries around the world, which includes the important places you'll need to connect to in order to enjoy online poker.
DDoS attacks occur when a hacker floods a server with requests. However, when you use ExpressVPN, you'll have access to its Tier-one servers that are well-equipped to absorb large surges of requests.
When you're not playing poker, enjoy your favorite streaming services, including Hulu, HBO, and more!
1.3 Ivacy VPN – Best Budget VPN for PokerStars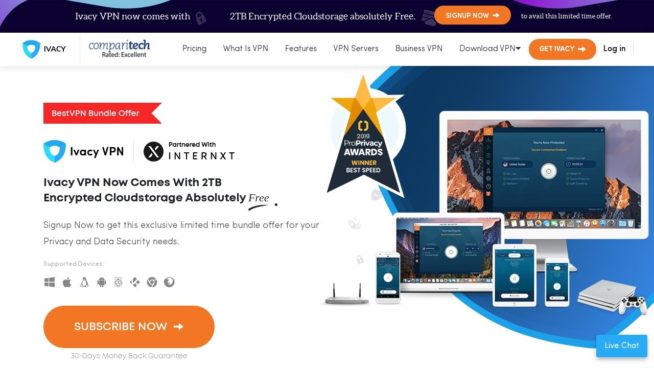 If you're looking for an all-rounder that offers excellent services at a fraction of the cost, IvacyVPN may be just what you need.
With one subscription (that you can get for just $1.15 per month!), you can secure your connection, unblock PokerStars in places where it is restricted, and even manage your passwords.
Suppose it's your first time trying out a VPN service. In that case, IvacyVPN is a great place to start since it offers a seven-day free trial.
Furthermore, you won't have to worry about your online safety or losing your PokerStars earnings with IvacyVPN since it offers robust security.
Its advanced security features include IPv6 leak protection, multiple protocols, secure DNS, secure downloading, and DDoS protection, an important feature to have when using online gaming sites.
With a single subscription, you can secure up to 10 devices, so the whole family can be protected while surfing the net!
1.4 CyberGhost – Safe VPN for PokerStars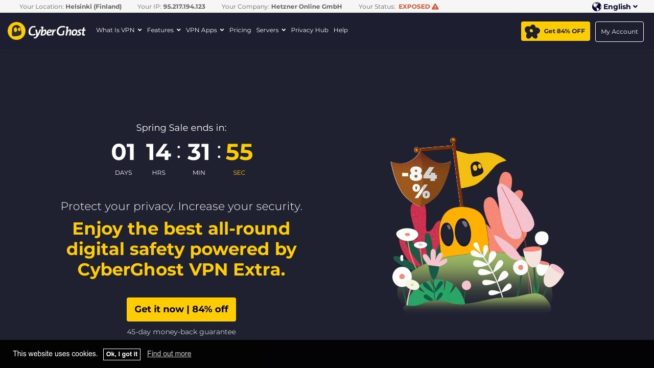 The truth is that your online data is in high demand. Advertisers use your information to bombard you with targeted ads that can be surprising and even a little scary.
However, when you use PokerStars while connected to CyberGhost, you can rest assured that your online activity is kept private.
Because CyberGhost doesn't keep any records of your online activity, you can play poker without worrying about who's watching.
This VPN service has a lot to offer! You will have access to dedicated streaming services to enjoy uninterrupted entertainment when you're not playing online poker. With over 7,900 servers worldwide, you can quickly and easily bypass restrictions to access PokerStars if it is blocked in your country.
Plus, with a 45-day money-back guarantee, affordable subscriptions, and a seven-day free trial, there are few reasons not to choose this VPN!
1.5 PrivateVPN – User-friendly PokerStars VPN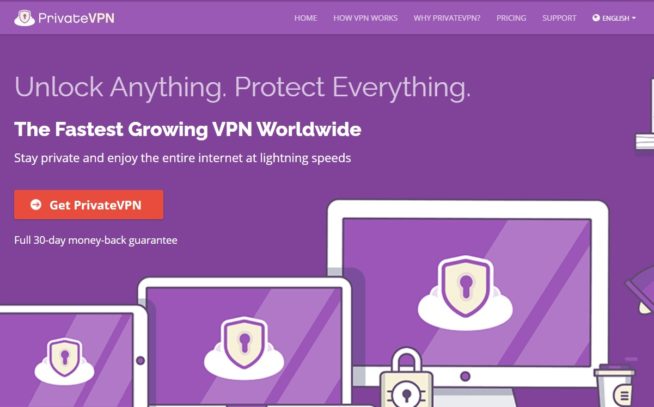 PrivateVPN might have a smaller network of servers than many of its rivals, but it makes up for this by offering high-quality servers instead. Because these servers are extremely fast and are placed in strategic areas around the world, you should have no difficulty unblocking PokerStars.
With an outstanding assortment of security features, PrivateVPN stands up to its name. The VPN includes dedicated IPs in places like the US, UK, and Switzerland, so you can play poker safely.
It is also one of the only VPNs on this list that offer a dedicated IP as part of its standard package. You will also get extra online protection thanks to two internet kill switches that ensure that your information remains secure, even if you lose your internet connection.
Other essential security measures include 256-bit AES encryption, ensuring that the cash you win while playing games such as Tempest Hold'em remains safe.
2. Final Thoughts
If you need to access PokerStars in a country where it has been banned, you can bypass these restrictions using a VPN. Suppose you already have access to PokerStars in your country. In that case, you will need a VPN to keep you safe online and prevent attackers from gaining access to your sensitive information.
Looking for VPN recommendations for other online gaming sites? Please browse our website to find other recommendations!
3. PokerStars VPN Frequently Asked Questions
The section below answers some of the commonly asked questions concerning VPN usage for PokerStars.
3.1 Can I Be Banned from PokerStars for Using a VPN?
If you are using a VPN to stay safe online, it is unlikely that PokerStars will ban you if you are caught using a VPN. However, if you use a VPN to violate the platform's terms of service or conduct illegal activities, you will be banned from accessing the platform.
3.2 Why Do I Need a VPN for PokerStars?
When you deposit money online, your financial details, such as your card number or security code, could be accessed through hacking. Furthermore, your PokerStars winnings and deposits may also be at risk.
Even though PokerStars does have security measures to prevent this from happening, cybercriminals are finding new ways to get past these defenses.
Since VPNs allow you to browse the internet and enjoy online gaming anonymously, you can add another layer of protection to safeguard your assets while using the PokerStars platform.
Unfortunately, PokerStars isn't available in many countries around the world. If you try to access the website from one of these countries, you will see a message indicating that the use of the gambling site has been restricted in your country.
To get past this, you can connect to a VPN server in a country where PokerStars has not been prohibited, such as the United States. The site will then see the server's location, and since it is in a country with no bans, it will grant you access.
3.3 Is It Legal to Use a VPN for PokerStars in Countries Where It Has Been Banned?
If you reside in a place where gambling sites are outlawed, it is unlawful to use a VPN to access these sites. Keep in mind that if these sites are banned in your country, you'll be accessing them at your own risk.
You'll need to choose a reliable VPN with advanced security features, such as military-grade encryption, leak protection, a kill switch, and more to keep you safe and avoid detection while playing poker online.
3.4 What Should I Look for When Choosing a VPN for PokerStars?
Because there are so many VPN services on the market, you'll need to consider a few factors when choosing the right VPN for PokerStars. Ensure that the service you choose has the following features:
Affordable packages
Advanced security features to ensure that you can play poker undetected
DDoS protection
Excellent unblocking capabilities
An extensive network of servers
24/7 customer support
Easy-to-use apps
3.5 Will a VPN Service Protect Me from DDoS Attacks?
The truth is that not all VPN providers offer robust DDoS protection. When an attacker executes a DDoS attack, he or she will flood a server with requests. However, with the best VPNs, there are measures to prevent servers from becoming overwhelmed by a flood of requests.
Furthermore, since VPNs mask your IP address, cybercriminals will not be able to locate your network, which makes it a lot harder to target you.
VPN Service


www.nordvpn.com
NordVPN
Review
Price: $11.95 $3.71/month
Servers: 5500+ in 59 countries
Simultaneous connections: 6
Jurisdiction: Panama
Payment: PayPal, AmazonPay, Crypto, Google Pay, Klarna
Torrenting: OK
Unblocks US Netflix: Yes
Dedicated IP: $70/yr
TrustPilot Score: 4,7/5
Money-back: 30 days
Extra: Double VPN, Obfuscated servers
Visit NordVPN »


www.expressvpn.com
ExpressVPN
Review
Price: $12.95 $8.32/month
Servers: 3300+ in 94 countries
Simultaneous connections: 5
Jurisdiction: British Virgin Islands
Payment: PayPal, Crypto, AliPay, Klarna,
Torrenting: OK
Unblocks US Netflix: Yes
Dedicated IP: Not provided
TrustPilot Score: 4,7/5
Money-back: 30 days
Visit ExpressVPN »


www.cyberghostvpn.com
CyberGhost
Review
Price: $11.99 $2.25/month
Servers: 6600+ in 89 coutrines
Simultaneous connections: 7
Jurisdiction: Romania
Payment: PayPal, Crypto
Torrenting: OK
Unblocks US Netflix: Yes
Dedicated IP: $51/yr
TrustPilot Score: 4,8/5
Money-back: 45 days
Visit CyberGhost »


www.surfshark.com
Surfshark
Price: $11.95 $2.49/month
Servers: 3200+ in 65 coutrines
Simultaneous connections: Unlimited
Jurisdiction: British Virgin Islands
Payment: PayPal, Crypto, Google Pay, Amazon Pay
Torrenting: OK
Unblocks US Netflix: Yes
Dedicated IP: Not provided
TrustPilot Score: 4,3/5
Money-back: 30 days
Visit Surfshark »


www.purevpn.com
PureVPN
Review
Price: $9.60 $3.33/month
Servers: 6500+ in 140 coutrines
Simultaneous connections: 10
Jurisdiction: Hong Kong
Payment: PayPal, Credit Cards
Torrenting: OK
Unblocks US Netflix: Yes
Dedicated IP: $35.88/yr
TrustPilot Score: 4,7/5
Money-back: 31 days
Visit PureVPN »