Poland is one of the most unique and fascinating countries in Europe, lying right on the border between the central-western zone of the continent and the Eastern Block. Until as recently as 1989, Poland was heavily tied to communism- something it had spent generations trying to break free from.
Now, despite neighboring some of the most forward-thinking and security-centric countries in the world, the Polish Government still tries to limit some types of searching and is known to try to collect data from citizens through questionable channels. This is just one of the reasons why anyone spending time in Poland should install a reliable VPN on their devices before traveling.
1. Why Install a VPN Before Entering Poland?
VPNs exist to add an extra level of privacy and security to a person's information whenever they connect to the internet. Usually, a device's IP address is changed upon connection to disguise the true origin and owner. What does all that mean? Really, it is all about peace of mind and proactively protecting yourself and your data.
In Poland specifically, here are a few of the main reasons for downloading a VPN for use during your time there.
Online activity is one of the easiest ways for prying eyes, governmental or otherwise, to gain access to private information and details. The purposes for information requests in Poland are often questionable, not to mention illegitimate, so it is best not to have your data floating around.
Poland has recently displayed a crackdown on piracy, moving to ban websites where content is available free of charge. If you often use this kind of site, you could struggle to gain access to a Polish network- not to mention the threat of legal action if caught. How much evidence there is to suggest any real consequences may come about is unclear, but it is better not to risk it.
Although Poland is no longer a communist country, there have still been incidences where geo-blockers were used to ban certain political websites. It is not an active problem in general, but you never know where restrictions could apply. Having a VPN makes geo-blocking protocols inconsequential and allows you to browse freely.
Speaking of geo-blockers, Netflix lovers on a trip to Poland are sure to suffer without a VPN. Content is licensed differently from country to country, with some having much better access than others. The US, for example, has the best content access in the world, whereas Poland is amongst the most restricted in Europe. If watching your favorite series is a priority, you don't want to leave without a VPN in tow!
2. What to Look For in a VPN
The features every strong VPN needs are:
Encrypted browsing for added security
Fast connection speeds for enjoyable browsing
Geo-blocker navigations for better content access
Privacy functions to help keep your information safe
IP address shielding to change your device registration
Some other things to look out for to find the best VPNs are:
Multiple device connection options so the whole family can browse safely
A strong customer service department in case you have any questions during your travels
Safe torrenting (P2P servers) for a little more peace of mind
Overall, you want to find a VPN that balances the security features with the entertainment features to get the right mix of fun and function. There is no point in having the fastest connection in the world if your data access is free-for-all to anyone who happens to be looking. At the same time, heavy-duty security encryptions are not much good if you can barely even make a Google search.
Before deciding what VPN is best for you, consider your priorities. If you are traveling to Poland for work and use a company device with confidential information, you should focus on security. If you plan to spend a lot of time streaming movies during your time there, look for the speed and access.
3. Best VPN for Poland 2022
3.1 NordVPN – Best Overall Poland VPN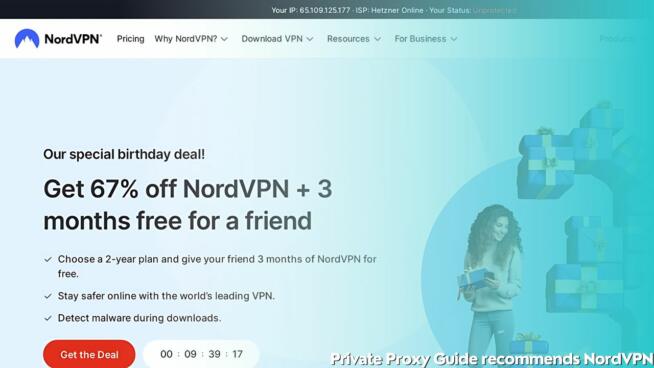 Our runner-up for the best VPN for use in Poland is Nord. This giant VPN provider is known globally as one of the best ways to gain safe and secure access to the internet and content streaming platforms. It has more than 60 servers in Poland alone, not to mention the 5000 others spread across the rest of the world.
Of those servers, many are advanced P2P servers (also in Poland) to provide and safe torrenting and an even better level of security and connection speed. It also uses a double VPN feature to duplicate the connection; increasing your speed and further scrambling your information.
Nord also offers dedicated IP addresses for whatever country you travel to, allowing you to protect your device's identity and location. All in all, it is a great choice of VPN for use in Poland and most of Europe.
3.2 ExpressVPN – Fastest VPN for Poland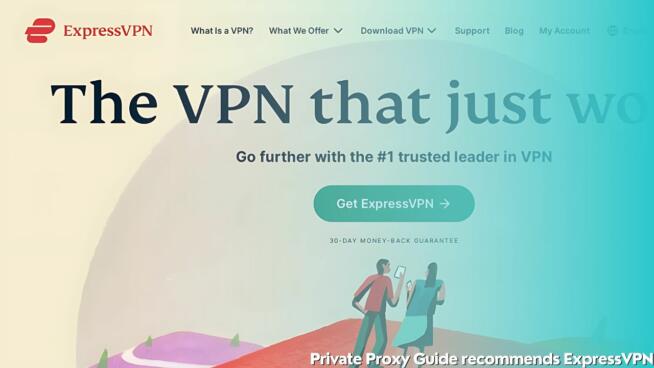 Honestly, this is a tricky VPN to beat no matter where you go. With servers in 95 countries across the world (including one in Poland), Express has the best connection speeds almost anywhere- and some of the strongest geo-blocker workarounds.
On top of the lightning-fast upload and download speed, Express VPN is also impressive from a security standpoint. The proven no logs policy helps keep your activity anonymous, while the various levels of encryptions ensure your information is protected at all times.
Express VPN works compatibly with all the major platforms, including IOS, Windows, and Mac. You can connect up to five simultaneous devices to keep the whole family connected and protected wherever you go. Your time in Poland can be nothing but happy, safe browsing that you can rely on. It is so good, in fact, that you may forget you are using a VPN altogether!
3.3 CyberGhost – Safe VPN for Poland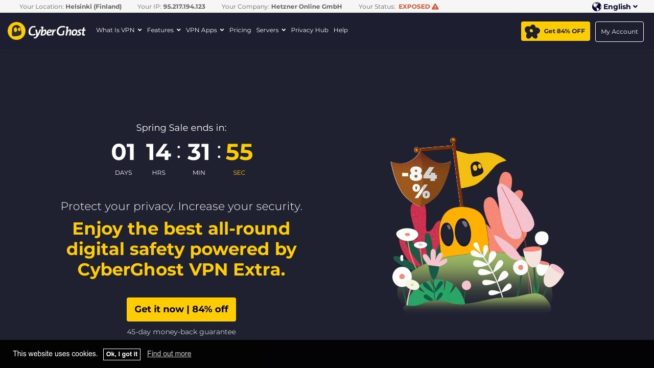 There are very few VPN providers that can give Nord and Express a run for their money, but Cyber Ghost can. Thanks to the plethora of smart features and specialized browsing tools, it is fast becoming one of the top dogs.
One of the best things about Cyber Ghost is the advanced privacy settings for easy and secure browsing- something that sets it apart from the competition. It is also heavy on encryptions to maintain your privacy at all times. Fast connections are, of course, another major benefit, especially when you consider there are almost 7500 servers out there to back you up. That number includes 42 in Poland.
Something else worth noting about Cyber Ghost is the excellent customer service. If you like knowing that there is someone you can reach out to should your face any issues who can keep you informed then this is the way to go. No matter where you are in the world- including Poland- the Cyber Ghost customer service team answers your questions quickly and efficiently.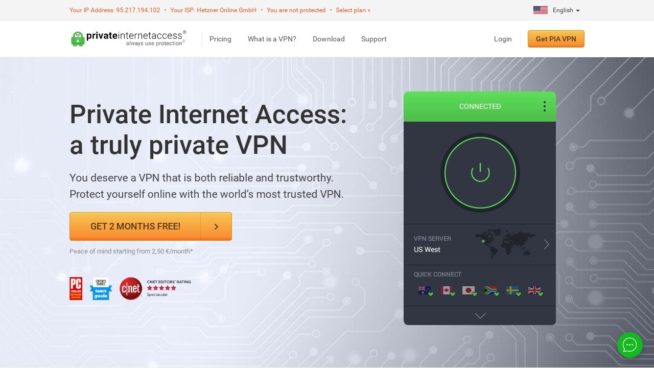 As the name would suggest, privacy is the name of the game with this VPN. Private Internet Access (PIA) is a US-based VPN provider that specializes in ultra-secure encryptions and the highest levels of privacy. If anonymity is your priority, it is difficult to find a better provider than PIA.
Additionally, PIA offers unlimited bandwidth and data transfer, so you are not restricted to how much you can do during your time in Poland. With servers in 78 different countries, including Poland, you are not limited in a lot of places!
The connection speeds, although not on par with the first three entries on this list, are more than sufficient for normal browsing and internet usage, but it is not the optimal choice for content streaming. PIA is about security above all, not entertainment, so bear this in mind before making a decision. That said, PIA has excellent geo-blocker navigation, so you can easily access whatever content you want.
Private Internet Access Review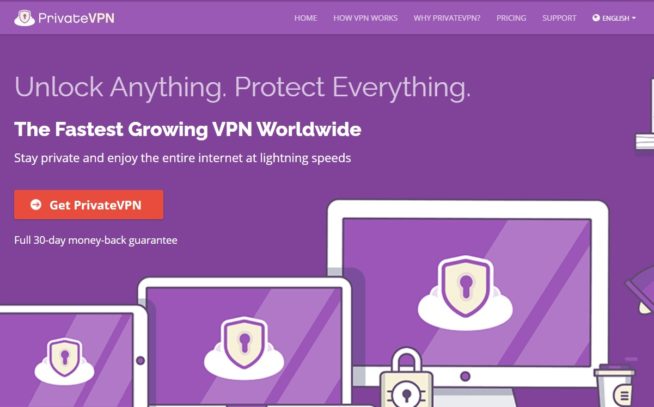 Private VPN is one of the most user-friendly VPNs out there today, thanks to its one-click setup feature and easily navigated user interface. It is also one of the most private, thanks to its strict no-logs policy and 2048 bit encryptions. Private VPN is based in Sweden, meaning it is also outside of the controversial Five Eyes rule, which is another big tick against its name.
The browsing and streaming experience with Private VPN is good, with multiple simultaneous devices able to do their things without any trouble. Connection speeds are surprisingly good for a VPN that is centered around privacy above all.
If you are visiting Poland, Private VPN is a great choice. The in-country server, based in Torun, ensures you stay connected at all times and that your information is kept entirely hidden at all times.
4. Final Thoughts
Wherever you are going in Poland and for however long, subscribing to a high-quality and reliable VPN is an intelligent move. It not only ensures your information does not end up in front of unwanted eyes, but it also improves your browsing experience tenfold.
Before you set off on your travels, consider looking further into the five VPNs above to decide what is going to work best for you. Streaming, sharing, searching, and so much more become so much easier with a little help and backup from a secure VPN.
VPN Service


www.nordvpn.com
NordVPN
Review
Price: $11.95 $3.71/month
Servers: 5500+ in 59 countries
Simultaneous connections: 6
Jurisdiction: Panama
Payment: PayPal, AmazonPay, Crypto, Google Pay, Klarna
Torrenting: OK
Unblocks US Netflix: Yes
Dedicated IP: $70/yr
TrustPilot Score: 4,7/5
Money-back: 30 days
Extra: Double VPN, Obfuscated servers
Visit NordVPN »


www.expressvpn.com
ExpressVPN
Review
Price: $12.95 $8.32/month
Servers: 3300+ in 94 countries
Simultaneous connections: 5
Jurisdiction: British Virgin Islands
Payment: PayPal, Crypto, AliPay, Klarna,
Torrenting: OK
Unblocks US Netflix: Yes
Dedicated IP: Not provided
TrustPilot Score: 4,7/5
Money-back: 30 days
Visit ExpressVPN »


www.cyberghostvpn.com
CyberGhost
Review
Price: $11.99 $2.25/month
Servers: 6600+ in 89 coutrines
Simultaneous connections: 7
Jurisdiction: Romania
Payment: PayPal, Crypto
Torrenting: OK
Unblocks US Netflix: Yes
Dedicated IP: $51/yr
TrustPilot Score: 4,8/5
Money-back: 45 days
Visit CyberGhost »


www.surfshark.com
Surfshark
Price: $11.95 $2.49/month
Servers: 3200+ in 65 coutrines
Simultaneous connections: Unlimited
Jurisdiction: British Virgin Islands
Payment: PayPal, Crypto, Google Pay, Amazon Pay
Torrenting: OK
Unblocks US Netflix: Yes
Dedicated IP: Not provided
TrustPilot Score: 4,3/5
Money-back: 30 days
Visit Surfshark »


www.purevpn.com
PureVPN
Review
Price: $9.60 $3.33/month
Servers: 6500+ in 140 coutrines
Simultaneous connections: 10
Jurisdiction: Hong Kong
Payment: PayPal, Credit Cards
Torrenting: OK
Unblocks US Netflix: Yes
Dedicated IP: $35.88/yr
TrustPilot Score: 4,7/5
Money-back: 31 days
Visit PureVPN »