Voice over Internet Protocol (VoIP) is one of the most common communication technologies today, allowing people to use calling functionality with nothing more than an internet connection.
Of course, the internet has made massive strides over the past few decades, giving rise to the level of patronage that VoIP services see. Some people would rather take advantage of this medium instead of opting for traditional phone lines, particularly since there are some cost savings to be had.
This is even more so with the introduction of cloud service phone providers that continue to innovate with features such as call recording, caller ID, voicemail to email, automated attendance, extension dialing, conference bridge setup, etc.
Beyond the undoubtedly expansive feature set, there is also the fact that such cloud-hosted services remove the physical restrictions that a traditional phone or PBX would place on you.
Once you have a network connection and the hardware (headphone/microphone) to support VoIP communication, then you are all set.
As reliable as VoIP services are, there is one problem. Depending on the one you choose or where you reside, you may find that they are not accessible to you. Imagine hoping to get started with internet-based calling and being greeted by an error message that you are trying to sign up or dial in from an unsupported location.
All hope is not lost though, as VPN services can help you bypass such restrictions. In this article, we're going to look at several top-tier VPN software options that you can use to prevent any VoIP limitations by location.
1. Best VPN for VoIP 2023
How were these recommendations made? Well, we decided to undertake the intensive process of searching for, testing, and accurately reviewing different VPN software options.
Remember that this is a highly subjective process, so carefully go through the information below and consider which of these is best for your unique needs based on the features and advantages that come with each. Only then are you going to be comfortable with your subscription choice.
1.1 NordVPN – Best Overall VoIP VPN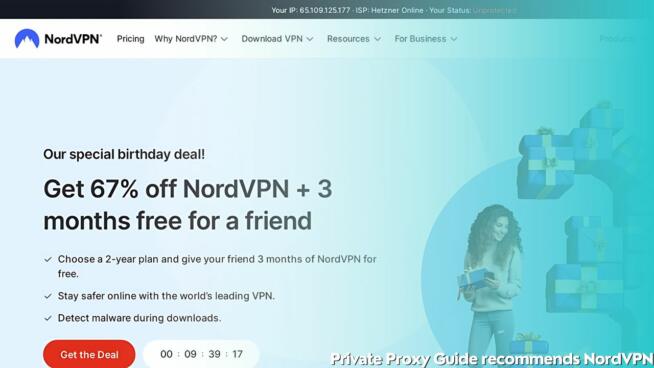 NordVPN's strategic placement and quantities of servers available, combined with the specs selected create one of the most high-performance options on the market today.
Privacy is another important element of any high-class VPN software system, and NordVPN is very adept at protecting your digital identity and obscuring your digital footprint.
Navigating the web page and getting everything set up is no inconvenience at all, thanks to the intuitive user experience that the designers opted for.
High performance is a necessity for VoIP calling as a continuous stream of data is sent during conversations that requires its integrity to be maintained. If not, then neither party is going to be hearing anything too clearly. Thankfully, you can rely on whichever of NordVPN's over 5,000 servers near your location is best suited to you.
Top features:
Over 5,000 servers powering the NordVPN network
High-performance service, leading to the maintenance of audio integrity
Compatible with various operating systems
Maintains privacy quite well
High-grade security measures implemented
Numerous apps and connection protocols
1.2 ExpressVPN – Fastest VPN for VoIP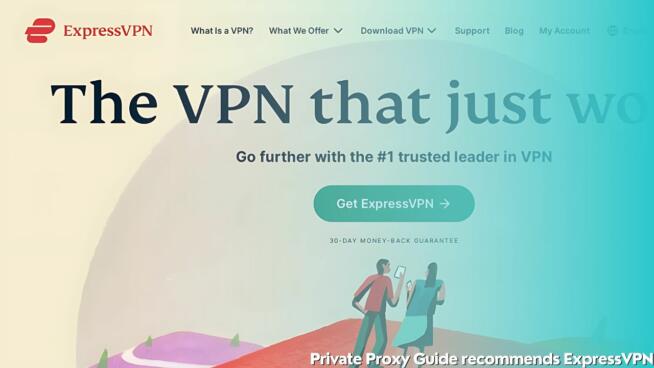 ExpressVPN is another of the top options you can select. A tremendous server complement of over 3,000 strategically placed nodes come together to create another high-performing VPN software system.
Considering that audio media, such as VoIP calls cannot tolerate data loss, you do need to ensure that the system you select can stand up to the task. ExpressVPN can undoubtedly pull this one off, and it is hailed for its high level of reliability.
Tremendous security is also provided here in the form of military-grade encryption to prevent any unwanted entities from injecting themselves into or listening to your conversations. Additionally, there is a no-logging policy, meaning inquiries into your activity are not going to be happening, and it also means your ISP can no longer track you.
Top Features:
Over 3,000 servers make up the express VPN network
Knowledgeable and helpful customer support team
High performance four more streamlined VoIP calling
Extremely secure
Privacy features baked into the design
1.3 CyberGhost – Safe VPN for VoIP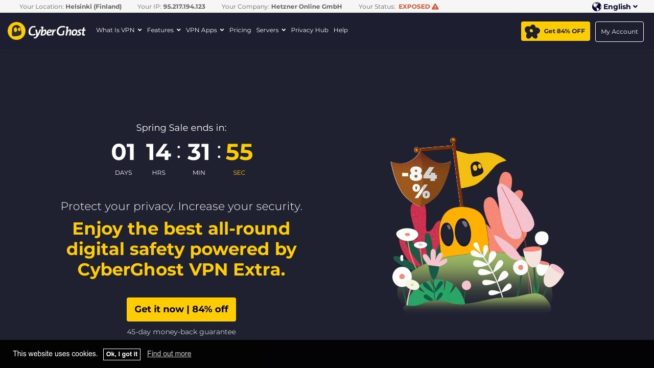 Probably the first thing that stands out about CyberGhost is its choice to go for quite the attractive pricing model. Those who are on a budget tend to be more inclined to use it. Like the systems highlighted above, it also has quite an impressive server complement, boasting over 5,500 nodes.
Security is not something to worry about here, considering that military-grade encryption and protected authentication features are a part of the design. Note, however, that there is a bit of a location drawback if you opt for CyberGhost. It's not sanctioned for use in China or the United Arab Emirates, so it's not going to be your saving grace in any of those places.
Beyond that, you are getting a respectable performance, which is enough to maintain the integrity of audio transmission that is synonymous with VoIP calling.
Top features:
Attractive pricing model
Over 5,500 servers for convenient VPN access
Romania-based jurisdiction, which avoids concerns typically associated with US-based providers
45-day money-back guarantee
High performance that guarantees consistent VoIP call quality
High level of reliability
1.4 TorGuard VPN – VoIP VPN with Good Encryption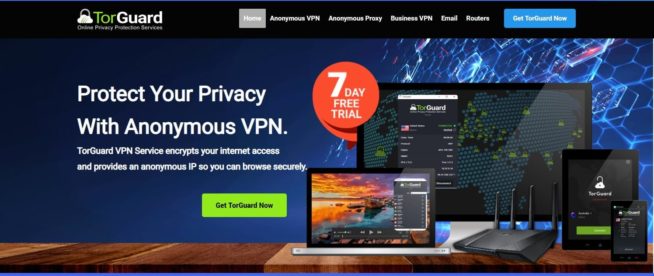 You may not hear Torguard's name thrown around as much as you would other VPN service providers, but it is truly an all-around solid service. Most notably, it includes a slew of security options, including IPv6 leak prevention, stealth proxy, and the WireGuard tunneling protocol.
Another claim to fame is its ability to potentially work in the most restrictive of countries, such as China. The pricing is attractive, there is a no-logging policy, and you can even take advantage of the free trial version on offer to see how much you enjoy using it before you commit.
The performance and speeds you get are decent enough to allow you to have a VoIP call with no real issues. The server compliment here is over 3,000, which is usually a very good sign that one or more are close enough to you for you to make the best use of the service.
Top features:
High level of security
Script running capabilities
Well outfitted free trial version
Over 3,000 servers make up the Torguard network
Good enough speeds for VoIP calls
1.5 ZenMate VPN – Safe VPN for VoIP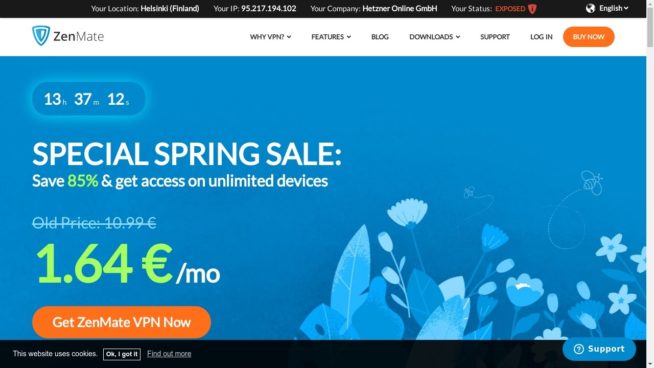 The final option for this review is none other than Zenmate. While the speeds may not be as impressive as a few of the other services alluded to above, the performance is still mostly good enough for your VoIP calling needs. This is not surprising when you consider that Zenmate has a server complement of over 4,000 nodes.
It would stand to reason then that you should be able to connect to a server close enough to you for an optimal experience. Security is not a concern, thanks to AES-256 encryption and SHA-256 authentication.
You should note that both Zenmate and CyberGhost are owned by Kape Technologies, meaning that there is a bit of overlap where the servers are concerned. Still, this should not present an inconvenience for you.
Top features:
24/7 customer support
Reliable kill switch
Attractive pricing model
Unlimited simultaneous server collections
Over 4,000 servers make up the Zenmate network
Strong security
2. VoIP VPN FAQ
There are many options for those who may be seeking a VPN service that is appropriate for VoIP calls. After all, you need to bypass any location restrictions that prevent you from using the VoIP platform, and you also need to maintain the audio integrity, if you have any hopes of having a clear conversation.
With that said, you may have a few questions about choosing a VoIP VPN, so we went ahead and compiled a list of common ones, so we could provide you with some solid answers.
2.1 How Does a VOIP VPN Help You?
VoIP services are being used around the world, and they are natively available in many places. However, this is not always the case, as some VoIP providers simply don't operate in certain locations.
In this case, your VPN would help you access the service of choice, and it's also supposed to allow you to do so without sacrificing call quality.
2.2 Is It Lawful to Use a VoIP VPN?
No law says you are not allowed to use a VPN for VoIP purposes. However, it would be a very good idea to review the terms of service of the VoIP platform to see if there is any clause that speaks to the use of a VPN. If not, then you are in the clear.
While we are not encouraging this, even for those providers who are not keen on VPN use, it's very unlikely that they're going to find out that you are using one. However, if they do, you do risk being kicked off the platform permanently.
2.3 Do VPNs Protect Against Malware?
Some VPN platforms have built-in malware detection and protection mechanisms, but these are the exceptions and not the rule. Therefore, even if you are going to be using a VPN to encrypt your traffic, It would be in your best interest to have a dedicated anti-malware system and make logical choices, such as protecting your passwords and not clicking on suspicious-looking links and sites.
2.4 Does a VPN Increase My Connection Speed?
There is nothing in the design of a VPN software system that would increase your connection speed. However, if your ISP happens to be throttling your connection, then you may find that you begin to see some improvements. Of course, this is very welcome for VoIP calling, since better performance leads to better quality calls.
VPN Service


www.nordvpn.com
NordVPN
Review
Price: $11.95 $3.71/month
Servers: 5500+ in 59 countries
Simultaneous connections: 6
Jurisdiction: Panama
Payment: PayPal, AmazonPay, Crypto, Google Pay, Klarna
Torrenting: OK
Unblocks US Netflix: Yes
Dedicated IP: $70/yr
TrustPilot Score: 4,7/5
Money-back: 30 days
Extra: Double VPN, Obfuscated servers
Visit NordVPN »


www.expressvpn.com
ExpressVPN
Review
Price: $12.95 $8.32/month
Servers: 3300+ in 94 countries
Simultaneous connections: 5
Jurisdiction: British Virgin Islands
Payment: PayPal, Crypto, AliPay, Klarna,
Torrenting: OK
Unblocks US Netflix: Yes
Dedicated IP: Not provided
TrustPilot Score: 4,7/5
Money-back: 30 days
Visit ExpressVPN »


www.cyberghostvpn.com
CyberGhost
Review
Price: $11.99 $2.25/month
Servers: 6600+ in 89 coutrines
Simultaneous connections: 7
Jurisdiction: Romania
Payment: PayPal, Crypto
Torrenting: OK
Unblocks US Netflix: Yes
Dedicated IP: $51/yr
TrustPilot Score: 4,8/5
Money-back: 45 days
Visit CyberGhost »


www.surfshark.com
Surfshark
Price: $11.95 $2.49/month
Servers: 3200+ in 65 coutrines
Simultaneous connections: Unlimited
Jurisdiction: British Virgin Islands
Payment: PayPal, Crypto, Google Pay, Amazon Pay
Torrenting: OK
Unblocks US Netflix: Yes
Dedicated IP: Not provided
TrustPilot Score: 4,3/5
Money-back: 30 days
Visit Surfshark »


www.purevpn.com
PureVPN
Review
Price: $9.60 $3.33/month
Servers: 6500+ in 140 coutrines
Simultaneous connections: 10
Jurisdiction: Hong Kong
Payment: PayPal, Credit Cards
Torrenting: OK
Unblocks US Netflix: Yes
Dedicated IP: $35.88/yr
TrustPilot Score: 4,7/5
Money-back: 31 days
Visit PureVPN »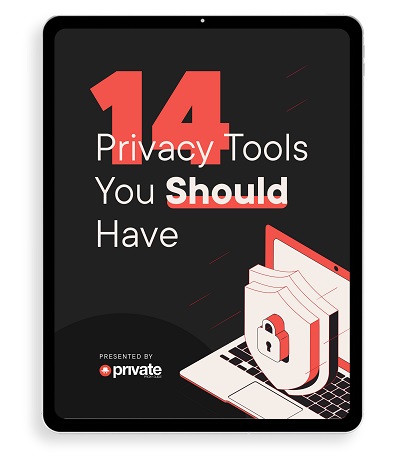 Learn how to stay safe online in this free 34-page eBook.