IPTV (Internet Protocol Television) is a simple utility that allows users to access various TV channels on the internet. People can access the channels by using their smartphones, streaming devices, or computer. The IPTV system stands out as the primary source of video streams, programs, and other data encoded IP packets.
In this digital era, many people are no longer interested in watching television-based content. They are using their devices to access and watch global broadcasts. This development has attracted both legal and illegal IPTV subscriptions and networks.
IPTV has been continuously showing progression in providing enhanced content and broadband operation. Together with VPN experts, IPTV guarantees reliability and security. Users can watch channels directly from their devices with ease. Using IPTV enhances quick access to live television, games, videos on demand, and many more.
1. Why Should You Use a VPN for IPTV?
A VPN allows you to access your preferred content from any part of the world. Its ability to mask your IP address enables you to connect your device to the internet anonymously, although several legal IPTV services are distributed in many countries.
Watching your favorite shows worldwide is not a problem; a VPN for IPTV gives you the ability to do just that. It's important to note that IPTV sometimes cannot operate without a reliable VPN.
Using a VPN for IPTV protects your system from spying and smart TV hackers. It is, therefore, ideal to have a good VPN to prevent you from being unsafely tracked. Furthermore, you should be aware of illegal IPTV subscriptions that are insecure for your network. Read on to discover the best VPN for your IPTV services to avoid being caught up in such risky scenarios.
2. Features You Should Look for in a VPN for IPTV
Compatibility with a wide range of systems and devices, including Apple TV, Android, macOS, and Windows
A high number of servers worldwide
Stable connectivity without any loss of connection
Strong encryption
24/7 customer support and after-sale services
3. Best VPN for IPTV 2022
3.1 NordVPN – Best Overall IPTV VPN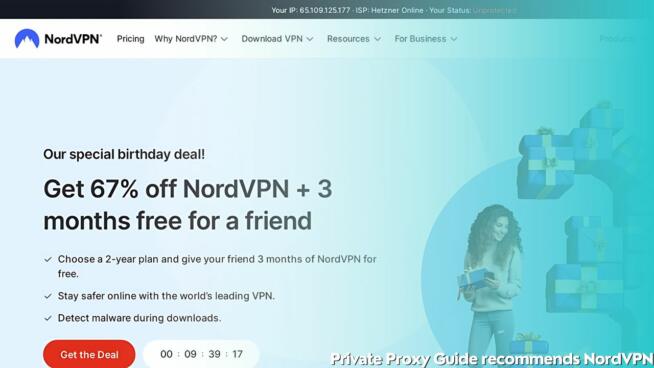 NordVPN is one of the best VPNs for IPTV. This vast system has over 5400 servers located in around 59 countries in the world. Around 1950 servers are in 15 U.S. cities, while the remaining are distributed worldwide. NordVPN is ideal for unblocking various IPTV content and TV channels globally.
With this system, you can go into popular streaming services, such as Netflix, Hulu, and Disney+ within the comfort of your home. The server offers fast connectivity to support HD streams and videos.
Installing NordVPN allows you to access the channels through tech devices such as iOS, Amazon Fire Stick, Windows, and many more. People using an IPTV box can connect to a VPN by installing a NordVPN router.
Though it might be challenging to connect, you can use the free tutorials provided if you don't quite understand how the process works. Alternatively, you can get 24/7 customer support through live chat to help you connect to the services. NordVPN secures its clients using the kill switch and military-grade encryption. In case you experience any connection drops, the kill switch ensures you don't have any data or DNS leaks. These guarantee safety from hackers, online threats, and ISP snoopers.
3.2 ExpressVPN – Fastest IPTV VPN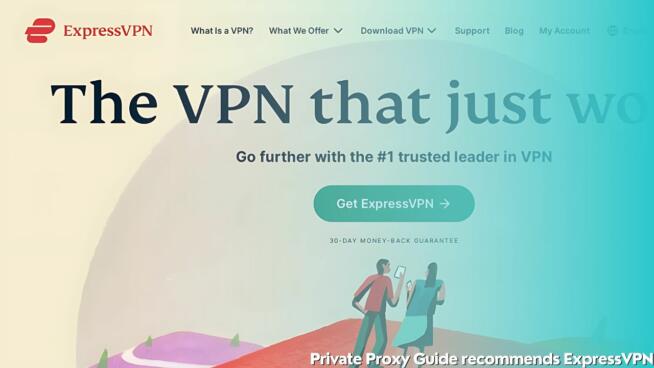 This is a global VPN provider that unblocks all IPTV services worldwide. ExpressVPN offers reliable speed and the ability to stream live content from numerous devices. Though it is based in the British Virgin Islands, the VPN provider has over 3000 servers located in 95 countries worldwide. Regardless of your location, the VPN server unblocks your favorite IPTV channels.
Express VPN offers military-grade encryption that protects your network from third-party monitoring. Its privacy policy does not allow saving information about your online activities and subscriptions. Therefore, the internet connection to ExpressVPN is safe and secure for every user.
Additionally, using ExpressVPN makes the IPTV apps available for many device platforms. Some available apps include Android TV, Windows, Linux, and macOS devices. Apart from fast connections, one subscription can serve up to five simultaneous connections.
Depending on your preference, you can choose your ideal server for a faster and much more reliable connection to your preferred IPTV channels.
3.3 Surfshark VPN – Best Budget VPN for IPTV

Surfshark is an unlimited VPN for IPTV connection. There are over 3200 servers installed in 65 countries. About 500 of these servers are in the U.S., while the rest are distributed to other countries. This system is fast and reliable, with an average speed of 263Mbps per server.
The provider helps unblock favorite streaming sites and TV channels. It allows you to easily access channels like HBO, BBC iPlayer, and Amazon Prime Video.
This VPN provider has intuitive apps operational on Windows, iOS and Android devices, Linux, and Mac. Using the guidelines provided, you can install Surfshark directly on your router. Alternatively, you can unblock streaming sites using the Smart DNS of the IPTV set-top box.
The Surfshark VPN offers simultaneous and unlimited connections to all its users. With this server, your friends and family can connect and use the system simultaneously. Apart from having great features, the VPN is affordable and has a 30-day money-back guarantee.
3.4 IPVanish – IPTV VPN With Many Locations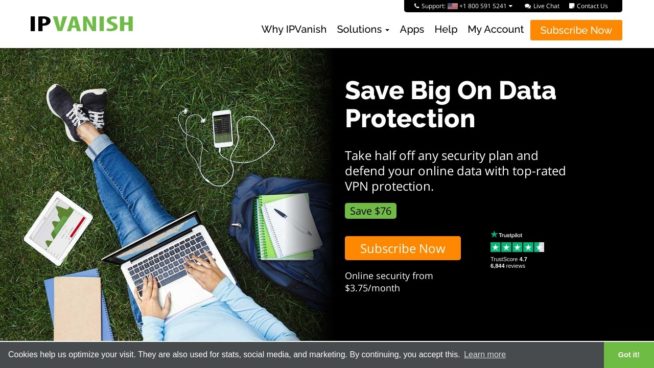 This is one of the easiest VPNs to use for IPTV. It offers a faster connection, and it is best for first-time VPN users. IPVanish is an ideal option if you are looking for a simple VPN app with great performance. The system offers reliability in accessing IPTV streaming services through several apps.
IPVanish ensures your safety by protecting your content through the strict online privacy policy. This system is accessible from many parts of the world. It has over 1900 servers spread throughout over 60 countries globally. Clients get effective responses since each server belongs to a single service provider.
The provider protects your data from third-party access. It is mind-blowing that IPVanish's browsing services are under no restriction by either data caps or bandwidth. Therefore, streaming content is effortless and undisrupted. Furthermore, one IPVanish membership can serve up to six devices simultaneously. The services are accessible through many router models.
3.5

VyprVPN –

Great VPN for Streaming

with IPTV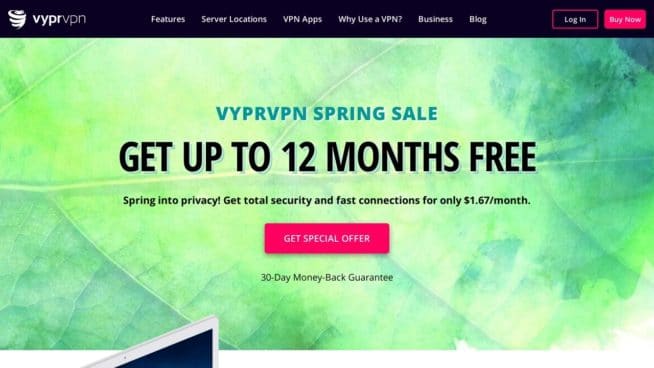 This is one of the most affordable and popular VPNs for IPTV. Unlike other VPN providers, this one has a modest number of servers globally (over 700 servers in over 70 countries). This makes VyprVPN a great option for IPTV.
VyprVPN has a fast connection, it's reliable, and it's also great for streaming TV channels easily without any geo-restriction. With this server, you can easily connect to HBO Max, Amazon Prime Video, and Netflix.
The VPN comes with a WireGuard protocol that speeds up its tunneling protocol and connectivity. Its average speed of 245 Mbps is ideal for streaming HD videos. Areas with less VPN power, like China, can use this server due to its Chameleon 2.0 protocol. This tunneling protocol allows traffic between VPNs and the standard web to be disguised.
If your IPTV does not support VPN apps, you can use VyprVPN to install the option on your router. Though it may be lacking some features, this server stands out due to its affordability and speed.
4. Things to Consider When Choosing the Best VPN for IPTV
Check if the VPN unblocks the streaming platforms you want. Ideally, it should be able to unblock a variety of streaming sites.
Streaming in HD can be challenging with poor network speed. You need a VPN provider that offers a speedy connection and efficient tunneling protocols.
Quick customer support assistance is necessary to help in setting up the system. Good tech support ensures operational reliability and effectiveness.
There are many VPNs to choose from out there; many vary in cost and features. Choose the ideal VPN that gives you the most value for your money.
5. Conclusion
Having a good VPN for IPTV is a great way of accessing and unblocking content globally. A good VPN offers you the opportunity to watch a wide range of content accessible from various devices.
Acquiring a good VPN maximizes your connection by unblocking geo-restricted content. You can use the system to block hackers and online spying by adding limits to your system. VPNs for IPTV can also hide your IP address and restrict tracking of activity. Make sure you choose an option that fits your needs the best!
6. IPTV VPN FAQ
6.1 Why Should You Install the Best VPN for IPTV?
The right VPN for IPTV can offer you access to blocked content and banned broadcasts. With a VPN for IPTV, you can connect and watch your favorite content without any hitches.
6.2 Are There Any Good VPNs for IPTV?
Yes! There are two highly recommended VPNs for IPTV, which are NordVPN and ExpressVPN. These two are, by far, the most reliable and fastest compared to the rest of the VPNs for IPTV on the market. In terms of cost-effectiveness and user interface, IPVanish and VyprVPN stand out.
6.3 Can You Find a Safe and Encrypted VPN for IPTV?
A resounding answer to this is yes. The world's best VPNs for IPTV are secure as they have protection from security experts. Their encryption standards don't allow personal data storage such as history, logs, or others.
VPN Service


www.nordvpn.com
NordVPN
Review
Price: $11.95 $3.71/month
Servers: 5500+ in 59 countries
Simultaneous connections: 6
Jurisdiction: Panama
Payment: PayPal, AmazonPay, Crypto, Google Pay, Klarna
Torrenting: OK
Unblocks US Netflix: Yes
Dedicated IP: $70/yr
TrustPilot Score: 4,7/5
Money-back: 30 days
Extra: Double VPN, Obfuscated servers
Visit NordVPN »


www.expressvpn.com
ExpressVPN
Review
Price: $12.95 $8.32/month
Servers: 3300+ in 94 countries
Simultaneous connections: 5
Jurisdiction: British Virgin Islands
Payment: PayPal, Crypto, AliPay, Klarna,
Torrenting: OK
Unblocks US Netflix: Yes
Dedicated IP: Not provided
TrustPilot Score: 4,7/5
Money-back: 30 days
Visit ExpressVPN »


www.cyberghostvpn.com
CyberGhost
Review
Price: $11.99 $2.25/month
Servers: 6600+ in 89 coutrines
Simultaneous connections: 7
Jurisdiction: Romania
Payment: PayPal, Crypto
Torrenting: OK
Unblocks US Netflix: Yes
Dedicated IP: $51/yr
TrustPilot Score: 4,8/5
Money-back: 45 days
Visit CyberGhost »


www.surfshark.com
Surfshark
Price: $11.95 $2.49/month
Servers: 3200+ in 65 coutrines
Simultaneous connections: Unlimited
Jurisdiction: British Virgin Islands
Payment: PayPal, Crypto, Google Pay, Amazon Pay
Torrenting: OK
Unblocks US Netflix: Yes
Dedicated IP: Not provided
TrustPilot Score: 4,3/5
Money-back: 30 days
Visit Surfshark »


www.purevpn.com
PureVPN
Review
Price: $9.60 $3.33/month
Servers: 6500+ in 140 coutrines
Simultaneous connections: 10
Jurisdiction: Hong Kong
Payment: PayPal, Credit Cards
Torrenting: OK
Unblocks US Netflix: Yes
Dedicated IP: $35.88/yr
TrustPilot Score: 4,7/5
Money-back: 31 days
Visit PureVPN »