Minecraft is one of the most popular games globally right now and it has a vast player base.
However, due to certain geo-restrictions or IP blocks, not everyone can enjoy the best of all the worlds that Minecraft offers.
That feels quite irritating to some passionate players who are forced to quit the game due to blocks.
Luckily, there's software that will allow you to enjoy your favorite Minecraft worlds with seamless performance, and without blocking and censorship.
VPNs (Virtual Private Network,) like their name suggests, will keep your connection to the internet private and encrypted.
That way, you can hide your IP address and appear as if you're trying to access Minecraft from a different location, bypassing its banning mechanisms while staying anonymous.
There are dozens of VPN providers and some of them have thousands of servers scattered across different locations around the globe.
In this article, we'll review only the best VPNs for Minecraft that are guaranteed to bypass the blockade.
1. Best VPN for Minecraft
We conducted thorough research and compared the performance of different VPN service providers and chose the 5 best VPN options for Minecraft.
Take a look at the individual features, reviews, and prices to pick the option that suits you the best.
1.1 NordVPN – Best All-Around VPN for Minecraft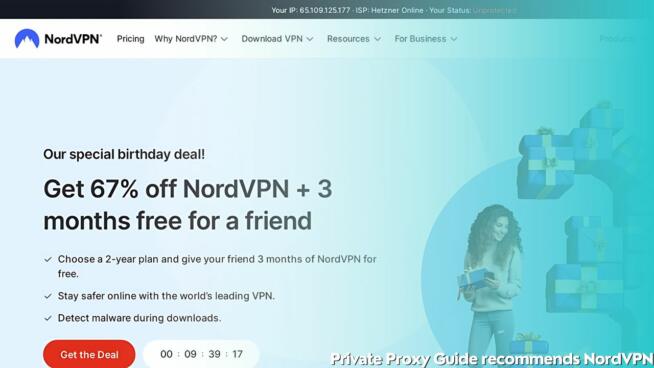 NordVPN is the best go-to VPN for general purposes. It successfully bypassed the restrictions of dozens of websites and applications. Minecraft is just one of those games on the list. NordVPN is based in Panama and provides more than 5,000 servers located in 60 different countries. It's speed, versatile and quite easy to use.
With NordVPN you'll be able to access Minecraft no matter where you are and enjoy all the worlds it offers. Your connection speed will be unaffected, and while playing Minecraft, you'll be able to browse other apps and websites that could be potentially blocked.
It's also praised for its great customer service, privacy policy, and most importantly, it's considered a log-less VPN service, which is extremely important if you want to maintain your anonymity online.
Key Features:
More than 5,000 servers
You can use it on any device or browser.
No more annoying ads
You're safe from trackers including your government and your ISP.
No-logs policy
Double encryption with modern hashing algorithms
Offers dedicated IP
1.2 ExpressVPN – Fastest VPN for Minecraft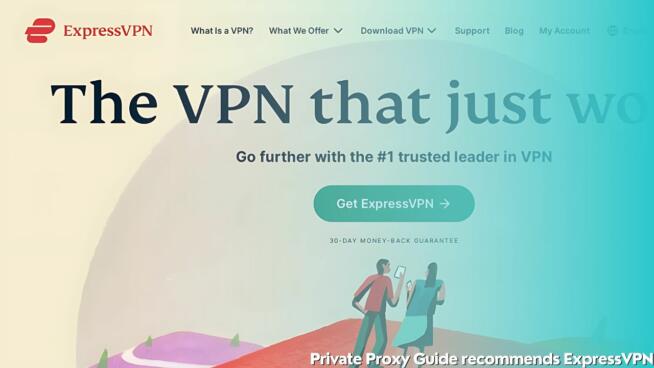 ExpressVPN provides impeccable performance and maintains high connection speed, which is not the case with many other VPN service providers. It's on a par performance level with NordVPN that we mentioned earlier. Most importantly, it'll allow seamless performance for your Minecraft gameplay, which you'll be able to access no matter where you are.
It's worth mentioning that it has more than 3,000 servers available. It's also accessible from 94 different countries. It also comes with additional features such as a smart location and unlocks all the worlds that Minecraft potentially restricted from you.
Key Features:
Widespread availability in 94 countries
Smart location can help you choose the best server to connect to
Skilled and effective customer service
One subscription allows you to use the service on up to 5 devices
Can be accessed from any operating system or browser
You won't have to deal with limited bandwidth
Secure browsing with high-end encryption algorithms
Offers port-forwarding feature which is essential for hosting Minecraft servers
1.3 PrivateVPN – Best Budget-VPN for Minecraft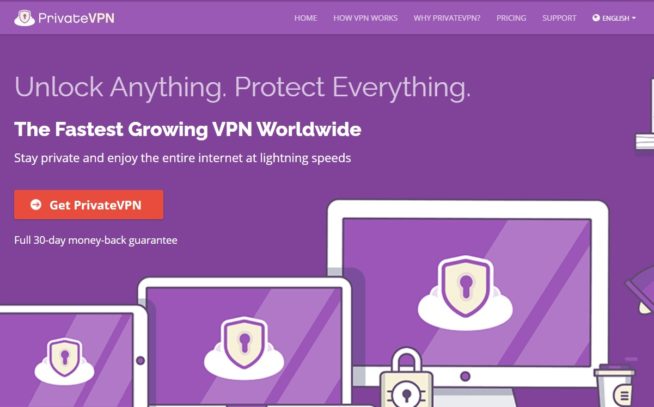 This Sweden-based VPN provider is an ideal option for Minecraft players who are restricted on budget. Its inexpensive offer includes access to 150 servers located in 62 countries. It's also rich in various features such as 6 simultaneous connections, cross-platform compatibility, great encryption protection, and a port-forwarding feature which is important if you want to host your own Minecraft server.
Key Features:
Reliable for most services with restrictions
You can get a dedicated IP for an extra buck.
Swift kill switch
Great encryption
Over 150 servers in 62 countries
Available on all browsers and operating systems
Up to 6 simultaneous connections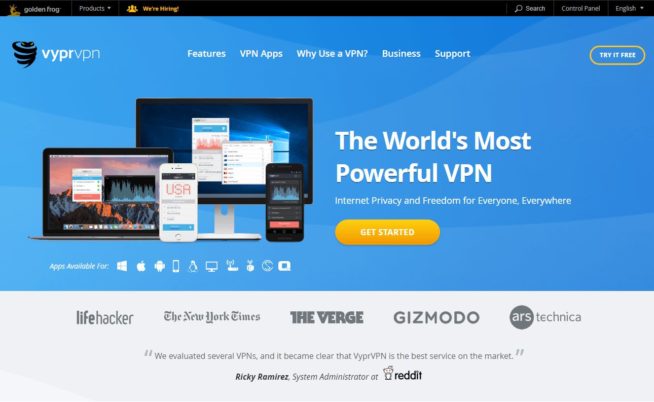 VyprVPN is a great option for Minecraft if you're restricted on budget. It's fast, reliable, and won't sell your data. It's relatively affordable if you purchase a two- or three-year plan, but it's the hidden jewel of VPN services. Although it sports only 700 VPN servers, it's reliable, versatile, and intuitive when it comes to its performance. It also comes with a special feature known as the Chameleon protocol which helps use VPNs safely in countries where their use is restricted such as Saudi Arabia and China.
Key Features:
Reliable for unblocking Minecraft
Available in over 70 countries with 700 servers
No-logs policy
Security and privacy are top priorities
Kill-switch
Chameleon Feature for countries where censorship prevails.
Relatively affordable
Atlas VPN is another affordable option for Minecraft. It successfully unblocks all Minecraft worlds and doesn't compromise on speed or bandwidth. As mentioned earlier, it's quite affordable, and to top it off, the company often offers a 3-months free trial deal, provided you have the credit card to swipe.
This is an ideal option for those who can't afford the top-notch VPN but are trying to steer clear from free VPN providers too. If you can't afford it at the moment, keep your eye on sales and great deals, and you may be in luck!
Key Features:
Around 700 servers in 28 countries
Affordable deals
A malicious website blocker
It comes with a free version
It often offers great deals and sales
Effective kill switch
Reliable for other platforms too
2. What is Minecraft?
Minecraft is a sandbox video game developed by Mojang Studios. It's one of the most popular games, and currently has one of the biggest player bases in the world. It's developed in Java programming language and continues to thrive despite the low-resolution graphics.
It attracts both younger and older gamers who battle mobs and build their shelters and other objects. It allows many people to explore their creativity and curiosity by building new and innovative things and exploring the world.
Still, not everyone can enjoy it due to IP bans on different servers, and other reasons. Below, we'll explore the 5 best VPN service providers for Minecraft.
3. Minecraft VPN FAQ
Getting a VPN for Minecraft can be a big decision if you are not sure whether it will work or not. We compiled a list of questions you may have before deciding to take this step.
3.1 Why Should You Get a VPN for Minecraft?
There are a few reasons why you'd want to use VPNs for Minecraft. Some Minecraft server owners may not be okay with the way you play the game and decide to ban you from the server. That means you won't be able to access the server with your IP address anymore, so you'll have to use VPN to mask it.
Another reason could be that you're dedicated to the point you don't want to miss out on playing Minecraft even when you're at school or work. Some companies and educational institutions block certain apps and services to make students more focused and less distracted by gaming.
Finally, some people who start their own Minecraft servers want to avoid getting flagged and exposed to DDoS attacks. Thanks to great encryption and security-oriented features, using a VPN can help avoid that risk.
3.2 Can You Use a Free VPN for Minecraft?
If you're restricted on budget, you can use a free VPN service such as AtlasVPN. However, we advise all our readers to subscribe to a VPN service because of many obvious reasons. Many free VPNs will slow down your internet connection and come with drawbacks such as no log-less policy, kill switch or unlimited bandwidth.
What's scarier is that free VPNs don't leave you completely anonymous to your ISP, government, and hackers. Some free VPN service providers collect your data and sell it to third-party companies, which kills the whole point of using a VPN.
There are a lot of reliable and trusted VPN services that won't break your bank. Some are detailed in this article.
3.3 Can You Host a Server With VPN?
Absolutely, but there is a catch. In order to be able to host a Minecraft server using a VPN, the service provider you subscribed to needs to come with a port-forwarding feature, which enables you to host the server. ExpressVPN is the most suitable option if you're searching for that feature.
3.4 Do Minecraft Servers Know You Use a VPN?
Possibly, but very unlikely. Most VPN service providers offer a shared IP address for their customers, which is what can expose them if they're trying to connect to a Minecraft server with such an IP address. Still, the chances are low, and if you want to go the extra mile and avoid getting your IP blocked, you could opt for getting a dedicated IP address. Many VPN providers offer that if you pay extra.
4. Conclusion
If you've been banned from your favorite server, and want to make a comeback, the VPNs from this list will help you make a return. The VPNs for Minecraft we reviewed will also help you bypass the school and work restrictions while protecting you from DDoS attacks if you host your server.
You won't only be able to do that, with VPNs above, you can easily access your favorite websites and apps that could've been banned in your country, completely anonymous. Your privacy and security are guaranteed through strict no-log policies and complex hashing algorithms.
That being said, if you want to enjoy Minecraft with no risks of being banned and accessing various other streaming apps and games, buying a subscription for a reliable VPN is great value for the price.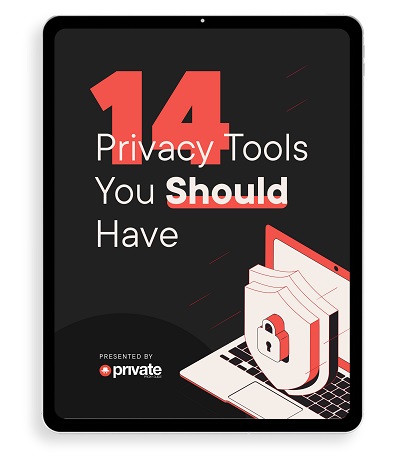 Learn how to stay safe online in this free 34-page eBook.