In today's world, technology has taken over. The internet is the highway for receiving, sending, and looking for information, paying bills, and playing games. What is meant to be convenient is an open invitation for hackers. VPNs play an essential role in protecting personal information over the internet, such as credit card numbers, birth dates, addresses, basically anything you want to be kept unknown to people you do not know.
Choosing the precise VPN is determined by the area in which you live. For example, areas with a high level of censorship would deem the perfect reason to have a VPN. These locations are China, Russia, Saudi Arabia, Iran, Vietnam, and Pakistan. From social media to religious content, these countries have strong censorship on the internet.
1. 10 Reasons for Needing VPN Services in Russia
Pervasive Internet Censorship in Russia – the government maintains Russia's internet deny list to prevent sites that contain offensive content such as child pornography.
Limited Communication Without a VPN –encrypted services like ProtonMail and Telegram are blocked in Russia. To use these services, a VPN is needed.
Heavy Monitoring for Internet – Russia has an IPS software that allows the government to observe internet usage. Even public Wi-Fi are legally required to store your personal information, including your passport, before giving you access. Having a VPN prevents your data from being stored.
Be Careful What You Say Online – slander against Russia or Putin can get you 15-days in jail if posted online and you are caught. You can be fined up to $75 for each incident they consider as "fake news," fines can be as high as $15,000.
Russia's IP Stores Anything You do for Government Usage – having a VPN in Russia providers you with privacy and security. Telecom providers in Russia must store your data for six months from the web, voice calls, and messages.
VPNs Make Streaming Easier – streaming your favorite content like Netflix is impossible to do in Russia. VPN gives you the freedom to stream.
Protect Your Identity From Hackers and Thieves – even registering for public Wi-Fi usage, which does not stop hackers from not getting your personal information. VPNs provide encryption for your protection.
A Safer Torrenting – VPNs provide you with the ability to unblock torrent sites and prevent the government's censorship from detecting your activity.
Less Trackable Web Activity – by allowing you to change your IP address, VPNs help you be less traceable to third parties reducing their profits.
VPN Used to Help Unblock School and Work Networks – not only are Social Media and shopping sites blocked in Russia, work and schools Wi-Fi are also on the government's deny list. VPNs provide you with the ability to navigate around these blockages.
Avoiding censorship in Russia requires the best VPN. Although NordVPN, ExpressVPN, Private Internet Access, IPVanish, and CyberGhost VPNs are blocked in Russia, they are highly recommended because they can connect using the many servers they offer.
2. Best VPN for Russia 2021
2.1 NordVPN – Best Overall Russia VPN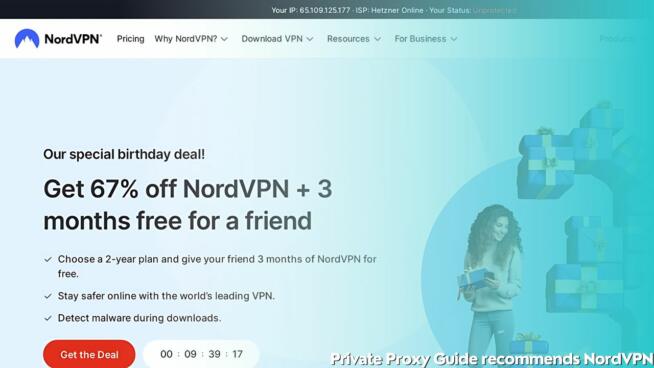 Ranked as number one, NordVPN offers a connection speed of 6730+ Mbps, over 5,100 VPN servers in over 60 countries, a password manager, and file encryption with cloud, to name a few features. With Nord, you can have one account connecting six devices providing added protection for yourself, those in your household, and your friends. Nord can also be used for your tablet, phone, router, smart TVs, and laptop.
With a password manager, you can store, access, and organize your passwords to sync for all devices, store notes and credit cards, and have complex passwords. File encryption allows you to store and encrypt files securely with a storage capacity of 10 GB, and it can be done efficiently by dragging and dropping a file. Your data is automatically backed up.
The Nord streaming feature provides no limit on bandwidth, ISP throttling, 24/7 customer support, and worldwide access with thousands of servers connecting in 60 countries without interruption. There is an automatic kill switch if the VPN connection is lost, CyberSec technology that protects you from accessing malicious and dangerous websites, and you have a secure connection with AES 256-bit encryption that protects the privacy of your data from cybercriminals.
The quick-connect and blazing speeds from Nord allow connections to over 5100 ultra-fast VPN servers. Privacy is an integral part of everyone's life. That is why Nord has a strict no-log policy, IP protection, and private access while online.
As stated earlier, Russia is one of the countries that have censorship on its internet content. With that being said, NordVPN does work in Russia but does not have servers. NordVPN servers are accessible by connecting to servers outside of the country.
2.2 ExpressVPN – Fastest VPN for Russia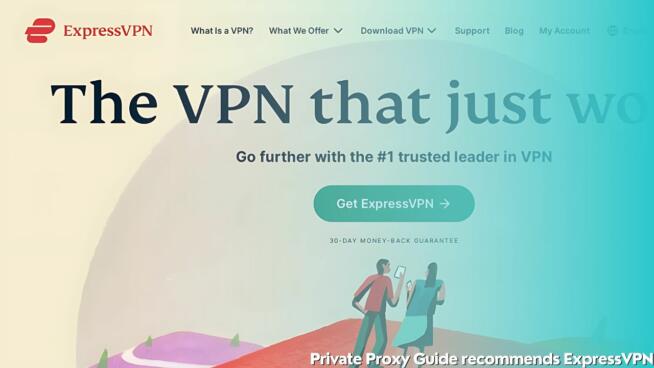 ExpressVPN delivers the security and protection needed while surfing the web as the world's largest VPN service. This provider is vigorously aiming to protect your online privacy. ExpressVPN ranks number two, providing the ability to browse privately online.
Every time you connect to a server, you get a different IP address providing added protection against cybercriminals. Without ExpressVPN, your internet activity can be seen and shared with others. The content you view can be shared with government agencies that can restrict what you consider. Organizations can also hike the prices of items your view. When you are using public Wi-Fi, you are highly vulnerable to hackers.
With over 3,000 VPN servers in 160 locations and 94 countries in America, Europe, Asia Pacific, Middle East, and Africa, ExpressVPN offers lightning-fast streaming speeds. This VPN has no data retention laws and has a gold standard with its software, OpenVPN, updated constantly to avoid surveillance.
From Facebook to Peacock, ExpressVPN provides high-speed service for your streaming needs that have pushed the boundaries for VNP service. As a VPN provider, ExpressVPN continues to innovate and show attention to detail for its users. Understanding that you have a right to privacy, ExpressVPN removes all data every time you reboot and does not collect activity or connection logs.
ExpressVPN provider award-winning apps for Windows, iPhone, iPad, Android, Lightway VPN Protocol, Linux, Chrome Extension, Edge Extension, Server Location, Mac, Routers, and Firefox Extension encryption and leakproof identities that is best in the class.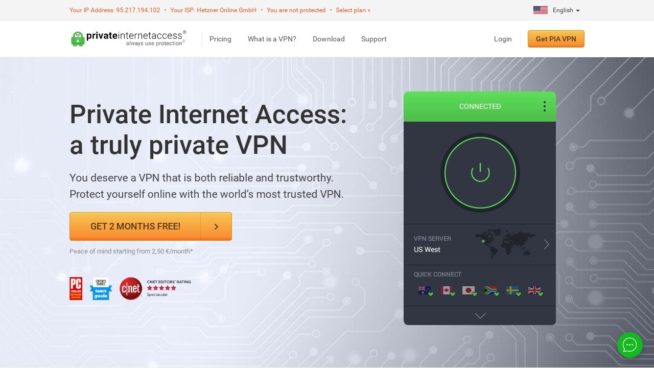 Private Internet Access (PIA) VPN is the most privacy-focused and transparent VPN on the market that offers restriction and unlimited content. PIA provides coverage for at least ten devices that use Windows, macOS, Android, Apple, Linux, Firefox, Opera, and Chrome platforms. With over 29,000 servers in over 78 countries, you can easily access your shows, apps, and music with no problems. The no-log policy ensures that your internet traffic is not recorded or stored. PIA has an open-source guarantee for transparency, and the easy configuration has a fast and easy setup process.
PIA has a variety of antivirus protection that includes a web shield, prevention engine, cloud-based virus definition, flexible scan setting, max-security quarantine, and detailed security reports. All these features are different but are geared to do the same thing – protect you from malicious content, viruses, malware, and cybercriminals.
Private Internet Access Review
2.4 IPVanish – Russia
VPN With Many Locations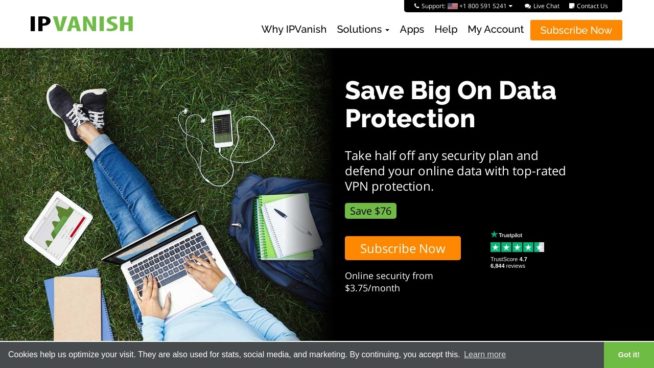 IPVanish has over 1,300 servers in over 55 countries. You do not have to worry about if anyone is tracking your footprint on the internet because IPVanish online anonymity protects your privacy. The average home has at least 25 connectable devices.
Unlike other VPN providers, IPVanish does not have a cap on the number of devices connected to its server. With secure access and advanced encryption, you can have access anywhere and safeguards for protecting your data. IPVanish has improved its network by updating data centers in Ashburn, Chicago, Dallas, Frankfurt, London, Amsterdam, New York, San Jose, Ashburn, Atlanta, Madrid, Seoul, Paris, Miami, Sydney, Stockholm, Tokyo, Warsaw, Singapore, and Toronto. These updates were continuous evaluations that helped meet the demands of the customers.
IPVanish guarantees to deliver data protection and end-to-end network encryption, secure VPN access, user-friendly apps, no log-privacy, and shared IP address, proxy web server, and secure access to media.
2.5 CyberGhost – Safe VPN for Russia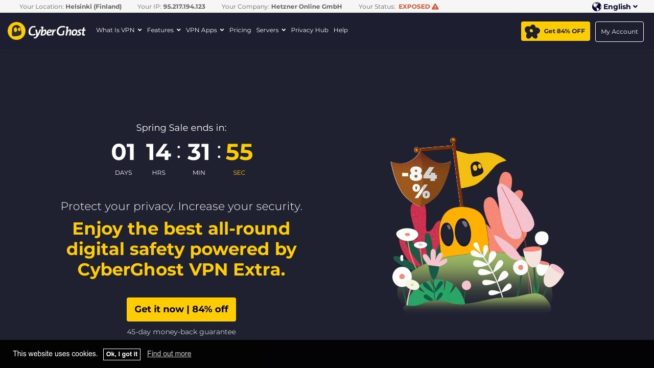 CyberGhost provided military-grade encryption by using AES-256, allowing you to browse online anonymously and connections to one of the 7,509 available VPNs. CyberGhost provides no retention data laws because it operates outside the government watchdog and other surveillance agencies and has thousands of servers accessible globally.
With 40 servers, CyberGhost provides service to 35 streaming services such as Netflix, Amazon Prime, Hulu, and Disney+, to name a few.
CyberGhost does not record your browsing history, VPN server connections, websites you accessed, bandwidth usage, IP addresses, or the duration of each session. You can connect up to seven devices such as gaming consoles, smart TVs, routers, Windows, Mac, iOS, and Linux for an ultimate safeguard against unwanted threats.
CyberGhost has OpenVPN so users can analyze codes for vulnerability, and since OpenVPN is constantly improving, there is a less likely chance of being hijacked by surveillance agencies. Users can bypass the firewall with the protocol used for the AES-256 encryption. OpenVPN is very versatile, making it great for security, performance, and speed. With unlimited bandwidth, CyberGhost provides a simultaneous connection for seven devices.
3. Gaming With VPNs for Russia
The internet has taken gaming to a whole new level so having the best VNP for your gaming experience is worth having. Gaming online can have threats from hackers and malicious content, and the best protection is needed. The following should be considered to make sure you are getting the best out of your gaming experience.
Powerful Protection – allows you to mask your IP to avoid DDoS attacks.
Boost Connectivity – access to unlimited bandwidth to minimize lag.
Bypass Throttling – limit ISP from slowing connection; this will prevent your data from being scrutinized.
Access More Online – invest in the latest DLC to get games from other counties before launch.
Play on all devices – have access to play on the device you prefer PlayStation, Nintendo Switch, PC, Xbox, tablet, or phone.
Game Without Borders – by changing your region, you can play games around the world.
Choosing a VPN depends on your needs. For a more private VPN, it would be best to use a server that is not part of the 5 Eyes, 9 Eyes, and 14 Eyes Countries because these countries may present a threat to your privacy. The best advice to offer is to do your research to find out what would work best for you and your internet needs.
VPN Service

www.nordvpn.com
NordVPN
Review
Price: $11.95 $3.71/month Servers: 5500+ in 59 countries Simultaneous connections: 6 Jurisdiction: Panama Payment: PayPal, AmazonPay, Crypto, Google Pay, Klarna Torrenting: OK Unblocks US Netflix: Yes Dedicated IP: $70/yr TrustPilot Score: 4,7/5 Money-back: 30 days Extra: Double VPN, Obfuscated servers Visit NordVPN »

www.expressvpn.com
ExpressVPN
Review
Price: $12.95 $8.32/month Servers: 3300+ in 94 countries Simultaneous connections: 5 Jurisdiction: British Virgin Islands Payment: PayPal, Crypto, AliPay, Klarna, Torrenting: OK Unblocks US Netflix: Yes Dedicated IP: Not provided TrustPilot Score: 4,7/5 Money-back: 30 days Visit ExpressVPN »

www.cyberghostvpn.com
CyberGhost
Review
Price: $11.99 $2.25/month Servers: 6600+ in 89 coutrines Simultaneous connections: 7 Jurisdiction: Romania Payment: PayPal, Crypto Torrenting: OK Unblocks US Netflix: Yes Dedicated IP: $51/yr TrustPilot Score: 4,8/5 Money-back: 45 days Visit CyberGhost »

www.surfshark.com
Surfshark
Price: $11.95 $2.49/month Servers: 3200+ in 65 coutrines Simultaneous connections: Unlimited Jurisdiction: British Virgin Islands Payment: PayPal, Crypto, Google Pay, Amazon Pay Torrenting: OK Unblocks US Netflix: Yes Dedicated IP: Not provided TrustPilot Score: 4,3/5 Money-back: 30 days Visit Surfshark »

www.purevpn.com
PureVPN
Review
Price: $9.60 $3.33/month Servers: 6500+ in 140 coutrines Simultaneous connections: 10 Jurisdiction: Hong Kong Payment: PayPal, Credit Cards Torrenting: OK Unblocks US Netflix: Yes Dedicated IP: $35.88/yr TrustPilot Score: 4,7/5 Money-back: 31 days Visit PureVPN »