Call of Duty (CoD) is a popular first-person shooter game that involves a lot of moving around, shooting opponents, and shooting NPCs. The games are set in many different eras and places, including the Cold War era and outer space. The latest installment, Call of Duty: Vanguard, features campaign and multiplayer modes. This game's multiplayer mode has 20 maps, and the objective of some campaigns is to be the last man standing.
Since Call of Duty is such an action-packed and reactive game, you want to make sure that your VPN doesn't interfere with gameplay or cause a lag. The last thing you want is to be in the middle of a battle and suddenly it starts lagging. There are many VPNs to choose from, and it can be confusing trying to decide which one is best for Call of Duty. Therefore, it's important to choose a VPN that isn't likely to interfere with gameplay but that does offer security and access to geo-locked content.
So, if you want to find out more about the best VPNs for Call of Duty, then just keep reading!
1. Best VPN for Call of Duty 2022
1.1 NordVPN – Best Overall Call of Duty VPN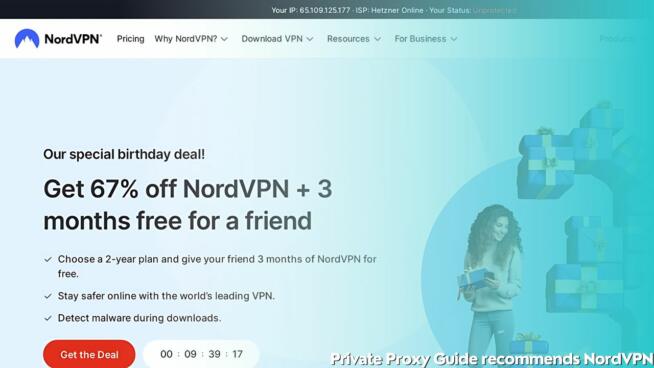 NordVPN is another fast and reliable VPN to use for Call of Duty. NordVPN has over 5,000 servers across 60 countries, so it's a great VPN to use no matter where you are. It offers super quick speeds and prevents DDoS attacks. Not only that, but it also keeps you secure by hiding your location and IP address.
NordVPN features double encryption; this means it's even more secure than many other VPNs because it has an added layer of security. Just like ExpressVPN, NordVPN also offers high-quality customer service if you ever need help. Many VPNs make your internet speed slower, but NordVPN keeps your internet speed fast and allows you to play games in high definition without any lagging.
NordVPN doesn't keep track of your logs. This means it doesn't save your history or previous searches, so you don't have to worry about erasing any of your history. You can also activate the kill switch, which keeps your information even more secure.
1.2 ExpressVPN – Fastest VPN for Call of Duty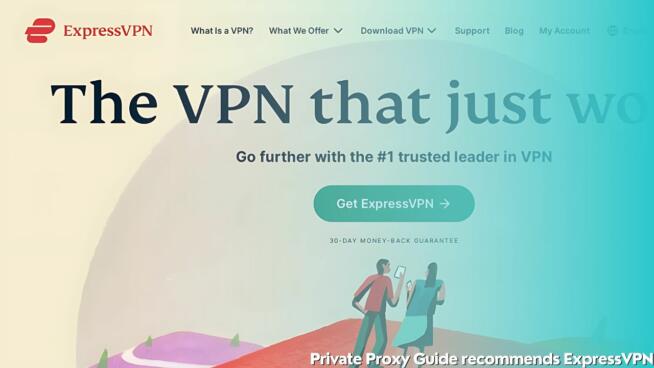 If you are looking for fast service while playing Call of Duty, ExpressVPN is the best you can get. It is slightly pricier than other VPNs, but it is worth it considering how secure and quick it is. ExpressVPN has 3,000 servers across 95 countries, so you are sure to be able to access Call of Duty from anywhere.
Express VPN features a smart location feature, which means it recommends the best server for you to use based on your location. This guarantees a seamless gaming experience and minimal lagging and loading. It is highly secure and can be used on up to five devices, which is great if you want to share it with others.
ExpressVPN also offers high-quality customer service, so if you run into any issues, you are sure to get help quickly. On top of all that, it features military-grade security and encryption. This means that you can play games while the VPN keeps you secure. It also has a kill switch, so your information is safe in the event of connectivity issues.
1.3 CyberGhost – Safe VPN for Call of Duty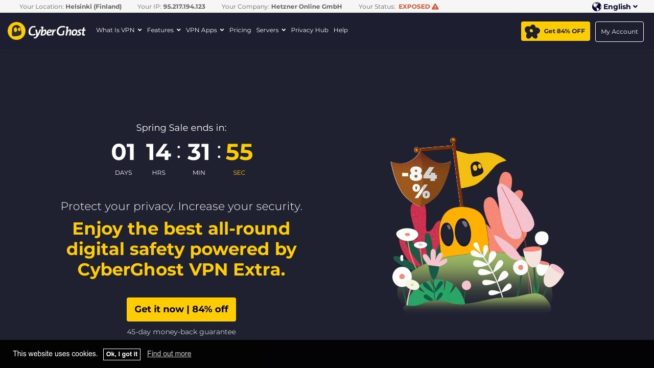 If you are on a budget, CyberGhost is a great option. CyberGhost is a world-renowned VPN, and it has over 6,000 servers across 90 countries. It features unlimited bandwidth and high speeds, so it's a great VPN to use for Call of Duty. It is a reliable VPN that doesn't track your logs or your history.
Since it has servers spread across many countries, you can access CyberGhost from almost anywhere. Another great feature of CyberGhost is the kill switch, which shuts off your internet if the server crashes. This ensures a safe gaming experience and keeps your location and IP address hidden at all times.
CyberGhost has 256-bit encryption, which is the most secure amount of encryption you can get. If you want to try CyberGhost but don't want to commit to buying it straight away, you can try the free trial first. You can also make use of the 45-day money-back guarantee if you're not satisfied with this VPN!
1.4 IPVanish – Call of Duty VPN With Many Locations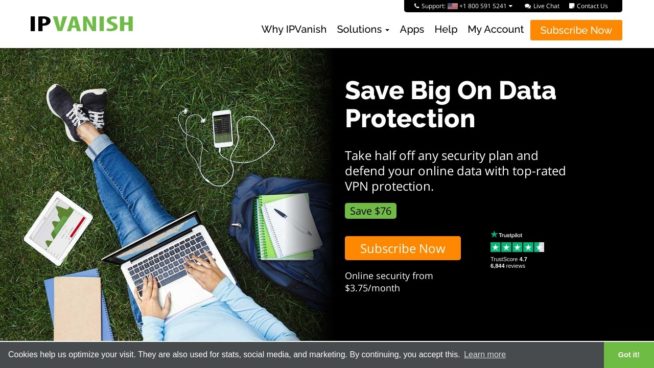 IPVanish is yet another good option if you're on a tight budget but still want fast speed for gaming. IPVanish has over 1,500 servers across 80 countries, so it's another great VPN to use from almost anywhere in the world. This VPN features a kill switch and 256-bit encryption, so you don't have to worry about security while playing Call of Duty. IPVanish is another no-log VPN, which means all your history is erased.
Even though it's cheaper than some of the others, it still offers high speeds and impressive connectivity. This is important if you're using it for gaming because you don't want to experience any lags or unnecessary loading.
IPVanish features multi-platform security, so no matter what device you are gaming on, you are secure with IPVanish. You can access geo-locked content with this VPN, and it also features unlimited bandwidth. Altogether, it's a great VPN if you're on a budget but want a reliable and high-speed connection.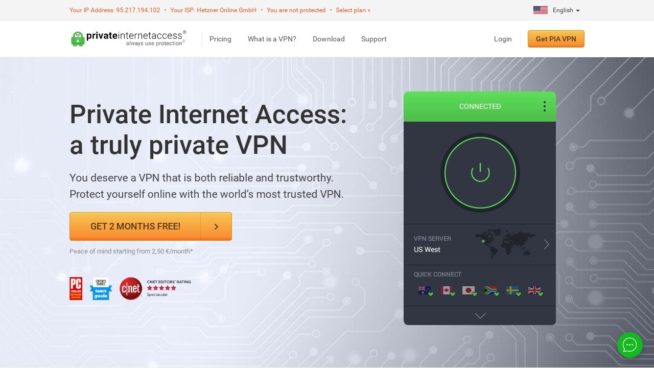 This is yet another great VPN if you don't want to spend much. It features over 3,000 servers across 47 countries, which is not as many as some of the other VPNs. However, it comes at an affordable price and is still a good VPN for playing Call of Duty.
Private Internet Access offers high speeds for gaming, as well as no logs and unlimited bandwidth. It also features powerful encryption, so you have security while gaming. If you have any issues with this VPN, you're in luck because they offer 24/7 customer service. With the security of Private Internet Access, your IP address and location remain hidden. It also comes with a kill switch, so there is no need to worry about losing security during connectivity issues.
Although the speeds aren't quite as high as the other VPNs on this list, it still works well while gaming and is worth it if you're on a tight budget!
Private Internet Access Review
2. Call of Duty VPN FAQ
2.1 Why Do I Need a VPN for Call of Duty?
A VPN has many uses for Call of Duty. It can boost speeds while gaming, and it allows you to access geo-locked content. For example, if there is content that is only accessible in the United States, but you're not in the United States, using a VPN gives you access to that content.
Call of Duty is a very popular game, which means many servers can be overcrowded. This subsequently causes lagging and slow speeds, so connecting to a different server via a VPN gives you faster speeds and less lagging.
Another great reason to use a VPN is for security. VPNs feature encryption, and they hide your location and IP address. This makes for a safer gaming experience.
2.2 Is It Legal to Use a VPN?
In most cases, using a VPN is completely legal. However, some countries don't allow VPN use. Be sure to check your country's restrictions before using a VPN.
It is also important to note that although it is legal to use a VPN, using a VPN to download illegal content is not legal. Additionally, certain websites and companies ban the use of VPNs, so always check the terms and conditions before using one.
2.3 Will I Get Banned for Using a VPN to Play Call of Duty?
As long as you are using a VPN to increase speeds and reduce lag, you won't be banned from playing Call of Duty. However, if you use a VPN to get through loopholes or do anything illegal, it can be an offense that gets you banned.
2.4 Why Is a Kill Switch Important?
A kill switch is important because it keeps your location and IP address hidden, even if you are disconnected from the server. If a VPN does not have a kill switch and you get disconnected from the server, your true location and IP address are revealed. However, if there is a kill switch, your information remains hidden.
This adds a layer of security and prevents anyone from gaining your information during a server outage.
2.5 Can I Use a Free VPN for Call of Duty?
Using a free VPN for Call of Duty is never recommended. Usually, free VPNs sell your information to third parties for monetary gain. This is how they make money, and it ends up making the VPN unsafe and useless. Not only should you avoid using free VPNs for Call of Duty, but you should avoid using them in general.
2.6 Should I Always Use a VPN for Call of Duty?
Whether or not you should use a VPN for Call of Duty depends on a few things. For example, if a server is overcrowded, a VPN is useful for increasing speeds and reducing lags. It can also be useful if you want to be more secure while playing online by hiding your true location. This is important for a lot of people, as it prevents hackers from getting your information.
However, if you can play Call of Duty with no issues or lagging, a VPN may not be necessary. It's up to you to decide whether you need one or not.
VPN Service

www.nordvpn.com
NordVPN
Review
Price: $11.95 $3.71/month Servers: 5500+ in 59 countries Simultaneous connections: 6 Jurisdiction: Panama Payment: PayPal, AmazonPay, Crypto, Google Pay, Klarna Torrenting: OK Unblocks US Netflix: Yes Dedicated IP: $70/yr TrustPilot Score: 4,7/5 Money-back: 30 days Extra: Double VPN, Obfuscated servers Visit NordVPN »

www.expressvpn.com
ExpressVPN
Review
Price: $12.95 $8.32/month Servers: 3300+ in 94 countries Simultaneous connections: 5 Jurisdiction: British Virgin Islands Payment: PayPal, Crypto, AliPay, Klarna, Torrenting: OK Unblocks US Netflix: Yes Dedicated IP: Not provided TrustPilot Score: 4,7/5 Money-back: 30 days Visit ExpressVPN »

www.cyberghostvpn.com
CyberGhost
Review
Price: $11.99 $2.25/month Servers: 6600+ in 89 coutrines Simultaneous connections: 7 Jurisdiction: Romania Payment: PayPal, Crypto Torrenting: OK Unblocks US Netflix: Yes Dedicated IP: $51/yr TrustPilot Score: 4,8/5 Money-back: 45 days Visit CyberGhost »

www.surfshark.com
Surfshark
Price: $11.95 $2.49/month Servers: 3200+ in 65 coutrines Simultaneous connections: Unlimited Jurisdiction: British Virgin Islands Payment: PayPal, Crypto, Google Pay, Amazon Pay Torrenting: OK Unblocks US Netflix: Yes Dedicated IP: Not provided TrustPilot Score: 4,3/5 Money-back: 30 days Visit Surfshark »

www.purevpn.com
PureVPN
Review
Price: $9.60 $3.33/month Servers: 6500+ in 140 coutrines Simultaneous connections: 10 Jurisdiction: Hong Kong Payment: PayPal, Credit Cards Torrenting: OK Unblocks US Netflix: Yes Dedicated IP: $35.88/yr TrustPilot Score: 4,7/5 Money-back: 31 days Visit PureVPN »