Serpbook is a keyword tracker that I've been using for several years. In this personal Serpbook review I will share my thoughts about it. And guess what? It's amazing! Keep reading to learn why.
Serpbook.com is the most well-known and used service for tracking and reporting of keyword placements on search engines like Google, Bing and Youtube. I use Serpbook to monitor keyword placements in Google for my own websites, but also as a reporting tool for customers I work for as a SEO-consultant. Over the years, I've also tried other options, but they have always missed important features that Serpbook has, which ultimately meant that I still always returned to Serpbook.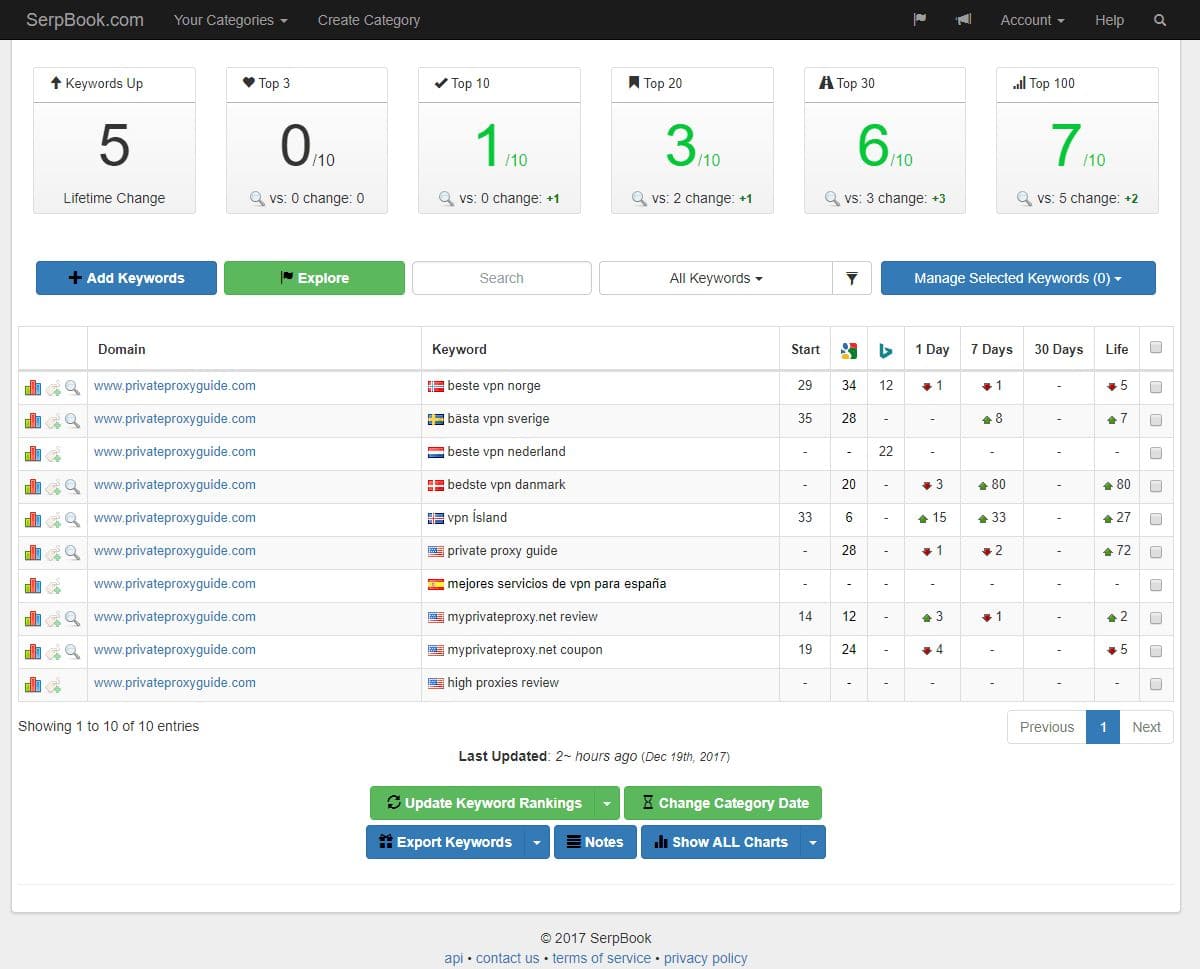 Serpbook for digital agencies
Serpbook is the best option if you work in a digital agency but don't have the resources to develop your own platform for reporting and monitoring of your customers' keyword placements in search engines. The main benefit of Serpbook for medium-sized digital agencies is whitelabel reports in which you can include:
Your company logo
Your company name
Your company description
Sender (email)
Category Name (Customer Name)
A default message
One slight disadvantage is that you can only use the same message in each report, but the customer name can be changed automatically. Another disadvantage is that there is no report setting to compare keyword placements for key competitors. You can choose to send automatic reports every 1-30 days as PDF or CSV. One big advantage of Serpbook is that you can also see if your customers opened and read the report! You can also send a link so that your customer can follow their keyword placements inside Serpbook without having to create more users.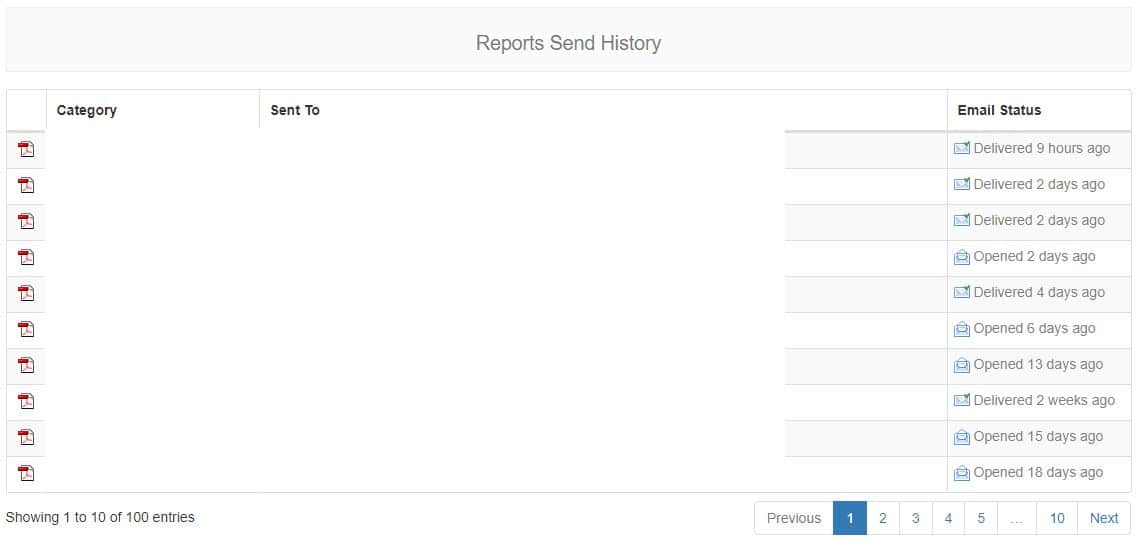 Serpbook works well for digital agencies specialized in local search engine optimization because you can track Google Local listings and Google Places, select Google domain, user language, and even zip code. Another exciting feature is that you can get automated suggestions on keywords based on the content of your domain with the "Explore" button.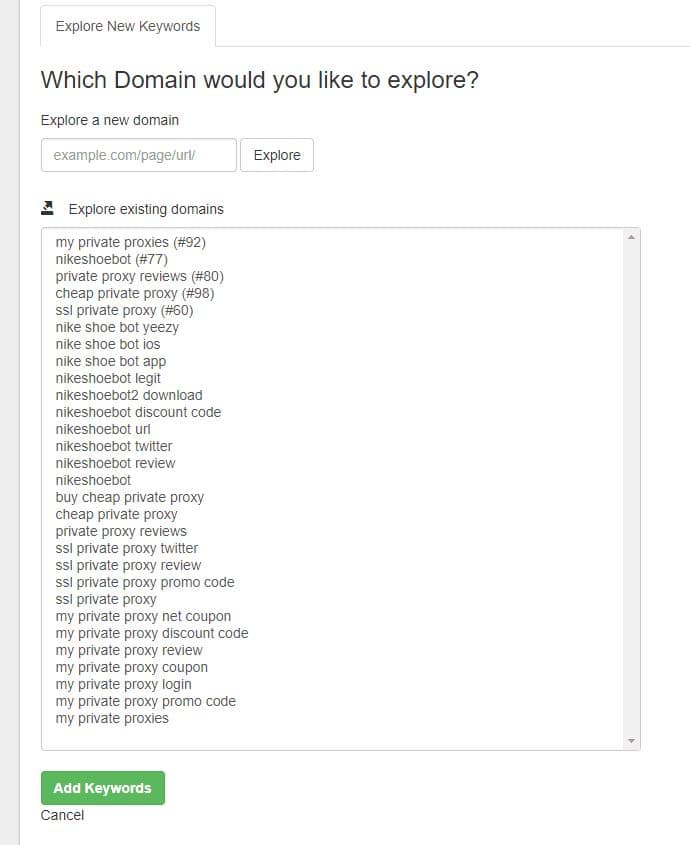 In order to visualize the changes in traffic from Google, you can also integrate Google Analytics session statistics with comparison to previous period along with reporting for the keywords.

When I log in to Serpbook, I always look at "Alerts" to get a complete overview of any important changes such as keywords located outside or in the top 10 without having to review each category separately.
When making adjustments and changes to your clients' websites, you can enter notifications in Serpbook for specific keywords so that you can track updates in keyword placements and also see a reminder on what changes you've made.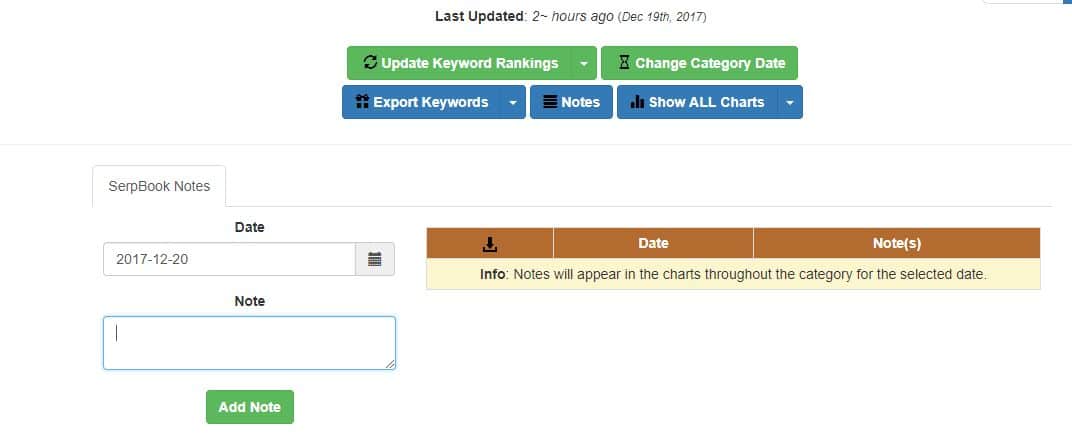 In addition to notifications, you can also follow the historical development of each keyword individually.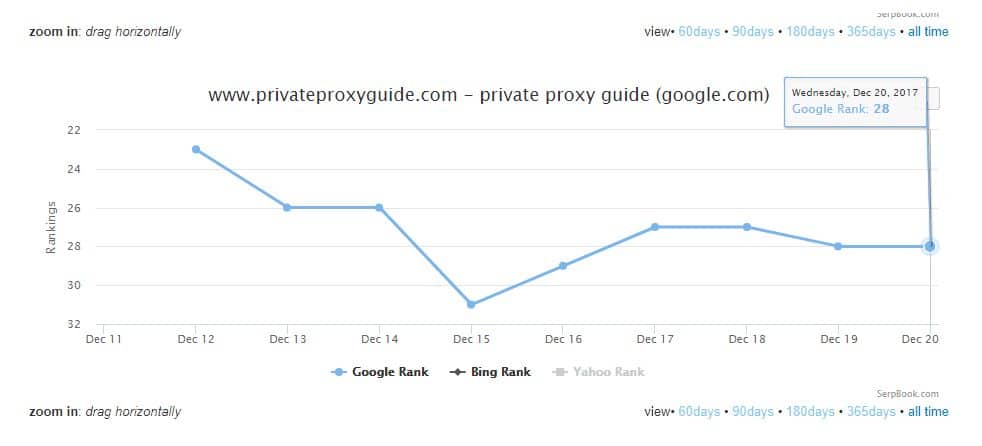 For customers, Serpbook is relatively easy to understand. At the top of the reports there is an overview that shows how many keywords that have been improved, the number of keywords in the top 3, top 10, top 20, top 30, and top 100. It's important to explain to customers that "Start" means from the day when you began to monitor the keyword placements and the Google-icon means today's placements.

Serpbook API
If your digital agency has a higher demands on the way you report to customers, the Serpbook API is the solution for importing keyword data into your own reporting system. You can read more about the Serpbook Developer API here.
Price
Serpbook offers different services depending on the number of keywords you choose to track. The cheapest service allows you to track 50 keywords for $16 per month and works best for smaller projects. Their most expensive service costs $330 a month and allows tracking of 5,000 keywords and 15,000 keyword updates. You can save 20% if you choose annual payment. In relation to Serpfox, Serpbook is slightly more expensive, but it should also be noted that Serpfox lacks a variety of features such as its own API.
Free alternative to Serpbook
Today there is only one useful free option to Serpbook and that is serplab.co.uk. One major disadvantage is that it can take several days for all your keyword placements to be updated because Serplab has many keywords in queue in their system. This can sometimes be frustrating.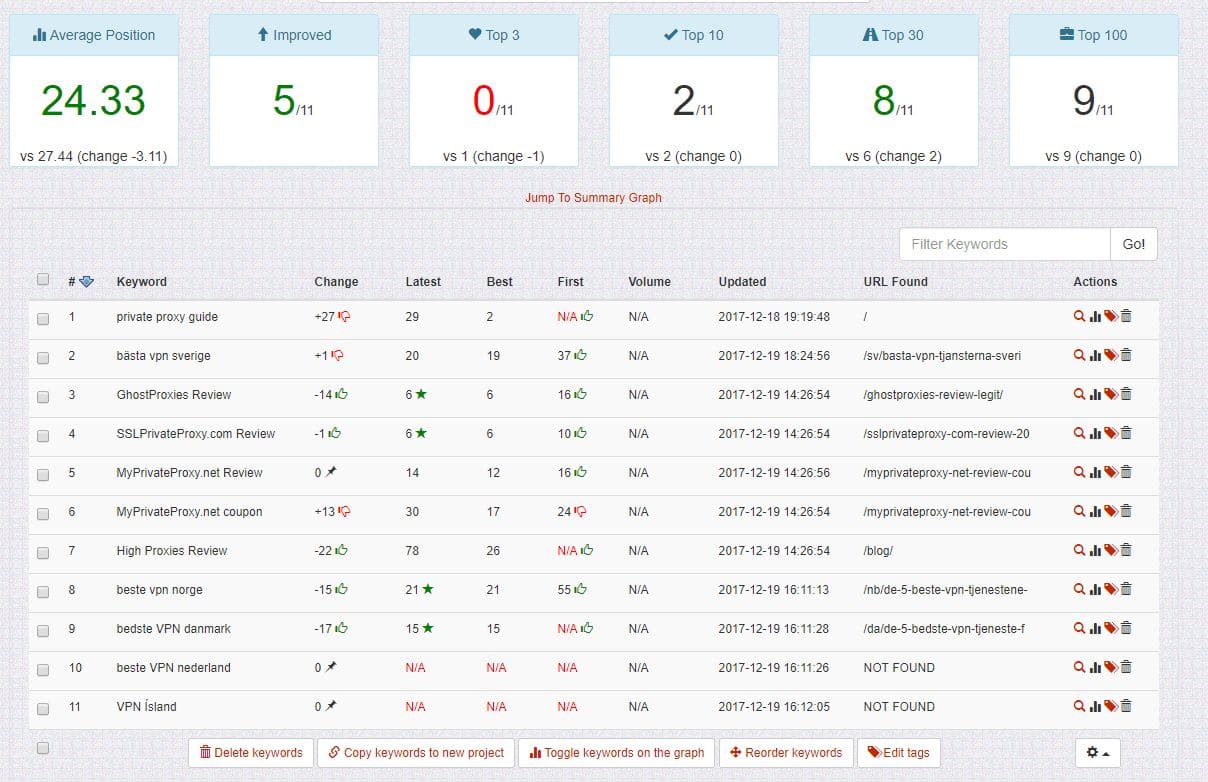 For your own private web projects that you may only check once or twice per month, serplab.co.uk is an excellent free option. There is also the opportunity to buy extra "Serp Bots", but then the service is no longer free.
Conclusion
There is a reason why Serpbook is the most widely used reporting and monitoring service and it's simply because they offer the most features in a clear user interface that suits both freelance SEO-consultants and medium-sized digital agencies.
Personally, I highly recommend Serpbook.
I want to try Serpbook for FREE for 14 days!