When talking about safe, secure, and trustworthy VPNs, there are a lot of factors that contribute to that status. They include a privacy-friendly jurisdiction, lots of security features, a no-logs policy, and for some people, even a slightly higher price that would indicate a high level of quality.
Well, in the VPN world, a better VPN isn't necessarily a more expensive one. We have plenty of cheap providers on the market, such as Surfshark, CyberGhost, and of course – VeePN. VeePN is especially interesting, as it made quite a few improvements in the past few years.
Yes, it isn't the most popular option and that's evident. However, it stood the test of time and spent more than a few years on the market, being one of the cheapest premium providers you can get. Is it any good, though? Is it better than its more popular competitors in the price range?
To get answers to these questions, you'll have to read my full, in-depth VeePN review for 2023.
Verdict
VeePN is a provider that does a lot of things right. It offers awesome mobile and desktop apps that are as feature-rich as some more expensive providers. In addition, features like Double VPN, ad-blocker, and WireGuard support are more than welcome given its affordable price.
Based in Panama, VeePN is a great no-logging VPN that backs everything up with RAM-based servers that surely have a lot to offer in terms of privacy. As mentioned, it's pretty cheap and its 5-year plan is one of the best VPN deals on the market.
With no IP leaks and excellent 24/7 support, VeePN is very well worth your money. However, beware that its speeds aren't the fastest and you'll struggle with unblocking streaming platforms like Netflix, BBC iPlayer, and Hotstar due to its poor streaming capabilities.
Also, it has occasional connection issues that might stem from its kill switch – a problem known by many in this VPN. On the good side, VeePN improved a lot in recent years, and with 2,500+ servers in 80+ locations, it can go head-to-head with the big boys on the market.
| | |
| --- | --- |
| Jurisdiction | Panama (Panama City) |
| Simultaneous connections | 10 |
| Free trial | 1-day free trial |
| Supported VPN protocols | WireGuard, OpenVPN, IKEv2, Shadowsocks |
| Logs policy | No logs |
| Price | From $99.99 for a 5-year plan |
| Money-back guarantee | 14 days for a monthly plan, 30 days for all other plans |
| Customer support | 24/7 live chat, email |
| Works with Netflix? | No |
| Allows torrenting? | Yes |
| Servers | 2,500+ servers in 89 locations |
Pros
Large server network
Easy-to-use mobile/desktop apps
Double VPN servers
It stores no logs of your data
Includes a reliable ad blocker
Offers a cheap 5-year plan
Servers based on RAM
Cons
Not great for streaming
Subpar speeds and performance
A few connection issues
1. What I Liked About VeePN?
1.1 Desktop App
Let me start this VeePN review with the desktop app. It looks gorgeous, offering you the ability to customize its looks with a dark or light theme. However, it's not just its beauty that amazes me, but how functional it is and great for beginners and VPN dummies.
The home screen is taken by a big connection button that, when clicked once, connects you to a VPN server in the location you've chosen. Underneath, you can enable a kill switch with a single click of a mouse, under which, you can open the server list by clicking on the country.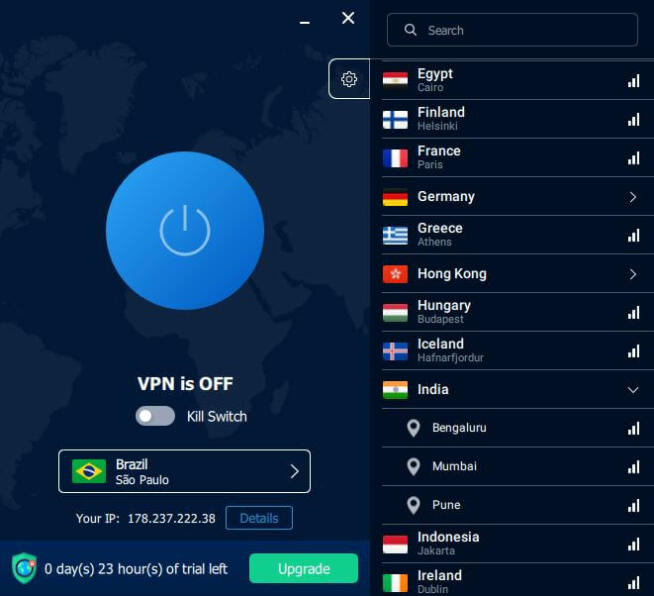 In the server list, countries and locations are listed alphabetically, so you don't have to wander around to find the one you want, as it's sometimes the case with PIA, for example. Additionally, the Settings menu is opened via a gear icon on the right, and here, you can find all of the features.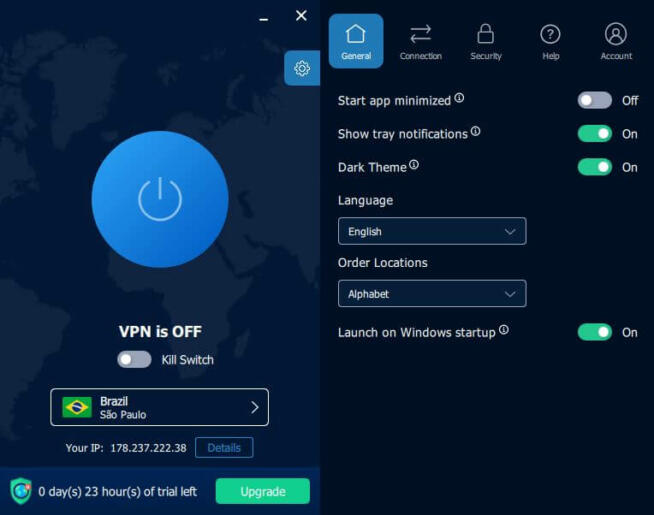 Important features are located in two tabs – Connection and Security – where you can change your protocol, enable ad-blocker and use split tunneling. Connecting to a server is simple, as said, and you can do that by double-clicking on the location of your choice or by using a connection button.
VeePN made sure to make everything simple, intuitive, and user-friendly, which I, despite being an experienced user, always value.
1.2 Mobile App
If you like VeePN's desktop app, there are no chances you won't like its mobile apps. I use an iPhone, and on iOS, VeePN is smooth, with no glitches, bugs, and annoying slowdowns. Besides, the app looks nearly identical, with a similar background and a big circular connection button in the middle.
To open the server list, you tap on the country beneath, and to connect, you just tap once on the location you want – fairly simple. The server list on mobile devices also has Double VPN servers which I'll discuss later, but it goes to show that equal care has been given to mobile users in terms of features.
Opening the Settings menu, you'll see that the app offers something called NetGuard, which is an ad blocker that we'll talk about. You can then change your VPN protocol, and on iOS, I get OpenVPN, IKEv2, and WireGuard, which is greatly appreciated.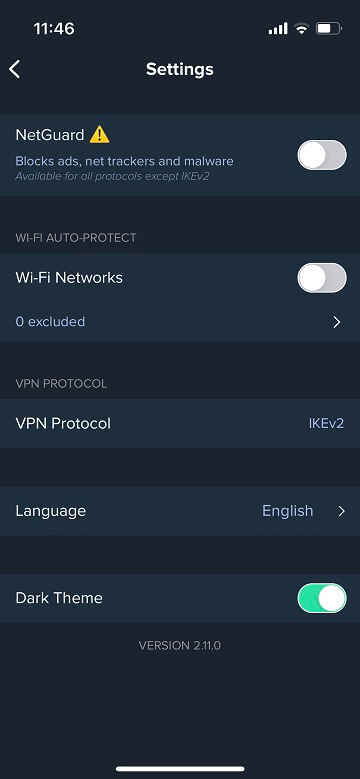 Overall, the mobile app leaves nothing to be desired and I'm glad that VeePN improved upon it recently – bravo!
1.3 Lots of Available Protocols (WireGuard Included!)
Since I touched on VPN protocols, let me address that in my VeePN review. Many cheap providers rely solely on OpenVPN or IKEv2, but sometimes, even older and outdated protocols. Not VeePN. This provider offers a plethora of them and the best choice is on Windows.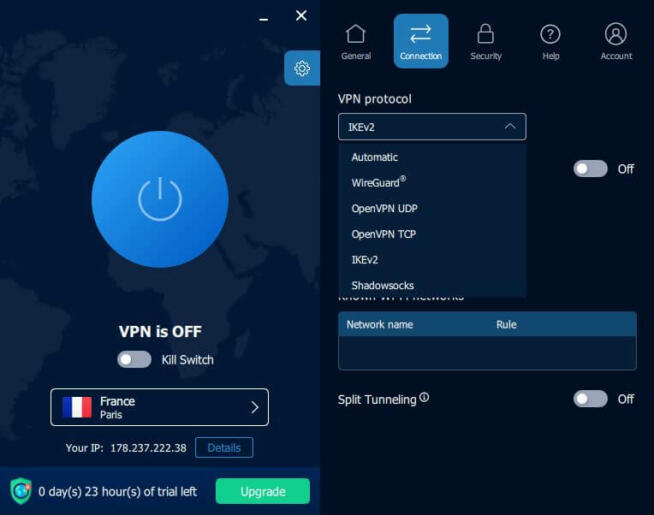 Here, you'll get OpenVPN UDP & TCP, WireGuard, IKEv2, and something called Shadowsocks. Shadowsocks is known for its fast speeds and ability to bypass censorship in censored countries, although in VeePN, it's not the most efficient in the latter case.
Nevertheless, WireGuard is here and that's something to brag about. With Lightway and NordLynx, this is the fastest VPN protocol on the market, beating even OpenVPN. How well it performs in this VPN? Well, you'll have to read this VeePN review fully to find that out.
1.4 Double VPN Servers
When you open the server list, at the top, you'll see something called Double VPN. Indeed, these are well-known Double VPN servers we also get in NordVPN and they're here to route your traffic through two different servers for added encryption and security.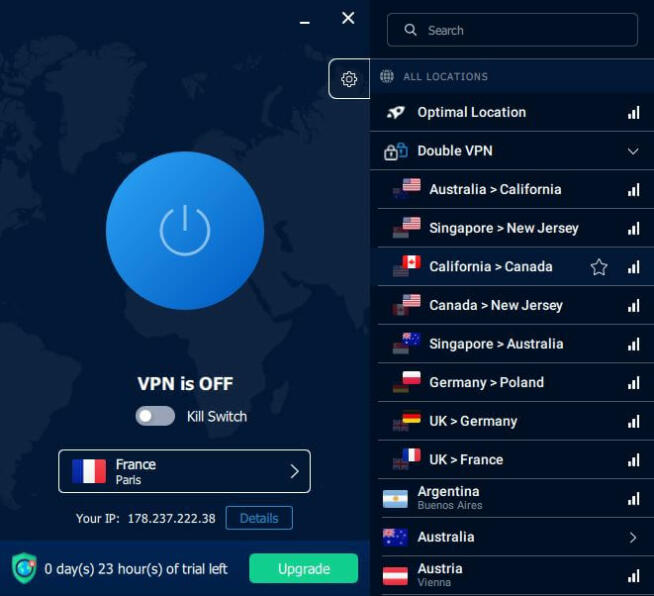 VeePN offers 8 pairs such as Singapore-New Jersey, UK-Germany, UK-France, and Australia-California. Sadly, you can't choose these locations manually but I'm glad that these pairs work flawlessly. They really double your encryption, alas, at the cost of performance, which is typical for these servers.
When you think about it, very few cheap providers offer this feature, so I have to praise VeePN for including it.
1.5 Ads, Malware, and Tracker Blocking
A minute ago (or more, if you read slower), I mentioned NetGuard that I have available on iOS. This option works when using OpenVPN and WireGuard protocols in this case, so using IKEv2 isn't a good idea if you want to make this functionality work.
On PC, that's not the case and the feature doesn't have this fancy name. Instead, it's split into 5 different features, allowing you to control every aspect of it. You can, for example, block ads, malicious websites, and online tracking – all three of them, one of them, or any other combination you like.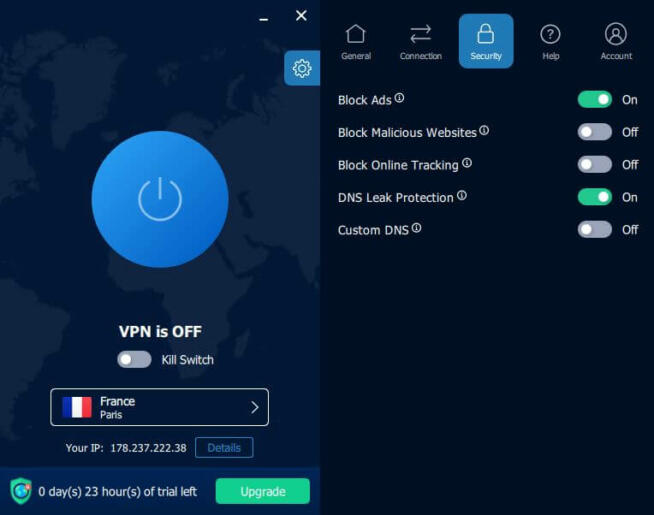 In addition, VeePN offers DNS leak protection, which is extremely important for preventing your ISP, hackers, or any other entity from seeing your location through a DNS address. What's more, VeePN allows you to use a custom DNS by setting up a preferred and alternate DNS server.
The performance of these options is fairly decent and I had zero issues blocking video ads, pop-ups, and sites that VeePN deems malicious. DNS leak protection also worked well, which you'll see in my IP and DNS leak test soon.
1.6 No-Logs Policy
VeePN is pretty strict when it comes to logging practices and that's great if privacy and security are your main concerns. You see, VeePN is based in Panama, the same country where NordVPN bases its company legally. And as you know, NordVPN is a security giant!

This provider made Panama City its home, which is no different. Panama is one of the most privacy-friendly jurisdictions out there, and isn't a part of the 5 Eyes alliance, as is the case with the US, the UK, Australia, Canada, and New Zealand.
As such, VeePN isn't obligated to store any logs and its privacy policy tells us a lot about that. In short, VeePN stores no logs of your browsing history, IP address, used bandwidth, timestamps, network traffic, DNS requests, and other bits of information.
Additionally, VeePN won't share or sell your data with third parties, so you can be sure that everything you do while using it remains private. Granted, I'd like VeePN to receive at least one security audit from a third-party auditor like PwC, VerSprite, or Cure53.
And while an audit would mean a lot, so far, I haven't heard of VeePN violating its no-logging policy and giving out user information to the authorities. That happened to HideMyAss and PureVPN, for instance.
1.7 Big RAM-Based Server Fleet
VeePN isn't such a small VPN as you might think it is. Despite its lack of popularity, VeePN has a relatively big server network of 2,500+ servers in 60 countries and 89 locations across the planet. Compare that to ExpressVPN or CyberGhost, and VeeVPN isn't far off.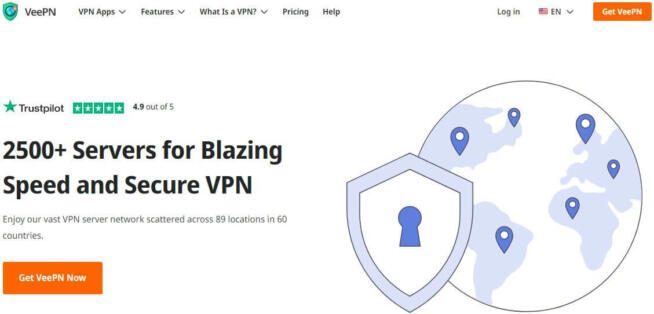 What I like in this VeePN review is server distribution. This provider includes servers in all popular countries such as the US, the UK, Australia, Canada, and Japan. However, it has a lot of servers in Europe, South America, and even Africa.
For instance, you get servers in the UAE, Kazakhstan, Indonesia, and Hong Kong. Another thing worth mentioning is that these are RAM-based servers, so we aren't talking about obsolete hard drives that are all but safe and secure.
Being based on RAM, servers are updated and restarted frequently, and with each restart, every bit of information is wiped, which preserves your privacy and security. That's not the case with traditional hard drive servers that will still preserve information after shutdown or restart.
1.8 Cheap 5-Year Plan
As said in this VeePN test, we're talking about a fairly cheap provider. It offers three subscription plans, where the monthly one is rather expensive, the annual plan is relatively cheap, and the 5-year plan is insanely cheap!

VeePN will charge you just $99.99 for a 5-year subscription, which ends up being a measly $1.67 a month! This plan even comes with a 30-day money-back guarantee, so if you end up dissatisfied, getting a refund can be your option.
VeePN also allows you to pay with crypto, credit cards, PayPal, and other methods, so if you're interested, getting this plan should be hassle-free.
1.9 24/7 Support Through Live Chat
For me, a VPN must have proper customer support for fixing potential issues. VeePN surely does a good job here, giving you the ability to contact the support team at any moment since it works 7 days a week, 24 hours a day.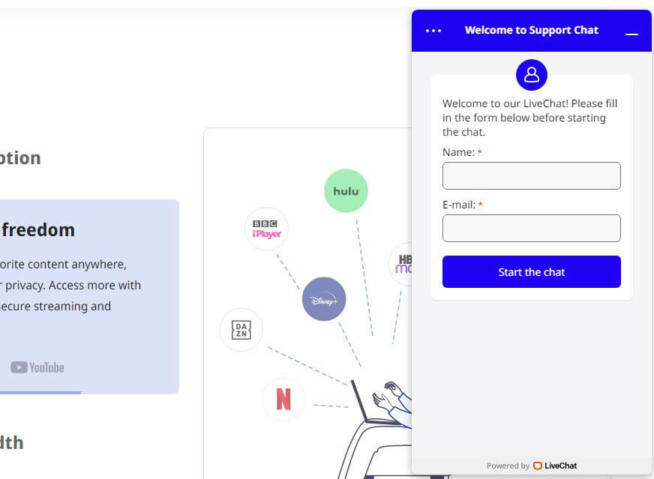 The support team is very quick to respond and after asking a question, the response will arrive in 10 to 20 seconds on average. I found its support agents very helpful and in conjunction with a great support center, getting additional information or help shouldn't be an issue.
1.10 No IP or DNS Leaks
Finally, let's finish this part of the review with a few IP and DNS leak tests. Needless to say, this is perhaps the most important test as protecting your IP and DNS addresses should be a priority for every VPN. Let's see if VeePN is as safe and secure as it seems to be.
Test 1: Without VPN – Default
The first test is without using VeePN. Without VPN protection, my IP and DNS addresses are exposed and I don't enjoy encryption protocols from this provider. In the screenshot below, you can clearly see where I'm located and all of my DNS addresses.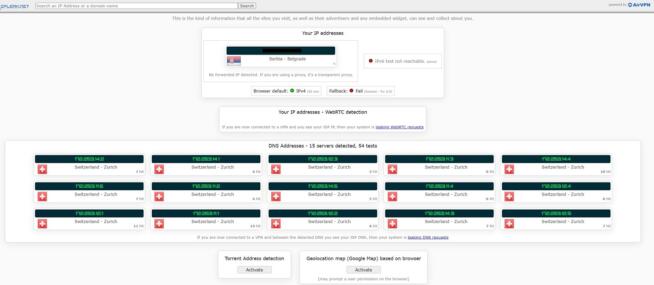 Test 2: New York City, USA – With VPN
The second test I did was by using VeePN. I connected to a VPN server in New York to see if my original IP or DNS address will leak. Luckily, that wasn't the case, as VeePN successfully concealed my addresses without any signs of leakage.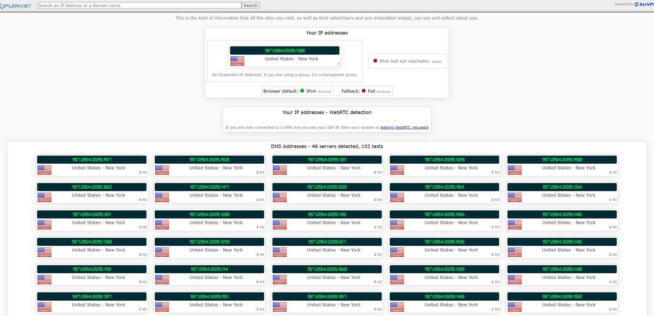 Test 3: London, UK – With VPN
Moving on, the UK server in London showed the same impressive results. After connecting to it, I had no issues with IP or DNS leaks, which is a relief.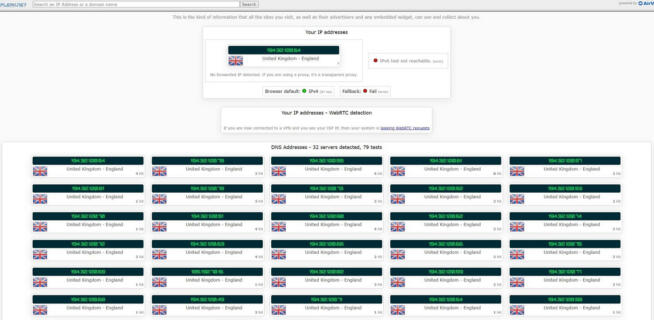 Test 4: Frankfurt, Germany – With VPN
What about Germany? Well, I had no leaks here as you can see and I'm glad that the server in Frankfurt works well in terms of security and privacy.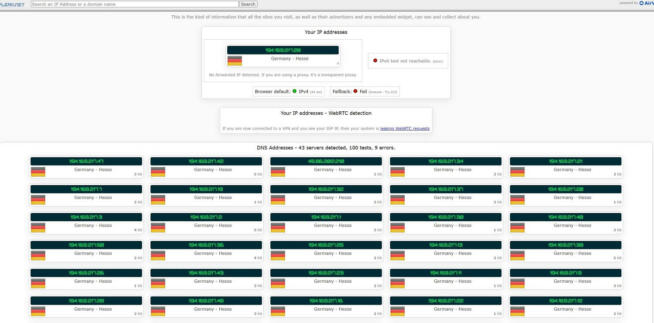 Test 5: Sao Paulo, Brazil – With VPN
Last but not least, a quick glance at the results from the Brazilian server gives us a clear sign that VeePN is indeed safe and secure when it comes to IP or DNS leaks. Simply put, it has none of them!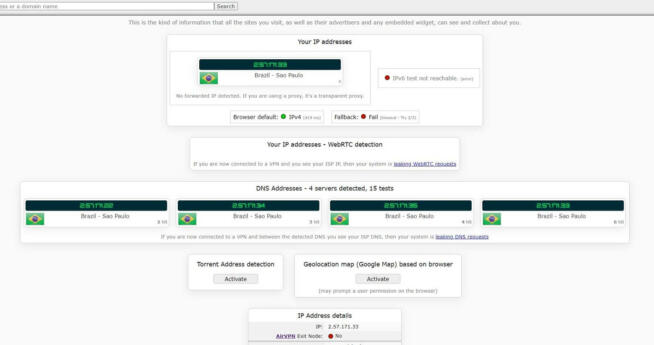 2. What I Didn't Like About VeePN?
2.1 Poor Streaming Capabilities
With everything great in this VeePN review, let's talk a bit about its negative side. Namely, VeePN isn't the best VPN if you're looking to stream on Netflix, BBC iPlayer, Hotstar, and other popular streaming platforms.
I tested Netflix using multiple servers and server locations only to find out that it doesn't work. Particularly, I tested Netflix US to be able to watch Grey's Anatomy, which is available in this and the Canadian catalog.
Sadly, neither the server in the US nor Canada worked, preventing me from accessing these libraries. The same, unfortunately, can be said about BBC iPlayer, which successfully sabotaged my attempt to access it using any of the three server locations in the United Kingdom.
Hotstar also didn't work when using Indian servers. One time I managed to access it and watch a movie, I realized how slow it is, as I had to wait for a few minutes for a single movie to buffer and start. In simple words, VeePN isn't a VPN you'll enjoy if you're an avid streamer.
2.2 Below Average Speeds
A part of that has to do with its speeds. Earlier in the review, I mentioned that it has WireGuard support but that didn't seem to do much for the VPN. To prove my point, I actually tested it using numerous server locations.
By the way, here are some specs of my PC as well as my native internet speed:
| | |
| --- | --- |
| Internet Speed | 200 Mbps Download, 100 Mbps Upload |
| LAN Chipset | Realtek 8111H |
| Processor | AMD Ryzen 5 3600 |
| Browser | Google Chrome and Mozilla Firefox |
I tested VeePN 3 times a day by using the speedtest.net website and I did my tests in the morning, in the afternoon, and in the evening when the servers should see a massive surge in new users. Moreover, I also used 7 testing locations including my own, to give you a good overview of its performance.
Check this table below:
| | |
| --- | --- |
| City | Speed (Download, Upload) |
| Serbia (Host Region) | 182 Mbps, 78 Mbps |
| Germany | 143 Mbps, 52 Mbps |
| USA | 87 Mbps, 36 MBps |
| France | 111 Mbps, 47 Mbps |
| United Kingdom | 93 Mbps, 35 Mbps |
| Japan | 43 Mbps, 18 Mbps |
| Brazil | 44 Mbps, 22 Mbps |
2.3 Occasional Kill Switch and Connectivity Issues
Finally, I want to address one serious issue I had with VeePN. When I tried to connect to the server I wanted, very often, I had to wait for an eternity for the VPN to establish a connection. In one case, it refused to connect entirely, even though I ate my entire breakfast while waiting for it.
Once I came back, I still saw this "Connecting" message, as the VPN repeatedly tried to connect to a server. I then enabled a kill switch and the issue was gone, only to come back when I tried another server, despite the kill switch in place.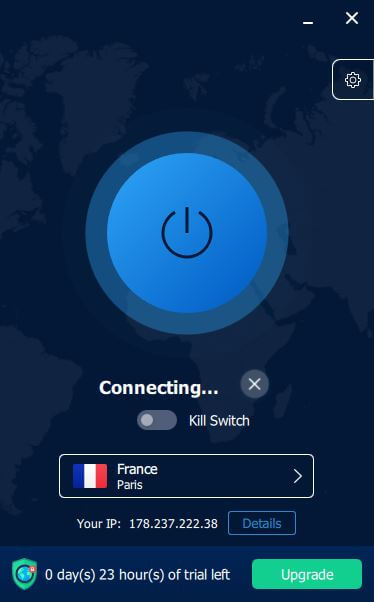 This prompted me to change the VPN protocol I'm using to IKEv2, which solved the issue. Not long after, the issue appeared on a different server, so I changed the protocol to OpenVPN TCP, which solved it. It seems as though the Automatic protocol setting isn't well optimized in this VPN.
Somehow – and sometimes – VeePN doesn't know which protocol to choose, resulting in an unsuccessful connection or painfully long connection times. I hope VeePN will address this issue in the future and hopefully fix these connection problems.
First-time users can get a negative image of an otherwise solid VPN because of this, which could prompt them to request a refund and stop using it.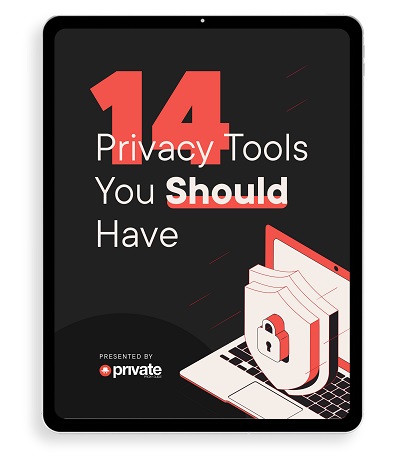 Learn how to stay safe online in this free 34-page eBook.