The Game Boy Advance is considered one of Nintendo's most popular handheld consoles ever. It was one of the few handheld consoles at the time to feature-rich colorful games in 32-bit glory as well as a decorated lineup of fun and enjoyable games.
These days it can be hard to get a hold of the console and the games in good condition as its well past its 18-year-old prime.
However, should you feel the need to boot up Metroid Fusion or Pokémon Ruby & Sapphire, then emulators are the solution for you.
It used to be that only computers were capable of emulating GBA games in the early 2000s but these days you don't have to hunch over a keyboard to play amazing GBA titles.
These days it is easy to load up your favorite Game Boy Advance games on your Android smartphone by using a GBA emulator. We will be looking at some of the top GBA emulators for Android down below.
Our first entry into the list is an emulator that is capable of emulating multiple consoles. EmuBox can emulate all kinds of consoles like Nintendo DS, PlayStation, SNES, Game Boy Color, and Game Boy Advance.
EmuBox manages to handle all these different emulations surprisingly well with little stuttering or frame drops. However, if you are looking to emulate DS or PlayStation games, then you might need a decent smartphone to handle the processing power. For GBA games, this emulator works exceptionally well. It can emulate the entire GBA library without a hitch. The app is completely free with no in-app purchases bothering you. However, you can expect an ad or two to pop up every now and then. The emulator includes all the basic features you have come to expect like save states, cheats, hardware controller support, screenshot, and much more. But if you're a power user who is used to highly specific features then you might be slightly let down by EmuBox's feature list.
Setting up the emulator is ridiculously easy. All you must do is download and install it. Once it's on your device, you can run it. Connect a controller or just set up the on-screen keys and load your rom to start playing. You'll find that things like the UI are painfully simple and don't have a ton of customization. This app is relatively new which is why you can notice a certain lack of advanced features. But, it does the job well. For an option that does not cost you a dime, EmuBox is pretty good.
Pros
Completely free
No In-app purchases
Support for Nintendo DS, PlayStation, SNES, Game Boy Color, and Game Boy Advance games
Hardware controller support
Save states support
Cheat support
Cons
Lacks advanced features
Some games can't run without a powerful device
Contains ads
UI can be a bit dull
---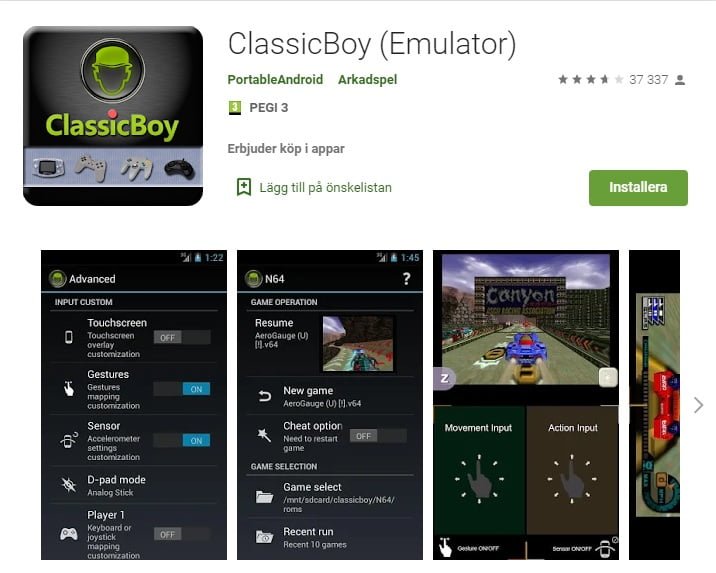 Much like EmuBox, ClassicBoy is a multi-platform emulator that supports more than one console. This emulator can run games from systems like NES, Sega Genesis, PlayStation, Nintendo 64, SNK Neo Geo, Game Boy Color, and Game Boy Advance.
ClassicBoy boasts near-perfect emulation for almost all the games. Only a few titles do not work as well, because they require some hefty requirements. But, for the most part, you can expect your games to run pretty well with no issues. GBA games on the ClassicBoy work without a hitch and you can play the entire library with no real issues. All the standard features are included such as save states, fast forward, hardware controller support, and cheats.
Apart from all the standard features you have come to expect, you can also some find some new and novel things that are a part of the emulator. For one, it has support for all the different sensors on your phone and can use them to control things in the game. Moreover, it has advanced gesture support, which means you can make touch gestures on the screen and it will translate them into inputs for directions or buttons. This is a great option for those who don't have a physical controller and don't like having an overlay for on-screen controls over their game.
You can even do things like customizing your control layout to your liking. This makes it a breeze to play even the most button-heavy games on a touch screen. However, the only major problem is that most of these features are not available in the free version. You can expect to pay out for the full version if you're looking for any of these advanced features. Overall, if you are looking for a multi-platform emulator that handles most games well, then ClassicBoy is a good fit. Just be sure to try out the Lite version before you decide to purchase it.
Pros
Decent features in Lite version
Support for NES, Sega Genesis, PlayStation, Nintendo 64, SNK Neo Geo, Game Boy Color, and Game Boy Advance.
Sensor support
Hardware controller support
Supports Gesture controls
Save State support
Cheats support
Cons
Advanced features locked behind premium version
Some games don't work well
---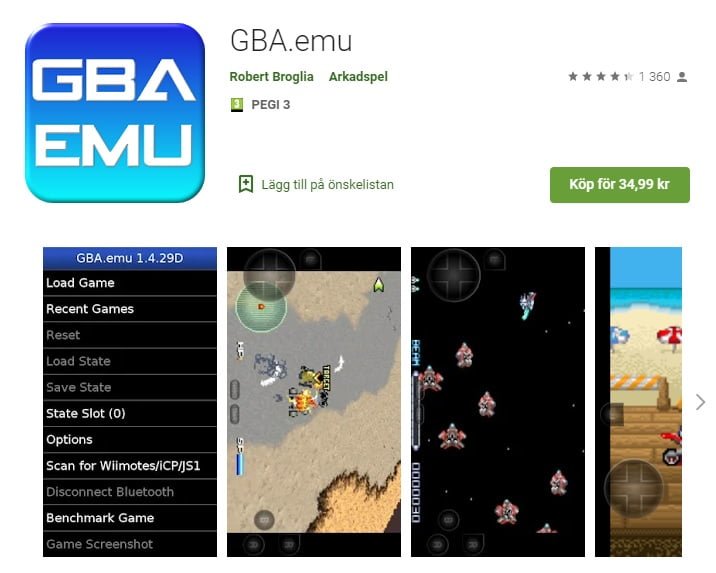 GBA.emu is a great standalone emulator that handles Game Boy Advance games. Based on the PC version of the VBA emulator, this emulator has solid support for the entire GBA library with great features that add to the experience.
GBA.emu has near-perfect emulation for all GBA games. It includes some advanced emulation features like BIOS emulation, which gives your games accurate emulation support. Emulating almost all games is a breeze with very little issues. It includes all the standard features like cheat code support, hardware controller support, saves states, and backup memory. You can use most USB and console gamepads with the emulator and will even have support for Wii controllers.
You can also expect to get some multiplatform support since this emulator is based off a PC release. Furthermore, you can easily sync your saves between your PC and your phone seamlessly. Unfortunately, there's no lite version or trial for GBA.emu. This means you must buy the emulator to use it. You can't try it out to see if it works, you will just have to rely on the refund policy to cover you in case you have problems. But other than this, GBA.emu is a rock-solid emulation platform.
Pros
Hardware support for virtually any controller
BIOS emulation
Save state support
Multiplatform support for saves
Backup memory feature
Cons
No trial or free version
Lacks any advanced features
No sensor support
---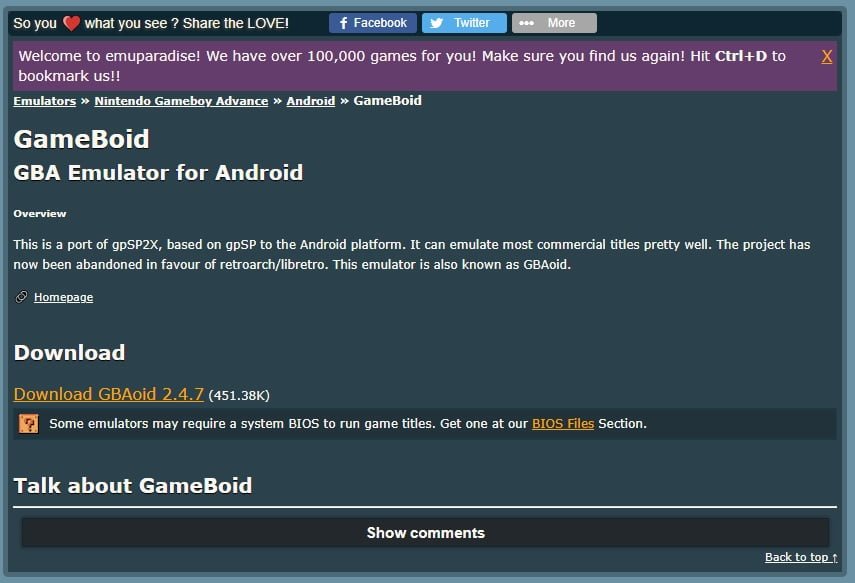 GBAoid is a cult classic among GBA emulators. It is one of the first major GBA emulators to come out back when Game Boy emulation was still new to Android.
GBAoid offers fairly accurate emulation and works on even the lowest tier Android phones. Unfortunately, this emulator is long abandoned; you can only find old releases of the emulator. This means that most modern emulators can surpass it for emulation quality. It has very basic features and support can be limited depending on the games you're trying to play. However, the emulator is completely free and there are no ads or in-app purchases. All the features are available by default and you don't have to pay a dime. Finding GBAoid can be a bit hard these days because it isn't available on the Play Store anymore. You will have to rely on third-party sites to get the old release.
Pros
Completely free
No ads
No in-app purchases
Runs well on even low spec phones
Cons
Doesn't have a lot of advanced features
Outdated and abandoned
Can't find it on Play Store
---
John GBA is a great GBA emulator that provides a simple UI with solid emulation support. This emulator is perfect for those who want a simple emulator that can handle all their favorite games.
John GBA can emulate a large library of games without facing any issues. It even has advanced rendering support to improve the quality of the emulation further. You have a ton of options for the audio and graphics that you can tweak to your liking. John GBA also comes with the necessary features that you want to have. Things like save states, cheats, and controller support are standard but much of anything else is left out for the sake of simplicity. You can still get some unique features like cloud save support to services like Dropbox. The on-screen keyboard layout for John GBA isn't the best but you can tweak it to the point that it's serviceable. Other than that, this emulator works surprisingly well and is good for those that want a simple emulator to run their games.
Pros
Simple and easy to use
Cloud saving feature
Save state support
Cheats support
Hardware controller support
Cons
Lacks any advanced features
The on-screen keyboard is bad
Contains Ads
---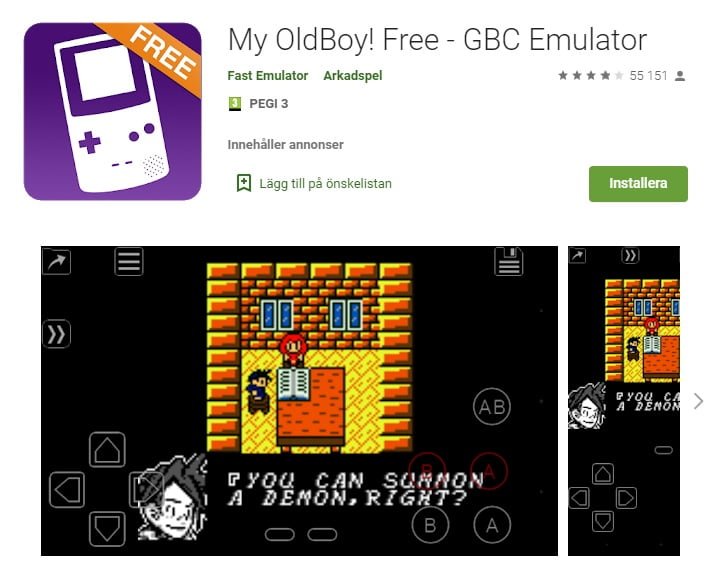 My Boy! is widely considered as one of the best GBA emulators for Android. It has some of the best features and runs games properly with decent emulation.
My Boy! has a perfect track record when it comes to emulating GBA games. Not a single game exists that it has been unable to run. It boasts some of the fastest and most accurate emulations to date. When it comes to features, My Boy! doesn't shy away from anything. It includes standard support for cheats, saves states, hardware controllers, Bluetooth support, BIOS emulation, ROM patching, fast forward, audio features, video shaders, cloud saves, and much more.
One of the most standout features for My Boy! is its support for sensors. This emulator supports all kinds of sensors like light sensors, accelerometers, tilt sensors, and rumble. This makes it perfect for emulating GBA games that come with the special sensor fitted carts like Boktai: The Sun Is in Your Hand, WarioWare: Twisted!, and Yoshi Topsy-Turvy.
What's more, you get full multiplayer support thanks to link cable emulation. You can use this feature to play with other phones running this emulator via Wi-Fi or Bluetooth. This allows you to do things like play against each other in multiplayer games or trade items in Pokémon games. All in all, My Boy! is a perfect emulator that comes packed with great features. It has great emulation support and runs your games while saving your phone's battery.
Pros
Fast and accurate emulation
Cheat support
Save state support
Cloud save support
BIOS emulation
ROM patching
Fast forward
Video shaders
Link cable emulation with multiplayer support
Full sensor support for special GBA titles
Cons
Some advanced features cost money to unlock
The free version has ads
---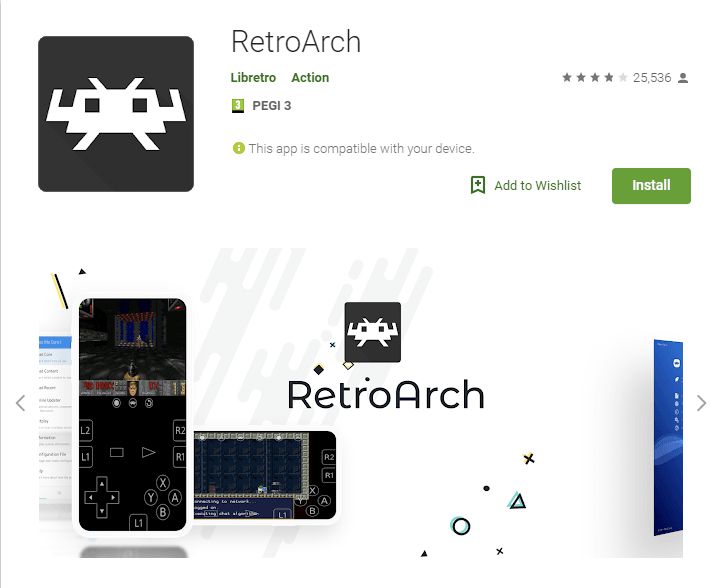 RetroArch is a unique emulator that makes use of open-source platforms to provide a rich experience. It allows playing GBA games flawlessly at the sacrifice of some essential features.
RetroArch is a completely new platform that makes use of the Liberto development interface for its processes. This is not an emulator in a strict sense, but it does provide emulation via different cores. You can install these cores to get different emulators running for popular platforms and even some underrated ones like Sega Game Gear, Sega Saturn, and Nintendo 64. Setting up RetroArch for playing GBA games can be a challenge. It requires tech knowledge that not a lot of people possess. However, once you get it going, you can use it for superb GBA emulation with little drawbacks and issues. It does lack some GBA specific features that other emulators have but it can be good if you're really looking to tweak your emulation quality. RetroArch is a good platform for emulating GBA games if you really like to get behind the technical specifications of your emulation.
Pros
Great technical options
Accurate emulation
Completely free
Cons
Lacks usability features
Hard to setup
Horrible UI
---
Conclusion
There are tons of options out there, from which you can choose great GBA emulators. Each provides something different from the other. Ultimately, it is up to you to decide which emulator you personally like and will work best for your needs.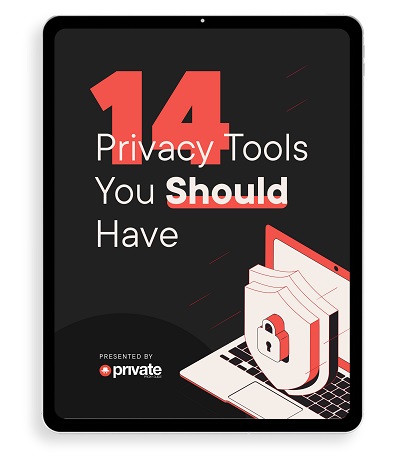 Learn how to stay safe online in this free 34-page eBook.