Sadly, it isn't so easy to have access to your favorite SNES games such as Donkey Kong Country or Super Mario World anymore.
These have become a sought after collectibles for museums and retro game collectors.
But not all is lost, SNES emulators are here to give you that ultimate retro gaming experience.
Today, we have compiled the top 6 best SNES emulators for Android. We have also listed the pros and cons of each emulator.
You can choose the one that best suits you or meets your requirements. Note: This is in no particular order.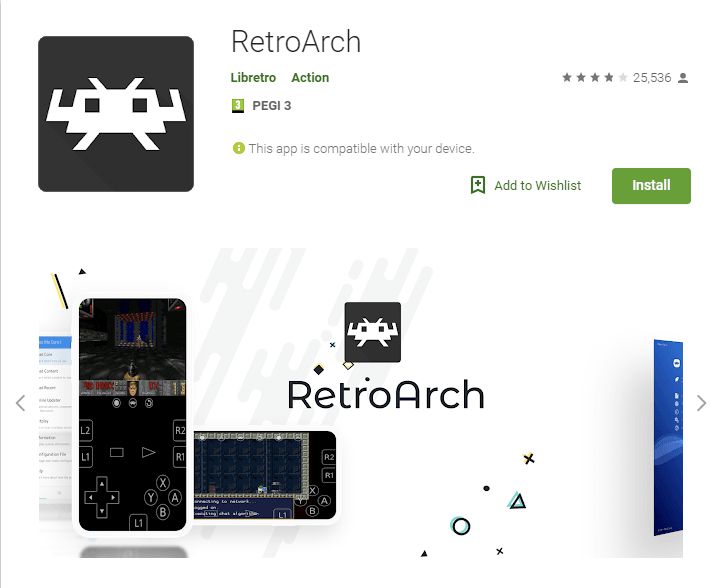 The first one on our list is RetroArch. It is one of the most popular emulators loved by many Android users. The best thing about RetroArch is that it is free, advertisement-free, and has many great features. It has cross-platform support, which means users can enjoy retro games on different platforms. So, if you want to get the feel of other games rather than just sticking to SNES games, this emulator is the answer. It's because of this reason the RetroArch is a very popular choice among gamers.
In addition, it's an open-source, and it supports a different variety of controllers. Some of the most appealing features of the RetroArch include rewinding, shaders, and netplay. It also supports recording and gameplay streaming. This allows the users to stream their gameplay on popular platforms such as YouTube or twitch.tv.
Pros
Free to use, you can get it on the Google play store.
Has a lot of advanced features.
Very versatile, not limited to a specific platform.
No annoying advertisements.
Cons
It may be a little confusing for first-time users.
It has a bit of a learning curve.
---
2. Snes 9x Ex+ (my preferred choice)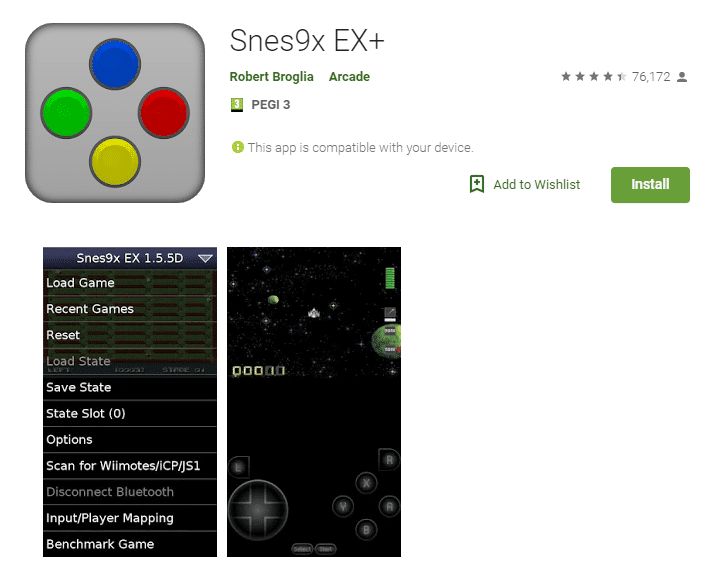 This one is a free emulator which has been around for quite some time now, and there is a good reason why it's still in competition. You can find all the basic features that make a good emulator. These include saves/load modes, supports on-screen controls or gamepads. You can also load a variety of file formats such as ZIP, SFC, and SMS.
The Snex 9x Ex+, is free, which can be downloaded from Google play. One of the main reasons why it's been around for so long is because of its friendly user interface, and its excellent features.
Pros
It is a free app which has all the essential features.
Simple and does not have a learning curve.
Cons
Its user interface is somewhat like a rustic old school type which may not be liked by all.
---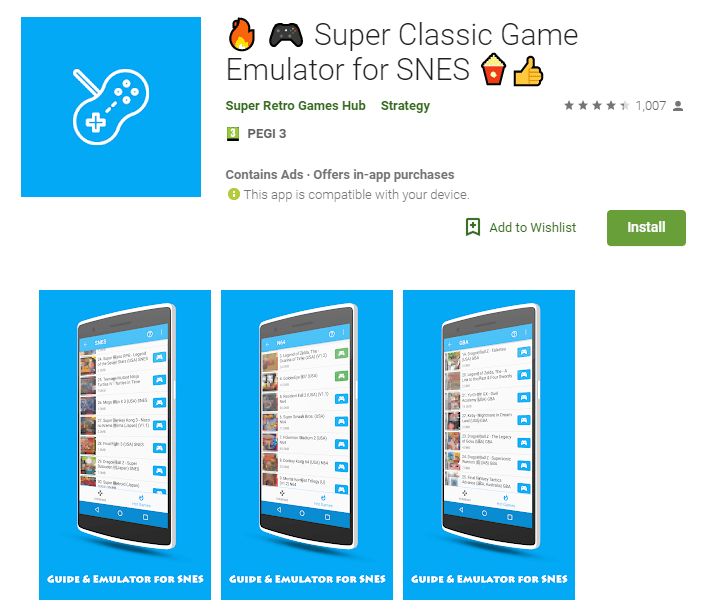 Get Emulator for Snes for Android
This is another incredibly great emulator which is available for download on Play Store for free. You may think that free apps are not as great as paid versions, but do not be so quick at judging. This app has all the essence of a good emulator, and in fact, you may be surprised with all the fantastic features it has to offer. It supports various game controllers and has auto game detection feature (the app will search and load the game automatically as soon as you open it.) Other features include a Bluetooth connecting option, ability to apply game cheat codes, fast-forwarding, and effect shaders.
This app is absolutely free, which means there is no in-app purchase. A lot of free apps often experience crashes and needs to be installed again. However, you shouldn't worry about crashes; the Emulator for SNES is very stable.
Pros
It's free of cost.
Awesome features.
Highly stable app.
Cons
You may have to deal with a few advertisements from time to time.
---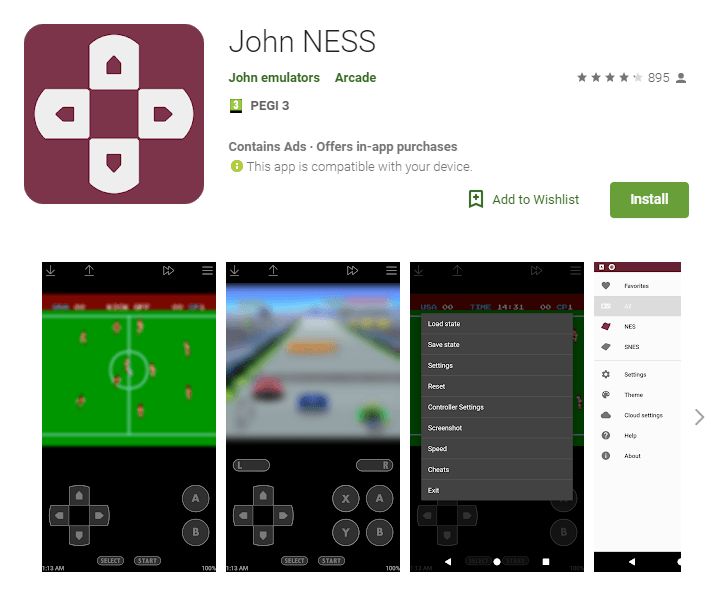 If you are into retro games, and you want to take your gaming experience to a whole new level, John NNES is a highly recommended emulator. One of the greatest advantages of this emulator is the engine. The official consoles use the same engine too. So, needless to say, it provides a more detailed and realistic feel. It can be used with a variety of controllers. Some of the best features of this app are; slow mode, fast forward, cheat code support, turbo button mode, and many others. Another awesome feature that needs to be mentioned is the option which allows the users to customize the keys according to their preference.
It has a very friendly user interface which even the beginners find very simple. If you want to check out the features, you can try the free or trial version first. This will help you to decide if you want to buy the full version app.
Pros
Unique and amazing features
Very affordable(less than $10)
Cons
Lite version/trial version has a lot of ads, and it is best to purchase the full app.
---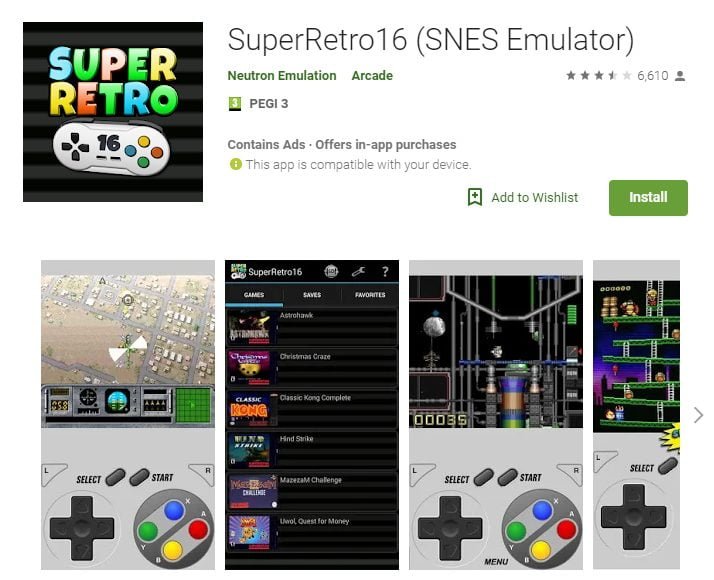 With the simplistic interface and screen enchantment options, the SuperRetro 16 is a favorite of many seasoned users. The array of features include a video enhancement system, fast forward, multiplayer options, and compatibility with other games. The emulator can also be used on Android TV by using the Chromecast options.
The SuperRetro 16 is an effective and stable emulator which allows users to adapt it to their preference. Another unique feature about this emulator is that it has cloud storage support. It has the most number of features among all the emulators on our list. Installing the emulator is simple and straightforward.
However, it is not free for download on Google Play. So users have to pay for it.
Pros
It is packed with features.
It supports different types of controllers.
Installation is straightforward.
Can be used on Android TV as well.
Cons
Advanced enhancements can confuse an amateur user.
Not free for download.
---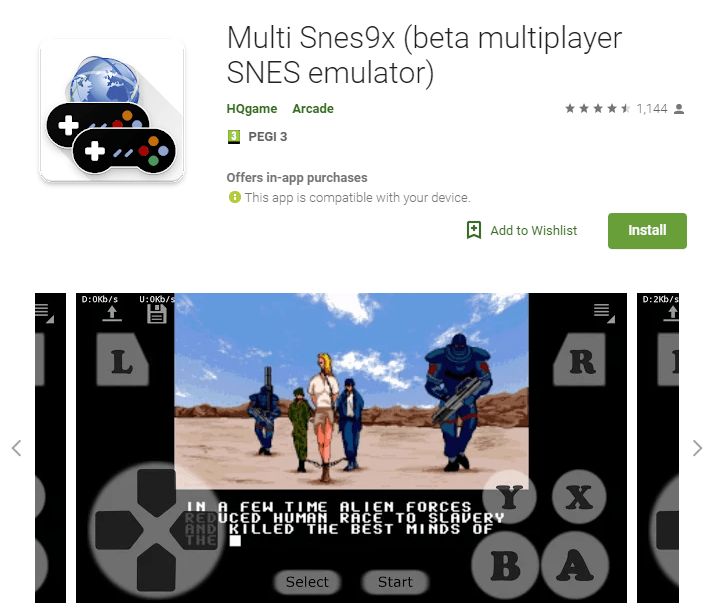 This emulator is a variant of the open-source emulator, Snes9x. It is the best emulator for multi-player games via online connectivity or using a LAN. You can also connect with other players locally through Wi-Fi or a router.
Using the emulator is very simple. However, the best part of the emulator is that it is packed with all the features such as on-screen controls, save and load, turbo mode for fast forward and text chat during a game. The emulator is also very stable once you get around to figuring out the minor issues with desyncing.
The only glitch you might find annoying is that the quality of the gameplay is reduced if you play as a guest. Some users also reported abnormal data usage while using this emulator, but we did not have a problem with it.
Pros
Great for multi-player games.
Online gaming feature is one of the best in an emulator.
A wide variety of features.
Effortless to use.
Cons
Quality of the gameplay is reduced while signed in as a guest player.
---
7. ClassicBoy (bonus! not for SNES)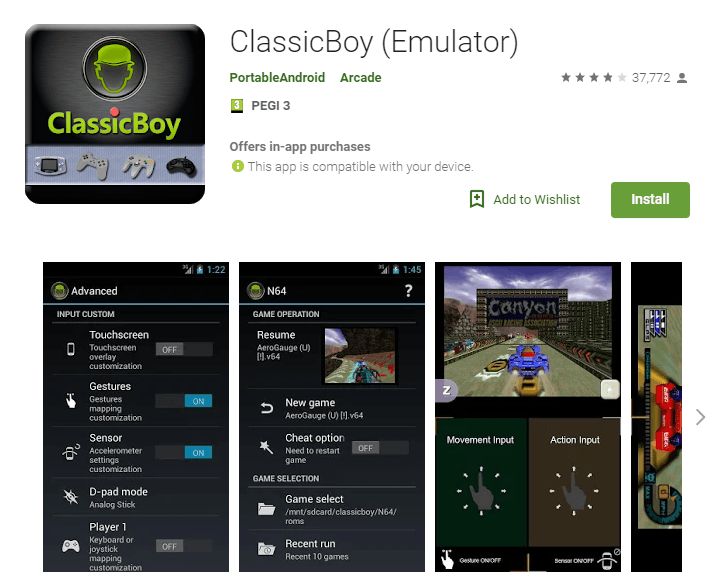 If you are looking for a sturdy all-in-one emulator, this is the one for you. It emulates all the classic consoles seamlessly. It has touch screen controls which you can configure to map out your setups. Upgrading the in-app allows you to also configure sensor tilts as well as gesture controls.
It supports external keyboards, and controllers as well as experimental profiles. It has all the features of a great emulator. You can also hook up a TV for the ultimate full-screen experience. Another great advantage of the classic boy is that it is portable so you can have a great gaming experience on the go.
On the flip side, ClassicBoy does not have a turbo fast forward mode which may irk some users. Also, if you love playing with your friends, linking devices to this emulator is not possible. So, you might want to look for some other emulator if you enjoy multi-player games.
Pros
Very stable and efficient emulator.
Can be configured to suit your needs.
Supports external keyboards and controllers.
It is portable.
Free for download on Google play store.
Cons
Does not feature a fast- forward option.
Multiplayer function is not available.
---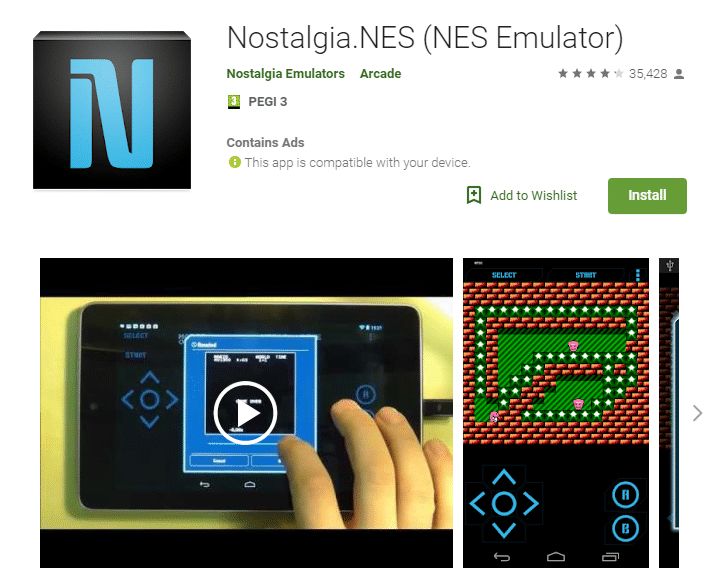 This emulator is also one of the best among the free versions. It has a user-friendly interface and is very easy to use. It comes with features such as to save and rewind. However, the emulator is ad-supported, so these features might not be available in some games unless you are online to support the ads. But the good thing is that ads do not pop up during the games.
The onscreen buttons can be configured, and you can use it both in portrait or landscape orientations. It features turbo-buttons, zapper emulation as well as multi-player options. The emulator does not support external controls, so you are pretty much restricted to your screen, which can be a bit awkward if you are used to playing with external controls. But using the on-screen controls becomes easy once you get the hang of it.
You can either download the free version on Google play store or pay for the Nostalgia.NES Pro. The pro version is free of ads, which is a great advantage. Unlike the free version, you do not have to be online to avail the full features of save, load and rewind, irrespective of the games you play.
Pros
User-friendly interface with solid hardware.
Screen buttons can be configured, which is excellent.
Supports portrait and landscape orientation.
Supports multi-players up to four in number.
Cons
Ads can be annoying, although they do not disturb the game.
---
9. MAME4droid (bonus! only MAME)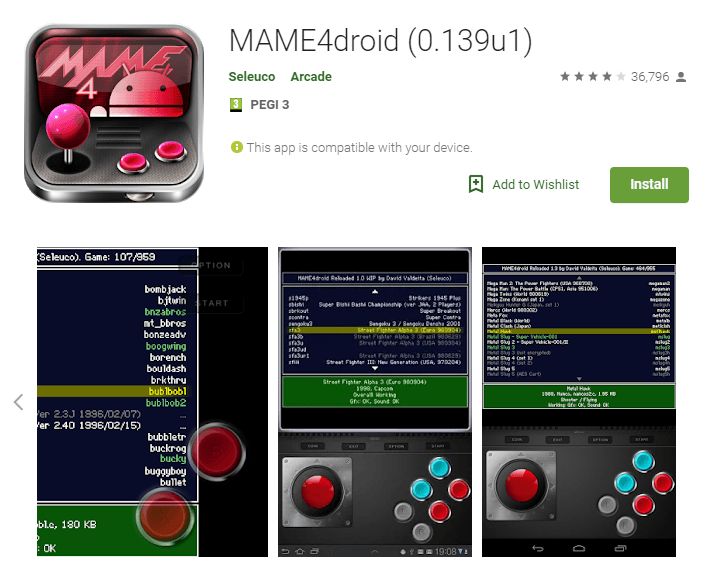 If you loved playing the classic arcade games like Double Dragon, MAME4droid is a great emulator. It supports a massive 8000 ROM sets which is impressive. With over two decades of successfully supporting the gaming world, MAME4droid is definitely a classic.
The emulator is compatible with external controllers, including Bluetooth and USB peripherals. It allows the users to use filters, overlay scanlines and CRT effects for the ultimate retro feel. The touch screen controls are easy to use, and so is the installation.
Just keep in mind that the emulator comes in two variants. So for Android gaming, you need to download 0.139u1 version. This is the latest version for Android, which will also give you better graphics and gaming experience.
Pros
Supports 8000 ROM sets.
Touch screen controls are easy to use.
Compatible with external controllers.
Free for download.
Cons
Some ROM sets do not run in the optimization stage.
---
10. 2600.emu (bonus! only Atari 2600)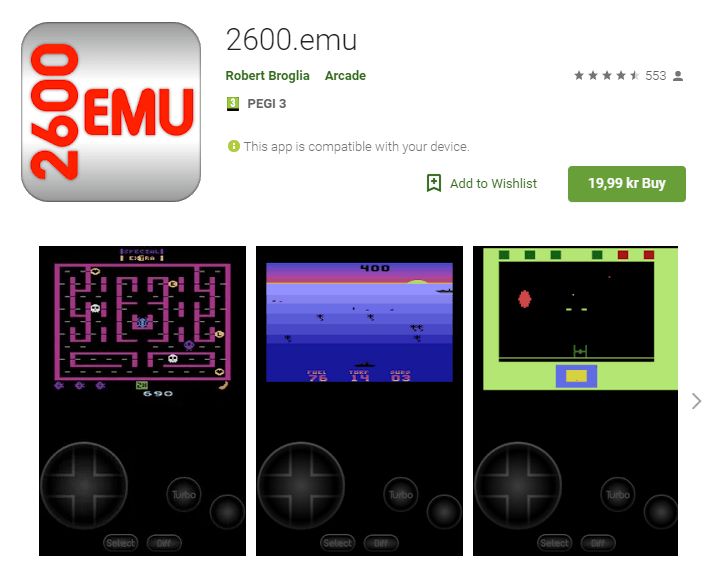 Although this emulator is not available for free, at just $2.99, it is a measly sum for the outstanding features it offers. Virtual keyboards which can be configured, supporting external keyboards and gamepads, smooth emulation and seamless user-interface are some of the great features of this emulator.
The emulation is one of the best from the .emu series from Robert Broglia till date. With smooth controls and compatibility, this is a great Atari emulator which will make you feel nostalgic playing the games you loved while growing up.
Pros
Supports external controllers.
Configurable virtual keyboard.
Outstanding emulation.
Cons
Minor issues with the sound card.
Not free for download.
---
Conclusion
This list of the best SNES emulators for android is compiled after extensive research. As is the nature of technology, some of the great emulators did not make it on the list as they were outdated. Others were no longer available on Google Play Store, which is why we did not include them on our list. The emulators on the list are currently available for download. If an emulator is not free, it is also mentioned.
SNES emulators are a great way to play retro games. It is still one of the best ways to enjoy video gaming without spending a fortune. It is also a great way to play the games which were considered OGs and relieve the memories of growing up playing games.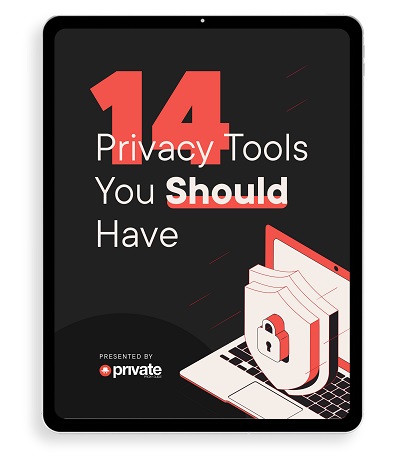 Learn how to stay safe online in this free 34-page eBook.