All of us computer and tech geeks have dreamt of starting a YouTube channel. While it sounds easy on paper, starting up and monetizing a YouTube channel takes a lot of sweat and tears. How about we turn to some shortcuts and make everything much easier?
In that case, we should buy a YouTube channel and make the whole start-up process a lot less tedious. Buying monetized YouTube channels is a pretty big trend in 2023.
What's more, this practice isn't very expensive, yet, it gives you the perfect groundwork for starting your YouTube career.
By buying a monetized channel, you can immediately start making money on the side instead of building a foundation from the get-go.
Believe it or not, there are countless websites where you can buy YouTube channels, and today, our task is to present them to you.
1. Best Places for Buying YouTube Channels: Our 10 Favorite Websites
Buying YouTube channels was never this easy. With the websites that we're going to present, you can do so with a single click of a mouse, and get a fully-monetized channel to kickstart your career on YouTube.
Without further ado, here are our favorite places to buy YouTube channels in 2023: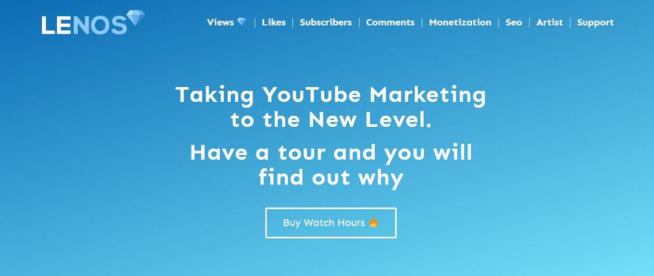 Kickstarting your YouTube career is pretty easy with Lenos. This platform lets you purchase YouTube channels that are already monetized and have more than 4,000 watch hours along with at least 1,000 subscribers. Sounds good?
Well, wait till you hear this. Namely, Lenos offers you the option to buy a channel related to your niche. For instance, if you want to make a tech channel, you can opt for this niche and get the channel for as low as $390, which isn't at all expensive.
After all, the channel monetization starts in about 3 to 7 days, so you'll get your money's worth very quickly. We like that Lenos also takes care of licensing rights. This means that any photos, soundtracks, or videos are immediately licensed and you can use them right away.
If you want, you can get a so-called extra video production for an additional $100. Here, Lenos will give you 4 new videos that you can upload on the channel, with original licensed footage and music. Regardless, upon purchase, you'll get a YouTube channel link in two to three days.
After that, you're free to use it as you will and make the most out of it. Lenos is really simple to use, yet, it offers a lot of options for those more demanding. Therefore, it's easily the best place to buy fully monetized YouTube channels.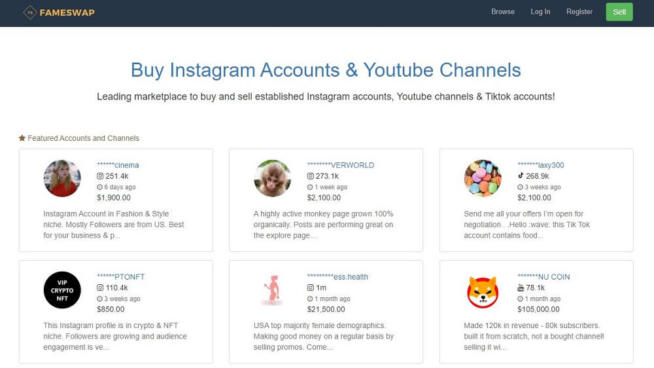 Another good choice is Fameswap. This platform lets you purchase Instagram and YouTube accounts with a click of a mouse. However, we like how comprehensive it is, as you can see all information about the channel or account that you're purchasing right away.
You can see the subscriber count but also the revenue of the channel, which will surely impact your decision. Not only that, but the platform allows you to sell your own channel if you want, should you decide to quit your YouTube career.
Unlike Lenos, Fameswap doesn't have flat fees for channels. Instead, it's a marketplace where users can register and sell their channels for a custom price. As such, Fameswap lets you contact the seller directly, ask about the price, and do all your negotiations.
Fameswap is very secure as well, and online, you'll find tons of positive opinions about the site. It also offers YouTube channels for pretty much every niche you can think of. Some of them include gaming, reviews, beauty, cars, nutrition, and many more.
With the ability to filter the channels by subscriber count but also monthly revenue, you can purchase the channel exactly to your needs and financial possibilities. The same, of course, applies to Instagram accounts, in case you're looking to expand your online presence.

AppSally takes a bit different approach compared to Fameswap and Lenos. It allows you to buy YouTube channels but separately from their monetization. Instead, you need to buy the monetization package afterward and in two business days, AppSally will have everything ready for you.
Most likely, you'll want to buy both of these in one package. However, AppSally is all about customization and freedom. This means that you can buy the monetization package even for your own channel and monetize it instead.
Not only that, but AppSally is extremely easy to use and has great prices that vary depending on what you're looking to buy. This also applies to its overall social media services that are offered for many other social media platforms, and not strictly YouTube.
An important thing here is customer support. AppSally is always there for you in case you need any help with your YouTube channel. They can help you boost engagement, for example, and make your YouTube channel more profitable.
If you need an all-around service not only for YouTube but other social media outlets as well, AppSally is a great choice. By the way, aside from PayPal and VISA, it supports Bitcoin payments, so you can expect the maximum level of security here.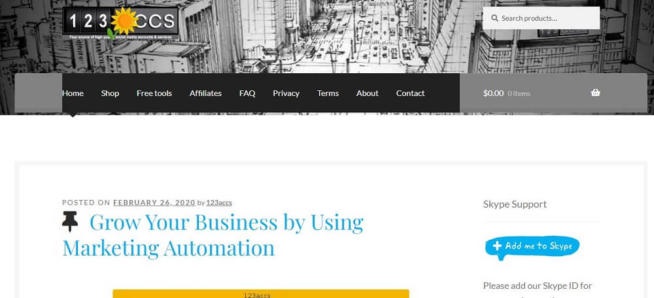 Unlike Lenos, 123accs doesn't actually offer monetized YouTube channels. Sure, you CAN buy YouTube channels here but because they lack monetization, you can expect a lot cheaper prices. 123accs is very easy to use, by the way and offers accounts on many other social media sites.
Here, the focus is on packages. For example, each package offers 5 accounts on platforms like TikTok, Reddit, YouTube, Gmail, and others. The package of 5 fresh YouTube accounts costs around $12.75 which is very cheap for this kind of offering.
Note that all accounts are phone-verified, so you won't have any trouble logging in. However, you should also keep in mind that 123accs doesn't allow for additional customization. You can't choose the niche or subscriber count.
Instead, you get 5 channels with no monetization and it's up to you to decide how you can make progress. The website is pretty transparent as well, so it'll explain everything you need to know before making a purchase.
While not the best place to buy YouTube channels from a technical standpoint. It does offer the cheapest prices on this list, so it's a good place to start for those on an extremely tight budget.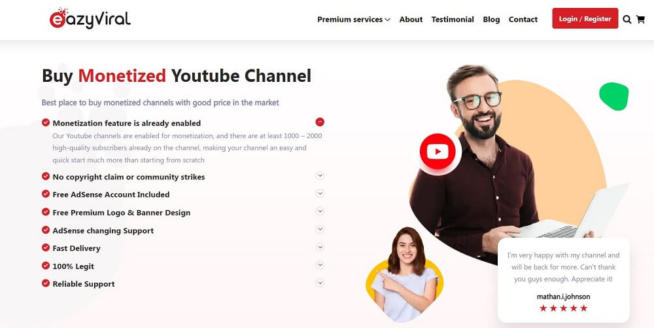 EazyViral offers all you could ask for and comes with some amazing options for purchase. For the start, it does offer monetized YouTube channels and they come in two variants – those with bots and with organic channels.
You most likely won't buy the first ones, although, they're a great gateway for further organic growth. Those interested in organic channels will surely find what they need. On EazyViral, it's easy to buy channels with 4,000+ hours of watch time, along with 1,000 to 10,000 subscribers.
Moreover, you can expect all channels to be with no copyright strikes, and with monetization turned ON, you can start making money right away. The prices aren't the cheapest, though. While the bot-based channel will cost from $290, the organic one starts at $580.
Of course, the price can increase based on many factors, so it all comes down to your budget. Other than that, EazyViral offers great customer support and other incentives that make it a great option. One of them is buying a package of several monetized channels at very cheap prices.
For instance, you can get 5 boosted monetized channels for just $1,100 and that is pretty affordable for what you get!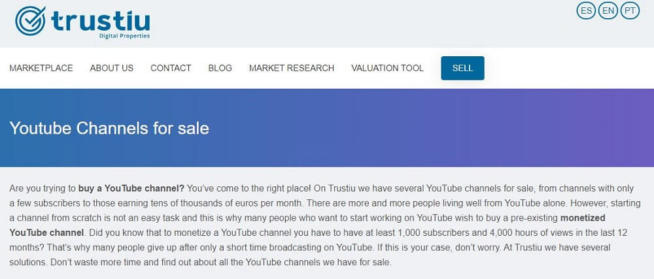 Trustiu is a place for buying and selling digital properties. Thus, you can expect to find all sorts of YouTube channels and other accounts that people online put for sale. On this site, you can even sell your own channel if you want, but beware that Trustiu accepts only high-quality ones.
For that reason, you'll find that the prices on this site are a bit higher. However, on its listing, you'll see channels that cost more than $1,000 or even $20,000 with at least 100,000 subscribers. I also like that you can see their monthly revenue but also the niche they belong to.
This makes it extremely easy to purchase a channel tailored to your needs. Beware that Trustiu offers channels in different languages, too. If you don't speak English properly, you can get channels from Spain, Portugal, France, and other countries, making for a fully customizable experience.
All the required info for purchase is here. You get screenshots, full stats, and even a reason for sale. Moreover, Trustiu lets you contact the site for more info and if needed, they'll connect you with a seller for further negotiation.
Their customer support isn't the fastest but at least, you get a decent blog and free valuation tool for determining your channel's worth.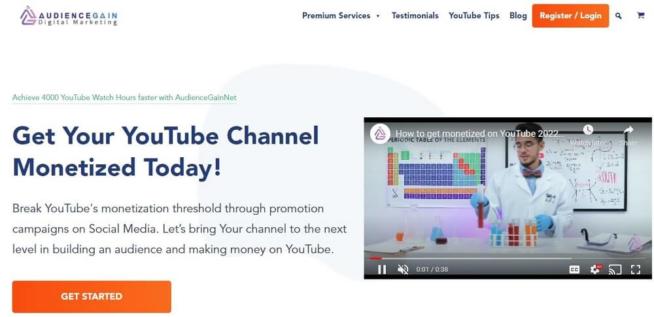 Audience Gain is a great choice for people looking for monetized YouTube channels and to boost their existing channels. You see, Audience Gain focuses on excellent customer support through live chat that they advise contacting before making a purchase.
Here, you'll be able to decide on the package you want easily. Audience Gain offers options like botted monetized YouTube channels that start at $230 per channel. Also, there's the option to buy an organically grown channel at just $490, which is really affordable.
Moreover, the channels can be further improved by buying watch hours. 1,000 watch hours will cost you $49 and these views are suitable for YouTube Partner Program. What I like is that Audience Gain automatically attaches an AdSense account to the YouTube channel you buy.
This account is tailored to your country so that you can easily make money from ads and withdraw it legally. Unlike other choices on the list, Audience Gain offers a refund policy. If the site can't complete the order in time or causes any negative effects on the channel, you get a FULL refund.
This makes Audience Gain a risk-free option with no fear of losing money or channel. With the ability to get full reimbursement, you can test it out easily and see if it's your bag of beans.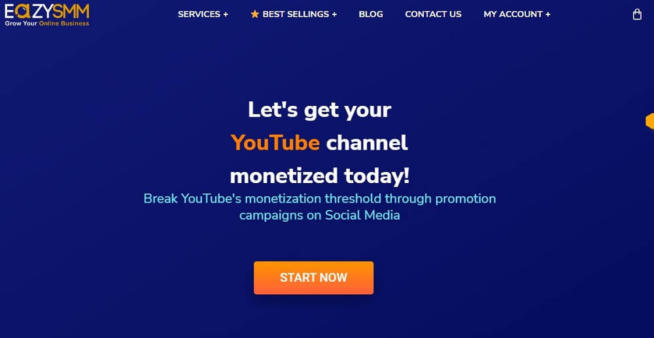 EazySMM offers pretty much all available options for buying YouTube channels. I mean, you can buy monetized channels for as low as $369 and start earning money right away. However, EazySMM has the option of buying aged channels, YouTube views, and so much more.
Needless to say, the site offers you full support in customizing your channel. You can even change your niche to the one you like without affecting your channel's engagement. Not to mention that all channels are copyright-clean, meaning that every bit of material is yours to take.
Once you buy the channel, you'll get 4,000+ watch hours along with 1,000 real subscribers. EazySMM allows you to expand that and buy real views, likes and comments to increase the overall engagement. Simply put, EazySMM is all about organic growth which is more profitable.
Purchases are quick and easy on this site. It supports credit cards as the main payment method and every payment is processed in about 2 business days, after which, you'll get the channel. To top it all up, EazySMM offers 24/7 live chat support.
As such, getting the required help will be a breeze, even if we're talking about more complex issues that shouldn't appear.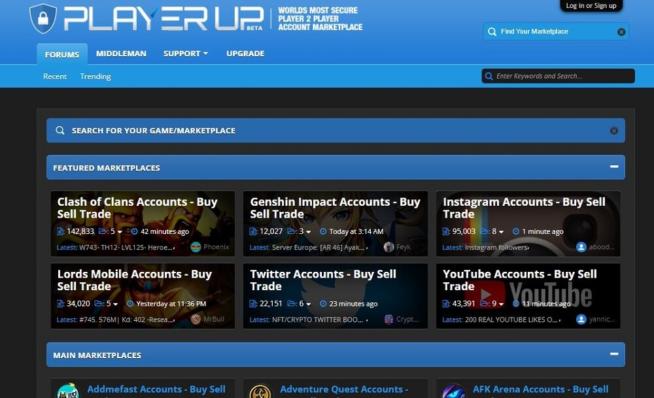 PlayerUp claims to be the world's leading digital account marketplace. Having in mind its huge offerings, that probably isn't far from the truth. PlayerUp functions by offering accounts for different social media sites, platforms, and gaming portals.
Buying YouTube channels is only a portion of the site, albeit a big one. Here, users can make an account and buy or sell accounts at custom prices dictated by the sellers. Therefore, you can find channels for as cheap as $75 but also those more expensive that go well above $2,000.
Pretty much all channels are monetized here, so you can expect 4,000+ watch hours and hundreds of subs from the get-go. Moreover, PlayerUp functions similarly to a forum, so you can click on the channel you're interested in and see more relevant information.
Users can comment on the offerings, ask questions, and get in touch with the sellers effortlessly. Simply put, this is an open market, so the website isn't as involved in the purchase as it's the case with Lenos or AppSally, for instance.
However, if you need a good selection of monetized YouTube channels, know that PlayerUp will give you that, along with an easy-to-use interface, stellar support, and SSL-secured purchases.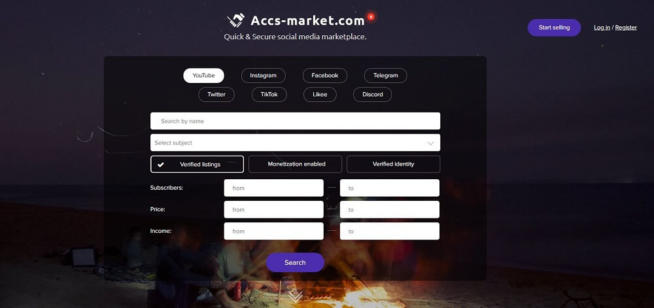 Similar to some platforms on the list, Accs Market lets you buy accounts of all types. A big part of this website is Facebook accounts, but as you can guess, its YouTube accounts can also be purchased. Furthermore, the site allows for comprehensive filtering, making purchases easier.
You can filter the channels by the number of subscribers, price, and even monthly income. Accs Market lets you buy both non-monetized and monetized channels, as well, so you can get exactly what you want. Needless to say, choosing the niche is mandatory here.
If you want a channel about gaming or sports, you can get one for a relatively affordable price. Of course, the price depends on the seller, but usually, we're talking about starting prices of around $200, although they can increase to $1,000+ easily.
We should point out Accs Market's safety. All sellers must pass stringent verification processes and all payments are SSL-secured. You can sell your channel if you want, in which case, passing these processes is a must.
Accs Market has a good reputation online so you can be sure that purchases made here are with peace of mind.
2. In Summary        
As you learned today, there are many places to buy YouTube channels online. With this ability, you can always get a channel with monetization enabled that will set you straight on the path to success. Thus, you can bypass the long and boring way of gaining the required views and subscribers.
We recommend Lenos as the best place to buy YouTube channels. However, all other choices on this list are verified and tested by our team, so you don't need to worry about their validity. Once you evaluate all options on the list, it'll be easy to choose the one according to your needs.
3. Buying YouTube Channels FAQ
3.1 Is buying YouTube channels considered illegal?
The main question when buying YouTube channels has to do with the legality of this process. And, as you can guess, there's nothing illegal about it. As you can buy a company, property, or any other entity, you can also buy YouTube channels from people selling it.
Websites like Lenos, Fameswap, and the others on the list are legal and can be easily located via a simple Google search. These websites didn't have any legal issues, especially because they legally sell all of the channels.
Not to mention open markets like PlayerUp, where you can personally sell your account to the highest bidder. As long as you stick with verified sites like the ones we talked about, you will not have any issues. Although, I'm sure there are many similar sites with a terrible reputation that you should avoid.
3.2 Why should I buy a YouTube channel?
In 2023, making a YouTube channel isn't as easy as you think it is. You can do so, and start recording and uploading videos, but without much knowledge, you won't go very far. Because of this, people often buy YouTube channels to be able to progress faster without wasting many hours of work.
For example, your channel can get monetized only after 4,000 watch hours. If you think about it, you'll figure out that it's quite a LOT. Undoubtedly, this takes a lot of work in the first place, so it's better to buy a YouTube channel with 4,000+ watch hours and enabled monetization.
By doing so, you can start uploading your videos and monetize them from the get-go, without doing the work that would take a year or more.
3.3 How much will I need to pay for YouTube channels?
This question has an answer that many people find infuriating – it depends.
YouTube channels have many factors that impact the price. It's important how many subscribers and watch hours it has, but also whose channel it is, how many videos it has, is it monetized, are there any copyright strikes, and so on.
On the websites we gave you, you'll find the channels that cost way below $100. These channels usually aren't monetized and don't have many subscribers. Monetized channels start from around $200 or so, but they can cost thousands of dollars.
It's also important if the channel is botted or grown organically. Botted channels will cost less, while organically-grown channels are more expensive for obvious reasons. Another important factor is the monthly revenue of the channel.
If the channel makes thousands of dollars a month, it will cost thousands of dollars. Conversely, channels that make less money or no money at all will cost a few hundred dollars.
3.4 My YouTube channel isn't delivered after the purchase – what should I do?
When buying YouTube channels, it's important to realize that your purchases might not be instant. The sites we presented usually deliver the channels in 12 to 48 hours, but that period can sometimes be longer.
If you're waiting for 24 hours and you nothing happened, you probably shouldn't worry. There are always exceptions to the rule, and due to potential complications, the delivery might be slower.
Audience Gain, for example, has a money-back guarantee. So, if you don't get your channel in time or you don't get it at all, they'll give you a full refund and you'll lose nothing.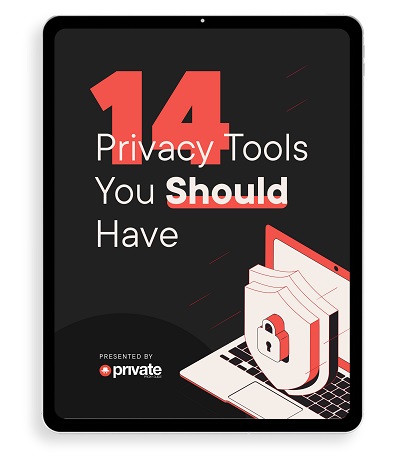 Learn how to stay safe online in this free 34-page eBook.