Trusting someone without a blimp of doubt is not a sensible thing in this fast-paced world. You need to be sure of things when time warrants it. More often than that, trust your instincts; intuition doesn't lie, as Oprah famously said in an interview. It is almost impossible to trust your partner, child, or loved ones without having a smidgen of reservations. In these times of the Internet and technology, everything is connected to smartphones in one way or the other. You can find out a lot of information and their general being by peeking into their cell phone.
Whether it is an unruly child or an unfaithful significant other, accessing their smartphone can unlock many secrets and information they are not sharing with you. Installing software can send a big red flag of caution their way, and they might hide or delete the information you are looking for.
1. Need for spying
There can be hundreds of reasons for spying on someone's phone but let's look at the most common ones.
When you need to keep track of your kids at all times, as they are away in college, school, or in a recreational activity with friends. Parents cannot stop worrying, and the easiest way to combat this is by knowing where your pupils are at all times.
Spouse, significant other, or someone close is not usual and gives an off vibe? You can put on the detective glasses and see what is up by spying on their phone. Be sure and clear all your doubts by having a closer look at their digital and online activities.
You are spearheading a team of professionals on the field and could use some tracking to ensure they stay on the project objective. Ensure that by spying on their smartphone without them ever knowing. This way, no one will be at their best behavior and activities just because of a pair of eyes watching them.
2. Spy on Android using different tools
This comes into play when the target smartphone is Android. It opens default avenues of tracking the person's location without requiring any service or installing an application on the phone.
2.1 Android Device Manager
You must be familiar with this, as the Android device manager is installed on every phone with the Google OS, irrespective of the manufacturer or brand. This will not provide access to sensitive information on the target phone but helps track the location, make it ring, lock the phone, or even erase its data.
For this to work, you will need the Google account credentials of the target Android phone. Gather them by making them log on to the account on the computer under a pretense. Make sure that they don't log it out.
Visit ww.Google.com/android/devicemanager
When you are logged in, it will show the location of the phone, last seen when connected to the Internet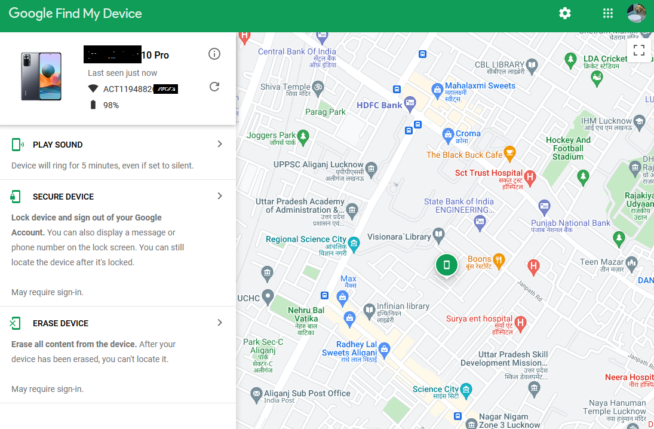 Note: The target phone may get a notification of the phone location being called, depending upon the user's settings. Therefore proceed with caution on this one.
2.2 Your Timeline by Google
This method also works similarly to the Android device manager. Real-time location is not available here, but it shows where the target phone has been while with the mobile data or GPS  turned on or a combination of both.
Head to the Your Timeline in the Google Account's privacy tab to find the map with pins of the target person's location carrying their Android smartphone.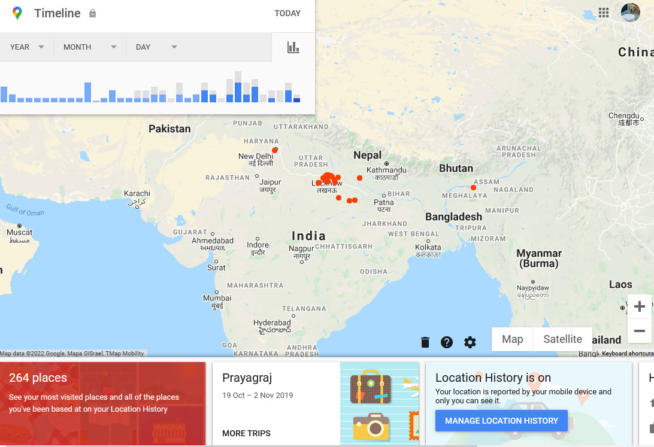 It shows the detailed location history of different devices using the same Google account for several years.
Apple offers the Find My iPhone service on their phone. It involves many steps, and the Find My iPhone option needs to be enabled on the phone before accessing it using the iCloud login.
3. Remote cell phone spy software without target phone
The earlier mentioned methods offer limited options and do not provide access to private information activities on the smartphone. You can rely on professional monitoring tools to track cell phones and find intimate details without the person in question ever finding it out.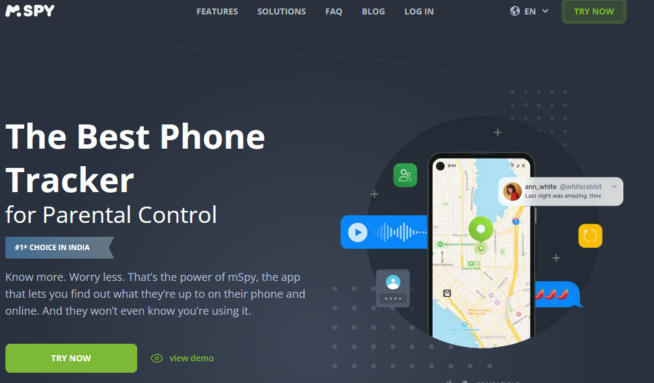 Here we start with the pioneers in the field. mSpy is one of the leading cell phone trackers who does the job without getting caught. The most comprehensive phone-based spying is possible using their tool. mSpy doesn't offer a free trial, but you can get a peek at how things look on your end through their demo page.
You will need to install an app on Android, which is very straight. For iOS-based devices, you need the iCloud credentials, and physical access is required for 2FA settings.
Pros
See what's being typed using the keylogger on the phone, which can benefit. See everything typed on the phone, browsers, apps, and messages. Everything will be visible to you on the dashboard.
View conversations on different apps such as WhatsApp, Kik, Telegram, Snapchat, Skype, and more. The messages appear in a usual fashion, like you are looking at someone's phone in real-life.
Receive notifications when the target phone is in a marked location zone. Also, monitor how often the targeted zone is visited over a period.
Monitor who the person is talking to, for how long, and the number of times. Get details on timestamps, durations, and the incoming call notifications.
Track the current location of the target phone and hence its user. Also, see the history of locations the person has visited. The location includes coordinates and local addresses.
See the social media conversations in real-time through screen recording, which captures the screen on any app on the phone.
View photos and videos on the device, with the timestamps, view date—all of it from the control panel itself.
Cons
mSpy doesn't provide tracking for Instagram or TikTok apps. The messaging option here is often used as the primary mode of communication online.
Using the tracker on iOS is hectic. You need to log in every 14 days and require Apple account credentials.
The support is paid here and very limited on the default premium plans. You will need to shell out an extra 50 for dedicated support that works.
Pricing
The premium monthly plan starts at $48.99/month, but when you subscribe to an annual plan, it costs $11.66/month. It is slow and requires a rooted device.
On the other hand, they also offer an Ultimate bundle that includes all the features mentioned. It will set you back by $407 for a whole year. The bundle also has Level 2 of mSpy support.
eyeZy has caught the eye of many who are looking for an alternative to mSpy. We get the hand of AI, which helps monitor the activities and keep in the loop when necessary. They support a wide range of devices, and you can use their compatibility to check whether a specific device.
For iPhones, you will need a jailbroken device for using the eyeZy tracker. Android works fine without a root. You can either create an account or rely on the Google account for signing up.
Pros
A customized dashboard with special attention to detail. The birdseye view is available on the home page, which shows every data in a nutshell. With a large amount of data collected, it is vital to have clean data representation.
Screen record works automatically, which takes a screenshot every time an action is triggered.
Find and check files on the target person's phone within seconds of logging into the dashboard. Search for them in the section and see them categorized according to formats.
See all the browser bookmarks, which are in addition to accessing the history. See which page is saved with their title.
Monitor target device's battery, WIFI strength, and more on the dashboard home screen.
The keylogger here shows typed words and characters by different apps, which comes in handy in understanding the whole picture.
Block applications that will not work on the target phone and cannot be reinstalled to unblock them.
Cons
It gets expensive as you add more devices to the plan.
The Android devices are to be rooted for using the keylogger.
Using action-based features requires technical know-how.
Pricing
There is a lone line of pricing here, which is for a single device, starting at $9.99/month when subscribed annually. Their pricing varies depending upon the region, with the developing markets enjoying a significantly cheaper subscription model.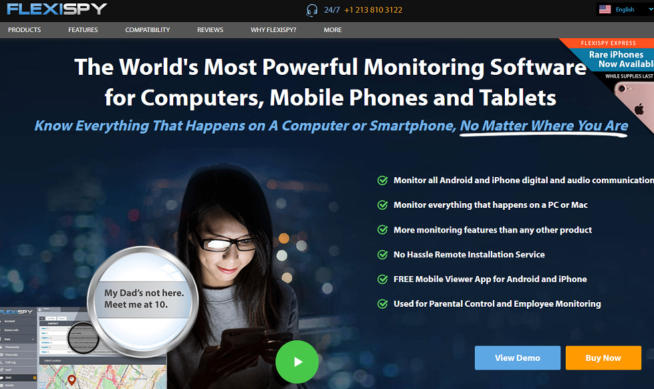 At the last leg, we have FlexiSPY, which can spy on any device, including computers. Along with software, they also offer custom phones with the monitoring device pre-installed. The phone models include the latest iPhones and Samsung Galaxy offerings.
You can check the demo by heading to the page on clicking on the login button. If you encounter an issue, take the help of the live chat support, which is prompt and polite.
Pros
Send spoof SMS from the target phone to any contact or number of your choice. Impersonate as a target user and communicate with others.
Listen to a call in real-time as it happens. Specify a set of numbers for which you will get notified for listening. If you miss the call, there is always an audio recording that you can go through.
Record Facetime and Facebook calls, access the calls logs them. The former is available for iPhone only. Record these calls and access them on your device using FlexVIEW.
Remotely uninstall or deactivate the tracking software on the target phone when a situation arises. This way, you can be assured of keeping the tracker on the phone without anyone finding out about your spying goals.
Listen to the phone's surroundings, using Spycall. Call in the number of the target phone, and it will let you listen to what's happening around you without the target phone user ever finding out. This comes in handy when the tracker is installed on one child's phone, and you can be sure that the little one is safe.
When you have purchased a basic plan in the past but want to upgrade to a more comprehensive plan, it's a click away. The updates to the tracker on the phone will be remote without requiring physical access.
Get notified when the SIM is changed on the phone. Find out if the employer, child, or a closed one uses multiple SIMs.
Cons
Most of the useful monitoring features require jailbreak or rooting of the device.
No notification feature for geo-fencing when the target person visits a restricted area.
The call recording is expensive as the top-most plan includes that.
Pricing
| | | | |
| --- | --- | --- | --- |
|   | LITE | PREMIUM | EXTREME |
| Pricing (annually) | $29.95/mo. | $68/mo. | $199/mo. |
| Phone Call Recording | No | No | Yes |
| Geo-tracking | Yes | Yes | Yes |
| Social Media Apps Monitoring | No | No | Yes |
| Keylogger | Yes | Yes | Yes |
| Browsing Activity | Yes | Yes | Yes |
| Hide Jailbreak | Yes | Yes | Yes |
| Dashboard Alerts | Yes | Yes | Yes |
| Spoof SMS | No | No | Yes |
4. Cell phone spying FAQ
4.1 Is it possible to spy on an iPhone without jailbreak?
Apple has worked meticulously over the years to ensure that iOS becomes a benchmark and champion of privacy security. The apps cannot perform any activity without the user's consent. Therefore you need the jailbreak for getting off these shackles, and the monitoring job does its job in peace.
4.2 Are our free phone trackers reliable?
You can get started with free phone spy software, but it isn't easy to get mileage out of them. You hit a wall sooner than later. Besides that, there is no dedicated support for taking you through the difficult path when you hit a roadblock—tracking Services such as eyeZy offer flexible pricing with respect to the region.
4.3 Is the Internet required for tracking the location?
It is mandatory for spying trackers, which solely rely on mobile Internet for teaching the location. You can use trackers that either use a combination of data and GPS or the GPS itself in dire situations to track the phone in question.
4.4 Can we spy on someone's phone without installing anything?
That would be amazing, but it is not possible unless you are a Government agency with all the spying tools at your disposal. Therefore, you need to physically install it once on the target phone for monitoring and spying.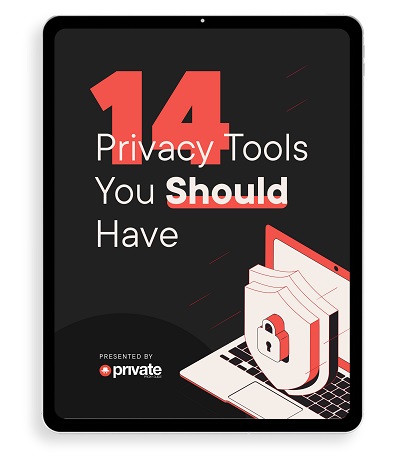 Learn how to stay safe online in this free 34-page eBook.