If you use one of the bigger cloud storage providers like Dropbox, OneDrive, Google Drive, and others, you must know how important it is to keep your files secure and your data private. Even though more cloud storage providers that emerge offer encryption like zero-knowledge encryption, many of the top players in the market still didn't introduce this feature. This is where software like Boxcryptor comes into play. We crafted this Boxcryptor review to show you how you can keep your private files secure both online and offline.
Boxcryptor is Germany-based software that allows you to use end-to-end encryption to secure your files. You can connect it to your preferred cloud storage, or use it locally to protect some sensitive files you may use. It comes with various bells and whistles, and the best part is that its basic version comes free.
There are a lot of file encryption services, but many come with their limitations. We found that Boxcryptor may be more suitable for both individuals and teams in smaller to larger businesses that want to ensure the confidentiality and security of files they exchange. We crafted this Boxcryptor review with a focus on encryption and security of files both online and locally on your computer.
Continue reading this article to learn more about this interesting software and how it changes the encryption and security market daily. After reading the article, you'll be able to decide whether you or your business need this software and whether you can benefit from it or not.
1. Boxcryptor Review – Verdict
Boxcryptor is a must-have tool for everyone working with sensitive data like customer credentials, passwords, and other confidential information. It's available for free, and the plans have approachable price tags. The individual plans offer a lot of features, especially the business plan that gives you a license to use the software commercially.
Depending on the plan you picked, the customer service may be lacking, which is the only drawback of this tool. Whether you are a student who needs a powerful password manager or a business working with customer data, you can easily use this tool and connect it to the top-player cloud storage providers.
| | |
| --- | --- |
| Pros | Cons |
| Sleek interface | Limited customer support |
| Desktop & mobile apps | Only yearly plans of payment |
| Boxcryptor Teams option | |
| AES & RSA Algorithms | |
| Two-factor authentication | |
| Cloud storage integration | |
| Flexible Pricing Plans | |
2. What We Like About Boxcryptor
2.1 Interface
Boxcryptor is available in different forms – web, desktop, and even mobile. Below, you'll see how each of the functions of the version.
Web
The web app rather has the purpose of registration and purchasing in case you want to buy the premium versions. Most of the encryption is done through the desktop and mobile apps. Nevertheless, all the important settings are located on the web. You can refer a friend and get rewards, change your password, and other personal information.
You can also use the web version to set the two-factor authentication and use the authenticator. Additionally, the web version will allow you to take track of your devices so you can use it to add different computers, tablets, and smartphones and control which one you no longer want on the list.
Finally, if you want to add more than one user to your Boxcryptor account, you'll be able to subscribe to the Boxcryptor Teams feature, which has moved to the web for practical reasons. But, more about that later.
Desktop
The desktop app has such a design that allows Boxcryptor to work inside the file explorer. It's not difficult to grasp, but it may feel unusual for people who didn't use this kind of software before. If you want to encrypt the files locally, you can open the Boxcryptor settings and add the folder route where encrypted files will go.
If you have a cloud storage desktop app on your computer, Boxcryptor will detect it automatically, and allow you to connect to it.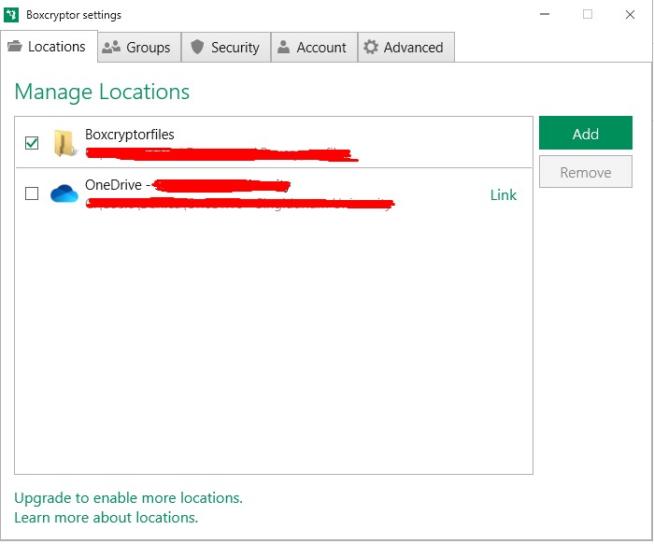 Other than that, the interface is incredibly easy to get used to. The straightforward tools and settings will allow you to quickly set preferences and protect the files you don't want others to access. Although it is primarily used for cloud storage file encryption, it can also be used with local files.
Another thing worth mentioning is that Boxcryptor offers a web client for people who can't download the desktop app and is best suited for Linux users. It's called Boxcryptor Portable and once you download it, the app will open in a new tab of the browser you use. All you have to do is sign in and connect to the cloud storage.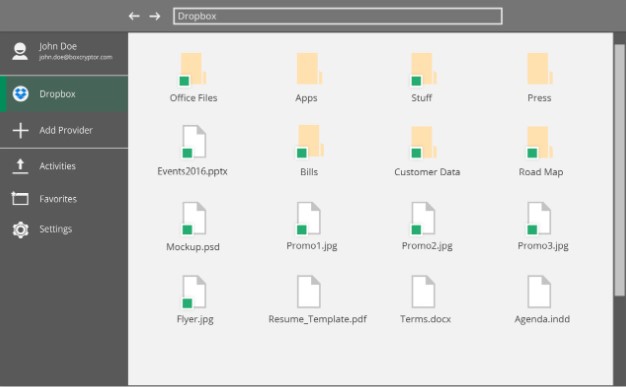 Mobile App
The desktop app also integrates with the mobile app which is available for iOS and Android devices. The best part is that the majority of things that you can do on a PC can also be done easily on phone. Whether you're using a phone or a tablet, you'll be able to easily decrypt and encrypt the files you need to be secure.
Also, if you use cloud storage on your mobile device, rest assured you'll be able to link it to the Boxcryptor mobile app, making the overall user experience straightforward, intuitive, and easy. All files can be encrypted using the AES-256 protection.
2.2 Boxcryptor Business & Teams
If you own a medium to a larger business, Boxcryption Teams would be the best investment to protect your files. However, this feature isn't available in the free option. The starter business plan was made for smaller businesses while others are more suitable for a larger businesses.
It's also worth noting that Boxcryptor for personal use can't be used for commercial purposes, so if your ultimate goal is encrypting and decrypting files for commercial use, you'll have to subscribe to one of the business plans.
It's worth noting that the business option is only available to one user. If you want multiple users to benefit from encryption, you'll have to invest in the "Teams" plan. Within this subscription, you will get an Active Directory where multiple team members can contribute. Additionally, you'll also be able to integrate Microsoft Teams and get better policy management.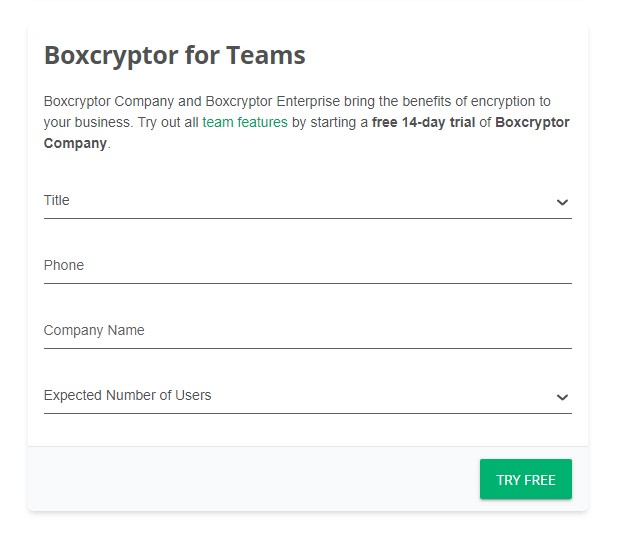 2.3 AES & RSA Encryption Service

Much entry-level encryption software focuses on only one encryption protocol. But, in the wake of intense cyberattacks and more sophisticated threats online, we know that one protocol never suffices. Instead, Encryptor utilizes both symmetrical and asymmetrical encryption.
That means that you can encrypt sensitive files using AES-256 and RSA-4096 encryption. This is how it works; Once you provide files to Boxcryptor for encryption, it'll use a hash of your master password and then encrypt the files on your PC or cloud storage with the AES-256 algorithm.
However, the AES key leftover needs to be encrypted for additional security, which is then encrypted using the RSA algorithm and then pasted onto the files. It's worth noting that unlike the AES algorithm, which is symmetrical, RSA will allow more entities to decrypt the file, and thus they will have their own private keys.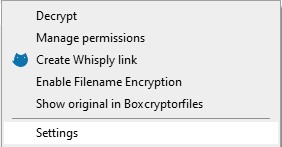 If this is the first time that you're using encryption and decryption software, make sure to always keep all the private information to yourself. If the files you're trying to encrypt are confidential, then the master password you create shouldn't be shared with anyone you don't want.
Never give away the decryption keys, especially to people on the forums, blogs, and different comment sections. As long as you store it in a secure place, you'll be able to reach out to your files and access them without a problem.
2.4 Two-Factor Authentication
Another important benefit of using Boxcryptor includes two-factor authentication (2FA.) If you feel like your files are not securely stored yet, this additional layer of security will wipe away all your worries. This feature is available for both Windows and macOS users so that in case you lost your master password, you can protect yourself and the files that hold confidential information.
There are two ways to do it. You can either choose a security key to protect the files or set up the Authenticator app that will protect your files even from yourself. The authenticator may be a bit harder to set up, but it's definitely worth it if you want to ensure that no one will access your files. Keep in mind that if you lose the necessary key for the authenticator you won't be able to access your files.
This is a great feature for people who use Boxcryptor to manage their passwords, important company reports, and everything else confidential. It gives the freedom to users to set up the level of security they want and sleep soundly knowing no one will be able to access the files they don't want anyone else to see.
2.5 Cloud Storage Integration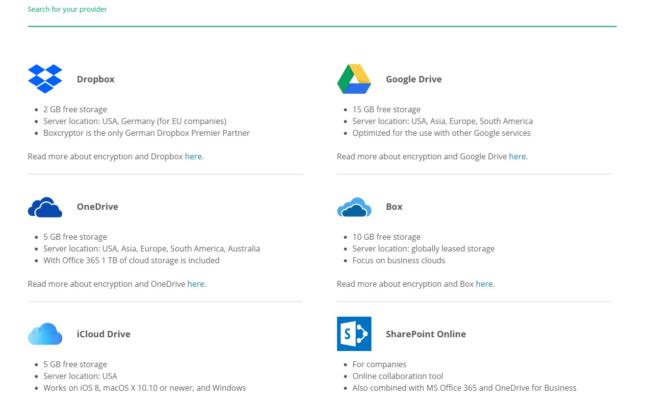 While Boxcryptor can easily be used with local files and storage options, it's no secret that pretty much all serious businesses, as well as individuals who share a lot of data, utilize cloud storage. There are many cloud storage providers on the market, including Microsoft, Google, Dropbox, and others. The best part is that Boxcryptor offers integration with those providers.
On BoxCryptor's site, you can search all the popular cloud providers and choose the preferred ones. That being said, if you use OneDrive, Dropbox, Strato HiDrive, or others, you can connect them to the Boxcryptor app.
There are more than 30 providers to choose from, although it's a bit disappointing that some options are not available to choose from. You'll likely find cloud providers that don't come with the zero-knowledge encryption, as those that have it likely won't be found on the list. Dropbox doesn't have it and is listed as Boxcryptor's premium partner.
Our favorite part about Boxcryptor cloud integration is that you can encrypt the data located across different clouds simultaneously. More importantly, you can even encrypt the data that is located on USB drives, as long as they are connected.
2.6 Flexible Pricing Plans
Boxcryptor comes free of charge when it comes to its basic functionality and features. That way, any individual can use Boxcryptor for personal purposes, unless you pick the Business plan or choose one of the options for teams and get to use the software for commercial purposes.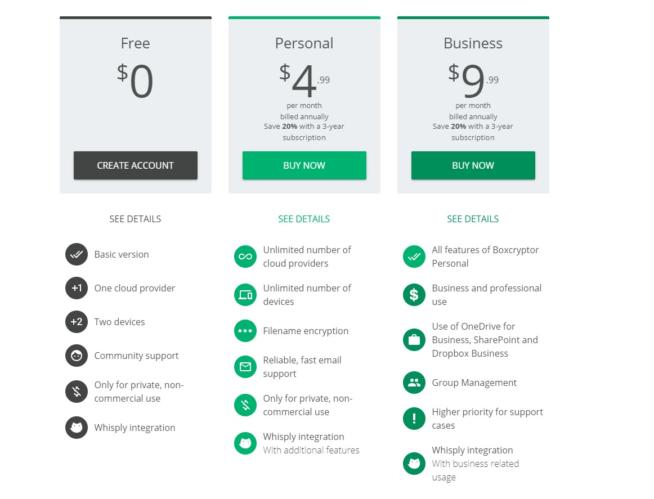 The free deal gets you to access Boxcryptor using one cloud provider, and two devices, and you get community support. All plans get to experience the Whisply integration, which is why so many people fall in love with this tool. The other plans from the personal batch include:
Personal ($4.99)
Business ($9.99)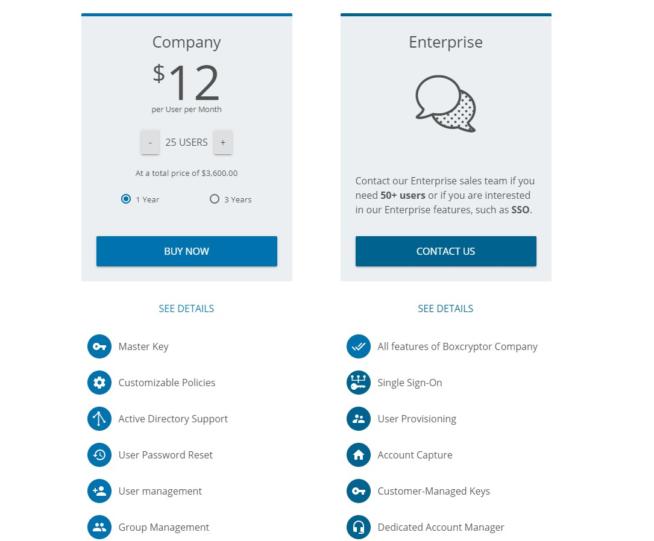 When it comes to team-based pricing plans, two are as follows:
Company ($12)
Enterprise (Get a quote)
The company plan is suitable for a team consisting of about 25 members, but you can tweak it if there are a few more or fewer members you want to include with the plan. The team-based plan includes a special master team and the option to customize policies. Other features include user password reset, group management, and more.
The enterprise option includes everything that the company plan includes, as well as a single sign-on feature, account capture, customer-managed keys, a dedicated account manager, and much more.
3. What We Didn't Like About Boxcryptor
3.1 Limited Customer Support
We can't exactly say that customer support is lacking. It's certainly present. However, if you are using the app for personal use, which is free, stumbling upon a problem means you'll have to ask the community for help.
Needless to say, Boxcryptor has a great community, but sometimes a firmer and more professional touch is needed, especially when working with an app that can encrypt your data on a PC and trap it. No matter how well-versed with tech you are, mistakes happen.
4. Frequently Asked Questions FAQ
4.1 What Is The Difference Between Paid & Free Boxcryptor Plan?
Needless to say, Boxcryptor has different plans and they're all different in their own way. The free option gives you only a few features and limited support for cloud services and the number of devices you want to use.
Paying is not enough to get permission to use Boxcryptor for commercial purposes. You'll have to subscribe to the business plan to access this option.