Remembering and storing all your passwords safely and securely is imperative in today's day and age. How many times have you heard about compromised passwords and hacked accounts? Well, I've heard about it at least a dozen times and it always disturbs me a bit.
For this very reason, it's important not only to have strong and different passwords but also to remember them. In that case, you should use a reliable password manager such as KeepSolid Passwarden. It will let you store, track, and securely share your passwords with friends and family.
In addition, its Vault system is one of the best out there, allowing you to add more than a few types of entries, aside from login credentials. Nevertheless, let's broaden our Passwarden review for 2022 by talking more about its features, pricing, customer support, ease of use, and much more.
If you're thinking about getting Passwarden, this review will fully explain to you how good or bad it is, making your decision that much easier.
1. Passwarden Review Summary
To put things into perspective and summarize my Passwarden review for 2022, I would say it's surely among the best password managers on the market. While not necessarily the cheapest option, it's jam-packed with tons of security features and functionalities.
Most notably, its 256-bit encryption, Duress mode, and the ability to fully utilize its vaults for safely keeping, storing, and sharing your passwords. Additionally, Passwarden is very easy to use and offers a reliable password generator for storing impenetrable passwords for your accounts.
In conjunction with a dark web monitor, auto-lock feature, and password syncing across all devices, it's hard to find a better choice for the money. If you don't mind its slightly more expensive price and average customer support, Passwarden will give you a LOT to look forward to.
Pros
Very easy to use
Duress mode adds to the overall security
256-bit EC p-384 encryption
Great password generator
Auto-lock mode for keeping snoopers away
Works on all major systems
Lifetime subscription plans
Personal vaults
Cons
The monthly plan is a bit more expensive
No 24/7 live chat support which makes support less responsive
2. Passwarden Features
To kick off this Passwarden review, let's talk about its features. Besides, this is considered among the best password managers around, which means you should get a lot of useful functionalities.
2.1 Personal Vault
The whole premise of Passwarden is about personal vaults. This is the way Passwarden stores your login information, passport info, secure notes, software license, and everything else. It's impressive how versatile the program is, allowing you to securely store pretty much any type of information.
For example, if you live in the US, you can also store your SSN (Social Security Number) and if you're often paying for stuff online, storing credit card or bank account info is possible. Moreover, you can create an infinite number of personal vaults and share them securely with friends or family.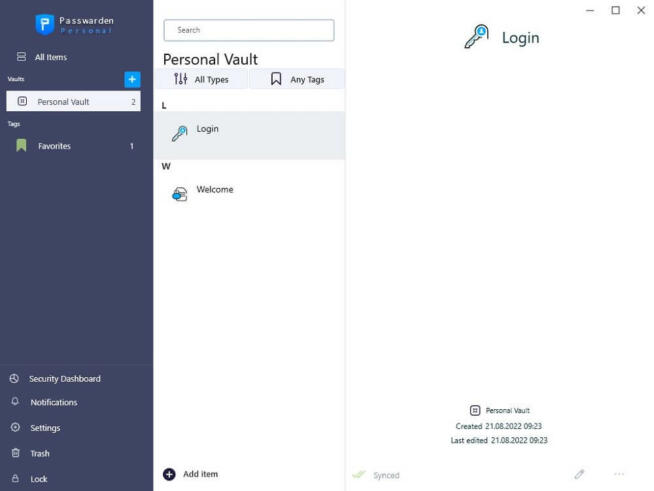 This means that you can create a vault specifically for other people and limit their access only to that vault, while your vault remains untouched. Also, when saving passwords and other types of info, you can immediately assign it to a particular vault.
As such, it's easy to update vaults with new information, which is beneficial for businesses where you need to keep your coworkers updated all the time. I also need to mention tags that you can add for each entry in the vault.
This makes finding the entry you want easy by using the search bar in the app. Overall, I think Passwarden did a phenomenal job with vaults and streamlined the process of password management in a very good way.
2.2 Password Syncing
Passwarden supports unlimited devices which are backed up by automatic information syncing. If you sign in to Passwarden on your Windows computer and your smartphone, you'll automatically have access to all your vaults on both devices.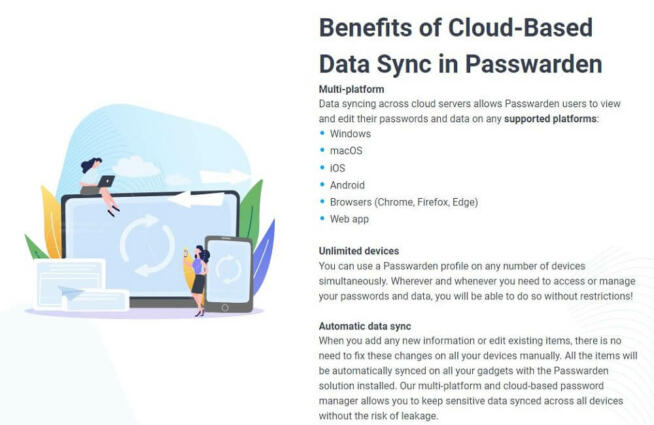 Since it supports unlimited devices, it's always good to have passwords at your hand's reach in case you lose one of your devices or it gets stolen.
2.3 Password Generator
You don't have to create passwords on your own when using Passwarden. Instead, it offers a solid password generator that I found useful in many instances. You can choose the length of the password from 8 to 64 characters, which is more than enough flexibility.
In addition, you can choose whether or not to include digits, upper case letters, and symbols. This way, you can simplify or strengthen your passwords as you wish.
2.4 Dark Web Monitor
Let's talk about the dark web monitor. Passwarden included this feature recently, intending to help you see if your personal information is exposed online. It can be your account, your password, or anything else, which Passwarden will immediately detect and let you solve the issue.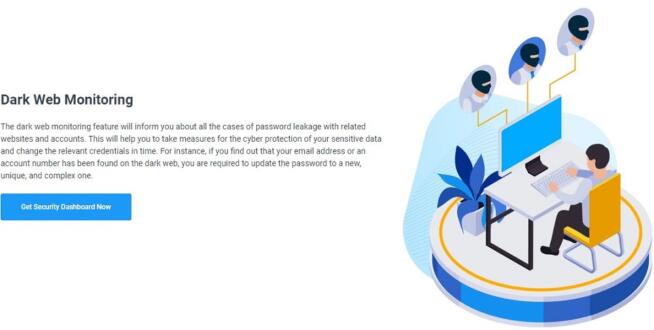 It's done by changing your passwords, which will prevent hackers from breaching your account again. I found this feature very useful, as I actually had some of my information exposed online. However, Passwarden's diligence helped me remedy the problem in an instant.
2.5 Auto-Lock
Auto-lock is a feature for paranoid people, as Passwarden says. Basically, it's here to lock your profile after your shut down the app, requiring you to sign in again to be able to use it. This is great if you have a shared device and you don't want anyone else snooping around.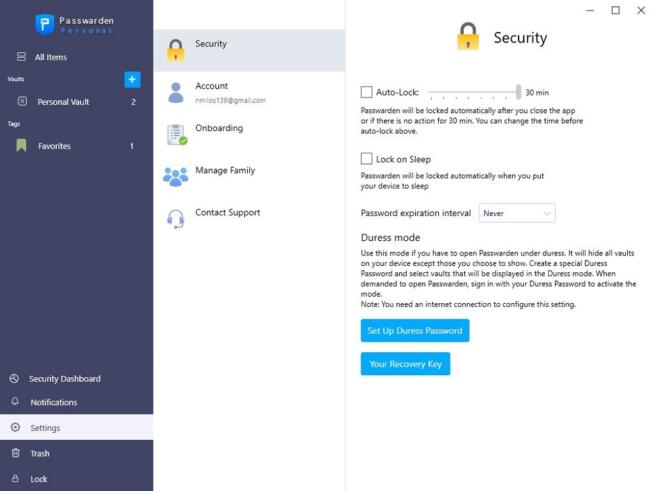 Besides, Passwarden lets you lock your profile in 5 to 30 minutes, depending on how "paranoid" you are. Even better is the fact that you can disable it completely, so that, if you're the only one using the device, you don't have to log in over and over again.
Moreover, this feature works even if the app is open and there's no activity. So, if you leave for a lunch break and you forgot to close the app, after a while, it'll lock your profile, ensuring the safety of your passwords.
2.6 Duress Mode
In this Passwarden review, I must mention this Durress mode which is quite unique and is rarely found on other password managers. To use it, you first must set a Duress password, which you'll need to use if you have to open the app under duress.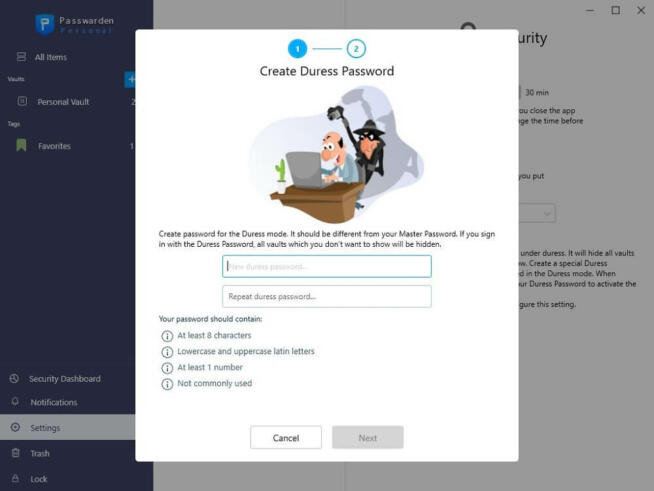 In other words, if someone forces you to open the app and reveal your passwords, you just sign in by using your Duress password. In this case, Passwarden will hide the selected vaults and the perpetrator won't be able to access your important passwords.
For example, you can create a personal vault with fake passwords and make the app show that vault in Duress mode. It will satisfy the one who's putting you under duress at first, but the passwords will be fake, so you won't be compromised.
3. Ease of Use & Device Compatibility
When it comes to device compatibility, Passwarden leaves no stone unturned. As said, it supports both mobile and desktop platforms, but there's also an addition of browser extensions and even a web app, which doesn't require you to have a dedicated app installed.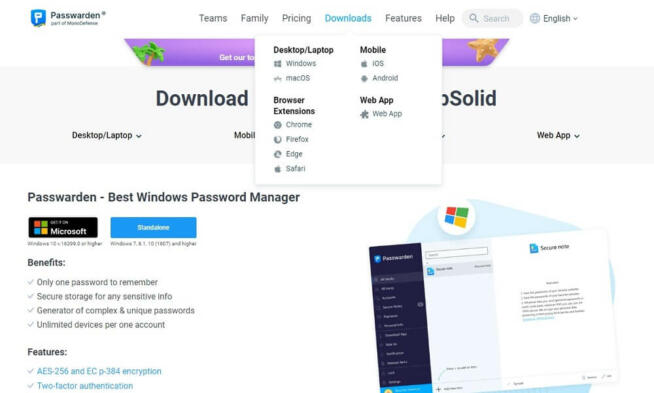 In short, Passwarden supports these systems:
Windows
macOS
iOS
Android
Chrome, Firefox, Edge, Safari
Web App
The great thing is that these apps are pretty much identical, so if you switch from Windows to iOS, for example, the learning curve will be non-existent. Once again, your passwords will be synced as well, so you don't need to go out of your way to import them manually.
I especially like its Windows app, which looks modern, works fluidly and is bug-free. The home screen houses your vaults and items in those vaults sorted by A-Z order. Once you click on the item, it'll show on the right side, where you'll be able to see all the relevant info.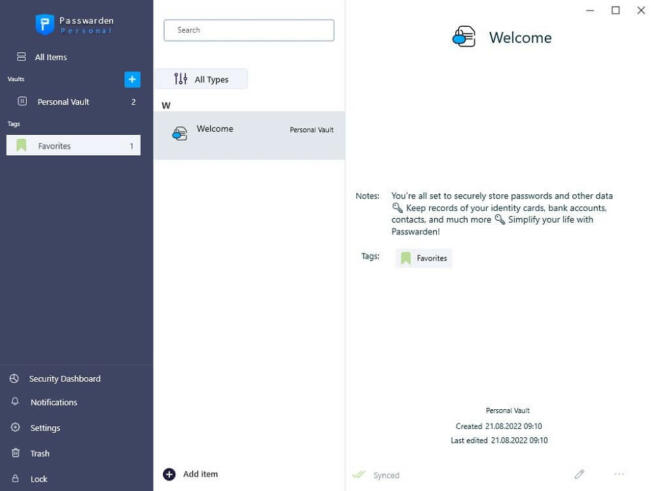 On the left side, you have options like a security dashboard, notifications, settings, and trash. There's even an option to lock your profile manually if you don't want the app to do it for you. The security dashboard is especially useful here, as it provides enough information about your overall security.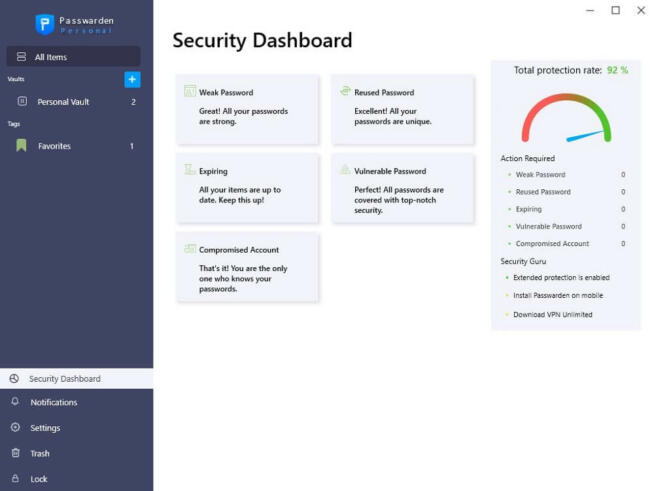 You can see if you have weak/reused passwords, expiring passwords, and compromised accounts. From here, you can fix the potential issues right away, which makes Passwarden even more usable. The settings menu is also simplistic.
Here, you'll find the aforementioned Duress mode, account settings, and the ability to extend, cancel, or change your subscription plans. More about them later in the Passwarden review. For now, let's just say that Passwarden is extremely easy to use and is practically idiot-proof.
This is one of the most important criteria for a quality password manager.
4. Security
A top-notch password manager must pay attention to its security, which KeepSolid absolutely did in this case. The Duress mode I talked about might be its most impressive feature if you ask me – however, the Duress mode isn't the only thing on the table.

Passwarden uses 256-bit AES encryption to secure your passwords. This level of encryption is impenetrable even by the most skilled hackers, so if you're that paranoid person, stop worrying already – nothing bad's going to happen.
In addition, Passwarden uses a master password, which is a type of password only known to you. Simply put, KeepSolid won't know anything about it, so you'll need to use a strong password and remember it well because this is the password that you'll use with the app.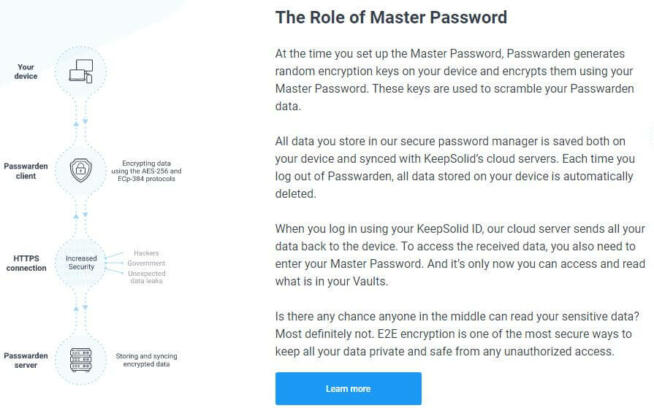 Of course, 2FA is also here in case unauthorized logging happens – or at least a futile attempt. Actually, if you enable 2FA, unauthorized logging won't be possible because the person trying to log in will need to enter the code that only you know.

With bank-grade encryption, master password, Duress mode, and 2FA, I doubt anyone will be able to steal your passwords, except you – but that's not stealing anyway.
5. Passwarden Price: Is It Affordable?
Price-wise, Passwarden isn't going to be the cheapest password manager. However, it does offer a good selection of plans, both for personal and family use. Let's start with the personal plans:

As you can see, a monthly plan will cost you $4 a month, while the annual plan is $40 annually. However, people will most likely be interested in a lifetime plan that now costs $100. While its lifetime plan is cheap and unique – might I add – its annual and monthly plans end up being a tad expensive.
For instance, NordPass, another great password manager, costs $2/mo and $5/mo for the family plan of 6 user accounts. Now that I mentioned family plans, let's get back to the Passwarden review and prices of its family plans.

Here, Passwarden offers very good deals where all of them support 7 accounts. However, the monthly price is cheaper than NordPass, with the annual plan costing $4.16/mo or $50 each year. The lifetime plan makes its return here, and in its "family" form, it costs $249 (billed once).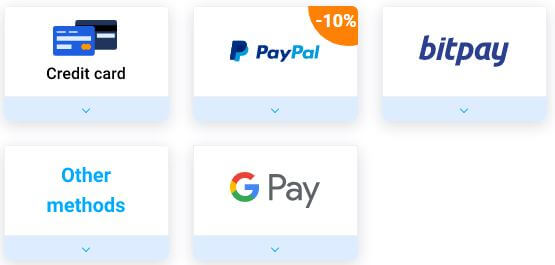 The good thing is that KeepSolid offers a 30-day money-back guarantee for all plans plus tons of payment methods, which include even BitPay, PayPal, Google Play, and Credit Cards.
6. Customer Support
KeepSolid's customer support was never at the highest level. However, I won't say it's bad or unresponsive but rather that it doesn't have live chat support. And if I'm being honest – I like using live chat support the most due to the best responsiveness.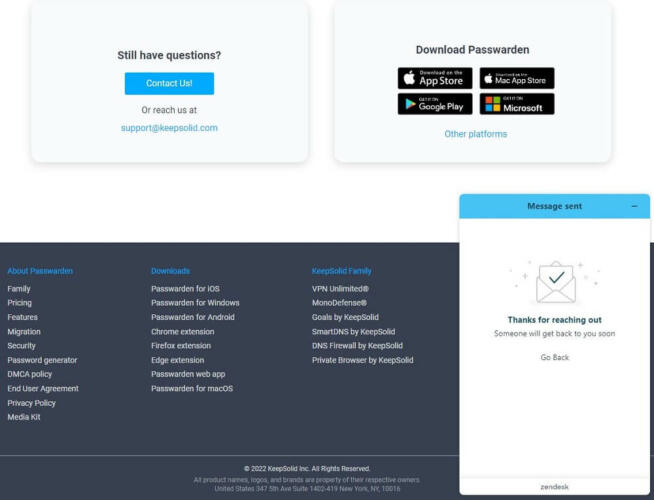 Here, you get a "fake" live chat widget, where, upon sending a request, KeepSolid will come back to you via email, in a few hours, depending on the day and time of contact. Customer support is more than helpful, alas, its response times could be improved.
On the brighter side, its Help Center is littered with tutorial articles, FAQs, and other stuff that you'll surely find helpful. In most cases, though, I was able to learn more about Passwarden and security by reading its comprehensive Blog and Manuals.
7. FAQ
7.1 Is Passwarden free?
Yes, The free version of Passwarden allows you to keep unlimited entries. The difference is that with the paid plan you can securely share your passwords and sensitive data with others, and you can invite people to your vaults.
7.2 Will Passwarden work on my phone?
Yes, it works on both iOS and Android, so you can even use it on your tablets and laptops. The only unsupported platform is Linux.
7.3 What if I forget my master password?
If you forgot or lost your master password, don't fret. You can use the recovery key instead, which can be used to sign in to your account and use Passwarden normally. Beware that you can't reset your master password, so if you forgot it, you're left with the randomly generated recovery key only.
Thus, make sure you keep your master password in a safe/encrypted directory or even in the form of a physical copy in a locked safe or drawer.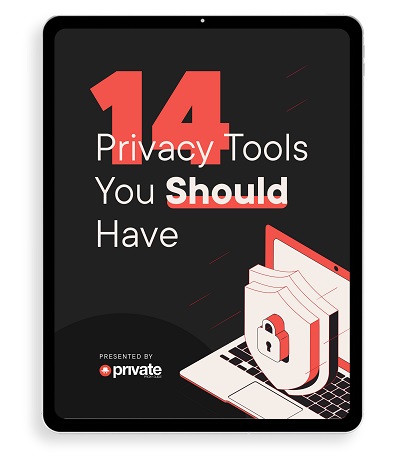 Learn how to stay safe online in this free 34-page eBook.