Cloud storage solutions are slowly seeping into the lives of thousands of internet users from all over the world, and for good reason.
After all, physical hard drives are prone to failure, theft, and everything in between, and the last thing you want is for your work documents to be lost, especially that you can't use the "dog ate my homework" excuse for virtual docs.
Not only that, but most cloud storage services these days offer a handful of handy features, such as collaboration tools, which can make working with your colleagues on the same document a piece of cake.
Now, as convenient as they may be, there's one major issue with cloud storage services: they're a dime a dozen these days, and although it would be great to store your files across all of them, that wouldn't be practical, and it would probably blow a wormhole in your wallet.
That's why you have to pick one service, or a couple of them, and stick with it.
In this article, we'll be reviewing some of the biggest names in this field: pCloud vs Dropbox vs Google Drive vs Onedrive vs Mega. Stick around, and your next cloud storage provider will be obvious.
Without further ado, here's the pCloud vs Dropbox vs Google Drive vs Onedrive vs Mega comparison!
Summary
The overall best paid cloud storage is currently pCloud if you buy their lifetime storage for $350 (if 2TB is enough for your needs). Dropbox and OneDrive are excellent choices for collaboration.
Google Drive currently offers the best free storage (15 GB). There you have it, the pCloud vs Dropbox vs Google Drive vs Onedrive vs Mega comparison that you need to make up your mind and pick your ideal cloud storage service.
Should you take all of the aforementioned factors into account and pick what best works for you, you will never need to worry about losing another file again!
You can read more about the details further below.
Storage, Features, and Pricing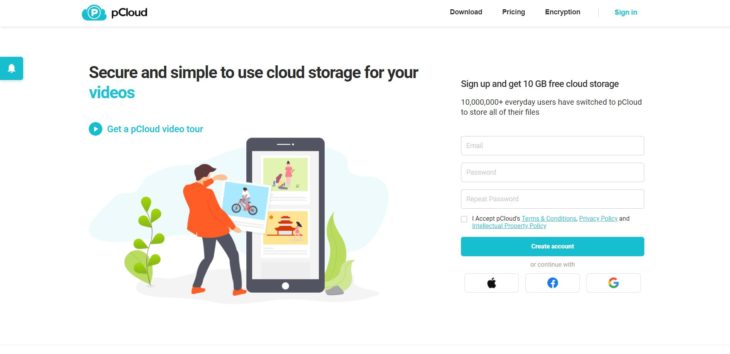 pCloud has been slowly becoming one of the biggest names in the cloud storage scene, and for good reason. After all, it boasts a bunch of multimedia features, tight security measures, and great value subscription plans.
pCloud still has its drawbacks, though, including its weak collaboration options as well as the fact that you need to pay extra for private encryption, making it more of a personal rather than collaborative cloud storage solution.
One of pCloud's most attractive features is the fact that you can play around with your media files without having to download them. The web app has an excellent media player that rivals the most powerful desktop players as it can load a playlist, save your current queue as one, and even shuffle your songs.
Using pCloud, you can also preview photos, create slideshows of them, and play videos. Unfortunately, pCloud doesn't offer collaboration options, making it limited when it comes to teamwork.
pCloud's free plan includes 10GB of storage, which is quite a generous offer compared to OneDrive and Dropbox. The paid plans are equally impressive, as they offer great value.
Premium, which includes 500GB of storage space, costs $47.88 yearly or $175 as a one-time fee.
Premium Plus, which includes 2TB of storage space, costs $95.88 yearly or $350 as a one-time fee.
The fact that pCloud offers lifetime licenses is pretty convenient, as it allows users to avoid paying recurring expenses for their cloud storage. As mentioned above, private encryption is sold separately, and it costs either $47.88 as a yearly payment or $125 as a one-time fee.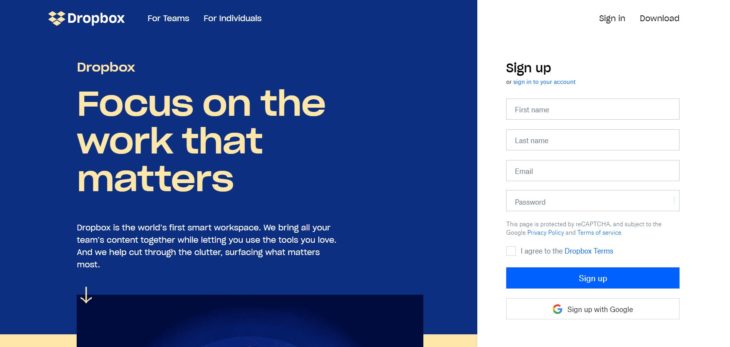 Dropbox is the cloud storage solution of choice for many individuals as well as big and small companies, and for good reason. Unfortunately, their free tier isn't that attractive, as it only includes 2GB of storage.
Now, that may be enough for some documents and files, but it's insufficient for any kind of media file, especially when compared to what others, such as Google Drive and Mega, have to offer.
That said, Dropbox makes up for the free tier with its referral program, which we'll talk about in a second.
For a standalone cloud storage solution, Dropbox is quite feature-rich. For starters, the app integrates well with Office Online, making it an excellent team collaboration tool. Dropbox Paper is another handy feature that you can use with any plan.
It's basically an online app that can be used to take notes, embed media files, and collaborate with others. Of course, there are better note-taking apps on the market, but, as mentioned, Paper can be used with any of Dropbox's plans, including the free one.
Dropbox has another app called Showcase, which allows you to share your files on a professional-looking page, which can come in handy when showcasing your work to current or potential clients.
Dropbox's free tier, as mentioned above, only includes 2GB of storage space. If you need more than that, and you sure do, you can one of Dropbox's paid plans:
Plus, which costs $9.99 per month when paid yearly and includes 2TB of storage.
Professional, which costs $16.58 per month when paid yearly and includes 3TB of storage.
Dropbox also has a couple of plans for teams:
Standard, which costs $12.5 per user per month when paid yearly and includes 5TB of storage.
Advanced, which costs $20 per user per month when paid yearly and includes as much space as needed.
As you can see, Dropbox's pricing isn't that far away from what other cloud storage providers offer, making it another great option for those looking to store a lot of files in the cloud.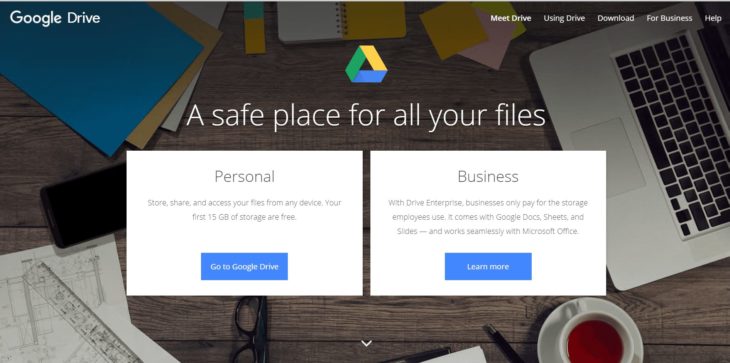 When you say cloud storage solution, you say Google Drive. Drive is one of Google's most attractive services, as you get 15GB of storage free of charge as soon as you set up a new Google account.
Earlier this year, Google introduced Google One, which unified all of the company's services, including Gmail, Drive, and Calendar, under a single roof, just making it easier to manage one's Google properties with a pricing structure that's simpler than ever.
Google's 15GB storage space is shared across all services, so all your Drive files, email attachments, and everything in between will be counted in, so maybe keep that in mind before sending your nephew's birthday self-made movie over to your whole family via email.
What's pretty convenient about Google Drive is that thanks to Google Photos, you needn't worry about photos less than 2048×2048 in resolution or videos below 15 minutes taking up any space.
Besides, anything that has been shared with you over Google Drive, Docs, Sheets, Slides, and Drawings by others doesn't count towards the 15GB limit.
If you want more storage space, you can do so by subscribing to Google One, which costs:
$1.99/month or $19.99/year for 100GB of storage
$2.99/month or $29.99/year for 200GB of storage
$9.99/month or $99.99/year for 2TB of storage
You can also get 10TB, 20TB, or 30TB of storage, but those plans are pricier and aren't designed for personal use.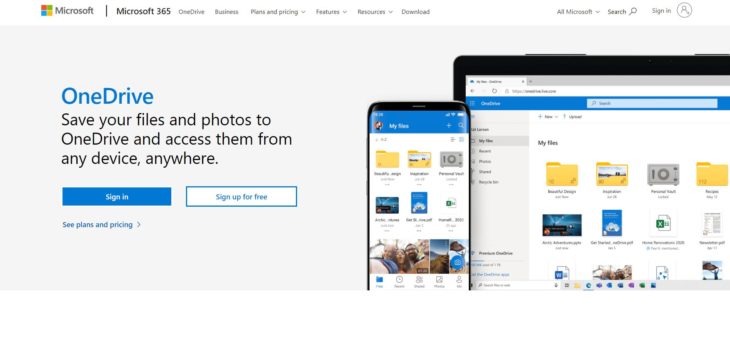 Google isn't the only tech giant with its own cloud storage solution, as Microsoft has also been going strong with OneDrive, which also creates a folder on your hard drive that gets synced to other devices where you've logged in with your Microsoft account.
Similarly to Google Drive and Docs, OneDrive lets you collaborate on your documents using Microsoft's office online app. No matter your subscription, you can use Office Online for free, making OneDrive quite the cloud storage solution for virtual workplaces.
OneDrive's free plan offers only 5GB of storage, which, although not as attractive as what Google Drive and MEGA offer, is still better than Dropbox's meager 2GB.
The pricing structure of OneDrive isn't that complicated. If you're only looking for cloud storage, you can get the 100GB plan, which costs $1.99 per month.
On the other hand, if you're looking for more storage space or an all-in-one solution, you can get one of Microsoft 365's personal plans:
Microsoft 365 Personal, which gives you 1TB of storage as well as access to different Office Apps and costs $69.99 per year or $6.99 per month.
Microsoft 365 Family, which gives 6 users 6TB of storage as well as access to different Office Apps and costs $99.99 per year or $9.99 per month. This is where OneDrive really shines.
As you can see, that's plenty of storage space AND several quirks that come with Microsoft apps, making the value strong, and OneDrive one of the best cloud storage solutions for those seeking productivity.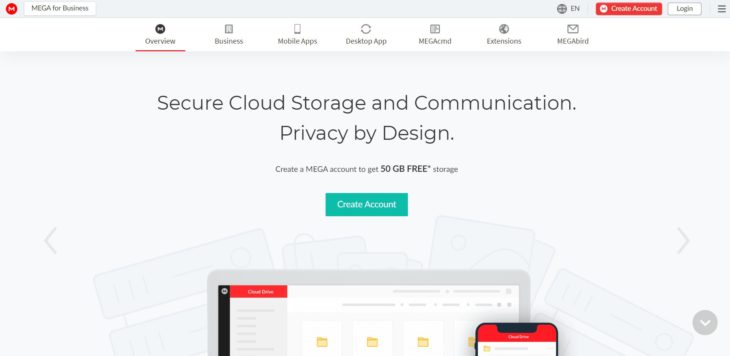 MEGA is a cloud storage service that's mainly known for its generous free plan. Like any other cloud storage solution, MEGA allows you to upload your files so that you can access them from anywhere.
Keep in mind that this is no file backup system, so don't try to use it as such. MEGA offers all the features you'd expect to find in a cloud storage service, including versioning, which allows you to have multiple versions of the same file for easy replacement in case of accidental deletion, and media file previews, which allow you to check your files on the go.
Unfortunately, there's no integration with Google Apps or Office Online, making MEGA, just like pCloud, an inconvenient choice if you care about team collaboration.
MEGA's free plan gives you 15GB of storage space. In the past, MEGA used to offer 50GB for free, but that generosity was abused by users, which is why the company reduced the free tier space. As for paid plans, MEGA has four:
Pro Lite, which costs $5.38 per month and offers 400GB of storage space and 1TB of transfer bandwidth.
Pro I, which costs $10.77 per month and offers 2TB of storage space and 2TB of transfer bandwidth.
Pro II, which costs $21.55 per month and offers 8TB of storage space and 8TB of transfer bandwidth.
Pro III, which costs $32.33 per month and offers 16TB of storage space and 16TB of transfer bandwidth.
Winner: pCloud, if you go for their lifetime offer or Google Drive for 15 GB free.
Interface
pCloud
The web app of pCloud is simple and easy to navigate and use, making for great user experience. On the flip side, unlike the rest of the cloud storage services in this comparison, pCloud doesn't allow you to upload your files by dragging them anywhere.
Instead, you need to drop them in a small pop-up window that appears in the center of the screen when you drag your content. pCloud's desktop client consists of a system tray icon and a sync folder, which is the common model of sync.
There's also a pCloud smartphone app that's available for Android and iOS, which means that you can access your files anywhere.
See my full pCloud review here.
Dropbox
Navigating Dropbox's web app is a breeze. There's a menu on the left that lets you access the homepage, your files, Showcase, and Dropbox Paper, which we mentioned earlier.
It's in the files page that you'll do most of the work, as that's where you can access all your files and folders as either a grid or a list. To upload a file or a folder, simply drag and drop it anywhere in the work area.
As with the rest of the cloud storage solutions on our list, Dropbox also has a mobile app for Android and iOS as well as a client for Windows and macOS, all of which don't disappoint in terms of features and user-friendliness.
See my full Dropbox review here.
Google Drive
As with every Google product, Google Drive has an intuitive interface that's easy to navigate and use, with a simple file tree that shows where your data is kept.
Uploading and downloading files and folders is as easy as making a couple of clicks, and you can edit your files on the go by using other Google services such as Docs and Slides. To make it even more user-friendly; Drive has iOS/Android apps as well as Windows/macOS clients.
See my full Google Drive review here.
OneDrive
OneDrive's web interface is quite simple and straightforward. Clear lines, contrasts, and negative space make things easy to find, so you won't have to fish for what you're looking for when accessing OneDrive from a browser.
As you'd expect, uploading anything is super easy as all you have to do is drag and drop your file or folder anywhere in the work area and it'll start uploading.
OneDrive also has clients for both Windows and macOS as well as mobile apps for Android and iOS, making it convenient for cross-device synchronization.
See my full OneDrive review here.
MEGA
MEGA's web app, desktop clients, and mobile apps are all intuitive and easy to use and navigate.
Winner: Dropbox
Referral Program and Extra Storage
pCloud
You can get up to 8GB of storage space totally free of charge by completing certain tasks, such as downloading pCloud's smartphone app and sync client.
You can also refer your friends to join pCloud and get 1GB of storage space for everyone who signs up using your referral link.
Dropbox
Dropbox's referral program is where the app shines, as you can get up to 16GB of storage for free by inviting your friends and getting 512MB of storage space every time someone signs up through your referral link.
Keep in mind that anyone you invite will have to verify their email and install one of Dropbox's apps for you to get the extra space.
Google Drive
Unfortunately, unlike Dropbox and OneDrive, Google Drive doesn't have a referral program in place, so you won't be able to get extra storage space for free when inviting others to join Google Drive.
That makes sense, in a way, as everyone knows Google these days, and most people have a Gmail account already. That said, there have been a plethora of promotions offered by Google over the years for users to win extra storage space for free, so make sure to keep an eye on Drive's offers.
OneDrive
OneDrive allows you to invite friends to the platform in exchange for free storage space. Each friend you refer will get you an extra 0.5GB of storage for a maximum of 10GB of bonus storage space.
MEGA
Instead of offering users free storage space for inviting their friends, MEGA allows you to earn 20% of the revenue from each purchase made using your referral link, which can be a great way to earn some extra income without spending a dime.
If you just want to increase your quota of free storage space, you can participate in MEGA's achievements program, which can get you up to 50GB.
Winner: MEGA
Security and Privacy
pCloud
Even though pCloud is relatively new in the world of cloud storage, it has several impressive security measures in place, including encryption to secure your files at rest and in transit, and the TLS protocol, which prevents man-in-the-middle attacks from succeeding.
Once your files reach a data center, they'll be replicated across a minimum of five servers to keep them safe, and they'll be encrypted using AES 256-bit keys.
pCloud also offers private encryption, which prevents anyone other than you from reading your data, but it's sold separately.
Keep in mind that private encryption means that you won't be able to generate file previews, which is why pCloud offers you the option to pick which files you want to encrypt and lock and which you want to leave as is.
Finally, pCloud also offers two-factor authentication, which stops hackers who have already stolen your passwords from accessing your account.
Now, when it comes to privacy, pCloud blows its competitors out of the water. pCloud is based in Switzerland, which has some of the best privacy laws in the world.
Granted, pCloud does keep your data on U.S.-based servers, but it has to comply with Swiss laws because it's a Swiss company.
Dropbox
To keep your files safe and sound, Dropbox uses AES 256-bit keys at-rest and the TLS protocol with AES 128-bit encryption to protect your files in-transit.
Although that level of encryption may seem strong, Dropbox decrypts your files when they arrive at its data center to extract metadata for indexing and re-encrypts them afterward. Also, no private, end-to-end encryption is included.
Privacy, on the other hand, isn't Dropbox's strongest suit, as, as mentioned, there's no zero-knowledge encryption in place.
Besides, Dropbox extracts metadata from your files as soon as they're uploaded, and the company has s history with the PRISM project. Furthermore, Dropbox is yet another U.S.-based company, which means that its users' privacy may be affected by laws lie the USA Patriot and Cloud Acts.
Google Drive
To keep your files secure, Google Drive uses 128-bit AES encryption to encrypt files at rest and 256-bit SSL/TLS encryption to encrypt files in motion.
You can implement two-factor authentication to further protect your Google account, and Google asserts that it won't access or pry into what you have in your Drive folder unless compelled by law enforcement agencies.
OneDrive
Years ago, OneDrive used to lack even the basic security measures, such as at rest encryption. Thankfully, the cloud storage solution has since caught up with its competitors in terms of security.
Currently, OneDrive Business supports both in-transit and at-rest encryption. Besides protecting each file with its own AES 256-bit key, OneDrive also uses the TLS protocol to prevent man-in-the-middle attacks from succeeding. Unfortunately, OneDrive personal lacks at-rest encryption.
One other convenient security feature that OneDrive has in place is the Files Restore feature, which allows you to restore your account and directory to a previous point in time within the last 30 days.
Should your files be compromised or accidentally deleted, you can easily use Files Restore to virtually go back in time and save your data.
Now, although OneDrive is strong in terms of security, it is still behind when it comes to user privacy. Microsoft is a U.S. based company, which means that it's subject to U.S. privacy laws and regulations, which don't have the best reputation.
For example, as per the CLOUD Act, U.S. alphabet agencies can compel OneDrive to disclose data regardless of where it is located, so keep that in mind if you really care about your privacy.
MEGA
MEGA is a solid cloud storage provider when it comes to security as it has several measures in place, including:
Private, end-to-end encryption to prevent anyone other than you from reading your files.
The TLS protocol, which stops man-in-the-middle attacks from succeeding.
Two-factor authentication, which prevents hackers from accessing your account if your credentials get compromised.
MEGA uses AES 128-bit encryption to protect your files at rest. Granted, that's not as strong as AES 256-bit, but it'd still take millions of years to crack.
Furthermore, you can encrypt any file you share with an encryption key. As MEGA's cloud storage data centers are located in Germany, Luxembourg, France, the Netherlands, and New Zealand, you shouldn't be worried about privacy as your data will be protected by the GDPR.
Winner: pCloud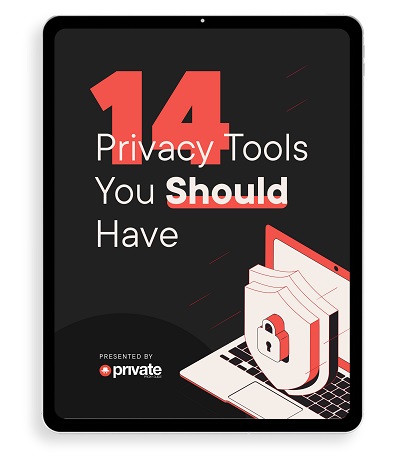 Learn how to stay safe online in this free 34-page eBook.