When it comes to storage solutions, there are plenty of options available on the market. However, if you're the type of guy who is tech-savvy, and likes to tinker with things and figure them out by himself, then you'd be better off with a cloud sync tool.
This is where GoodSync comes into play as it's one of, the better options out there. This isn't your typical cloud storage solution that comes with its own sync client. This is meant to be used by someone who actually knows a thing or two about how these things work. If you're new to all of this but are interested in learning how to use these sorts of tools, don't worry. While everything might seem complicated and overwhelming, it isn't rocket science, and with a little effort and patience, it will be worth the effort.
What makes GoodSync such a great option is the fact that it works with a multitude of cloud providers such as Microsoft Azure, Amazon S3 as well as Backblaze B2. GoodSync is also very rich in great, useful features like private end-to-end encryption, multi-threaded sync, WebDAV, P2P sync and many more.
While reviewing GoodSync, we'll be taking a look at the features, licensing costs, and user-friendliness to determine how good of a tool it really is. If you're still skeptical about it, they do offer you the option to sign up for a free version online.
Verdict
If you're a technophile that just needs a sync tool, GoodSync (www.goodsync.com) is a handy tool to have in your arsenal. While it may be a bit odd to use at first, once you get through the first setup steps, everything will start to become clear, and you'll be able to use it effortlessly. With that said, if you want a simple and quick cloud sync solution, then GoodSync might not be the best option for you as there are other more useful alternatives you can get.
Pros and Cons
Pros
Various storage options
Clean interface
High customizable
Powerful features
Constant updates
Easy to setup
Easy to use
Cons
The advanced features are a bit complicated
The cloud service options are limited compared to other providers
Installation and Interface
Installing GoodSync is easy as pie. Once you run the installation, you'll need to choose one of three options; you can either start the application without an account, use an existing one, or create a new one. The fact that you don't need a GoodSync account to run the client for the first time is pretty convenient, especially if you're just looking for a quick test drive.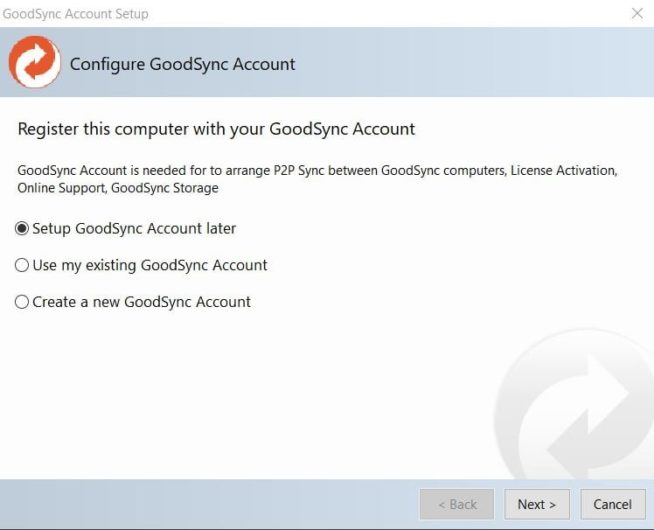 As soon as the program finishes installing, you'll be prompted to launch a new job, either a backup or a synchronization one. If you'd like to explore the interface first, you can click on Cancel and go ahead with the exploration.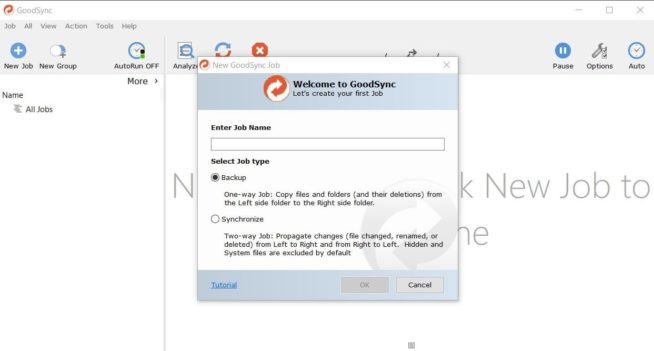 GoodSync has a pretty simple interface, which is a good thing as it makes the navigation much easier. Don't let the interface fool you into thinking that this program isn't advanced though, as it is.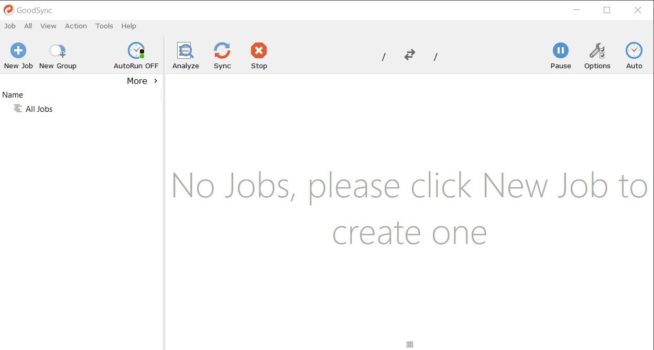 Features
As we mentioned in the beginning, GoodSync is a cloud sync tool and not a storage solution. What this means is that it does not provide server space when you purchase it. Instead, it gives you the ability to connect your computer to your other devices and to a plethora of cloud storage providers to synchronize your data between them or backup anything from and to any of them.
If you set up a backup job, you'll be asked to choose a source from the left folder and a destination from the right folder. The source and destination can be anything from the aforementioned locations.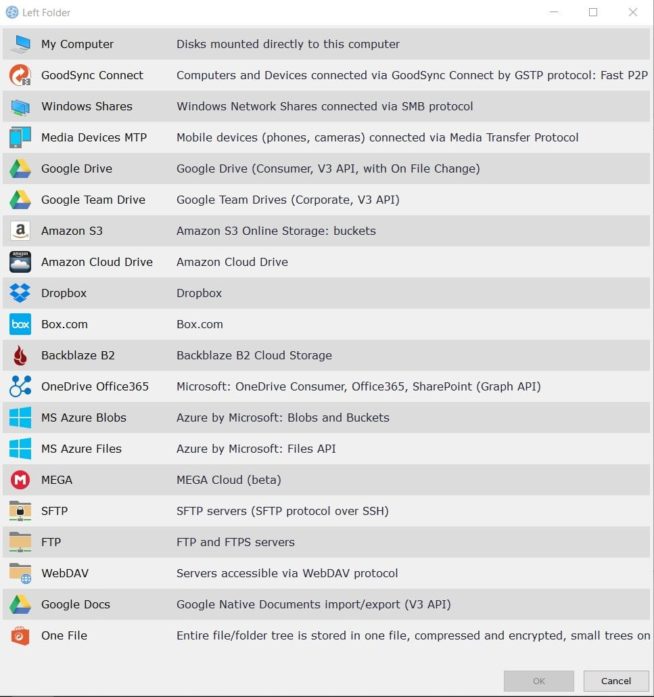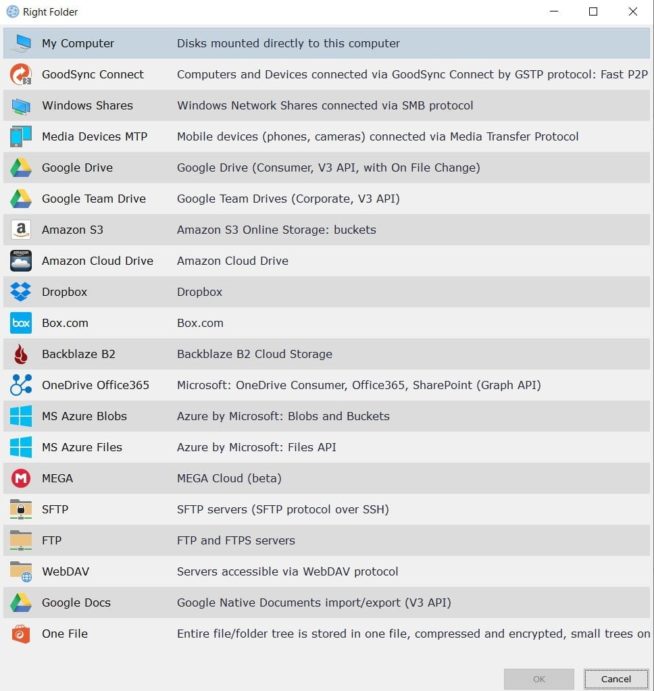 If you set up a synchronization job, you'll be prompted to select the locations that you want to sync from the right and left folders as well. There is no source and destination here though, as syncing is a two-way task.
This approach offers a couple of benefits with it. For instance, you'll be storing all of your data in a single place which facilitates backup plans configuration using dedicated online backup services.
With that said, GoodSync does not only sync files between your computer and the cloud. P2P technology, for example, is a handy feature that lets you avoid using the cloud as an intermediary means and instead directly sync your computers together. This means that synchronizations will be much faster as well as more secure in case you don't want to put some files on the cloud.
GoodSync also offers you the possibility of directly establishing connections among cloud services, not unlike with other cloud-to cloud sync solutions.
Another nifty feature is the possibility of one-way file copy relationships. This feature allows you to backup files, but it isn't as potent as some of the choose-your-own-cloud services.
The thing that we found to be lacking in GoodSync is the list of supported cloud services. When it comes to IaaS services, there is Backblaze B2, Microsoft Azure and Amazon. Additionally, you have the option to sync with Wasabi which is one of the most affordable storage solutions. This can be done via the Amazon S3 connector option.
With that said, there are other cloud storage services you can connect to using GoodSync, among which are Dropbox, OneDrive, Box.com as well as Google Drive.
While the list can seem to be underwhelming, the WebDAV feature can alleviate this issue by expanding your cloud service options. For instance, WebDAV supports HiDrive, pCloud as well as FTP/SFTP. GoodSync can also be installed on your own server which allows you to build your own in-house sync system if you have the money to spare.
Keep in mind that GoodSync is mostly a sync tool. So, if you're looking for something to use for file sharing, or collaborating with others on projects, then you'd be better off using another tool than GoodSync.
We'll be going over the setup and usage process in more detail once we get to the user experience section. But before we get to that part, let us tell you about the pricing costs for each of the licenses offered in GoodSync.
User Experience
Just like we mentioned at the beginning of this review, GoodSync is not exactly the easiest tool to use. If you're looking for an easy and simple tool to keep your devices synced, GoodSync might not be the best option for you. With that said, it isn't that hard, given that you're willing to figure out how it works. We'll be reviewing the user experience by walking you through how to use the tool.
If you want to sync your files via a middleman, you'll want to open the GoodSync app. If you haven't set up any jobs before, the tool will give you the option of either syncing or backup. When you add a job, you'll need to give it a name then choose the sync option. Once you've done that, you need to click "Ok."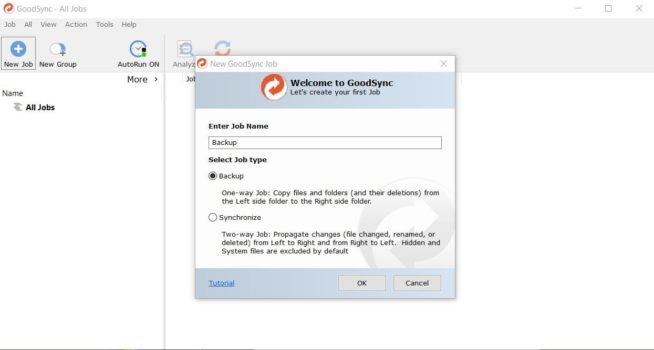 Once you've added the job, the main application will open. In order to define a sync relationship between the cloud and your computer, you'll have to use both the folder icon located near the top.
Each one of these icons offers a couple of different options. We'll be going to establish a path between the folder on your device and the folder on the cloud. However, there is also the possibility to use the P2P feature which syncs folders between devices directly, and you can also use cloud-to-cloud syncs as well as connections to mobile devices, and the list goes on.
You can synchronize several folders at one time which will save you the trouble of starting a new job for every folder you want to sync.
Let us take an example. Let's choose the left folder and select a new folder, name it anything you want, but for the purposes of this example, we'll go ahead and name it "GoodSync." For the folder icon on the right, we'll pick Google Drive, but you can choose Microsoft Azure, Backblaze B2, or Amazon S3 if you'd like.
Once you've chosen the cloud provider of your choice, you'll be prompted to give permission to the program after logging in to your account through your browser. Some apps, such as Microsoft Azure, will ask you to provide an access key ID and access key. These credentials can be obtained from the cloud provider that you've chosen.
After logging in to your account or giving the access key ID and the access key, you should be all good to go. All that is left is to select the green arrow located on the top right corner. Then, you'll have to choose the folder you want to synchronize.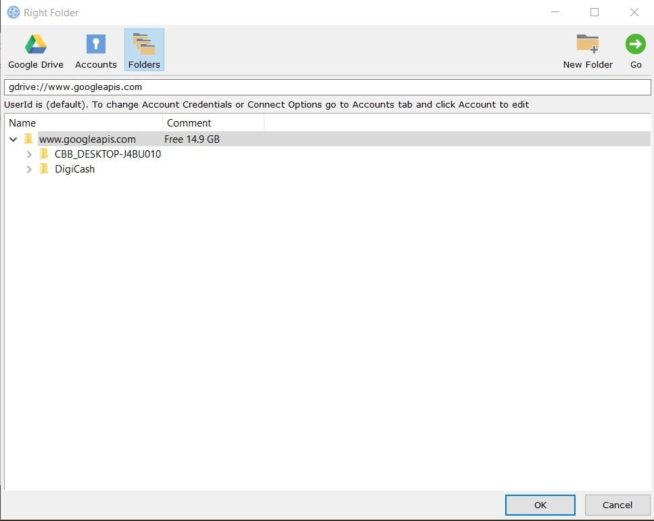 Once you've created and selected your folder, you can go ahead and click "Ok," and the connection will be set up.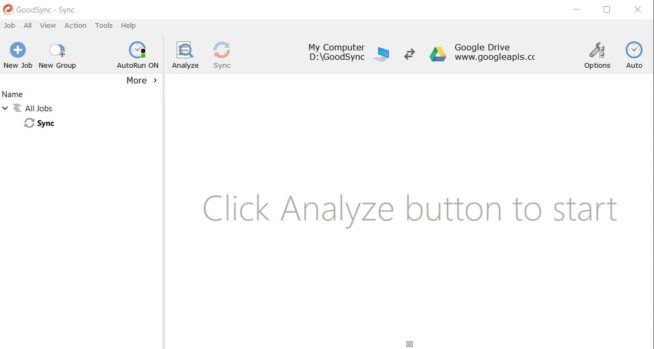 The last thing to do now is to click on the "analyze" button which initiates a scan of both the folder on the cloud and folder on your hardware and starts looking at the differences between them.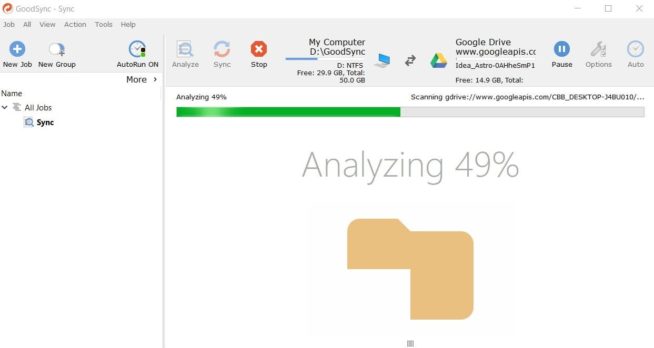 When the analysis is done, GoodSync will provide you with a comprehensive report that includes all of the differences between the selected files.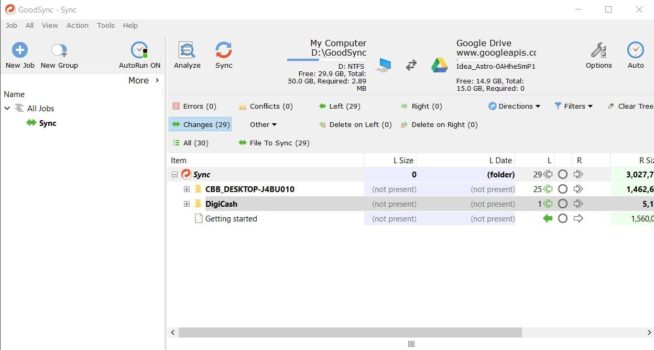 You have the option of syncing excluding files that you don't want to sync from the list. There are also other options and preferences that can be accessed via the "options" buttons. On the right side menu, you can add filters that either include or exclude files based on the text patterns like file prefixes or extension. This feature is rare among cloud storage sync tools which is one of the things that make GoodSync such a great tool to have.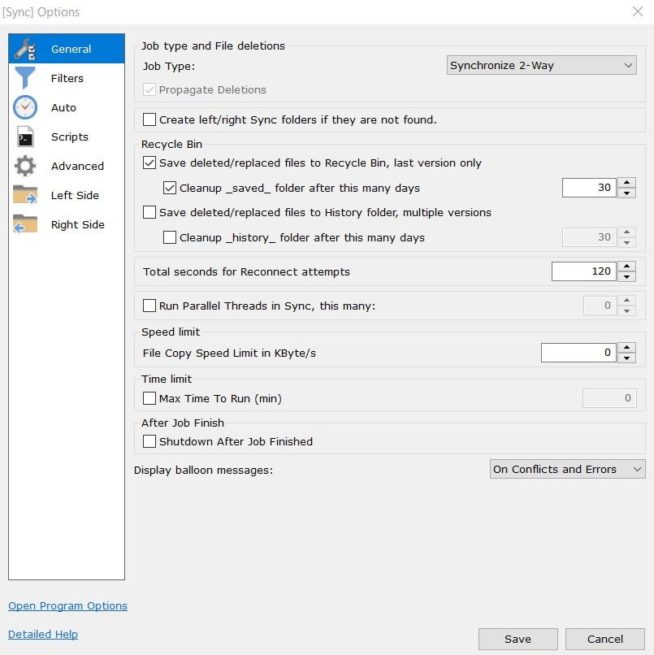 Other available options include disabling two-way sync, saving deleted items in your bin which is one of the latest features of GoodSync, a history folder, toggling compression, putting speed limits, setting a sync delay.
Once you've done the steps mentioned above, you can go ahead and click the "sync" button to initiate the syncing process. GoodSync will keep you up to date on the progress and can be put aside to work in the background while you do other things.
From now on, the process will be a lot quicker. You'll need to drop anything you want to be synced in the folder you have on your computer and then proceed to sync them with the cloud and any other device you have connected.
Security and Privacy
We mentioned at the beginning of the review that GoodSync offers private end to end encryption which allows you to encrypt files on the client-side via the AES protocol which is set to 256 bits. Once activated, this option will encrypt files end to end, giving the encryption password to you, and only you. What this implies is that any cloud provider you use will not be able to automatically decrypt the files all by itself, for any purpose.
Supported Platforms
What's convenient about GoodSync is that it offers clients for all major operating systems, including Windows, Mac OS, Android, and iOS. For mobile devices, GoodSync Explorer provides two components: Server, which allows your device to be discoverable by other GoodSync devices, and Explorer, which enables you to explore your connected computers.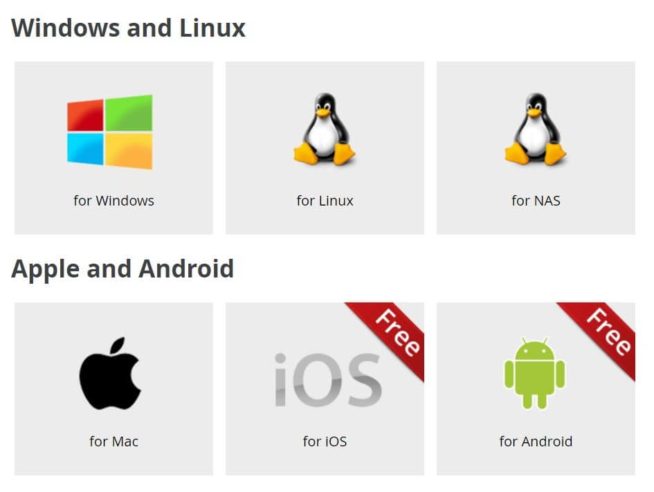 Support
In case you experience difficulties or issues while using GoodSync, you won't be left helpless. GoodSync offers great support that will help you figure out the problem and fix it in the process. For starters, GoodSync offers a knowledge database that contains resources such as tutorials, FAQ and a comprehensive manual.
GoodSync also offers support via telephone from 8 AM to 9 PM EST, Monday through Friday if you happen to be a paying customer. However, there is also 24/7 email support. From our experience, after sending an email on Thursday, we got a reply within no more than 10 hours which is rather quick for written correspondence.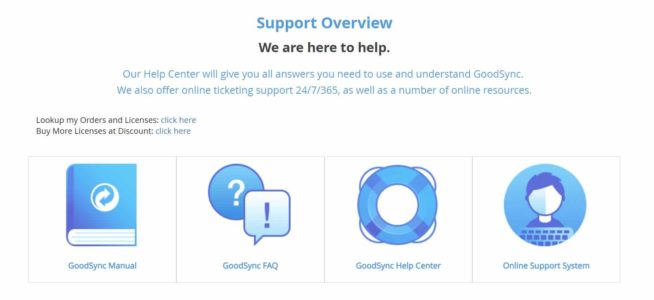 Pricing
Whether you're going to use GoodSync for Business or for personal use, you'll need to get the right license. The pricing cost for each license goes as follows:
$49.95: We recommend this license if you're only going to use it on one computer, NAS device, or portable drive.
$1,194: We recommend this license if you're going to use it on a Linux or Windows server.
$2,995: This license will allow you unlimited connections and users. Each license applies to one computer.
When it comes to personal use, the prices seem to be rather affordable. However, if you're going to have multiple devices synced P2P, then the price will naturally rise.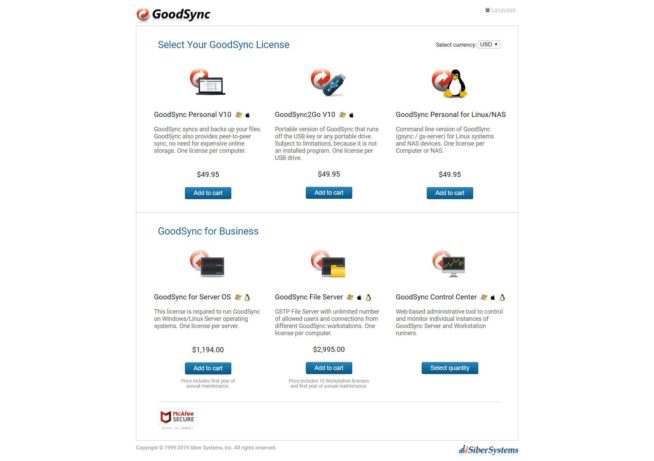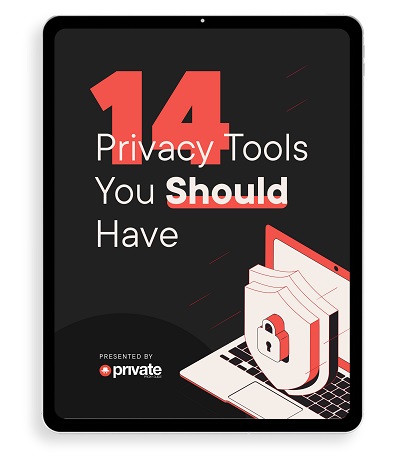 Learn how to stay safe online in this free 34-page eBook.