Today we find ourselves in a world saturated with a lot of streaming services and even more streaming personalities.
With platforms like Mixer, Hitbox, Twitch, and YouTube, every streamer out there is trying to stay ahead of the game and find ways to attract new followers to their channel on their preferred platform. Seeing how the internet is overloaded with content, it becomes harder and harder to find new ways to attract new subscribers.
Experts in the field have come to the conclusion that adding overlays to Twitch-streamed videos is one way to attract more views and gain more donations. And while not everyone is a photoshop expert or a graphic designer to do it on their own, you can always find a variety of overlay templates that you can check out and use from a number of great websites on the web. And today, we're going to talk about the 5 best Twitch overlay websites.
1. Best overlays for Twitch in 2022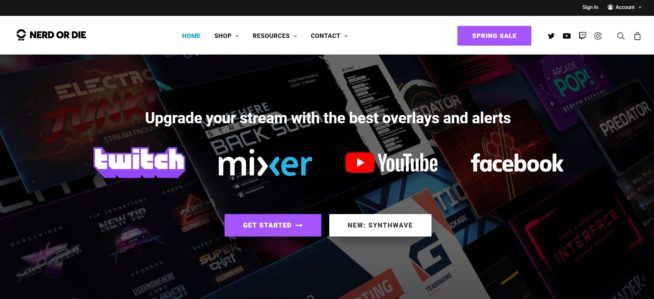 Price: Free & Premium
Works with: Facebook, YouTube, Mixer, and Twitch
Nerd or Die originally started as a YouTube channel and a tutorial website but now it has grown beyond that to become a brand that creates and offers products, custom designs, tutorials and free resources for those who want to break into the streaming game. They intend on creating content that shows off their skill, and it definitely does. You'll find some of the nicest looking graphics for streamers on different platforms at Nerd or Die. Some premium and others free. But essentially, they all look fantastic.
Here's what you can get from them:
Full stream packages
Sound effects
Panels
Overlays
Alerts
The majority of their products work with:
Streamlabs
StreamElements
OBS
Besides that, Nerd or Die also offers custom even lists, stream widgets and chat boxes compatible with both StreamElements and Streamlabs. And as for the free resources, Nerd or Die has your back with plenty of resources that are just as good as the other products:
Social Media Popup (name your price)
Alert Maker (name your price)
Stream Deck Icons (name your price)
Twitch Panel Maker (free)
More free goodies
Nerd of Die is at the top of streaming graphic design providers. They have a nicely-designed website, and their products are thoroughly detailed. This includes how to set them up. When in doubt, go ahead and check out Nerd or Die.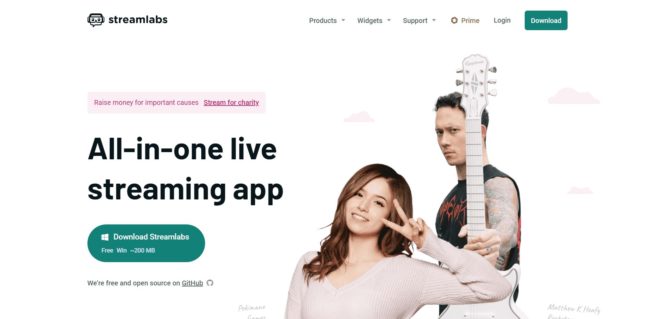 Price: Free & Premium
Works with: Facebook, Youtube, Mixer, Twitch, and more
Here we've got for you another all-in-one service provider for streamers in Streamlabs. While the service is usable for no charge, you're also offered a Prime deal. It's a subscription that comes extra features. Prime is at $19/month or $149/year. What do you get out of it?
Cloudbot. Renamable and can be branded as you choose. Another level of customization.
Mobile App. Receive a private server on Streamlabs. With this, you can make sure that you stay online and retain all the viewers even if your mobile IRL stream disconnects
Gold Status. It provides numerous opportunities to win great prizes and upgrade the stream with every new All-Star status. This means exclusive gold t-shirts, game codes, VIP giveaways, PC giveaways and more.
Merch store. You can even create custom, dropshipped merchandise that includes home goods, stickers, headwear, clothing and more. This brings you a lot of benefits, most importantly new sources of income.
Custom Website. You can get a custom domain and website from Streamlabs. This takes you to the level of a professional content creator. Your site can be fully customizable.
Apps. All apps are free with Prime, and you'll find more than 40 of them. All of them were made to better your channel. But you'll need prime to use them.
Themes. You'll find a huge number of themes and designs to choose from. You can choose an already created theme or customize your own. In both cases, it'll definitely look good.
Prime provides you with a whole lot more, that's for sure. While you don't necessarily need Prime, you'll need it if you want to choose from most of the widgets, apps, and themes. You might find it ridiculous that you'll have to pay for a monthly (or yearly) subscription, but if you do so, you won't have to worry about anything else basically. You'll get access to everything, including:
Sponsor banner
Donation tickers
Media sharing
Spin wheel
Tip jar
Viewer count
Stream labels
Goals
Events lists
Chat boxes
Alerts
And more
You'll find many similarities between Streamlabs and StreamElements. They both provide you with endless resources to elevate your streaming game and be a professional.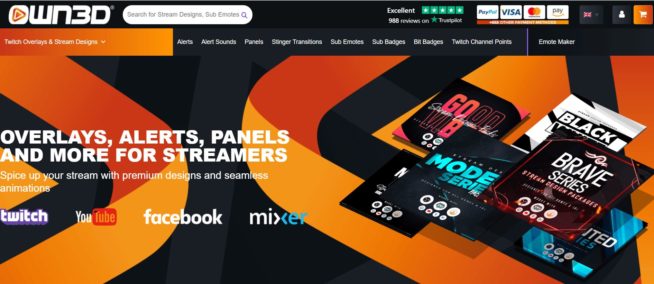 Price: Free & Premium
Works with: Facebook, YouTube, Mixer, Twitch, StreamElements, Streamlabs, and OBS
This is a highly inclusive marketplace for all streamers, and it serves as an educational platform for beginner streamers as well. In Own3D.tv, you'll find several free streaming elements and several Basic and Premium packages that offer advanced websites, overlays, and themes. Own3D is more of a traditional marketplace. It's got one-off assets and full packages available for purchase. But the standout feature in their services is their free courses dedicated to new streamers. It shows them how to use themes, notifications and other things related to streaming. When choosing to buy an asset, you have the choice between a package or a one-off item. The basic package is listed at $48.99 while the premium package costs $80.99.
Own3rs Club
If you're somewhat hesitant about putting that much money into your streaming career, then maybe you'd like to test out the free animations, emote packages, and overlays after signing up for the Own3rs Club. Owb3rs Club is a co-branding initiative that gives you points whenever you interact, stream or share Own3rs content.
Other Products:
Just like we talked before, you're not required to get a full theme of assets. You'll find plenty of single graphical elements and animations, and groups of them too. This includes:
Websites
Avatars
Bit Badges
Sub badges
Sub Emotes
Stinger Transitions
Panels
Alert Sounds
Alerts
Desktop Wallpaper
YouTube Banners
Twitch Profile Banners & Pictures
Offline Banners
Talking Overlays
Webcam Overlays
The price on these things can range from around a few bucks to anywhere near the price of a package depending on how many elements you get, their popularity as well as other factors. Own3D.tv won't exactly feature every imaginable service that a streamer might crave like other websites that we've talked about, but it remains a great place for purchasing high-quality courses, single assets and packages to kick off your streaming career.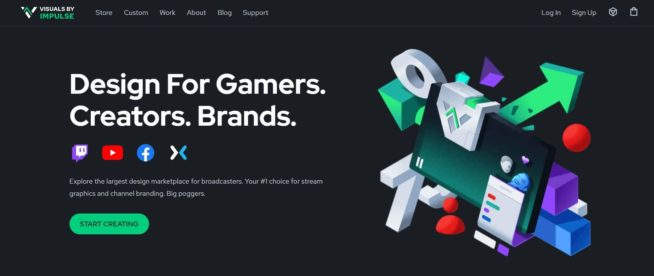 Price: Free & Premium
Works with: Mixer, StreamLabs, Facebook, YouTube, and Twitch
You'll get a mix of both premium and free overlays, packages, alerts and more at Visuals by Impulse. If you want more of a customized asset by a team of experts, you'll get several custom design options that include:
Stream Design (Starting at $400): Gold and Illustrated Gold Stream packages which include panels, cam overlays, and more depending on what you request.
Animation ($225+): Overlays, intros, screens, and alerts in different formats, which include MP4, WEBM, Alpha Channels, and more.
Logo Design ($375+): Emblems, wordmarks and mascots that work great for stream design, business cards and apparels.
Emotes ($35+): Custom emotes and cheer emotes, subscriber badges, and loyalty badges. No minimum amount required.
What's great about Visuals by Impulse is the variety they provide. Even if you can't find anything to your liking, they'll always have new options in a few weeks that'll definitely appeal to you. Besides that, they make regular blogs and videos talking about their latest updates and showing the design process that happens behind the scenes.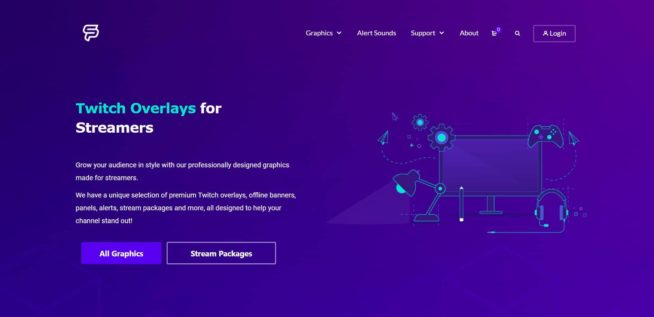 Price: Free & Premium
Works with: YouTube, Mixer, and Twitch
This is a more affordable marketplace option compared to the others. You'll find a variety of packages and single items ranging from $2.99 to 24.99 for full packages.
Here's what you can find:
Animated Graphics
Starting soon and Intermission Graphics
Animated Alerts
Scene Transitions
Alerts
Panels
Offline Banners
Overlays
Stream Packages
Webcam Overlays
Besides all of the paid services, you can also find a small collection of free Webcam and Twitch Overlays to kick things off. You can get from them an editing service as well for both the premium graphics and the free ones if you can't use photoshop properly.
2. FAQ
2.1 What is a Twitch overlay?
What a Twitch overlay consists of, is a number of designs and graphics that appear in the footage you're streaming alongside your gameplay. Some examples of these graphical elements are transitions (stingers), lists, stream screens, stream alerts, bar or ticker overlays, webcam frames and much more.
In most cases, a stream overlay would be a transparent PNG image that overlays the content you're streaming. And typically, the overlay would be around the edges of the footage so that the center of the video remains unblocked by anything to show the content of the stream, whether it'd be gameplay or anything else. But, the exact layout of your overlay will always depend on the layout of your footage and the kind of content that you're intending to stream. If you want to have the best overlay possible for you and your channel, it must contain design elements that are unique to you, your channel, your content, and your brand. That can be a logo, color scheme or stream information like donations, new subscribers or music.
2.2 Why you need a Twitch overlay
Fundamentally, you'd want to have a stream overlay to improve the presentation of your stream and add a unique touch to your channel. Let's say there are two different streamers with equal talent and quality of content. If one of them has a more attractive visual layout, then they'll be the one with more followers.
Your overlay says that you are committed to the content you create and the community you interact with, it says that you're a professional at what you do. It also makes watching more enjoyable. As time goes by, you'll gain some followers, presenting them with an overlay will make them feel more familiar with you and your channel. It'll be something they'll look for as they get used to your content. At the end of the day, if you put care into the visual representation of your channel, you'll simply stand out from the crowd.
2.3 What's featured in a good Twitch overlay?
The overlay you chose should go hand in hand with the content you deliver and the games you play.
If you're an energized streamer with a colorful personality, then choose an overlay with creative elements and bright colors. If you're a straight-to-the-point competitive player, maybe go with a minimalist design, no bells or whistles, just a straightforward color scheme so you don't distract your followers from the content you're making.
A lot of streamers choose to change the overlay they use based on the game they'll be streaming. Seeing how there's a plethora of different designs to choose from, you'll find exactly the overlay that matches what you want to show. Besides the design themes and color schemes, you'll have to think about the complexity and features of the overlay as well.
Let's say you're streaming a game with a simple UI like a battle royal or an FPS game, with the emptiness of the game screen itself, you can have fun filling up your footage with denser and more complicated overlays. But if you're playing a MOBA or an MMORPG with a very busy UI, then you'd want to go with a minimalist look as the screen is already crowded with the game's HUD. Try different things until you land on the design that you feel comfortable with. While some streamers prefer dynamic and complex designs, others like to go with more minimalist overlays.
3. Conclusion
The list above contains several great sources for downloading Twitch overlays and for creating your own custom designs as well. They all share a great number of common features, but they all differ and a number of aspects that will determine what works best for you depending on your preference.