How do you get unbanned and unblocked on Omegle? There are several possible options to get unbanned: changing your public IP address, using a VPN and using a proxy service.
1. How to get unbanned from Omegle in 2023
1.1 Get unbanned from Omegle by changing your IP address
Simply put, the IP address of your PC is the address it needs to work on the network. It is necessary to find, transfer and retrieve materials between two devices (or nodes) without any problems. Such an account consists of a certain digital combination that can identify any computer on the Internet. That is, every time you look for information, download files, or even just open a browser, you use your unique IP. The ability to change your IP address depends on the technology used by your provider. If your IP-address is static, this method will not work — you get a permanent IP address and you are a unique user of it. If the provider offers dynamic IP which, to tell the truth, is more popular, you can change it in a few clicks.
In order to get a new IP address, you just need to reconnect to the Internet. There are several ways to do this:
Reboot your computer. Your IP address will change after reboot. Use it if you connect to the Internet directly, without the router.
Use an alternative connection. For example, it's possible when you have several providers at home or just use your smartphone as a modem.
Reboot the router. If you are thinking about how to quickly change the IP address, just press the power button on the router to turn it off and then back on. Read the user manual on how to do this procedure safely. In most cases, everything will run smoothly. However, some models can restore the settings after a forced reboot. In this case, the best option is to make a programming reboot via the settings menu of the router.
Reconnect to the Internet manually. If you use a wired connection, you can easily disconnect and reconnect to the Internet. Just unplug the internet cable from your PC. After reconnection, the provider can assign a new IP address. Again, this is possible only if you have a dynamic IP.
1.2 Get unbanned from Omegle by using the Opera web browser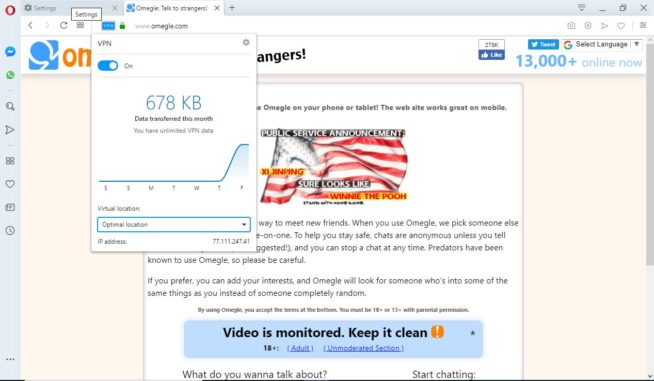 The Opera browser (www.opera.com) offers a built-in VPN feature with unlimited traffic. The VPN connection works only in the browser, but the connection is always stable and has a high speed. The built-in Opera VPN can be used absolutely free of charge and without any restrictions.
By default, the VPN service in Opera is disabled. To activate the service, follow these steps:
Open the Settings page – copy opera://settings/, paste it into the address bar of your browser, and press Enter.
Go to the Advanced — Security section in the left navigation menu.
Scroll to the VPN section.
Turn the Enable VPN switch to an active position.
Opera supports various locations in Europe, America, and Asia. You can use the "Optimal Location" option to select the optimal server speed.
1.3 Get unbanned from Omegle by using a VPN service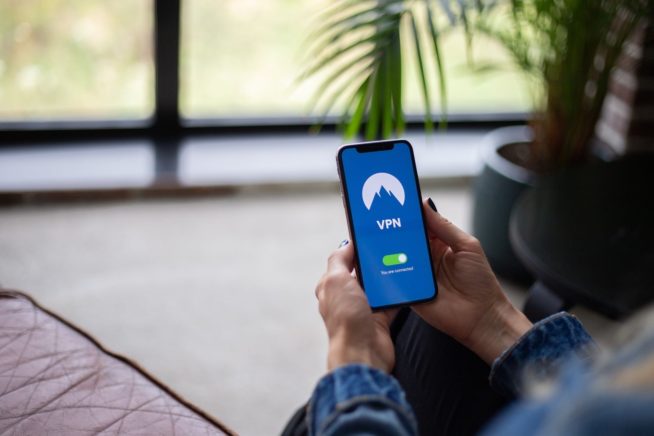 VPN services allow you to create a secure encrypted communication channel and replace your virtual location. In this way, you can access a forbidden site by simply selecting the server in the country where the resource is allowed to be accessed. There are free and paid VPN services. Usually, free services have limitations on the connection speed or traffic volume. Typically, VPN services have a minimalist interface that allows you to connect to the VPN and choose the location of the server. After the VPN connection is established, all network traffic will pass through a secure channel. VPNs can only be used when you need to access a blocked site, or when you need to leave it active all the time to increase your privacy on the network.
We cannot advise using free VPN services as they are not as reliable as the paid ones. The following providers are among the best ones for VPNs:
VPN Service


www.nordvpn.com
NordVPN
Review
Price: $11.95 $3.71/month
Servers: 5500+ in 59 countries
Simultaneous connections: 6
Jurisdiction: Panama
Payment: PayPal, AmazonPay, Crypto, Google Pay, Klarna
Torrenting: OK
Unblocks US Netflix: Yes
Dedicated IP: $70/yr
TrustPilot Score: 4,7/5
Money-back: 30 days
Extra: Double VPN, Obfuscated servers
Visit NordVPN »


www.expressvpn.com
ExpressVPN
Review
Price: $12.95 $8.32/month
Servers: 3300+ in 94 countries
Simultaneous connections: 5
Jurisdiction: British Virgin Islands
Payment: PayPal, Crypto, AliPay, Klarna,
Torrenting: OK
Unblocks US Netflix: Yes
Dedicated IP: Not provided
TrustPilot Score: 4,7/5
Money-back: 30 days
Visit ExpressVPN »


www.cyberghostvpn.com
CyberGhost
Review
Price: $11.99 $2.25/month
Servers: 6600+ in 89 coutrines
Simultaneous connections: 7
Jurisdiction: Romania
Payment: PayPal, Crypto
Torrenting: OK
Unblocks US Netflix: Yes
Dedicated IP: $51/yr
TrustPilot Score: 4,8/5
Money-back: 45 days
Visit CyberGhost »


www.surfshark.com
Surfshark
Price: $11.95 $2.49/month
Servers: 3200+ in 65 coutrines
Simultaneous connections: Unlimited
Jurisdiction: British Virgin Islands
Payment: PayPal, Crypto, Google Pay, Amazon Pay
Torrenting: OK
Unblocks US Netflix: Yes
Dedicated IP: Not provided
TrustPilot Score: 4,3/5
Money-back: 30 days
Visit Surfshark »


www.purevpn.com
PureVPN
Review
Price: $9.60 $3.33/month
Servers: 6500+ in 140 coutrines
Simultaneous connections: 10
Jurisdiction: Hong Kong
Payment: PayPal, Credit Cards
Torrenting: OK
Unblocks US Netflix: Yes
Dedicated IP: $35.88/yr
TrustPilot Score: 4,7/5
Money-back: 31 days
Visit PureVPN »
You can find detailed reviews of each service on our website. They are highly reliable, guarantee high connection speed, as well as access to Omegle and other restricted resources.
You can also try a free VPN if you really want to test them.
1.4 Get unbanned from Omegle by using the Tor browser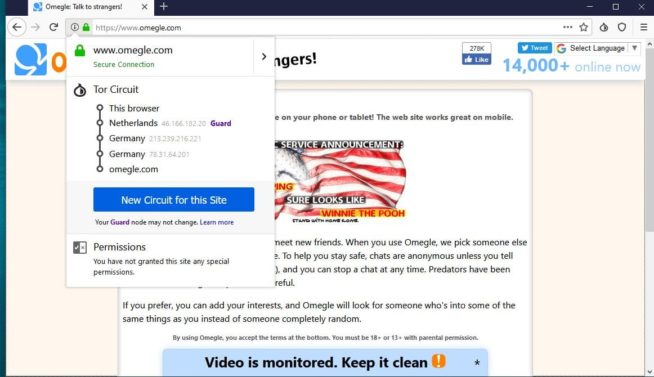 Another reliable way to bypass the ban in Omegle is to use the Tor Browser (https://www.torproject.org/download/) which is based on Mozilla Firefox. The Tor Browser is a client application for the anonymous network. Multi-level encryption and routing of the user's network traffic over a distributed network are used to ensure the user's confidentiality. This technology prevents an external observer of your Internet connection from knowing which websites you are visiting, prevents the sites from knowing your physical location, and also allows you to access blocked web resources. The main disadvantage of using Tor is its low connection speed. However, this is the price you pay for the anonymity and privacy of personal data. The browser can be used absolutely free of charge and without restrictions.
You can also find some good Tor browser alternatives here.
1.5 Get unblocked from Omegle by using proxy servers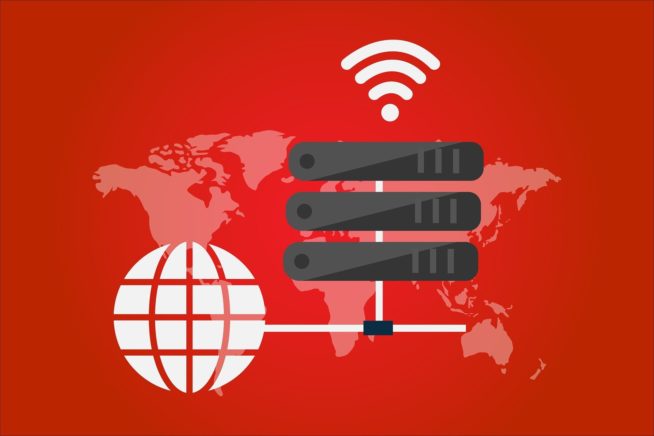 Proxy is another simple way to bypass the blocking, allowing you to access the Internet through a remote server. The site thinks that you are actually in the country where the server is located and the service is not restricted. A proxy server allows you to change the location and bypass the restrictions on access to sites and services. How does a proxy server work? It acts as an intermediary between your computer and the Omegle website. It will change your IP address and you can even try using the platform even if you were banned due to rules violation.
There are several groups of proxies.
Elite proxies. The configuration of the server hides your IP address and does not transfer the proxy identifier. Omegle will consider you to be a regular user.
Anonymous proxies. The server configuration also hides your IP address but transfers the proxy identifier. An experienced administrator will detect it and ban you. This kind of proxy hides neither your IP nor the proxy identifier — they're mostly used to increase the browsing speed.
On our website, you can find reviews of different types of proxy providers, both free and paid.
For Omegle, we would recommend a private proxy package from SSLPrivateProxy.
2. Omegle ban FAQ
2.1 How long do Omegle bans last?
There are several types of bans that depend on multiple factors. In general, the following terms are used:
one week ban — a soft violation for the first time;
up to 120 days ban — a soft violation for the second time;
permanent ban — strict policy violation like spamming, nude pictures, racism, abusive behavior, etc.
So, if you'd like to avoid being banned, behave naturally, watch your words, and follow the platform rules. In most cases, it will be enough. Now, let's suppose you didn't violate the rules but you are still banned on Omegle. Is there any chance to get unbanned? We'll consider several options.
2.2

Why did you get banned on Omegle?
People systematically ignore your communication attempts. If people continue to ignore your messages, moderators will pay attention to this. Regardless of whether this is due to a lack of communication skills or whether you may just be trolling people, if the situation changes, you have a good chance of avoiding the ban. If Omegle notices this trend in your activity, given a large number of users waiting to be moderated, then you'll probably get a ban on all subsequent connection attempts.
The users complained about your behavior to the website administration. This is the most important reason. Trolling people or actions of an intimate nature contradicts the rules of the website, which is obvious. So no matter how long you get away with it, you will inevitably be reported and blocked. But even if the user decides to troll you, they can complain about you and you are also likely to get a ban on Omegle. Moderators won't waste time investigating each user individually — they can simply block you based on one complaint.
You have violated the rules of the web service. Like every service, the online platform has its own rules and terms of use. However, very few users worry about reading these rules — almost no one is familiar with them. But even in this case, the consequences are usually the same. On Omegle, it is not too difficult to violate the rules. They have a typical policy that forbids naked communication, spam activity, disrespect, and humiliation of others, but some other things are surprisingly forbidden. For example, it is not allowed to reproduce music or use any form of sound in the background.
Changing chats very often. If you often switch chats without making conversation, the platform will likely block you in this case as well. They do not like the users who are just nosing around. It looks very suspicious like you are a spy or policeman. They prefer to not work with such visitors and ban them.
Spamming. A lot of users use the platform for advertising purposes. For example, there are special bots that send messages with commercial information. Of course, very few platforms welcome such behavior and block the users from sharing suspicious content. So, to avoid being banned, avoid sending spam messages.
Using one of the restricted words. There is no official list of restricted words during a conversation but actually, the service can ban you when using certain words. Mostly, these are words that are normally censored so try using adequate vocabulary.
You live in a country that blocks Omegle. It's not a secret that in some countries some services and platforms are highly restricted or banned. We can say for sure that Omegle is blocked in North Korea, Sudan, Ethiopia, China, United Arab Emirates, Iran, Pakistan, Syria, Qatar. However, these countries are well known for their strict censorship rules. In most countries, the service works more or less stable but this can depend on many factors.
3. What is Omegle?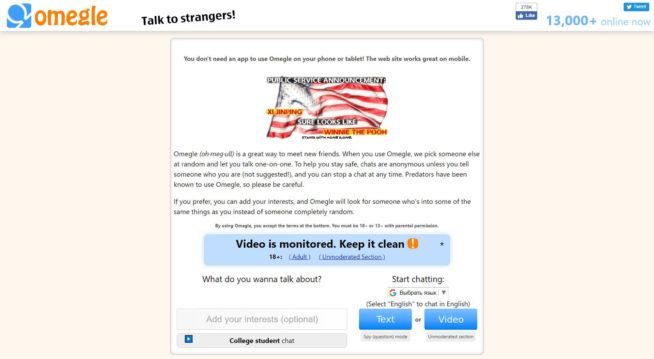 Omegle (www.omegle.com) is an online platform where you are able to keep in touch with random people from different parts of the world via video and text chat. The website was created in 2009 and since then it grew rapidly. Millions of people are chatting here every single day. It is completely free to use and there are no hidden fees. The chat is available in many languages. The service is anonymous — you do not need to create an account and leave your personal data. So, if you are a privacy lover, no one will know anything about you. You can enter any random data you want. In addition, the service works smoothly on any device, be it a desktop computer, tablet, or smartphone. So, there is no need to install additional software or mobile applications — everything works perfectly in the browser. To go directly to the chat room on the site, click either Text or Video. Perhaps you will have to prove that you are not a bot but very soon the system will connect you with someone.
Don't be upset if the person you're talking to immediately tells you their gender, desires, or wants you to visit a suspicious link. Unfortunately, Omegle is full of spammers. Just click the Stop button to finish the chat and start a new one. You can also press Esc for both actions. Practically, any topics are available to discuss. In many cases, it can be very useful for those who are learning a language — it offers great practice with native speakers.
If you want to talk to someone with similar interests, just add your interest in the particular field on the home page. The platform will try to match someone with similar interests. There is an option to connect to your Facebook account and import the interest from that profile. On the Omegle homepage, there are several alternative versions of text and video chat: Spy (question) mode, College student chat, an Unmoderated section, and Adult. Keep in mind that in the latter two sections there can be inadequate people.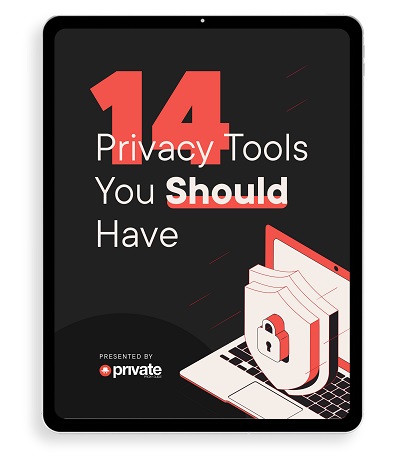 Learn how to stay safe online in this free 34-page eBook.