Browsing the internet is fun – you can watch movies, TV shows, play games, enjoy your favorite sports events, and much more. It's also very helpful since it allows you to complete to-dos, for example, you can do bank transfers.
Many people try to make sure they're safe while they're online, especially if they're connected to public Wi-Fi. You may be aware of the fact that there are priers and hackers on the web, and they might try to steal your information.
Therefore, what you do may not be enough to keep your data secure. To guarantee that no unwanted parties can access your information, you have to use a VPN service that allows you to conceal your location.
Additionally, if you're in Finland, you might want to go out and enjoy different places to visit or eat something out of the ordinary. However, other times, staying home might be the best option, but you need a VPN to access geo-restricted content if you don't want any limitations to what you're going to watch.
1. Best VPN for Finland in December 2023
Once you understand the importance of using a VPN to stay safe while you're navigating the internet, you might want to know about the best options you have available. Check out the following alternatives:
1.1 ExpressVPN – Fastest VPN for Finland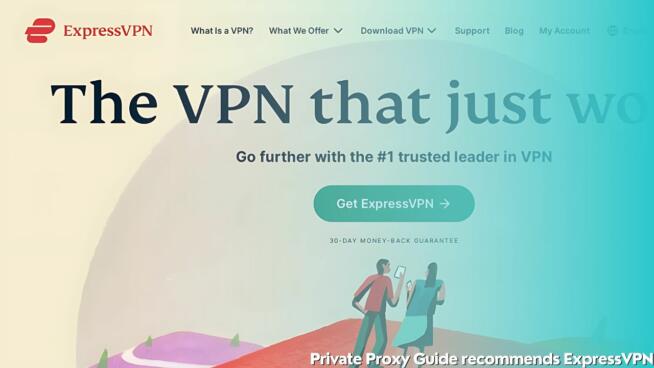 The first VPN on this list is one of the most famous ones you could find since it's been around for years and hundreds of users have mentioned fantastic things about it. ExpressVPN started in the British Virgin Islands, but now people from all over the world use it!
This VPN service is primarily a security tool to encrypt your data while you're online. It has one server in Finland, and it offers many other features you should consider, for example, its top speeds.
When you're an avid gamer, you need to make sure that your internet speeds are good enough while you're playing. Otherwise, lag might hinder your experience. 
However, with ExpressVPN, you can get top speeds at all times – the VPN's name exists for a reason. Additionally, since it can unblock all sorts of geo-restricted content, you can use it to enjoy all the sports events, shows, movies, and games you want.
1.2 NordVPN – Best Overall Finland VPN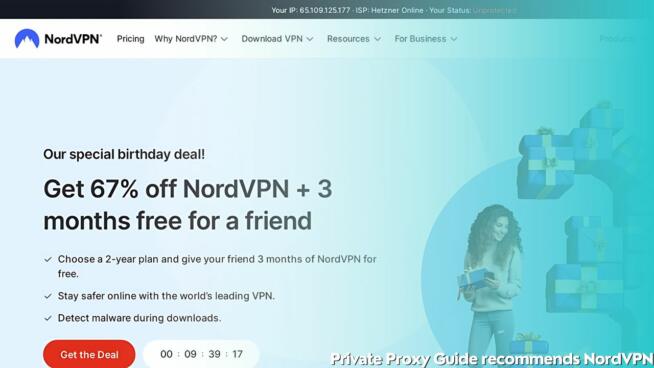 Choosing between ExpressVPN and NordVPN is not an easy job, and if you take a look at different reviews, you might quickly notice that some people often pick one or the other as their favorite, but it's frequently still between these two.
In this case, NordVPN is in second place because Express offers some more advanced features, such as its frighteningly high speeds. Furthermore, this option does not have servers in Finland. Nonetheless, Nord is still one of the best alternatives you could go for.
NordVPN started years ago as a simple tool to mask your IP address, but now it's much more than that since you can both protect yourself while you navigate the internet and enjoy your favorite content. Now, this fantastic VPN unblocks Netflix, Amazon Prime, Steam games, sports events, and more.
Since NordVPN is less expensive than ExpressVPN, it might be your favorite option since it lets you save money. However, it all depends on what you're looking for!
1.3 ZenMate VPN – VPN With Many Finland Servers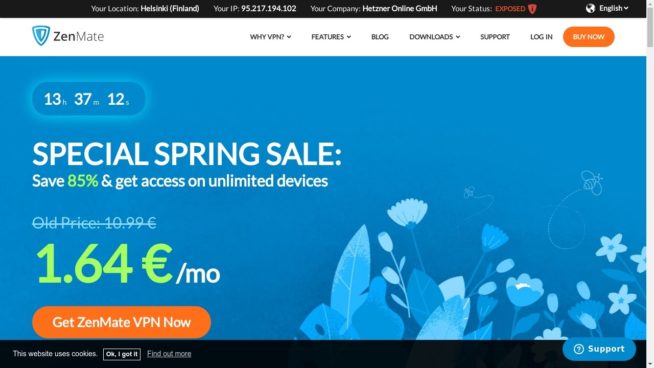 Zenmate is often called the 'baby' of VPN services since it hasn't been around for as much time as NordVPN and ExpressVPN. Once you realize this, you might believe it doesn't offer you the options you're looking for, but that's certainly not the case.
With Zenmate, one of the best things you can enjoy is that it's immensely easy to use. Forget about complicated processes – this VPN prioritizes user experience and you can intuitively use it to connect to a server on a different location and enjoy your time on the web.
At the same time, unlike the two previous options, Zenmate has 28 servers in Finland. Therefore, you have plenty of alternatives to choose from, especially if you want to guarantee that you're concealing your IP address from snoopers and priers.
Even though Zenmate doesn't offer as many features as NordVPN or ExpressVPN, it still provides you with the primary things you need – security, good speeds, and geo-restriction unblocking characteristics.
1.4 PrivateVPN – Best Budget VPN for Finland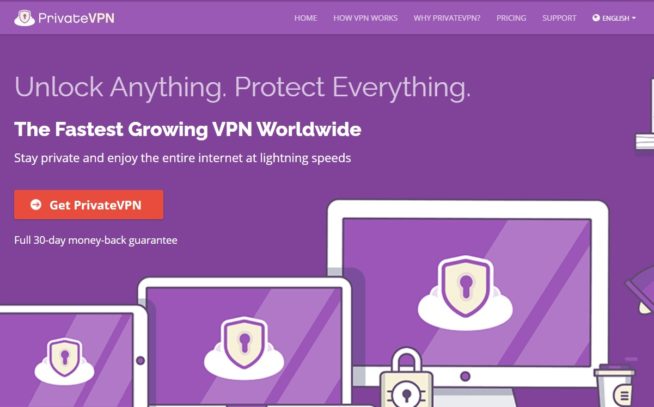 Spot number four on this list is for PrivateVPN, which is another fantastic option you should keep in mind if you're living or visiting Finland and you want to conceal your IP address.
In some cases, you may not be so worried about hiding your IP address from possible snoopers. Even so, you might still be able to take advantage of Private's features – with good speeds, fantastic prices, and incredible deals, it's many users' favorite.
PrivateVPN has something that makes it stand out from the competition – it offers you different pricing plans, which means that you can choose the one that adapts to your budget the most. Furthermore, if you're not satisfied with this VPN, you can get your money back as long as you use the 30-day guarantee.
While PrivateVPN is much simpler than other options, this is what many people are looking for, especially because it offers a server in Finland. Consequently, you should examine its features and determine if they match your needs or not.
1.5 CyberGhost – Safe VPN for Finland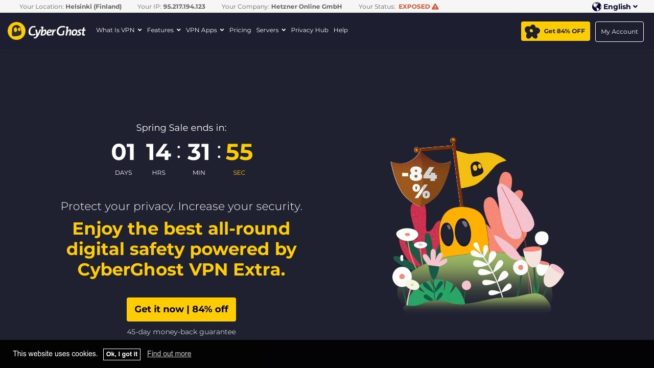 If you know anything about VPN options, you might wonder why CyberGhost is the last one on this list. The answer is simple: all five alternatives are high-quality services, and what varies between one and the other are small details. In the end, you need to choose what adapts to your needs.
Thus, CyberGhost is definitely one of the best VPNs you could choose, even though it's on number five here. Among all the mentioned alternatives, CyberGhost is the only one that gives you 40 servers in Finland, specifically in Helsinki.
Consequently, it's obvious that CyberGhost has top options for you to choose from, and it also guarantees that no unwanted party can access your information without your consent. With this VPN, you can also unblock Amazon Prime, Netflix, and many more streaming services as well as games and other geo-restricted content.
CyberGhost is unique like the rest of the VPNs mentioned in this guide, so you need to evaluate the prices it offers you. Choosing it is always a good idea since it's affordable and offers high-quality features.
2. Finland Is Many People's Dream
Living or visiting Finland means you're in one of the most beautiful places in the world. You can find a quiet spot to watch the northern lights or enjoy the incredible view of the Baltic Sea.
At the same time, you may enjoy the exquisite cuisine, especially in Helsinki. Every part of the country has something to offer, and since it's one of the most famous spots in the world, you can wander through different touristic spots without fear of anything.
Helsinki, for example, is also known as 'the Daughter of the Baltic' due to its location near the sea. Other parts of Finland offer incredible architectural designs, including the design district, which is in many people's list of places to visit when they go there.
You can get a walking tour or explore the cities yourself – the whole of Finland may be at your fingertips, and you can enjoy every minute of your trip. If you already live there, then you can get to know places you'd never been to before!
However, on some occasions, you might want to stay at home and enjoy a quiet night watching Netflix or other streaming services, which is why a VPN might help you.
3. Finland VPN FAQ
3.1 Why Should You Use a VPN to Unblock Netflix?
Using a VPN to unblock Netflix or any other streaming service is not mandatory, but it's a fantastic option if you want to have access to geo-restricted content.
If you're living or visiting Finland, you might want to relax for a while and watch a movie or your favorite show. However, it might not be available due to your location. Therefore, using a VPN may be the only option you have to access it.
3.2 Do All VPNs Work for Finland?
Unfortunately, not all VPNs work, regardless of the country you're using them for. As a consequence, you should always choose the best services, which is why this guide described the five top options you must consider.
3.3 Should You Use a Free VPN to Browse the Web?
Using a free VPN is never a good idea. Even though it sounds like the ideal option to save money if you're on a budget, it may not protect your data or work when you're trying to unblock your favorite content. Therefore, you should choose paid services.
4. Conclusion
There are many VPN options available, but not all of them work well, and only a handful of them offer you the best features. 
The five alternatives this guide described are the ones you should keep in mind if you're traveling to Finland or living there since they can guarantee you're safe while you're online, while also providing you with other fun features – you can watch your favorite movie, so why not take advantage of all a VPN can offer?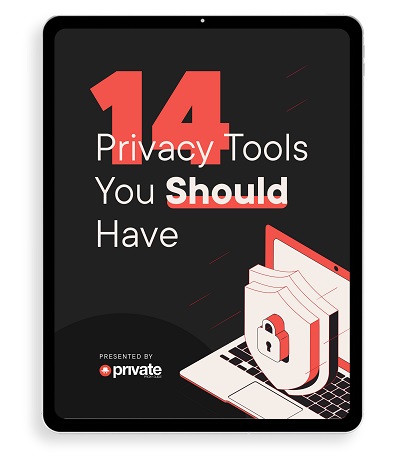 Learn how to stay safe online in this free 34-page eBook.