In today's article, we'll discuss ChatGPT, talk about ChatGPT bans, and give you our top 5 VPNs for ChatGPT that'll allow you to unblock it no matter your location or firewall restrictions.
If you're interested in this service, I strongly recommend reading this article thoroughly.
1. Best ChatGPT VPN in September 2023
When talking about a VPN for ChatGPT, you must know that not every provider will suffice. With hundreds of them on the market, not every VPN will give you the level of privacy and security you need to enjoy ChatGPT safely and unblock it anywhere.
Today, I'll give you my top 5 VPNs for ChatGPT which I personally tested and can confirm work flawlessly. These are premium VPNs, but to make sure you get the best possible experience, I decided not to include free services because they're far from great.
1.1 NordVPN – Best Overall ChatGPT VPN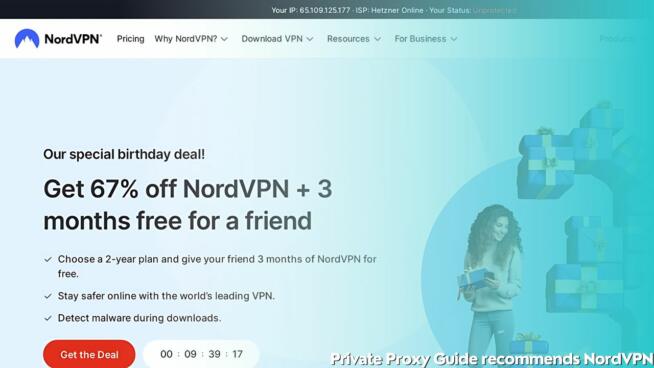 NordVPN is my go-to option for using ChatGPT in Italy or any other banned country. It has 5,400 worldwide servers with excellent speeds and rock-solid security, making unblocking this software a breeze. Just connect to a server in a country where ChatGPT works.
After that, visit its site, create an account, and enjoy chatting with OpenAI's masterpiece. NordVPN sports modern-looking apps for all platforms and devices, so you can use it even on your iOS/Android phone to unblock ChatGPT anywhere.
Plus, the provider comes with 256-bit encryption, a kill switch, and IP/DNS leak protection, ensuring you aren't leaking sensitive data to the public eye. NordVPN's Threat Protection guards you from viruses/malware and its Private DNS ensures you're not being spied on.
Speaking of which, NordVPN has a no-logging policy and won't store ANY personal data. This, accompanied by Double VPN servers and obfuscated servers that work in China, makes NordVPN among the most versatile and trustworthy VPNs on the planet.
1.2 ExpressVPN – Fastest VPN for ChatGPT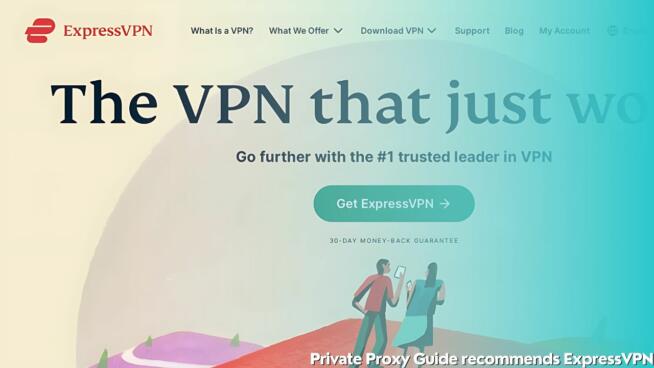 ExpressVPN is a service many people have heard of. It's known for impeccable security but also 3,000+ servers in 160 locations globally. Needless to say, it's fully capable of unblocking ChatGPT in countries like China, Russia, Italy, and Iran.
The service prides itself on having the most cutting-edge security features, such as the Lightway VPN protocol, self-managed DNS, and TrustedServer technology, which is a name for RAM-only servers. In addition, ExpressVPN offers 10 Gbps servers.
This ensures excellent performance not only for ChatGPT but also gaming, streaming, and downloading torrents. Its simplistic apps share the same look and feel on all platforms, making ExpressVPN very easy to use if you're a beginner and you've never used a VPN.
ExpressVPN has a no-logs policy and its kill switch is incredibly reliable. The provider has 24/7 live chat support as well and offers a 30-day refund policy for all plans. Most importantly, it works reliably with ChatGPT, so it earned the place on this list easily.
1.3 PureVPN – ChatGPT VPN With Many Servers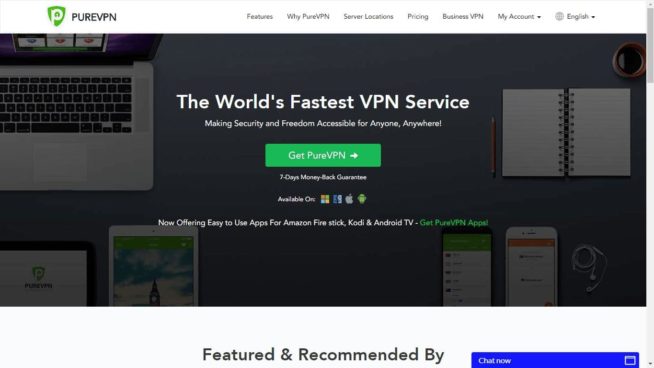 PureVPN isn't better than NordVPN or ExpressVPN. But this cheap VPN has plenty of servers, all capable of unblocking ChatGPT with a snap of a finger. PureVPN is a master of security and privacy, offering bank-grade encryption and a certified no-logging policy.
With several third-party audits, PureVPN is a tried-and-tested solution for privacy-focused users. It's a bit slower than NordVPN but it has 5,000+ servers in dozens of countries, along with applications for devices like Fire TV Stick, routers, and iOS/Android phones, tablets, and laptops.
I like PureVPN due to its simple pricing structure and the fact that you get features like port forwarding, dedicated IP, and DNS/Ipv6 leak protection. Needless to say, PureVPN is also easy to use and even offers a free VPN app available for all of your platforms.
As always, PureVPN offers many discounts and special deals, so I recommend visiting its site if you're interested in getting it. It works perfectly with ChatGPT in Italy and other countries, yet, it's also affordable and secure – what more can you ask for?!
1.4 CyberGhost – Safe VPN for ChatGPT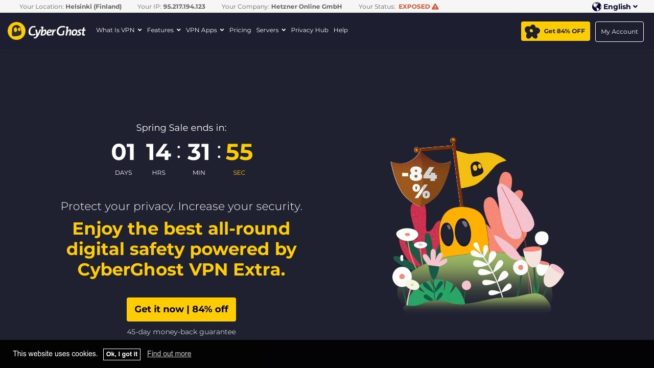 CyberGhost packs 9,100+ servers in nearly 100 countries. It's among the safest providers based in Romania, with a huge focus on user privacy. Being able to unblock ChatGPT, it's also versatile and allows for accessing restricted content with ease.
CyberGhost has streaming and torrenting servers, accompanied by NoSpy servers for added privacy. I like its ad-blocker as well as WireGuard support which adds to its performance and speeds. CyberGhost can unblock ChatGPT in Italy and other European countries.
However, since it has no obfuscation, it won't work in China and Russia reliably, so it's in the fourth place on this list. Other than that, we're talking about an affordable choice with a 45-day refund policy for all long-term plans – including the cheapest one.
CyberGhost stores no logs and comes with bank-grade encryption, coupled with 7 simultaneous connections and 24/7 multi-language support.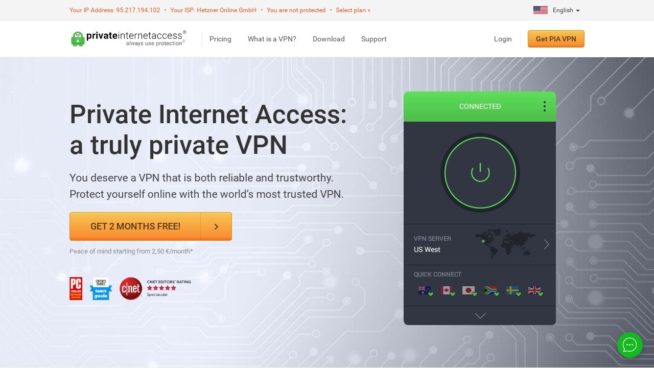 The last pick for today is PIA or Private Internet Access. This service prides itself on having very affordable prices combined with 30,000 worldwide servers in nearly 90 countries. Is this ChatGPT VPN any good for unblocking the platform?
Absolutely! It works perfectly fine and provides 10 simultaneous connections. Plus, it comes with features like MACE (ad blocker), port forwarding, SOCKS5 proxy, and obfuscation, allowing it to work even in China and Russia.
People from Italy can use PIA as well and, in this country, it'll unblock ChatGPT with no problems. It's not the fastest provider, although its performance is reasonable thanks to WireGuard and OpenVPN. I found PIA excellent for torrenting safely, too.
Its zero-logs policy has been proven in court a few times, and so far, the provider remained true to its words with no data-leaking scandals despite the US jurisdiction.
Private Internet Access Review
2. How Can a VPN for ChatGPT Help?
Now, you might be wondering how a VPN for ChatGPT can help you. Well, as you probably know, VPNs are great at overcoming geo-restrictions and unblocking restricted sites. We're talking about both geo-restrictions and firewall restrictions often displayed in China or the UAE.
A VPN can help you change your IP address to another country and make every site you visit online see your new IP address. As such, you can make yourself look like you're located somewhere else, with a completely new identity.
Many people refer to VPNs as the best solutions for privacy and anonymity – and they're right! For ChatGPT, this is extremely important, as we're still not sure if the software stores your vital information, plus, it's geo-restricted, and both issues can be fixed with a VPN.
Encrypting your traffic, it'll prevent ChatGPT from accessing your personal data, and by changing your online location, it allows you to unblock ChatGPT anywhere. No doubt, Italians were right to use a VPN for ChatGPT, but let's see what are the best ChatGPT VPNs in 2023.
3. What Is ChatGPT?
ChatGPT sparked a lot of attention from users online due to its ability to simulate a real human through a seemingly sentient chatbot. This software is developed by OpenAI, a company known for thorough research regarding artificial intelligence.
OpenAI launched the first version of ChatGPT at the end of November 2022 and since then, ChatGPT enjoys massive success but also controversy around the globe. ChatGPT can be used for a variety of purposes, such as answering your questions, helping you write essays, and even aiding people in coding.
Interestingly, this tool is often used for writing emails and helping in business conversations, making it hard to distinguish when it's in use. To make things better, using ChatGPT is very easy, as you just have to visit its site, create an account, and start chatting.
3.1 How Does ChatGPT Work?
One of the most impressive things about ChatGPT is how it works. You see, the software works by utilizing a language model architecture called Generative Pre-Trained Transformer or GPT, hence the name ChatGPT.
At the time of writing, the software uses the so-called GPT-3.5 but users who subscribe to ChatGPT's premium version can enjoy GPT-4, which is vastly improved and is currently the latest iteration of the language model architecture developed by OpenAI.
Many people confuse ChatGPT with a search engine. However, there's a big difference. A search engine will display the search results based on your query, whereas, ChatGPT will answer your question based on the information it "learned" from training data.
This means that ChatGPT isn't as accurate as a search engine and its information might not always be 100% true. Regardless, ChatGPT is trained by OpenAI on a variety of information from different sources, such as websites, books, e-books, and news articles.
This is further improved by OpenAI's implementation of something called RLHF or Reinforcement Learning from Human Feedback. The implementation of RLHF allowed OpenAI to "teach" ChatGPT to indulge in real-world conversations and act as a human.
Through the information learned from all of the aforementioned sources and the addition of RLHF, ChatGPT is the most advanced chatbot on the planet. It possesses a huge pool of information which allows it to chat with you like a human and answer an impressive variety of questions.
4. Why Did Italy Ban ChatGPT?
Many people refer to ChatGPT as "scary good" which can be justified. This software can answer pretty much anything and help you solve complex problems without the help of a real human. Not long ago, many countries around the world banned ChatGPT for good.
But the most notable example is Italy, a country otherwise known for a free and censorship-free internet. The Italian company for data protection called Garante made accusations that OpenAI, the company behind ChatGPT, collects and stores the personal data of Italian citizens.
With this in mind, OpenAI essentially breaches GDPR that are often put in place in many EU countries. While OpenAI denies these accusations, it's most likely that Garante is right, as ChatGPT requires account creation to be used and isn't an "anonymous" tool like Omegle.
Another reason behind Italy banning ChatGPT lies in the lack of age verification. This could easily expose underage persons to content unsuitable for them, which ChatGPT is undoubtedly capable of generating. Regardless of everything, OpenAI hopes that Italy will lift the ban soon.
The company's spokesperson mentioned that the company will do its best to educate Garante about the way it works and that its infrastructure is allegedly built around user privacy. This ban received mixed receptions, as even some popular politicians criticized the decision.
However, it's worth noting that countries like Germany, France, Ireland, and many others are still debating over whether or not ChatGPT should be banned.
4.1 Where Else Is ChatGPT Banned?
As said, Italy isn't the only country where ChatGPT is banned. On this list, we can find North Korea, Russia, China, and Iran among the first countries that banned ChatGPT completely. In the US, for example, the software is banned in schools and workplaces.
These recent bans produced massive spikes in VPN use in more than a few VPN providers, as they reported. For example, Italian citizens turned to VPNs after April 1, 2023, which is the day when ChatGPT was banned in the country.
Italy isn't the only country with these tendencies. Russian residents also started using VPNs to access ChatGPT, while people in Belarus, Syria, and North Korea didn't follow this trend because using a VPN in these countries is considered illegal.
5. ChatGPT VPN FAQ
5.1 Will a free VPN for ChatGPT work?
Yes, a free VPN will work. However, free VPNs have limited bandwdith, slow speeds, and not many servers, so unblocking ChatGPT isn't always guaranteed. Plus, they often collect and sell your personal data, making them quite risky to use from a privacy standpoint.
5.2 How to use a VPN for ChatGPT?
To use a VPN for ChatGPT, you first need to subscribe to one. Select a VPN from our list, get a subscription, and install a VPN on your device. From there, sign in to the app and connect to a VPN server in a location where ChatGPT works.
If you live in Italy, for example, connect to a server in the US, Germany, Canada, or any other viable country. This will allow you to access ChatGPT, as the site will see your new VPN-given location as the real one.
5.3 Is ChatGPT always correct?
Unfortunately, no. ChatGPT has a high percentage of incorrect answers because it's not perfected and because people tend to ask ambiguous questions. ChatGPT won't ask you to clarify your question, instead, it'll try to assume what the question means and give the answer accordingly.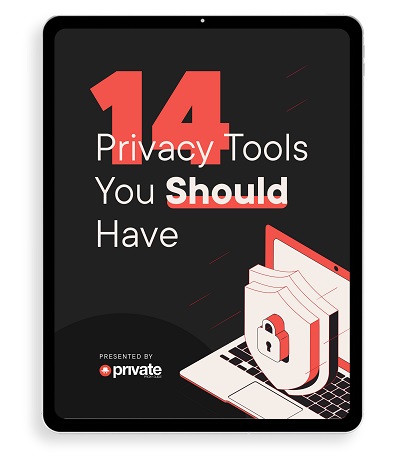 Learn how to stay safe online in this free 34-page eBook.