You've likely experienced locked content when trying to browse the web if you live in or visit Ecuador. This is often because of legal reasons, such as licensing or copyright issues. However, some services and websites are available only in a handful of countries.
With that, Ecuador also has less internet freedom, and you're sure to see disruptions on social media platforms. Likewise, the government regularly spies on its citizens. The good news is you can bypass those geographic restrictions and maintain anonymity online when you have a VPN (virtual private network).
When connected to the VPN, the internet traffic gets routed through encrypted tunnels to a preferred location server. Therefore, if you are in Ecuador, you can access streaming services and social media by connecting to a US server. You're assigned an IP address in the US and can easily unblock American services and browse the web anonymously.
However, there are tons of VPNs out there, and they might not all be great. Here's a list of the best VPNs in Ecuador to help you out!
1. Best VPN for Ecuador 2023
1.1 NordVPN – Best Overall Ecuador VPN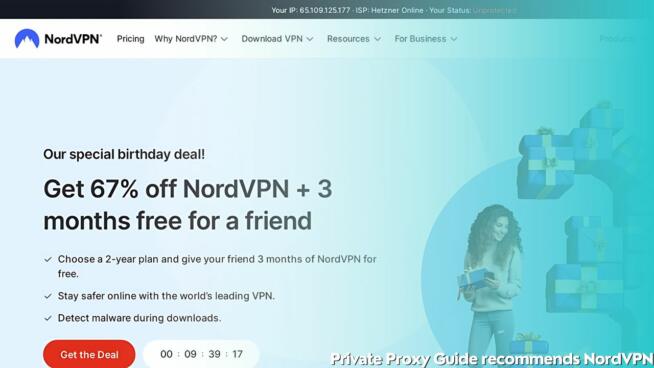 With NordVPN, you get unlimited bandwidth so that you can stream, browse, and torrent with no restrictions. It features a network of about 5,500 servers in 60 countries throughout the world. However, there are no servers located directly in Ecuador.
Still, you can run streaming services and use specialty servers for P2P file-sharing purposes.
When you browse the web in Ecuador, there is some risk to your privacy. However, NordVPN makes sure that the data is secure with 256-bit encryption, a kill switch, and IPv6/DNS leak protection. With that, NordVPN operates a no-log policy, so it doesn't store or share data with anyone, including the authorities!
For more peace of mind, you can connect to double VPN servers for more encryption and security.
You may secure up to six devices simultaneously. Plus, you may download Firefox and Chrome browser extensions.
1.2 Surfshark VPN – Best Budget VPN for Ecuador

SurfShark is a VPN with many features. It has about 3,200 servers in 65 countries, though there isn't one directly in Ecuador. With that, there's no dedicated IP address, so you can change them as needed.
If you're looking for a reliable choice to unblock restricted content, this is the one to choose. It works well with HBO, BBC iPlayer, and many others. Plus, you have unlimited bandwidth, so there aren't any problems with lagging and buffering. Ultimately, SurfShark is great for sharing with family members because there are unlimited connections available.
With SurfShark, you have 24/7 access to email and live chat support. Plus, there are many browser extensions and easy-to-use apps available. You're sure to appreciate that this is a secure service and is ideal for safe browsing in Ecuador.
The security features include a kill switch, IPv6 and DNS leak protection, and 256-bit AES encryption. You also have access to MultiHop or double VPN servers, so you can encrypt the data twice for even more security.
On top of it all, there's a no-log policy in place. Browse the web anonymously and know that it doesn't share or keep the data you provide.
1.3 CyberGhost – Safe VPN for Ecuador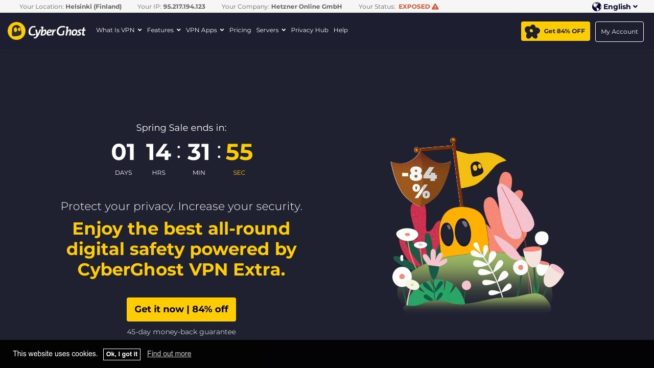 CyberGhost has more servers than other VPNs out there. With more than 6,500 servers in 90 countries, you're sure to unblock websites from anywhere in the world. Though none are located directly in Ecuador, you do have access to a dedicated IP if you want it.
If you find that your ISP throttles your bandwidth all the time, you are sure to appreciate that CyberGhost offers high-speed connections with unlimited bandwidth. Therefore, you don't suffer from buffering or lag.
Security is another strong suit for CyberGhost. It features 256-bit AES encryption, so your data can't be read or stolen from hackers. With that, you also get IPv6 and DNS leak protection with an automatic kill switch.
In fact, you even have automatic Wi-Fi protection, so you're protected if you connect to public hotspots. Go to a café and never have an issue. Plus, CyberGhost features a no-log policy, so it never shares information or even stores the sites you visit.
With that, you can connect seven devices simultaneously from one account.
1.4 IPVanish – Ecuador

VPN With Many Locations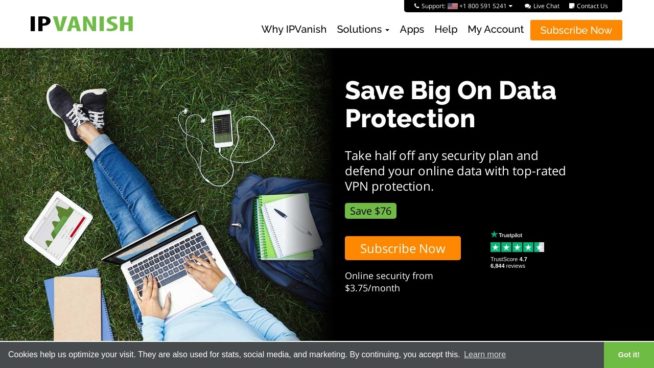 IPVanish offers consistent and fast connections. With that, it has more than 1,500 servers in over 55 countries. Though there isn't one directly in Ecuador, you can find a strong presence in the US. This means you can easily stream US-only services from your Ecuador home.
You're sure to appreciate that it has unlimited bandwidth, so you can torrent and stream with ease. Plus, it's easy to share the VPN with your entire family because you can secure unlimited devices simultaneously!
When connecting to IPVanish, you can easily browse anonymously because it has a zero-logs policy. You also get 256-bit AES encryption to make the data unreadable to snoopers and hackers. There's also a kill switch available in case your connection ends abruptly, and DNS leak protection is also included.
Though the service is easy to navigate, you do have email and live chat support available 24/7 if the need arises. Plus, many IPVanish plans include encryption for cloud storage through SugarSync.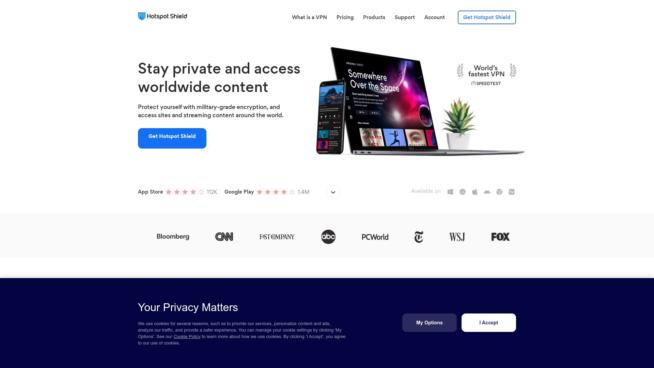 Hotspot Shield is an unusual VPN because it actually has servers in Ecuador. Overall, the network has 1,800 servers in 80 different countries. Therefore, you can access geo-restricted content no matter where it's located.
Plus, with Hotspot Shield, you get good speeds with consistent unblocking features for Amazon Prime Video, Hulu, and others. On top of it all, you can connect five devices to one account!
This VPN doesn't keep your identifying data, which is crucial in Ecuador because of the online censorship issues. Plus, your internet traffic is secured using 256-bit AES encryption and protects you from DNS leaks.
If the VPN connection drops suddenly, the kill switch also cuts the internet traffic. That way, your data can't be exposed accidentally. Though it's easy to use, you do have 24/7 support available through email and live chat when necessary.
2. How to Set Up the VPN in Ecuador
To set up a VPN in Ecuador, you need to sign up with one of the providers listed earlier. From the review, you know that NordVPN is recommended.
Then, you must download and install an app to your laptop, desktop, and phone. You can also use a browser extension if it's available.
Open the VPN app and sign in with your login credentials. From there, you are connected to a server of your choice.
Visit the services and websites you want to access. The content is now unblocked and ready for you.
You may have to clear the cookies and cache from your browser before signing in or using the VPN.
3. Ecuador VPN FAQ
Why Do You Need a VPN While in Ecuador?
There are many reasons to use a VPN while you're in Ecuador. The most common is so that you can get around geo-blocking issues. For example, if you're traveling to Ecuador and want to continue streaming your US-based Netflix and Hulu accounts, a VPN is the only way to do that.
However, there are some content restrictions from the Ecuadorian government, as it wants to censor what people can see. For example, there have been multimedia disruptions for WhatsApp and Facebook. When you connect to a VPN server in another country to change your IP address, you can access your content as usual.
VPNs are also good for security purposes. The Ecuadorian government announced many technology initiatives recently. However, they often threaten the privacy of the citizens. A VPN encrypts the data and secures it from the government and your ISP.
Can You Use Free VPNs in Ecuador?
It's not advisable to use a free VPN in Ecuador. Though you can save money, they might not have as many servers or locations, which limits what content you can unblock.
With that, you might find that the servers are too slow for torrenting and streaming. In fact, some of the free VPNs out there throttle the bandwidth to further reduce the speeds.
There is a level of risk with free VPNs, too. Since they don't have the best security, they might not encrypt the data at both endpoints. They could also sell your data to other people.
Just remember that a free trial isn't the same as a free VPN. With NordVPN, you get a money-back guarantee. Pay upfront but get your money returned if you dislike it for any reason.
Is a VPN Legal in Ecuador?
VPNs are legal to use in Ecuador. If you want to access geo-restricted services in that country and keep your online activities safe, it's best to download and use one each time you get online. However, make sure that you're using a reliable service, such as NordVPN.
3. Conclusion
Whether you're worried about hackers, government surveillance, or not seeing social media and streaming services available, a VPN in Ecuador is a good thing!
While any of the VPNs listed here are excellent, NordVPN is the top pick. With unlimited bandwidth, over 5,000 servers, and a no-logs policy, you can be sure that your information is safe. Plus, it opens up Netflix and other streaming services with no lag at all. Give it a try today!
VPN Service


www.nordvpn.com
NordVPN
Review
Price: $11.95 $3.71/month
Servers: 5500+ in 59 countries
Simultaneous connections: 6
Jurisdiction: Panama
Payment: PayPal, AmazonPay, Crypto, Google Pay, Klarna
Torrenting: OK
Unblocks US Netflix: Yes
Dedicated IP: $70/yr
TrustPilot Score: 4,7/5
Money-back: 30 days
Extra: Double VPN, Obfuscated servers
Visit NordVPN »


www.expressvpn.com
ExpressVPN
Review
Price: $12.95 $8.32/month
Servers: 3300+ in 94 countries
Simultaneous connections: 5
Jurisdiction: British Virgin Islands
Payment: PayPal, Crypto, AliPay, Klarna,
Torrenting: OK
Unblocks US Netflix: Yes
Dedicated IP: Not provided
TrustPilot Score: 4,7/5
Money-back: 30 days
Visit ExpressVPN »


www.cyberghostvpn.com
CyberGhost
Review
Price: $11.99 $2.25/month
Servers: 6600+ in 89 coutrines
Simultaneous connections: 7
Jurisdiction: Romania
Payment: PayPal, Crypto
Torrenting: OK
Unblocks US Netflix: Yes
Dedicated IP: $51/yr
TrustPilot Score: 4,8/5
Money-back: 45 days
Visit CyberGhost »


www.surfshark.com
Surfshark
Price: $11.95 $2.49/month
Servers: 3200+ in 65 coutrines
Simultaneous connections: Unlimited
Jurisdiction: British Virgin Islands
Payment: PayPal, Crypto, Google Pay, Amazon Pay
Torrenting: OK
Unblocks US Netflix: Yes
Dedicated IP: Not provided
TrustPilot Score: 4,3/5
Money-back: 30 days
Visit Surfshark »


www.purevpn.com
PureVPN
Review
Price: $9.60 $3.33/month
Servers: 6500+ in 140 coutrines
Simultaneous connections: 10
Jurisdiction: Hong Kong
Payment: PayPal, Credit Cards
Torrenting: OK
Unblocks US Netflix: Yes
Dedicated IP: $35.88/yr
TrustPilot Score: 4,7/5
Money-back: 31 days
Visit PureVPN »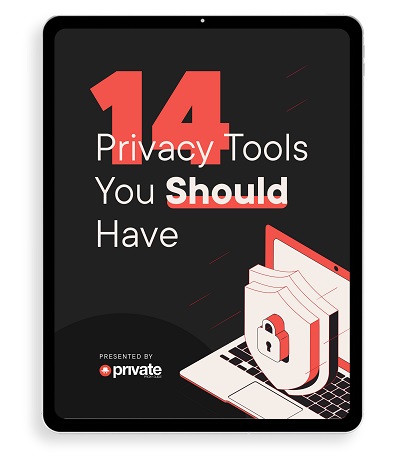 Learn how to stay safe online in this free 34-page eBook.