Military deployment involves the movement of armed forces and their logistical support infrastructure around the globe. Generally, military deployment is between six to 12 months long. But, these values vary from branch to branch as they depend on various factors.
During military deployment, there is a lot of traveling and being away from your comfort zone. So, to fill the gap, you use the internet to connect with family and friends. So, a VPN with servers in many countries is needed to ensure that they don't go offline.
Also, people in the military are humans and need to kill boredom by watching YouTube, Hulu, or Netflix. However, traveling to countries where geo-blocking restricts access to some of these well-known platforms can be frustrating.
There are also concerns about internet connections during these movements that provide the best security and privacy; this is almost impossible unless a VPN service is used.
With the best VPN for military deployment, you are free to do things online as you would from the comfort of your home.
1. Guide on Selecting the Best VPN for Military Deployment
If you are looking to get the best VPN for military deployment, there are several factors you need to consider to ensure you make the right choice. All the VPNs in our list have been selected based on these factors, so you can rest assured that these are the top choices for you.
So, these are the factors that were considered before choosing the best VPNs for military deployment;
Security
Security should always be the number one priority, whether it is real-life security or online security. This becomes a lot more needed when working for the military, ensuring that all your activities are secured.
When it comes to the internet connection, you need to be constantly conscious of your online security. So, before you choose a VPN, ensure that it offers a high level of encryption capable of protecting all your online data. In addition, the service should allow you to search by relaying all your internet traffic via an encryption tunnel connected to a remote server.
Speed
Another important factor you should keep in mind is the speed of the VPN. It is not worth purchasing a very slow VPN, even if it comes with top-tier security. So, ensure you check and find out whether your potential VPN has premium speeds.
It is important to note that a VPN impacts the speed of your internet connection, but it should not be noticeable to the point that it ticks you off.
VPN Protocols
Before you purchase a VPN, ensure you check the VPN protocols. There are various VPN protocols, each with merits and demerits. However, the VPN protocols to look for are SSTP or OpenVPN. Ensure that you do not opt for a VPN that uses PPTP protocol, as it leaves your data vulnerable to scammers and hackers.
The best VPN for military deployment should have a no-logs policy and offer AES-256-bit encryption with features such as DNS leak protection.
2. Best VPN for Military Deployment 2022
2.1 NordVPN – Best Overall Military Deployment VPN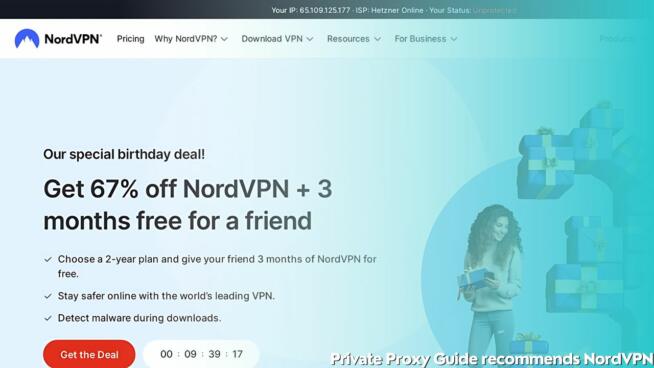 NordVPN has its base in Panama, which some users prefer that don't want a VPN service situated in the US. However, this VPN service has many servers in the US and gives its users full access to their network in the USA and other countries at an affordable price.
If you subscribe to a longer-term account, you realize that NordVPN probably has the best balance between the services offered and the price. As a user, you get full access to the custom software and network. In addition, you can connect with any of your devices, including iOS, Android, Mac, or Windows.
You can locate any server area you want by clicking on the three horizontal dots to the right of the country; the percentages of servers available are also shown. Of course, all these servers also have premium upload and download speeds.
No matter where you are in the world, you can access streaming services such as BBC iPlayer, Amazon Prime Video, or Netflix with the use of NordVPN.
You can opt for SmartDNS and unlimited VPN service and also enjoy the 30-day money-back guarantee.
2.2 ExpressVPN – Fastest VPN for Military Deployment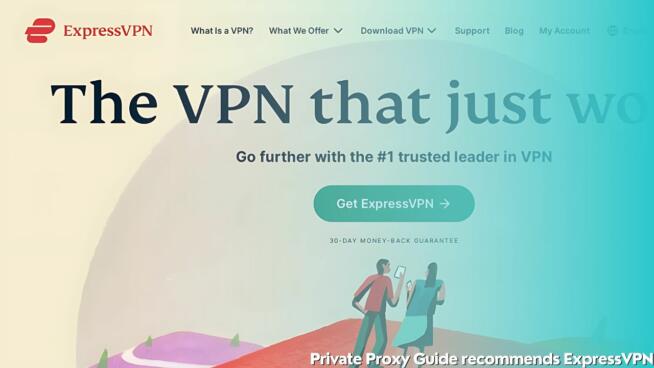 Gain access to geo-restricted content with ExpressVPN as it combines fast VPN access and MediaStreamer, which plays a SmartDNS service. This VPN service can help you unblock live sporting events and always keeps your connection encrypted. In addition, this VPN Company maintains a no-log policy, which has been verified over the years through high-profile legal requests.
ExpressVPN has many servers in different major locations that can be useful in protecting your online privacy. It doesn't matter your location; you can utilize this VPN service to watch your favorite streaming service, unblock censorship, and protect your privacy.
Their support for different devices is most likely one of the greatest benefits of utilizing ExpressVPN. This service provides you with custom VPN software for Android, iOS, Mac, and Windows. You can also simultaneously connect up to five devices. In addition, ExpressVPN comes with browser extensions for Firefox and Chrome.
When it comes to speed, ExpressVPN excels amazingly. Their ability to unblock geo-restrictions and offer 100% privacy is why it is a great choice for your VPN needs. In addition, the customer support is always on seat to help with any problem you have. Finally, you get a 30-day money-back guarantee with this service.
2.3 IPVanish – VPN With Many Server Locations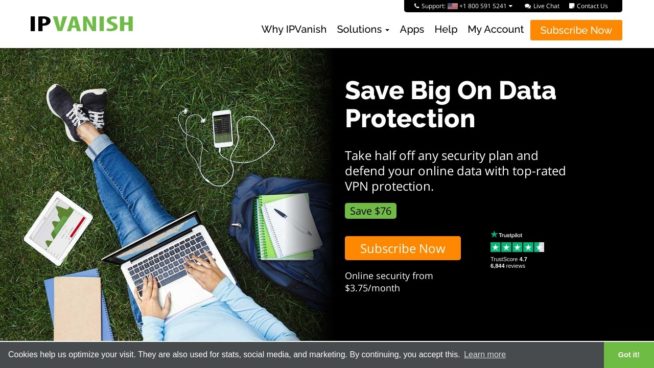 IPVanish is also one of the premium VPN providers with server locations in different areas of the world. So pick any location you wish you connect to and experience premium speeds. This is why IPVanish makes the list of best VPNs to use when the military deploys you.
In addition to providing coverage in North America, Asia, and multiple European regions, IPVanish hosts servers in all the continents, excluding Antarctica. The network also offers excellent speeds. Using the drop-down menu, you can opt to choose an individual server or select a location; all servers are readily available for use.
If you check the list of servers, you might notice an "a" in some of the servers' names; this indicates that they are the fastest in the network. IPVanish remains one of the best providers for value as you get custom software for Amazon, Android, iOS, Mac, Windows, and unlimited access to their VPN network.
Protect every device on your network by setting up your router. All new members are covered by a 7-day money-back guarantee.
2.4 CyberGhost VPN – Best Budget VPN for Military Deployment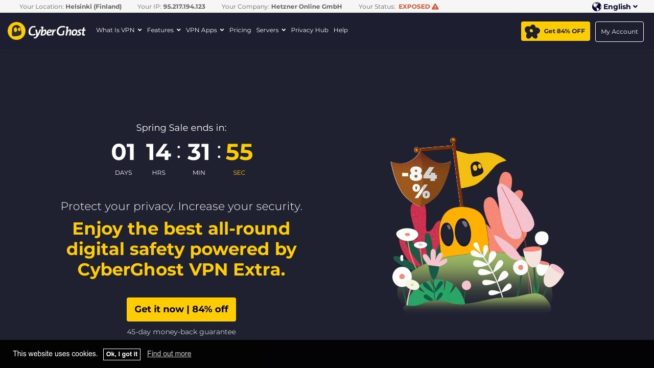 Founded in 2001 by seven team members in Romania, CyberGhost has maintained a steady growth, which has seen it rise to become one of the best VPN services on the market. Its primary focus is to protect users' privacy.
CyberGhost offers a great mix of high-level encryption, server locations, and the ability to access popular streaming sites like Amazon Prime, YouTube Red, and Netflix from anywhere in the world. In addition, some channels allow you to unblock geo-restrictions for various regions. For instance, you can access Amazon Prime Video content in the UK, Germany, or the US. You also get the option to choose a server, unblock basic websites, torrent anonymously, protect Wi-Fi, and surf anonymously.
Open the Windows client and expand the interface, where you have to click on the "All Servers" tab if it is inactive. Next, locate the US and click to the right of the star. Since the US is a big base of operations, the CyberGhost network has premium speeds as it hosts a significant number of servers in the US.
Thanks to its ease of use and several advanced features to protect online privacy, CyberGhost is one of our favorite VPNs for military deployment.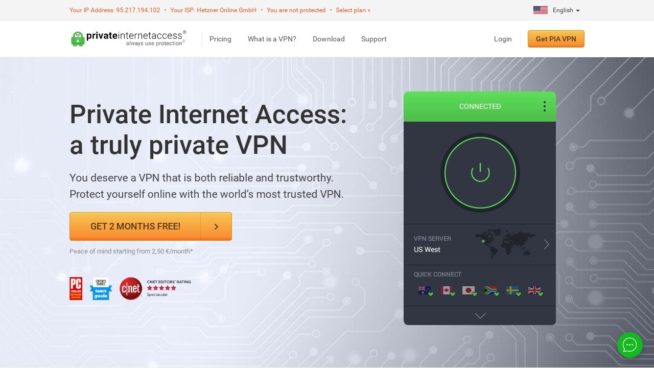 Private Internet Access gives you multiple options to choose from. With recent advancements over the years, there is no need for each VPN server to have a separate profile. You can now select any from the list of the available server locations in various countries. The servers are organized by the Private Internet Access team by city, country, and region.
Torrent users have a liking for Private Internet Access. Also, if your connection to the service drops, a feature prevents the system from communicating. This means that you are always safe, even if your encrypted VPN access drops at any point.
All the apps and Windows client offered by Private Internet Access are easy to use, but that doesn't mean it should be underestimated. Based on your needs, online privacy protection varies. You also have control over the levels of encryption, which ensures you balance the speed and privacy of the service.
There is an internet kill switch feature that kills your internet connection if the VPN fails at any time. This comes in handy for people who prioritize anonymity over other things.
Private Internet Access Review
3. Conclusion
During military deployment, you need to have a VPN that allows you to bypass all the restrictions that might be placed online due to where you find yourself. Any of the VPNs on the list above is fully capable of meeting your needs, with ExpressVPN being the first choice.
VPN Service

www.nordvpn.com
NordVPN
Review
Price: $11.95 $3.71/month Servers: 5500+ in 59 countries Simultaneous connections: 6 Jurisdiction: Panama Payment: PayPal, AmazonPay, Crypto, Google Pay, Klarna Torrenting: OK Unblocks US Netflix: Yes Dedicated IP: $70/yr TrustPilot Score: 4,7/5 Money-back: 30 days Extra: Double VPN, Obfuscated servers Visit NordVPN »

www.expressvpn.com
ExpressVPN
Review
Price: $12.95 $8.32/month Servers: 3300+ in 94 countries Simultaneous connections: 5 Jurisdiction: British Virgin Islands Payment: PayPal, Crypto, AliPay, Klarna, Torrenting: OK Unblocks US Netflix: Yes Dedicated IP: Not provided TrustPilot Score: 4,7/5 Money-back: 30 days Visit ExpressVPN »

www.cyberghostvpn.com
CyberGhost
Review
Price: $11.99 $2.25/month Servers: 6600+ in 89 coutrines Simultaneous connections: 7 Jurisdiction: Romania Payment: PayPal, Crypto Torrenting: OK Unblocks US Netflix: Yes Dedicated IP: $51/yr TrustPilot Score: 4,8/5 Money-back: 45 days Visit CyberGhost »

www.surfshark.com
Surfshark
Price: $11.95 $2.49/month Servers: 3200+ in 65 coutrines Simultaneous connections: Unlimited Jurisdiction: British Virgin Islands Payment: PayPal, Crypto, Google Pay, Amazon Pay Torrenting: OK Unblocks US Netflix: Yes Dedicated IP: Not provided TrustPilot Score: 4,3/5 Money-back: 30 days Visit Surfshark »

www.purevpn.com
PureVPN
Review
Price: $9.60 $3.33/month Servers: 6500+ in 140 coutrines Simultaneous connections: 10 Jurisdiction: Hong Kong Payment: PayPal, Credit Cards Torrenting: OK Unblocks US Netflix: Yes Dedicated IP: $35.88/yr TrustPilot Score: 4,7/5 Money-back: 31 days Visit PureVPN »