Puerto Rico is an island and known for being a territory of the US. It's located in the Caribbean Sea and is situated east of Cuba. With its proximity to the US and well-known status, this country receives many American visitors each year.
Approximately 3.2 million people travel to Puerto Rico each year for various purposes. Some of the reasons why people enjoy traveling here are its diverse landscape, warm weather, glowing waters, and many other attractions. If you're wanting to visit this dynamic and interesting island, it's in your best interest to connect to a VPN when you're utilizing the internet.
You have many options to choose from, which can make it difficult to find the best VPN for your preferences. Luckily, we have created this guide to help make the process of finding a suitable VPN more straightforward and effortless. Continue reading to find out our recommendations for the best Puerto Rico VPNs and more.
1. Why Do You Need a VPN in Puerto Rico?
As we have mentioned above, you want to avoid connecting to any public WIFI networks during your stay in Puerto Rico. Many reasons make using a VPN a smart option. Here are the most prominent:
Although this country isn't as touristy as other nations in the Caribbean, you're still bound to find parades and festivals almost every weekend. Some of the most popular festivals include the Heineken Jazz Festival, Rincón International Film Festival, Aibonito Flower Festival, and more.
During these festivals and parades, event organizers provide public WIFI networks so that visitors can stay connected without using their data. However, these connections leave your devices vulnerable to hackers. By taking advantage of the encryption VPNs offer, you can keep yourself safe and secure while utilizing this free WIFI.
When you're not at one of Puerto Rico's famous festivals, you could be out and about enjoying the amazing nature surrounding this nation. You might want to go out exploring the Guajataca Forest, the Guánica State Forest, the El Yunque, or take a wander around some of the most beautiful beaches.
All of these places are excellent, but you might need internet connectivity to understand where you're going. Similar to using public internet networks at a festival, a VPN can provide you with the security you need to remain safe while using free WIFI connections during your adventures.
2. Best VPN for Puerto Rico 2021
When it comes to choosing the best VPN in Puerto Rico, there are several features you should consider to ensure you're gaining the most effective and secure VPN possible for your device. Some of these features include:
The ability to move around government censored content and firewalls while based in Puerto Rico.
Equipped with high-speed servers that can perform well on speed tests in regions of Puerto Rico.
A strong encryption process with military-grade components that protect you from the prying eyes of government or theft from hackers.
High network stability helps you avoid disconnection when in Puerto Rico.
No-logs policy.
Support for Amazon Firestick devices and mobile applications.
After looking through these features, it's time to take a deeper look into what the best VPNs are while you're in Puerto Rico. Continue reading to find our selection of the top five best Puerto Rico VPNs.
2.1 NordVPN – Best Overall Puerto Rico VPN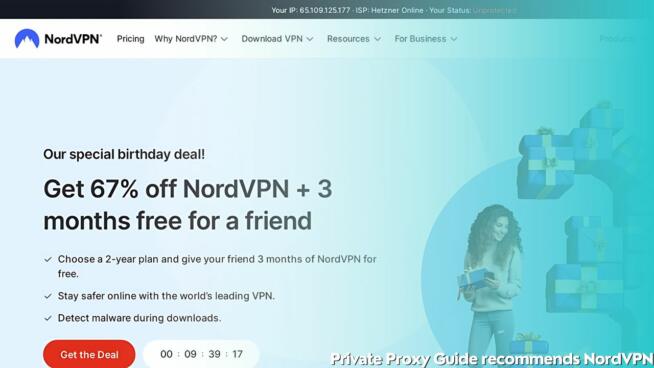 If you're searching for a Puerto Rico VPN service that can help you unblock some of the top streaming platforms in the world, NordVPN is the right option for you. You probably already know that some services like Amazon Prime and Netflix have different libraries that depend on the country you're accessing.
Some services are specific to some countries, which is why a VPN is an excellent option. Whether you want to check out the libraries in different regions or you're traveling abroad, you can select the region and its respective library you would like to connect to by using a NordVPN server.
2.2 ExpressVPN – Fastest VPN for Puerto Rico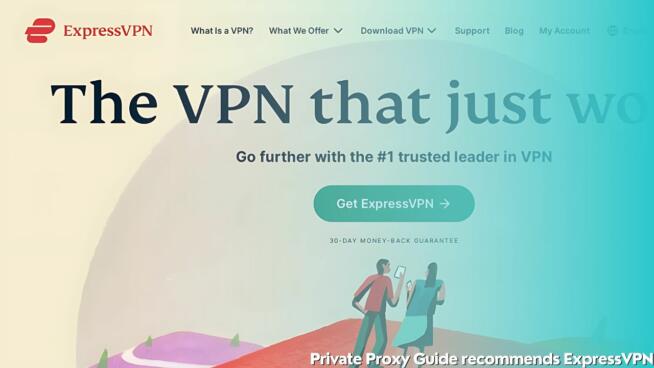 Because ExpressVPN is equipped with browser extensions for Google Chrome and Mozilla Firefox, this VPN also includes various privacy features to offer exceptional protection in Puerto Rico. This includes re-routing you to more secure website versions you enter, WebRTC blocking, and location spoofing that allows your browser to match the area's IP address you have selected.
If you choose to connect to a VPN without this feature, the websites you land on can still see your location. Nonetheless, you can always select an additional extension to resolve this issue, but it's always a better option for it to be inclusive of your original VPN, which is exactly what ExpressVPN offers its clients.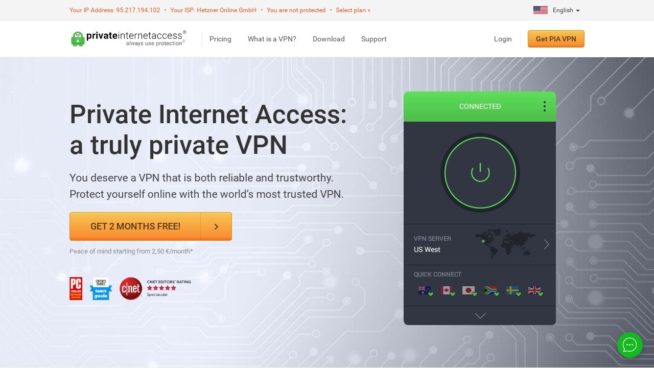 One of the many advantages that come with using a VPN server from Private Internet Access is that you're protected from any Distributive Denial of Service attacks. These attacks can easily cause issues while you're gaming by shutting down your favorite games and making this experience inconvenient. This is why Private Internet Access is an excellent option, as it stops these attacks from occurring.
Moreover, Private Internet Access is an excellent VPN provider that doesn't keep logs. Over the years, this VPN has developed a well-known reputation for keeping logs private, which is unlike other providers that turn these logs over to the authorities. Privacy is assured when selecting Private Internet Access as your VPN provider.
Private Internet Access Review
2.4 IPVanish – Puerto Rico VPN With Many Locations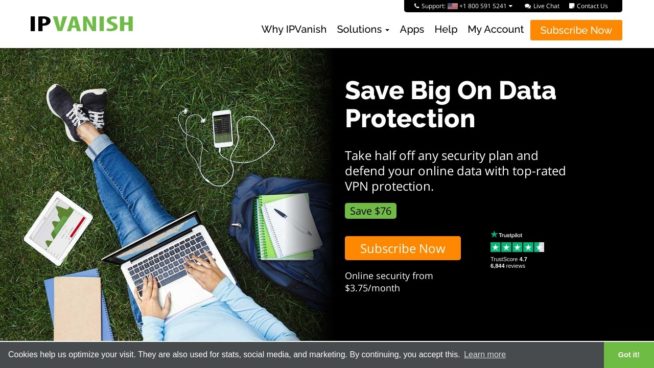 If you want to connect to US streaming sites from Puerto Rico, IPVanish is the right option for you. All you're required to do is pick a server from the US and log in with your credentials.
This VPN provider operates more than 1300 servers that are located in over 75 regions. Although this might not seem like a lot, these servers are situated where it counts.
The beauty behind IPVanish is that your connection remains fast. Even though encryption overhead slows down your internet connection, this isn't the case with IPVanish.
2.5 PrivadoVPN –

Good

Puerto Rico

VPN for Privacy
Whether you're traveling abroad or an ex-pat living in Puerto Rico, you shouldn't miss out on your favorite US sports. That's why you need PrivadoVPN. You can sign into this VPN provider from your home region. From here, you can select the streaming service you would like to access. This allows you to connect without any problems.
PrivadoVPN offers some amazing features including a kill switch and IP protection. These are generally offered in premium-priced packages. However, you receive this at an exceptional price. Hence, you don't need to pay a fortune to gain adequate security.
3. How Can You Obtain a Puerto Rico IP?
The first thing you're required to do to successfully obtain a Puerto Rico IP address is to set up a Puerto Rico VPN. From the various options we have listed above, you can select one of these Puerto Rico VPNs and install it on an iPhone, Android, Mac, or Windows device.
Before starting this process, you should ensure all of the passwords you use to access this VPN are secure. Moreover, you can enable two-step authentication to offer additional security. From here, obtaining a Puerto Rico IP can only be done once you start using your VPN. This process can be completed by following these steps:
Select the VPN you want to use. You should also choose whether you want an annual or month-to-month subscription.
Log in and set up your unique preferences.
Select a server-based in Puerto Rico. This allows you to access content that's specifically found in this region and ultimately gives you a Puerto Rico IP address.
Open your app, browser, streaming service, or alternative platform, and perform the activities you would normally do. You can use this Puerto Rico IP for as long as this VPN is active.
4. Wrapping It Up
No matter where you're based in the world, it's widely known that the US is home to many fantastic streaming services. If you're living in Puerto Rico and want to stream US Netflix, a Puerto Rico VPN with servers in the US is an excellent option.
However, you might be visiting Puerto Rico and want protection when using the free WIFI networks. If this is the case, a Puerto Rico VPN can offer you the additional security you need when utilizing these WIFI networks. Whatever your reasoning behind using a Puerto Rico VPN, these are always an excellent addition to your security.
Nonetheless, it can be challenging trying to find the right one for your specific needs. This task doesn't have to be challenging. That's why our list of the top five picks for the best Puerto Rico VPN can easily help make this process easier. Any one of these options is a great choice.
All you're required to do is pick a server based in the region of Puerto Rico you would like to access. After this, you can log in with your respective credentials to gain this Puerto Rico IP and receive extra security when utilizing public WIFI connections.
VPN Service

www.nordvpn.com
NordVPN
Review
Price: $11.95 $3.71/month Servers: 5500+ in 59 countries Simultaneous connections: 6 Jurisdiction: Panama Payment: PayPal, AmazonPay, Crypto, Google Pay, Klarna Torrenting: OK Unblocks US Netflix: Yes Dedicated IP: $70/yr TrustPilot Score: 4,7/5 Money-back: 30 days Extra: Double VPN, Obfuscated servers Visit NordVPN »

www.expressvpn.com
ExpressVPN
Review
Price: $12.95 $8.32/month Servers: 3300+ in 94 countries Simultaneous connections: 5 Jurisdiction: British Virgin Islands Payment: PayPal, Crypto, AliPay, Klarna, Torrenting: OK Unblocks US Netflix: Yes Dedicated IP: Not provided TrustPilot Score: 4,7/5 Money-back: 30 days Visit ExpressVPN »

www.cyberghostvpn.com
CyberGhost
Review
Price: $11.99 $2.25/month Servers: 6600+ in 89 coutrines Simultaneous connections: 7 Jurisdiction: Romania Payment: PayPal, Crypto Torrenting: OK Unblocks US Netflix: Yes Dedicated IP: $51/yr TrustPilot Score: 4,8/5 Money-back: 45 days Visit CyberGhost »

www.surfshark.com
Surfshark
Price: $11.95 $2.49/month Servers: 3200+ in 65 coutrines Simultaneous connections: Unlimited Jurisdiction: British Virgin Islands Payment: PayPal, Crypto, Google Pay, Amazon Pay Torrenting: OK Unblocks US Netflix: Yes Dedicated IP: Not provided TrustPilot Score: 4,3/5 Money-back: 30 days Visit Surfshark »

www.purevpn.com
PureVPN
Review
Price: $9.60 $3.33/month Servers: 6500+ in 140 coutrines Simultaneous connections: 10 Jurisdiction: Hong Kong Payment: PayPal, Credit Cards Torrenting: OK Unblocks US Netflix: Yes Dedicated IP: $35.88/yr TrustPilot Score: 4,7/5 Money-back: 31 days Visit PureVPN »