Telegram is a vital communication tool for many people. In some countries like Russia and Iraq, the use of Telegram services is blocked. These restricted countries can use VPNs to help unblock the restrictions or regulations imposed.
1. What Is Telegram?
Telegram is an online platform that offers encryption for instant messaging and voice-over IP. It is available for almost all devices, including mobile and desktop. Telegram allows sending and receiving various types of content. Some of these content types include photos, stickers, videos, and other files.
2. Why Do You Need a VPN for Telegram?
Since Telegram services are becoming popular, many people are adapting to it globally. However, some countries have blocked Telegram use, leaving citizens unable to access it. Countries like China, Iran, Russia, and some parts of India have blocked their residents from using the service.
Luckily, if you are in such a country, you can use a VPN to access and use Telegram. A VPN is ideal for unblocking Telegram services, making the users appear to be in a different country.
Typically, a VPN gives you a temporary assignment to a different location and a unique IP address. People in China or Russia, for instance, may appear to be in the US where the services are not blocked.
A VPN service makes Telegram available for anyone by encrypting their current internet connection. This server provider has a high level of encryption and data protection. It prevents users from being tracked and monitored online by third parties. With a VPN, no one can view your activities.
Telegram users can also connect with a VPN to keep their conversations undercover. The best VPN for Telegram should offer:
Maximum data security
Strict privacy and protection policy
An available customer support line
Global coverage
Consistent app support
3. Things to Consider Before Choosing the Best VPN for Telegram
Before selecting a VPN server of your choice, you need to consider several aspects. Analyze the variety of VPNs depending on their features and functionality. Here are some key parameters to check before making your choice on the best VPN for Telegram.
Its apps should be functional on iOS and Android devices
The system should provide robust security
It should be able to unblock a variety of content
It should provide less browsing traffic with no activity logs
It should be compatible, flexible, and easy to use
4. Best VPN for Telegram 2023
4.1 NordVPN – Best Overall Telegram VPN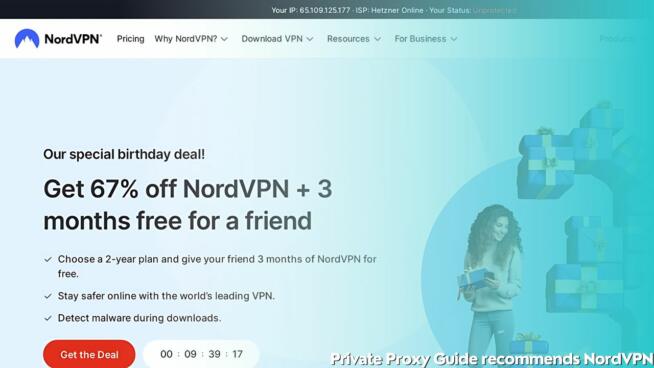 NordVPN is a good option for Telegram due to its optical protection in the messaging section. With about 5,400 servers in around 60 countries, this VPN has global access and a good connection.
Its network coverage cannot be restricted by any geo-related factors. This server has a high download speed that is faster and more accessible than other VPN providers. The connection is ideal for handling file transfers, video streaming, and many more.
Telegram requires online security and maximum account privacy. Therefore, the server guarantees account security through the military-grade and kill switch system. Its no-log policy and available apps make it more flexible to use. NordVPN has apps for iOS, Windows, macOS, and extensions for Chrome and Firefox browsers.
The availability of optimal router coverage protects the device from cyberattacks. This system can serve up to six connections simultaneously. NordVPN's customer support is always available and ready to assist all users.
4.2 ExpressVPN – Fastest Telegram VPN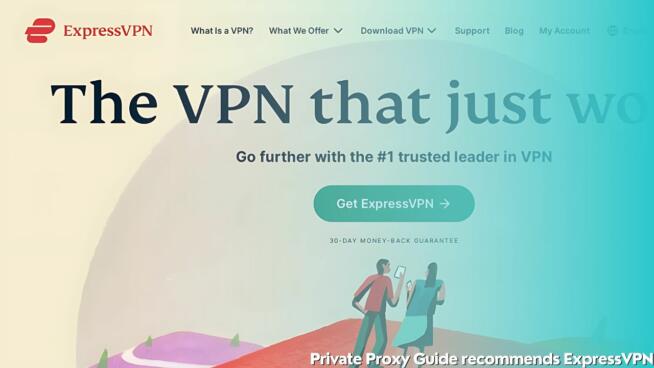 This is one of the best VPNs for Telegram that is performing greatly worldwide. The server stands out due to its global coverage, connection protection, and high download speeds.
ExpressVPN has over 3,000 servers covering about 94 countries worldwide. This server provides several unblocking possibilities for Telegram. It also extends its global server network to other gaming enthusiasts and users who want to stream videos.
Through ExpressVPN's blazing fast connection, users can connect and load heavy Telegram content. The customer connection protection is provided by military-grade encryption. It also has a functional kill switch that protects your data from getting leaked during a connection drop.
Apart from its security, ExpressVPN offers a strict privacy policy to its users. The server does not allow record or history keeping in its no-logs policy, which is excellent news for everyone who doesn't want to reveal what they're doing online.
Its apps are available on macOS, Android TV, Windows, Android, Chromebook, and many more devices. Router support is also available with more than five concurrent connections. ExpressVPN has a good 24/7 customer support team that provides its clients with any help they may need.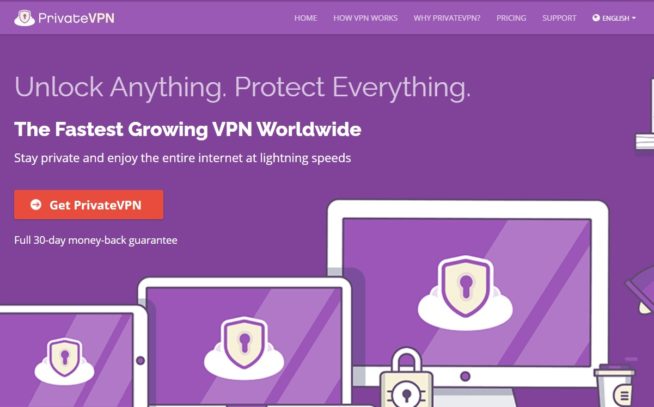 If you are looking for a VPN server that can offer you a speedy connection at an affordable cost, PrivateVPN is the best option. This server stands out due to its connectivity speed, data security, and high privacy levels.
Although it lags a bit, its global coverage makes it an ideal VPN for Telegram. This server has over 150 servers worldwide. The provider has, however, strategically set up its servers in only 60 countries in the world.
PrivateVPN has a higher average connection speed and maximum protection provided by military-level encryption. This server has unlimited apps that are compatible with devices like iOS, Windows, Android, and macOS.
It also offers coverage of Linux and other operating systems. PrivateVPN's apps have several advanced options that make this one of the best VPNs for Telegram.
Though this provider does not have 24/7 customer support, it connects to six device connections simultaneously.
4.4 CyberGhost – Safe VPN for Telegram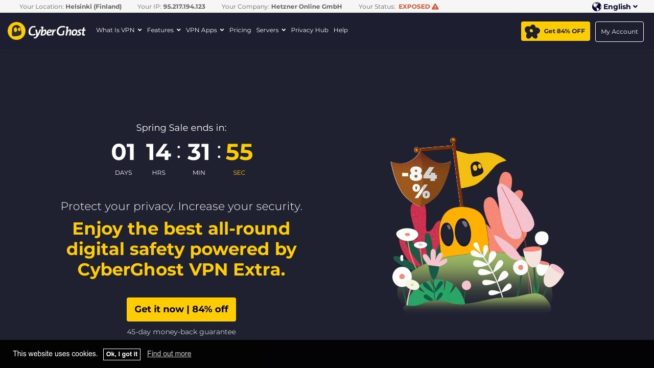 Based in Romania, CyberGhost has a mandatory data retention law that governs its operations. The server does not record user history or activities. It offers a wide variety of privacy and security features that make it ideal for Telegram.
Through its 256-bit AES encryption, the security of your data is guaranteed. CyberGhost operates under OpenVPN protocols, which, by default, are the best at maintaining secrecy. It also has an internet kill switch that ensures your data is secure.
CyberGhost has over 3,787 servers operating online, and most of them are located in the European and North American regions.
With this VPN, you can relatively access Telegram's services adequately without restrictions.
Though it does not have an advanced configuration option, it has many additional security features which can improve your browsing experience in general. Some of them include anti-malware defense, anti-tracking, and adblocking. Its apps are compatible with devices such as macOS, iOS, Windows, and Android devices.
4.5 IPVanish – Telegram VPN With Many Locations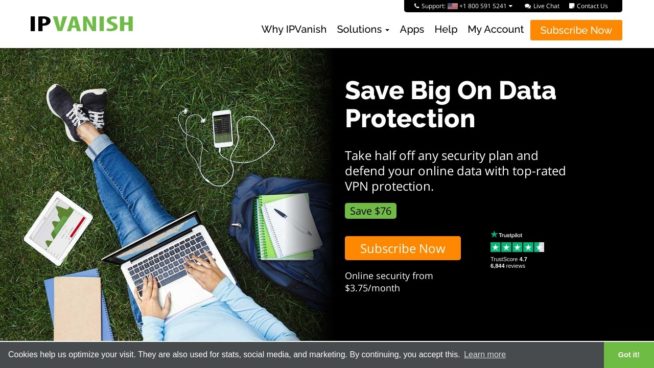 IPVanish is also a good VPN for Telegram due to its high privacy measures. Its platform allows access to different content types in Telegram. With over 1,300 servers globally, IPVanish is a popular provider spread across over 75 countries. Currently, the servers occupy a better part of the U.S. and England.
This provider keeps no logs of the user activities due to its solid security setting. Its impressive speed makes connectivity effective for sending and receiving messages.
The encryption standards of IPVanish are top-tier regarding data protection. This system uses 256-bit encryption with an OpenVPN protocol operated by default. Furthermore, it has other privacy features such as SHA512 authentication and DHE-RSA 2048-bit that are best for secrecy.
IPVanish handles several connections simultaneously without slow network buffering. Though it does not unblock popular channels like Netflix and Hulu, it is among the best VPNs for Telegram. The server has operational apps that work on Android, macOS, Windows, and iOS devices.
5. Bottom Line
One of the best ways to optimize your Telegram experience is by using a VPN. It offers maximum protection of content and secures your information. If you live in a country where Telegram is restricted, you can unblock its messaging services.
The best VPNs for Telegram ensure maximum secrecy and privacy. Ideally, with the system, your information cannot be monitored by anyone. A VPN protects your online activities and gives you global access to other restricted content.
6. Telegram VPN FAQ
6.1 Are the Best VPNs for Telegram Safe?
Yes, the servers offer safety in storing information and encrypting messages. These systems have well-customized security controls to protect your data.
6.2 What Makes a VPN the Right Tool for Unblocking Telegram?
A VPN is a good option for accessing blocked apps and sending or receiving messages from Telegram. Though all VPNs are not created equally, users should consider using VPN services that work for them. Check out VPN servers that offer:
Faster connectivity speed
Stability while making calls
Reliable servers
Strong encryption to protect data from ISPs and government tracking
App accessibility across many devices
Good customer support
Value for money
6.3 Why Should You Consider a VPN for Telegram?
If you are living in a country where Telegram is restricted, you can use a VPN to help you connect with the service. A VPN also allows you to visit the Telegram website to download the app.
VPNs also enhance the effectiveness of Telegram in particular versions, such as the Android or iOS version. You can unblock Telegram restrictions and hide your identity by using the right VPN.
Keep in mind that some government laws still require VPNs to disclose information about your online activities. Still, most VPN servers for Telegram do not allow the disclosure of personal information, and they encrypt all messages from third parties.
VPN Service


www.nordvpn.com
NordVPN
Review
Price: $11.95 $3.71/month
Servers: 5500+ in 59 countries
Simultaneous connections: 6
Jurisdiction: Panama
Payment: PayPal, AmazonPay, Crypto, Google Pay, Klarna
Torrenting: OK
Unblocks US Netflix: Yes
Dedicated IP: $70/yr
TrustPilot Score: 4,7/5
Money-back: 30 days
Extra: Double VPN, Obfuscated servers
Visit NordVPN »


www.expressvpn.com
ExpressVPN
Review
Price: $12.95 $8.32/month
Servers: 3300+ in 94 countries
Simultaneous connections: 5
Jurisdiction: British Virgin Islands
Payment: PayPal, Crypto, AliPay, Klarna,
Torrenting: OK
Unblocks US Netflix: Yes
Dedicated IP: Not provided
TrustPilot Score: 4,7/5
Money-back: 30 days
Visit ExpressVPN »


www.cyberghostvpn.com
CyberGhost
Review
Price: $11.99 $2.25/month
Servers: 6600+ in 89 coutrines
Simultaneous connections: 7
Jurisdiction: Romania
Payment: PayPal, Crypto
Torrenting: OK
Unblocks US Netflix: Yes
Dedicated IP: $51/yr
TrustPilot Score: 4,8/5
Money-back: 45 days
Visit CyberGhost »


www.surfshark.com
Surfshark
Price: $11.95 $2.49/month
Servers: 3200+ in 65 coutrines
Simultaneous connections: Unlimited
Jurisdiction: British Virgin Islands
Payment: PayPal, Crypto, Google Pay, Amazon Pay
Torrenting: OK
Unblocks US Netflix: Yes
Dedicated IP: Not provided
TrustPilot Score: 4,3/5
Money-back: 30 days
Visit Surfshark »


www.purevpn.com
PureVPN
Review
Price: $9.60 $3.33/month
Servers: 6500+ in 140 coutrines
Simultaneous connections: 10
Jurisdiction: Hong Kong
Payment: PayPal, Credit Cards
Torrenting: OK
Unblocks US Netflix: Yes
Dedicated IP: $35.88/yr
TrustPilot Score: 4,7/5
Money-back: 31 days
Visit PureVPN »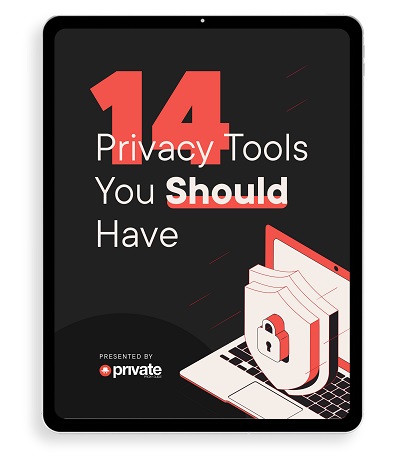 Learn how to stay safe online in this free 34-page eBook.