Linux users may generally suffer in terms of software support compared to Windows or macOS, but, fortunately, this is not the case for VPN services. A fair number of VPN providers offer native apps for Linux, so there is no shortage of VPN services for Linux users to choose from.
This guide will help you make the best choice by presenting you with our selection of the best VPN services for Ubuntu.
1. Best VPN for Linux Ubuntu 2023
1.1 NordVPN – Best VPN for Linux Ubuntu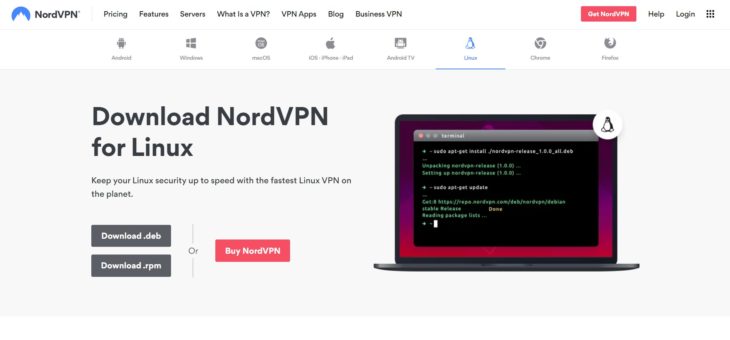 NordVPN delivers a native Linux VPN client and detailed setup guides for all devices, making it one of the greatest and most reliable providers for Linux users. The simplicity of its command-line interface along with a convenient autosuggest feature make NordVPN very user-friendly and earns it a special spot in our list as our overall top-rated VPN.
The default protocol for the native client is OpenVPN; however, other configurations can also be set up manually if you follow the thorough guides provided on NordVPN's official website. You shouldn't face any trouble following these in-depth guides, but in case you run into any, NordVPN's excellent live chat support will get your back. They are available 24/7, so don't hesitate to contact them.
Many VPN providers don't include their advanced features in their services for Linux users. But this is not the case for NordVPN. Not only do they provide their Linux clients with the same advanced features as their Windows and Mac clients, but they also offer them a dedicated exclusive feature: NordLynx.
NordLynx combines the lightweight Wiregaurd VPN protocol with NordVPN's own Network Address Translation system designed to ensure boosted speeds while protecting your privacy.
NordVPN also offers their clients better protection and a faster browsing experience with the CyberSec security suite. This suite includes advanced features like automatic kill switch, malware protection, and ad-blocking.
The native client also gives access to a quick connect feature, and it grants you the ability to switch between TCP and UDP protocols easily.
If you are looking to torrent anonymously, Panama-based NordVPN is the best choice for you thanks to its fast Peer-to-peer servers and strict no-logs policy.
Whether you use the native Linux client or NordVPN's secure browser extensions available for Firefox and Chrome, you can stay connected to NordVPN's servers that are up to 5480 in number and cover 60 countries.
NordVPN's reliable and fast connections will guarantee you a satisfying experience, and you will get to enjoy your favorite streaming sites without worrying about geo-restrictions.
NordVPN also allows you to connect up to 6 devices simultaneously, and their services come with a 30-day money-back guarantee so that you can try them out without a worry.
As for the pricing, this VPN provider costs $11.95 per month. Don't let that number scare you, though, as you can save wads of cash by getting either the yearly plan, which costs $59 for the first year, or the 2-year plan, which costs only $89 for the first couple of years.
How to Install NordVPN on Linux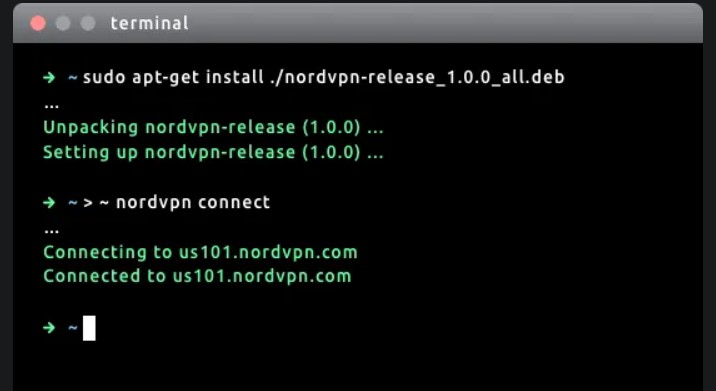 Download the installer nordvpn-release_1.0.0_all.deb from NordVPN's official website, then update the apt-get package list.
Use the following command (Change "Path" depending on where you downloaded the file):
sudo dpkg -i /Path/nordvpn-release_1.0.0_all.deb
Input your root password and wait for the setup to finish.
Next, install the NordVPN app after updating the package list. Here's the command for that:
sudo apt install nordvpn (or sudo apt-get install nordvpn)
Log in to your account by typing this command:
nordvpn login
Finally, here's how to connect to a server:
nordvpn connect
Pros
Online server selector
Audited no-log policy
Very fast connections
Affordable
Cons
The Ubuntu app doesn't have a graphic interface
1.2 ExpressVPN – Fast VPN for Linux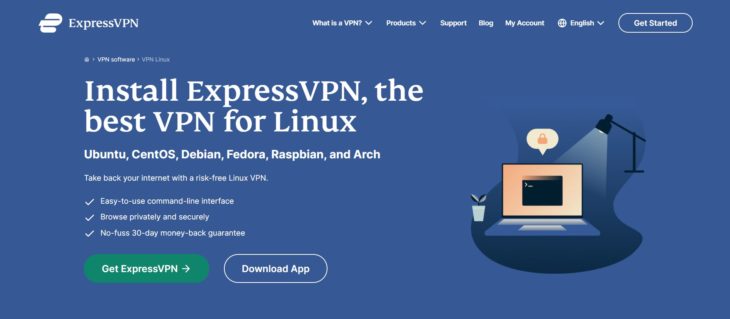 ExpressVPN is a command-line-based app that boasts a variety of interesting features. This service is also available on Android and iOS or as extensions for browsers like Firefox and Chrome on Linux.
After the installation, you can connect automatically to the nearest server to you using the CLI app, or you can manually set it up to connect to any of the servers in 160 VPN server locations in 94 countries.
ExpressVPN also comes with a network kill switch for Linux that you will find activated by default and that will notify you whenever your VPN is disconnected.
If you run into any kind of trouble, ExpressVPN's round-the-clock service will get you covered, and you can rely on their live chat support to provide you with straightforward advice.
ExpressVPN made a name for itself as the best Netflix VPN, and it has a perfect track record for unblocking restricted websites and apps. Their service is also serious about protecting your privacy and will only log the bare minimum required to operate. This doesn't include any user activity, and their transparency has been backed up by independent audits.
A service of this quality won't come free of charge, though, and their fees tend to be more costly than that of their competitors. The monthly plan costs $12.95 per month, whereas the yearly plan costs $99.95 every year. There's also a 6-month plan that costs $59.95.
ExpressVPN doesn't include a free trial period, but they do offer a 30-day money-back guarantee for any plan longer than a month.
How to Install the ExpressVPN App on Linux

Log in to your account on the ExpressVPN website.
On your "My Account" page, click on the "Set Up on More Devices" button.
On this page, you will find your Activation code in the blue box. Save that code as it will be needed later.
Click on the Linux option in the left-hand menu down that page.
Now you will find options for installing ExpressVPN on a drop-down menu. Choose Ubuntu 32 bit or Ubuntu 64 bit.
Click "Download," and it will start downloading a .deb file
Fire up the Terminal and navigate to the folder where the installer file is saved
Install the file by running the following command:
sudo dpkg -i [File Name]
Once the installation is complete, fire up the Terminal again and run this command to activate the app:
expressvpn activate [Activation Code]
Your app is now activated along with your preferences. You are now ready to start using ExpressVPN!
Pros
Wide server distribution
No logs policy
Kill Switch
Cons
Fairly expensive
Has no GUI-based Ubuntu app
1.3 CyberGhost – Cheap VPN for Linux

Similar to the other VPN services, CyberGhost only offers a command-line app with no graphic interface. You are free to use this VPN however you like, from torrenting to streaming and changing your location as well. With CyberGhost service, you don't have to worry about your activities being logged, and you can feel safe with their strong encryption feature and their leak protection.
CyberGhost operates with OpenVPN protocol, and they have over 6,000 servers spread in 88 countries around the world. This grants the user fast and reliable connections that can be used on up to seven devices simultaneously. Their apps are available for Windows, macOS, Linux, iOS, and Android, and their live chat support is active round the clock.
Should you need any help, you can make use of CyberGhost's 24/7 support, which guarantees that you'll be taken care of at any time.
Now, for the pricing, CyberGhost is a bit costly, just like ExpressVPN, as the monthly plan costs $12.99. The bigger plans are more affordable, though:
The yearly plan costs $47.88 every year
The 2-year plan costs $83.76 every two years
And the 3-year plan (which gets you extra three months for free) costs $87.75 every three years
CyberGhost plans include a 1-day free trial and 45-day money-back guarantee for you to try their services risk-free. If you still have any doubts, you can just skim through the positive feedback left by CyberGhost's clients.
How to Install CyberGhost App on Linux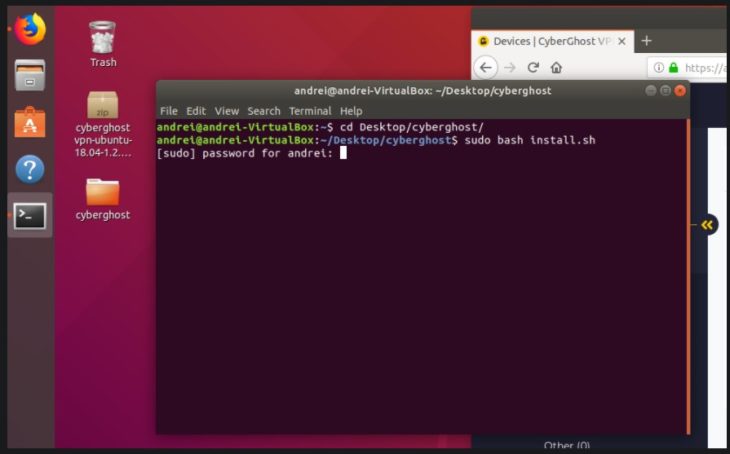 Go to the CyberGhost Account Management page and log in to your account
Click on "My Devices" then on the "Desktop" option. Select "Configure New Device" that can be found just next to "CyberGhost VPN for Linux."
After clicking on 'Configure New Device, you can now select the Linux Server Distribution you're using and then click on the "Download Linux App."
Wait for the app to download. Meanwhile, you can jot down both your CyberGhost Username and Password as they will be needed later on.
After the installation file finishes downloading, select the setup file and choose the Extract Here option to unzip it. You are free to rename the file if you want.
Next step, open up your Terminal and run the following command:
cd Desktop/CyberGhost (depending on the download folder)
Now type the following:
sudo bash install.sh
Next, hit the "Enter" button. Once you have pressed Enter, input your sudo password
If there was a prompt asking to install Python 3 and OpenVPN, just type "Y."
Finally, you will just have to input your CyberGhost username and password. It will look like this:
Enter CyberGhost username and press [ENTER]:

Enter CyberGhost password and press [ENTER]:
Once the installation has finished, the following message will be shown on your screen: install completed. Now, if you want to access the complete list of available commands for the CyberGhost Ubuntu app, just type CyberGhost VPN.
Pros
Can connect up to seven devices at the same time
Strict no-logs policy
User-friendly
Cons
No router support
The monthly plan is a bit expensive
1.4 Surfshark – Best Linux VPN for Many Devices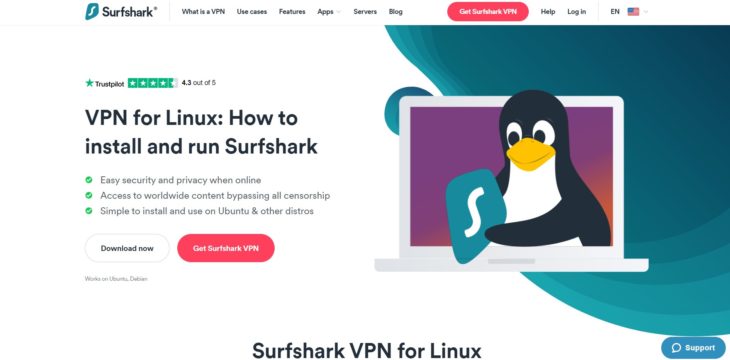 Surfshark is also a command-line Linux app like the rest of the VPN services on this list. The number of devices you can connect to this VPN is unlimited. You will also enjoy a browsing experience free of ads and malware with ad-blocking and malware protection functionalities provided by Surfshark feature CleanWeb. This VPN provider can also be used in obfuscation mode, making your connection pass for regular browsing traffic.
On the other hand, not all VPN features are available for Linux users; this includes features like split-tunneling. This might disappoint some Linux users, but unfortunately, they are short-changed in that aspect.
Surfshark's servers are currently spread over 60 countries, and they are still expanding. The service assures its clients that none of their online activities are being tracked following its no-log policy. However, these claims have not been audited yet.
All that being said, Surfshark stands out from the crowd for having one of the cheapest plans on the market, going all the way down to $2.49 per month for the two-year plan. This low cost is unprecedented for such services, especially with the high-quality offered by Surfshark. Keep in mind that the monthly subscription is on par with ExpressVPN and co in terms of the pricing, as it costs $12.95 per month.
How to Install Surfshark on Linux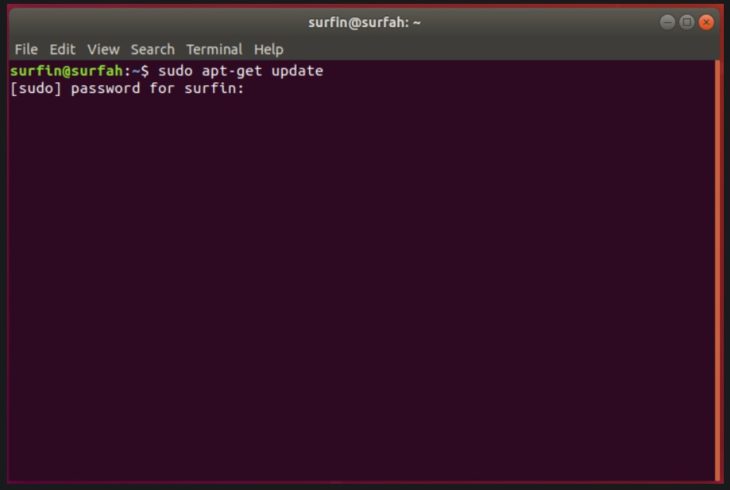 Download the installer after signing up on Surfshark.
Once the installer is downloaded, open the Terminal.
Run the following command on the terminal (of course, you need to use the actual path instead of "Path"):
sudo apt-get install Path/[File Name]
Finally, finish the Surfshark installation with the following command:
sudo apt-get install surfshark-vpn
Your Linux VPN is now up and running and ready to go!
Pros
Can have an infinite number of connections simultaneously
Excellent security and privacy protection
High connection speeds
Low prices for extended subscriptions
Cons
Not all features available on other platforms' apps are also available for Linux.
1.5 ProtonVPN – Best Free Linux Ubuntu VPN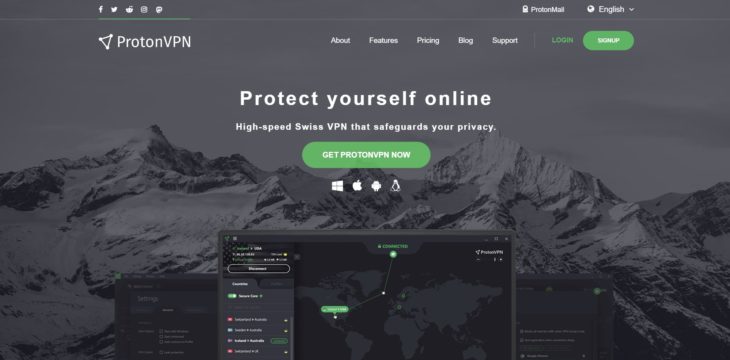 ProtonVPN offers its users a free plan with unlimited data. This service is well-known for its top-notch security and its fast performance. The command-line tool dedicated to Linux works perfectly on a wide range of distributions, like SUSE, Fedora, Debian, Ubuntu, Centos, and Linux Mint.
The free version of this VPN has only three servers located in Japan, the US, and the Netherlands. But on the brighter side, ProtonVPN actually works well with Netflix free of charge, something that is not quite common to come by.
The company doesn't support a zero-logs policy, as it keeps track of certain information like its customers' IP addresses. Nonetheless, ProtonVPN is quite transparent and trustworthy, and this can be shown on their privacy policy page, which is very clearly written.
Another great feature this VPN offers is its AES-256 encryption, alongside the reasonable speed of its connections for Linux computers. Not to mention it has a built-in kill switch, which is not a common occurrence in CLI VPNs for Linux.
Pros
CLI-based app for Ubuntu
Unlimited bandwidth
Built-in kill switch for Linux clients
Cons
Only three servers available for the free version
The service keeps track of user data
2. Using a VPN on Ubuntu – FAQ
2.1 Why Do I need a VPN for Ubuntu?
VPN for Ubuntu serves the same purpose as it does for any Operating System. To sum it up, a VPN helps you:
Hide your IP address so that websites you visit won't see it, and hence, your activities won't be tracked across the internet.
Hide your activities from your internet provider (ISP). However, they will know that you are connected to a VPN server.
Hide your data from ISP as it will be encrypted between the VPN server and your PC
Hide your tracks from your government as well (unless they are actively investigating you personally)
Stay protected when you connect to a public Wi-Fi hotspot thanks to The encryption used in connecting with a VPN
Watch your favorite shows on services like Netflix or the BBC iPlayer, which may otherwise be blocked.
Torrent anything you want without suffering any consequences
So it will only make sense that any Ubuntu user will also be after VPN's many great utilities!
2.2 What Makes the Best Linux VPN?
When considering the things to look for in a VPN service, the first thing that comes to mind is that the service has to include native Linux clients. Otherwise, it can't be used on your favorite Linux distribution. Another quality of life to look for is the availability of the VPN service on mobile apps to make sure you are always secured even when on the go.
A good VPN service should also cover a wide geographical area and have servers from all over the world so that you can connect to the closest server to you and enjoy fast connection speeds.
Another thing to keep an eye on is the transparency of the VPN service's log policy and whether they keep records about their users on their servers, with the purpose behind this logging.
An automatic kill switch is also an important feature to look for in a VPN service. Disconnections from remote VPN servers are possible like they are on any network service. Having a kill switch that automatically blocks any outgoing data in this scenario will mean that your privacy will stay secure, and your data won't be sent over an unencrypted connection.
It is also crucial for the service to have active chat support always available to help the clients out, whether the support is offline or online.
Finally, offering all the benefits mentioned above should come with affordable fees and multi-tiered plans giving the buyer the option to try the service out before committing to it in the long run.
Any of the services mentioned above will check all those boxes quite nicely, so make sure to check all of them out before making up your mind.
2.3 Can I Use a Free VPN With Ubuntu?
As a general rule, free VPNs are not recommended, and this also applies to Ubuntu. Very few free VPN apps are made for Ubuntu, to begin with. And there are even fewer free VPN servers out there that can be configured manually, all not to be trusted.
Free VPNs might breach your privacy, inject unwanted ads, and collect your data to sell them to a third party. They also have limitations in data caps and bandwidth and might even be used to spread malware.
ProtonVPN, which is the only free VPN on this list, may be considered an exception to the rule, as it offers unlimited bandwidth, and the company is quite renowned in this field.
That said, there is a catch, which is that the service keeps track of some user data. In other words, if you really care about your privacy, which is why you're probably looking for a VPN service, I recommend checking the other options, such as NordVPN, which have a no-log policy in place.
Paying for a trusted VPN is much safer, and it is what we would recommend.
2.4 What's the Best Open-Source VPN App for Ubuntu?
All the VPN services we listed above offer their own native Ubuntu apps and will come already configured and set up with all the service's servers and app features.
But if you ever want to set up your VPN manually, you can take a look at one of the best third-party VPN apps we will list below:
OpenVPN – uses the protocol of the same name, available for download from the official repository.
AnyConnect – another third-party VPN developed by Cisco
Network Manager – an Ubuntu built-in VPN, it supports multiple protocols.
OpenConnect – an SSL VPN client used by many enterprises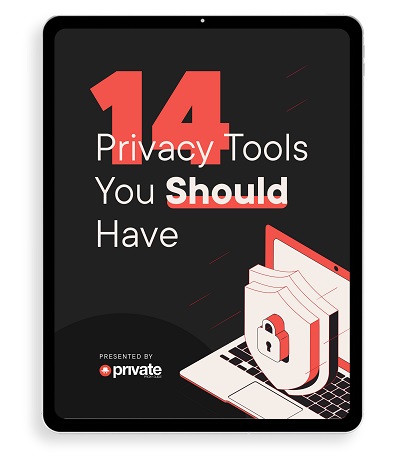 Learn how to stay safe online in this free 34-page eBook.